Top 20
Top 20 Robotics Companies in India-To Lead Future
Robotics companies in India are a great place to work as the industry provides opportunities to aspiring individuals in the fields of technology, science and engineering. A few years ago, Hong Kong-based engineering and robotics company Hanson Robotics developed the humanoid robot named "Sophia" in 2016, and in 2017, Sophia was declared the world's first robot citizen in Saudi Arabia. This led to a major milestone in how the interaction between AI humanoid robots and humans could become possible.
But, it's not just humanoid robots that exist today. There are, in fact, different types of robots that are created for specific tasks/jobs. The most common of these are industrial robots.
Did You Know?
George Devol invented the first digitally operated and programmable industrial robot in 1954 called the 'Unimate'. Mr Devol's 'Unimate', basically a mechanical arm, became the prototype for robots that are now widely used in various auto assembly lines and other industries across the globe.
Thus, robotics can be defined as an interdisciplinary branch of science and engineering which is dedicated to the design, construction and use of mechanical robots.
Shaping the World's Future by Introducing Robots Built with Artificial Intelligence
Companies that develop robots using artificial intelligence (AI) and several modern technologies allow these machines to efficiently carry out the tasks given to them.
We've already seen the importance of computers in our everyday lives. These are also built with AI embedded inside them that allows these machines to carry out operations more quickly and more accurately than we humans. Other similar examples of AI-powered machines which are increasingly gaining popularity are the machinery used in industries, factories, and defence, and are now making their presence in carrying out household chores.
Also, read these articles:
"Top 20 Engineering Colleges in India" [link to article]
"Top 20 IT Companies in India" [link to article]
"Top 20 Startups in India" [link to article]
Here, we're going to take a look at some of the well-known robotics companies in India that use modern technologies and artificial intelligence (AI).
List of 20 Best Robotics Companies of India
The following is a list (sorted in alphabetical order) of the top as well as startup robotics companies in India.
1. ABB Robotics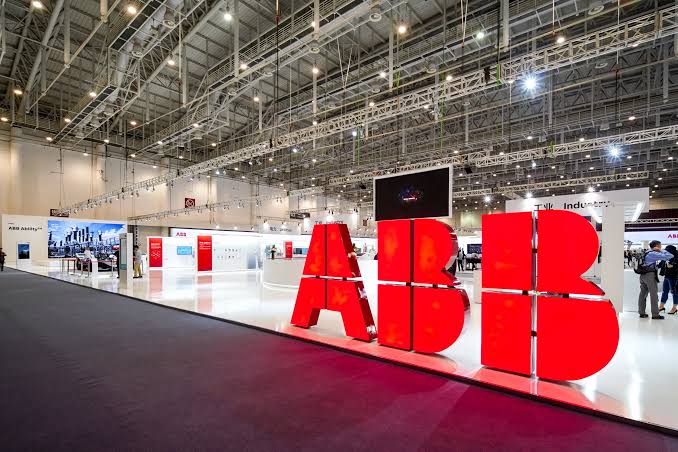 ABB Robotics & Discrete Automation, a part of ABB Group, is a pioneer in robotics, machine automation and digital services, providing innovative solutions for a diverse range of industries, from automotive to electronics to logistics. The company has a presence in 53 countries across the globe. The company's India division is ABB Limited and is located in Bengaluru.
The company together with its member companies manufactures and supplies a wide range of robotics and automation machine products including Articulated Arm, Cylindrical, Linear (Cartesian & Gantry), Parallel (Delta) and SCARA robots. Their products are used in industries like Automotive, Construction, Electronics, Logistics, Food & Beverage, Foundry & Forging, Metal Fabrication, Healthcare, and Education,
ABB is the world-class technology pioneer in industrial digitalisation that focuses on solving every major challenge. The company connects client software with its robots, automation machines, electrification and motion portfolio.
2. Adaptics Automation Technologies Pvt Ltd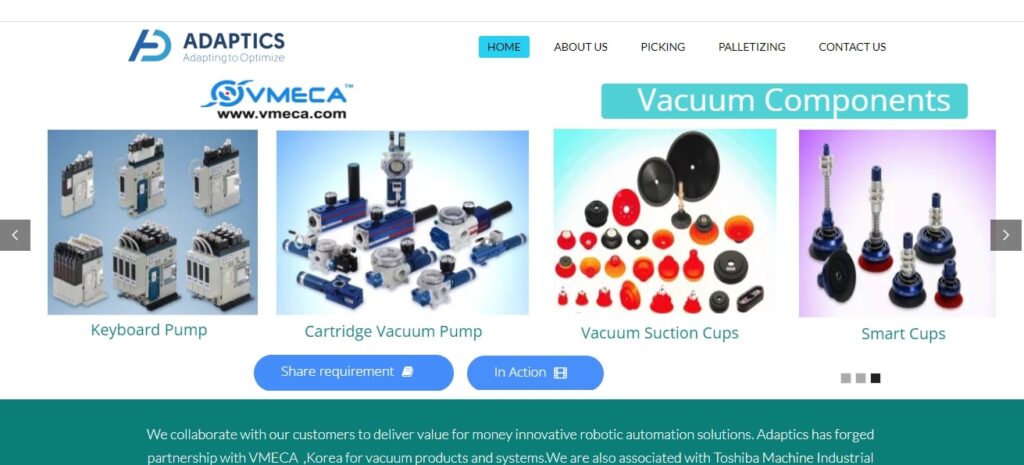 Adaptics Automation, founded in 2015, is a Pune-based company that develops and supplies Factory Automation products and solutions. The company is focused on providing innovative and sustainable solutions to its clients to help increase productivity, reduce costs and improve health and safety at the workplace.
The company manufactures Robotic Conveyors for High-Speed Picking & Packaging, and Robotic Palletizing Cells which offer various applications and benefits to packaging industries. Their High Speed Picking Robotic Conveyor is used in Packaging, Machine Feeding, Assembling, and Sorting operations. This product serves well for industries like Food & Beverages, Life Sciences, Electrical /Electronics, and Chemicals.
On the other hand, their Robotic Palletizing Cell is used in Pail Palletizing, Carton Palletizing, Tray Palletizing, Bag Palletizing, and Ingot Palletizing. This product caters to industries like Food & Beverages, Pharmaceuticals & Medicals, Personal Care & Cosmetics, Consumer Electronics, Chemical & Paint Industry.
3. Addverb Technologies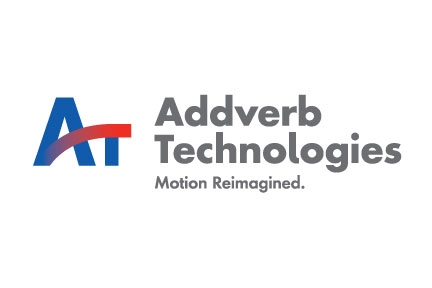 Addverb Technologies is global robotics and industrial automation company that provides material handling automation solutions to different industries like FMCG, Food & Beverage, E-commerce, Electronics, Pharma, Auto & Auto-Components, and many more. The extensive product portfolio of Addverb Technologies combines fixed and flexible automation and delivers innovative solutions to businesses.
The company creates AI-enabled intelligent software applications that deliver high-performance warehouses, powered by advanced automation systems that aid in the warehousing process and makes them more flexible and efficient.
It caters to solutions which are Picking, Robotics, ASRS and Software. The company employs a 4D approach that includes discovering, designing, delivering, and dedicated support for the digital transformation of material handling processes, which improves safety, scalability, and flexibility.
4. Asimov Robotics Pvt. Ltd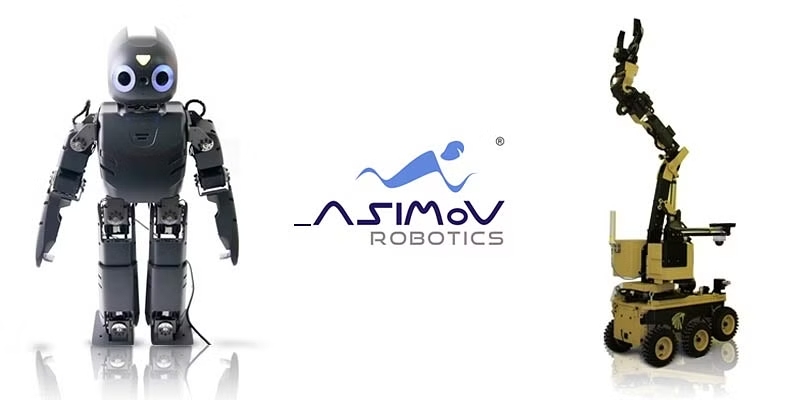 Asimov Robotics is an Indian robotics company providing engineering solutions and robotics consulting to various industries.
The company's core areas of development include robotic simulation and control, machine vision, training, virtual reality, and navigation applications. These systems and solutions are designed to automate various processes through robots to provide customers with a competitive advantage.
The company also provides solutions and services to clients in order to meet all robotics and automation needs of industries. It has expertise in designing and developing customised solutions to meet specific requirements that help industries to include profit, maintain quality, reduce risk and while supporting research.
5. Bharati Robotic Systems (India) Pvt Ltd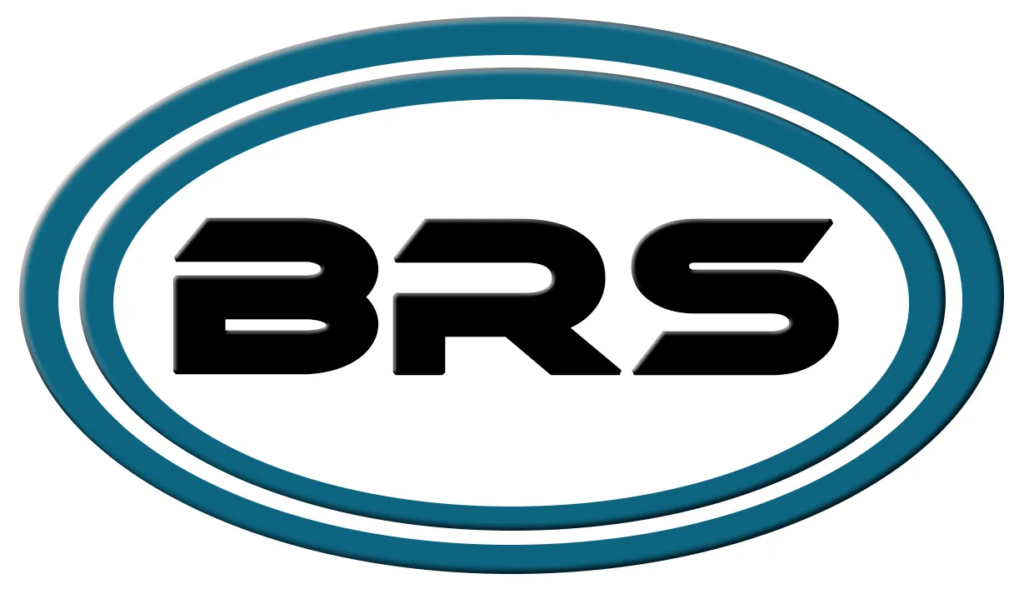 Bharati Robotic Systems develops Robotic Solutions for Service, Defence, Industrial, Agricultural and many other sectors. The company is headquarter is situated in Pune, Maharashtra.
The company line of robot products includes the AUGUST 1.0, which is an Industrial Floor Cleaning Robot to maintain floor hygiene of the facility with potential savings in cost, labour and time. It is used for large floor infrastructures such as Malls, Factories, Hotels, Airports, Hospitals and all commercial premises. This Cleaning Robot is equipped with an obstacle avoidance system with a safety bumper and instant braking with an emergency switch.
Bharati Robotic Systems is becoming a globally leading customer-centric company in Robotic Products, Solutions and Services in all chosen areas of human society, through quality, technology and innovation.
6. DiFACTO Robotics and Automation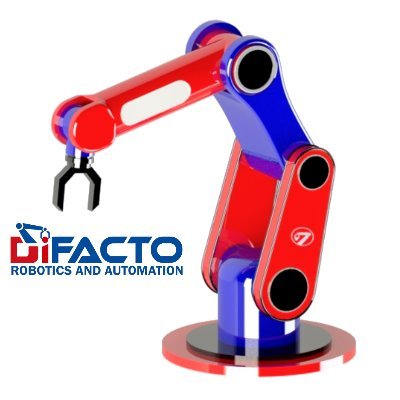 DiFACTO Robotics and Automation is a leading provider of robotics solutions in the manufacturing sector of India. The company's headquarter is located in Bengaluru. They also have branch offices in Pune and Gurugram. Additionally, the company has set up its subsidiary DiFACTO America situated in Detroit, Michigan that serves the US market.
The company offers turnkey robot-based automation systems for a whole range of industries and applications including Body-in-White, Foundry and Forge, Arc Welding, Material Removal, Assembly Applications, Machine Tending, Material Handling, and Sealing, Waxing & Spraying. It also offers solutions such as Automotive BIW Weld lines, Arc Welding Lines, and Robots-based systems for sealing, foundry, plastic cutting, and tending. The top software products in robotics built by this company are Robostudio, Roboguide, and Motosim.
DiFACTO has established itself as a reliable automation technology provider and serves its customers in more than 15 countries around the world.
7. FANUC India Pvt Ltd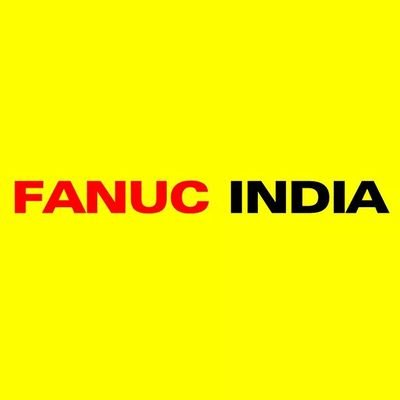 FANUC India is a subsidiary of Japan-based FANUC Corporation and was established in 1992 with its head office located in Bengaluru. The company provide its Indian market with the entire range of top-of-the-line FANUC products coupled with value-added services, thereby delivering the least cost of ownership to customers.
The company manufactures and supplies a wide range of products in categories like CNC, Robot, Robodrill, Roboshot, and Robocut. FANUC is a world leader in the field of factory automation technologies. It has actively contributed to the evolution of the automation of single machines to the automation of entire factory production lines. Their CNC products cater to diverse industry needs – from the most simple to the highly complex metal cutting as well as motion control applications. These state-of-the-art CNC Packages with digital servo technology are highly reliable with user-friendly operator and maintenance interfaces.
FANUC robots are known for their high reliability and performance. Many components of Robots such as Servo Motors, Servo Amplifiers, Mechanical Units, Robot controllers etc., are made in-house at their factories, thereby exercising great control over quality and performance.
8. Gade Autonomous Systems Pvt. Ltd.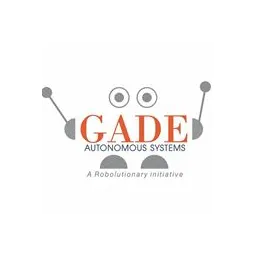 Gade Autonomous Systems Pvt Ltd is a robotics start-up venture company in India that was launched in Mumbai, Maharashtra. The company focuses on bringing robotics to all sectors of industry.
It is known for having developed India's first robot 'AdverTron' for use in advertising. This robot is capable of playing music, can speak English and provides information about a company's products to potential customers.
Another innovative product from Gade Autonomous Systems is the "V'Me Gesture Kiosk". It is an interactive kiosk that can assist, entertain guests and perform various functions required by a client. V'Me Gesture Kiosks are available for weddings, corporate/social events, car and jewellery showrooms, architects, offices etc.
9. GreyOrange Robotics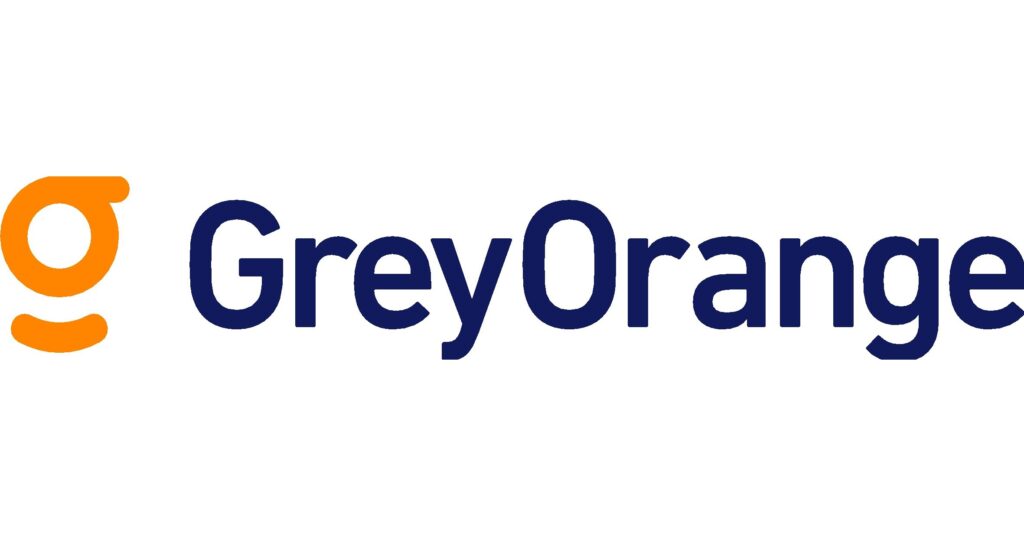 GreyOrange Robotics is a global technology business that combines mobile robotics and AI-driven software to modernise order fulfilment and continuously improve warehouse operations. It designs, creates and deploys advanced robotics systems for automation with combined expertise in hardware and software. Although based in Singapore, GreyOrange Robotics has its India manufacturing facilities set up in Gurugram, Haryana.
The company makes automated robots that include Assisted Picking, Autonomous Picking Arm, Bot Sorter, Goods-to-Person, Intralogistics, Totes-to-Person, 3PL, Fashion & Apparel, General Merchandise, Grocery, and Home Improvement.
It combines AI cloud software and robotic automation to keep inventory in motion, overcome inadequacies in existing warehouse technology and capitalise on modern market developments.
10. Gridbots

Gridbots is a robotics company based in Ahmedabad, Gujarat and was founded in the year 2007. It has branches in Delhi, Bengaluru and Jaipur. The company specialises in Artificial Intelligence, Machine Vision, and Robotics. The company produces robotic manipulators, Automated Guided Vehicles (AGVs), robot-driven equipment and a range of other robotic solutions.
It also designs and develops ultra-high-performance systems that are used in the industry for defect detection, sorting, grading, and a variety of other purposes. Gridbots with its machine vision and robotic solutions help clients achieve digital factory goals in a time-bound manner.
Gridbots is an innovative company working in the field of nuclear, space and industrial robotics. They develop intelligent, efficient and reliable systems. The robots can be used as industrial applications, consumer products, industrial applications, defence bots, and surveillance systems.
11. Grind Tools Pvt Ltd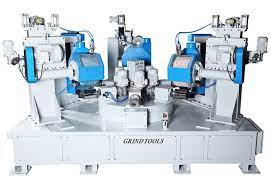 Grind Tools is a leading manufacturer of Automatic Grinding and Polishing Machines. The company was founded in 1966 and its head office is located in Pune, Maharashtra. The company designs develop, manufactures various products and provides after-sale services to clients.
The company manufactures quality machines which can be used in a wide range of applications in industries. Their Automatic Grinding and Polishing Machines are designed using modern technology and include several features, such as rotary indexing tables, conveyor systems, automatic compound applications, wheel wear systems, PLC and CNC controls etc. Grind Tool also manufactures Robotic Cells for Polishing and Buffering applications.
The company's product range includes polishing Machines for Cookware, Kitchenware, Bowls, Plates & Lids, Bath Fittings & Hardware, Small Round Components, Sinks, Sheets & Coils, Pipes & Tubes, and Grinding & Polishing Machines for Flat Parts.
12. Hi-Tech Robotic Systemz Ltd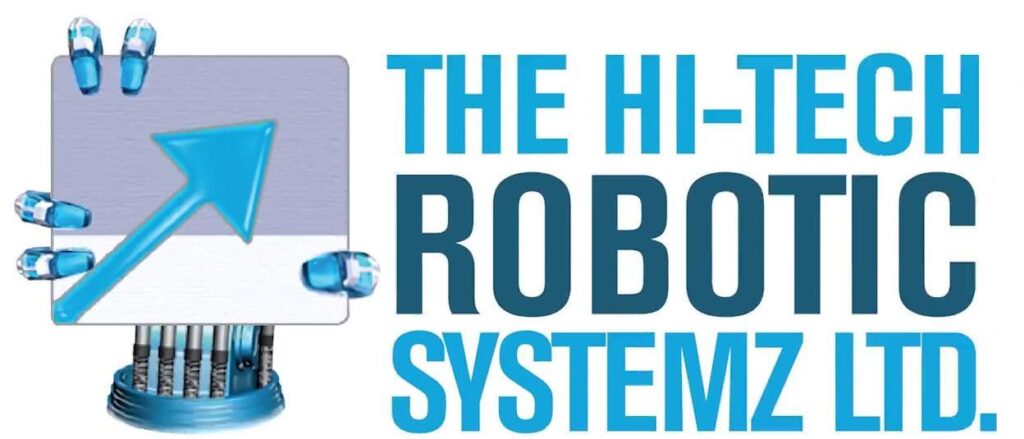 Hi-Tech Robotic Systemz develops products for the next-generation transportation industry, with its core tech for the next generation of self-driving vehicles. It has a proven track record of serving blue-chip OEMs for autopilots, driver-assistive systems, and fully autonomous vehicle technology.
The company is the leading manufacturer and supplier of a high-performance range of products, such as Industrial Automation Systems, Palletizing Systems, Automated Guided vehicles, Defence robotics, and Remotely Operated Vehicles. Their key area is designing and developing Autonomous Mobile Robots (AMRs) for manufacturing and warehousing facilities with a connected industrial IoT framework.
The company is focused on developing products in autonomous, driver-assistive technology, and mobile robots for both people and material transportation keeping in mind the next generation of mobility.
13. Incastt Machines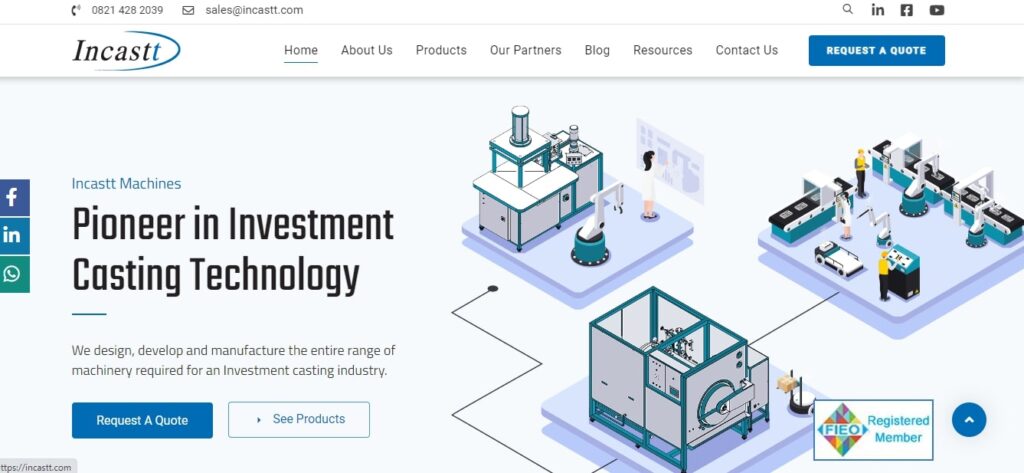 Incastt Machines is a manufacturer and supplier of automation machines for the Investment Castings industry. The company is based in Mysore (now Mysuru), Karnataka. Incastt Machines has been integrating robots for more than ten years. With over 30 systems installed around the world, the company can provide a robotic solution that is tailored to the industrial needs of its clients.
The company's main line of products includes Wax Injection Machines, Dewax Autoclave Machines, and Robotic Shelling Systems. Incastt has come out with a unique, robust, rugged and user-friendly automation solution for Shell Room. It integrates a robotic system into the shell room to increase efficiency, productivity and competitiveness.
Incastt Machines has also worked with MIDHANI, DMRL and HAL for components that find usage in aerospace and defence applications.
14. Invento Robotics

Invento Robotics company is based in Bengaluru, Karnataka, a startup founded in the year 2016. It was previously called Invento Makerspaces Pvt Ltd. Invento Robotics specialises in developing service robots intended for the automation of customer interactions and assistance, and enabling organisations to improve productivity, customer engagement, and sales.
Invento Robotics' flagship product is called Mitra Robot, a humanoid robot that is ideated, designed, manufactured and has R&D in India. It is the brainchild of Balaji Vishwanathan, the CEO of the company. The purpose of creating this humanoid robot is to facilitate various sectors, such as retail stores, banks, hotels, hospitals, pharma, malls, cinema theatres, airports etc., as well as aiding senior citizens' care and social events like weddings and birthday parties.
Mitra Robot (Mitra is a local term meaning friend) uses capabilities like artificial intelligence, speech recognition, voice recognition, facial recognition, autonomous navigation and fleet management for interaction and providing assistance. Mitra Robot was first introduced to the world in 2017.
15. KUKA India Private Limited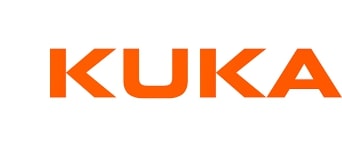 KUKA, a Germany-based corporation, is a leading specialist in automation and a supplier of intelligent automation solutions throughout the world. KUKA India Pvt Ltd is the company's subsidiary. Its India head office is located in Gurugram, Haryana, while the branch office is in Pune, Maharashtra. Additionally, KUKA has set up two colleges in India for engineering students to learn and research robot systems, automation, mobility, and more. These are KUKA College Gurugram and KUKA College Pune, respectively.
The company offers customers everything they need from a single source. These include products and services – from robots and cells to fully automated systems and their networking in markets such as automotive, electronics, metal and plastic, consumer goods, e-Commerce/retail and healthcare etc. The company also manufactures and sells industrial robots, as well as controllers, software and industrial robotics.
KUKA offers industrial robots in a vast range of versions with different payload capacities and reaches. The company's spectrum of products also includes the appropriate robot peripheral equipment – from linear units to end effectors.
16. Precision Automation & Robotics India Private Limited (PARI)

Precision Automation & Robotics India Private Limited (PARI) is one of the largest global automation companies worldwide. It is headquartered in Pune, Maharashtra. The company was founded by technocrats with the knowledge and experience to understand the requirements of the manufacturing industry. It utilises its expertise and resources to bring the best solutions and robotics to its customers.
The company has provided over 3,000 automated solutions worldwide. It provides services starting from conceptualising, manufacturing and implementing advanced factory automation systems. PARI offers businesses and customers the solutions they need to increase productivity and achieve their manufacturing goals.
17. Rapyuta Robotics Pvt Ltd

Rapyuta Robotics in India is a division of Japan-based Rapyuta Robotics Co. Ltd. Its India headquarter is located in Bengaluru. The company was started in 2014 with a focus on empowering lives with connected machines.
The company offers a range of automation machine products including the AMR Picking Solution that can be used in warehouses. This multi-robot solution can help boost the productivity of the picking operation by minimising the walking distance of the worker and eliminating inefficiencies. The robots move autonomously around the warehouse, fulfilling orders, and cooperating with employees through an intuitive interface that shows what to choose and where to go next.
Rapyuta Robotics company designs and develops robotics to make them more accessible, flexible and self-serviced robots that are shared and have open interfaces.
18. Sastra Robotics

Sastra Robotics produces robotic solutions for human-like automated functional testing of real physical devices. It is headquartered in Kochi, Kerala. It is into building robotic manipulators that can mimic human actions.
The company's range of robots is used by Original Equipment Manufacturers (OEMs) and other businesses for testing their products, thereby reducing the time between research and development, testing and marketing cycles. One of its products is the automated HMI (human-machine interface) testing platform bearing advanced touchscreens with voice commands and hand gesture feedback testing to handle HMI.
The company makes scalable robotic solutions for applications that were not earlier automated. Sastra also developed the fastest touchscreen testing robotic arm called the 'SR-SCARA-Pro'.
19. Skilancer Solar Pvt Ltd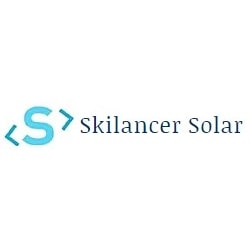 Skilancer Solar is a startup and one of India's fastest-growing providers of automated solar Module Cleaning System (MCS) services using robotic automation technology. Skilancer Solar specialises in providing professional cleaning services for solar panels of commercial parks and various public and private establishments. The company was founded by IIT Jodhpur alumni Neeraj Kumar and Manish Kumar Das, an instrumentation engineer. Their head office is located in Noida, Uttar Pradesh, while the factory is situated in Faridabad, Haryana.
Skilancer Solar focuses on solar cleaning equipment, an area where the founders of the company believe that an opportunity existed, due to the issues of cleaning itself as well as wastage and maintenance. The company has developed the Solar Cleaning Robot, which is a water-free cleaning system and includes a microfibre that gently wipes soiling away, controlled airflow over the panel surface, and gravity to ensure soiling is moved downwards and off panel rows Their Solar Cleaning Robot features Enabled Autonomous & Artificial Intelligence, Internet Connected, Energy Independent Operation, No Water Required, Daily Cleaning of PV Modules, and Safe & Reliable.
A few of their clients include Hindustan Petroleum, Adani Group, Ambit Energy and Unilink Group and more.
20. Systemantics Robotics

Systemantics Robotics aims to enable the widespread adoption of flexible automation in industry, for tedious and mentally-fatiguing or hazardous tasks that human labour is ill-suited to perform. The company was founded in the year of 1995 and is headquartered in Bangalore.
It is a manufacturer of robotics-related products. industry. The company offers various products like basic Robotic Arm Technologies, AC Servo Motors, Motion Controllers for servos, Speed Reducers, etc. It also provides low-cost solutions to major businesses in the world of robotics to simplify user experience through patented design innovations.
The company's flagship product is the 'Asystr 600', which is capable of performing Computer Numerical Control (CNC) of machines and handling various operations. This includes operations for metal industries such as bending, stamping and forging among others, dispensing, palletising and product inspection among others. The 'Asystr 600' can also handle payloads of up to 5 kg. The theme of the company's work is Sensible Robotics.
Wrapping Up
The list of the best robotics companies in India that are mentioned above is great companies to work with. The use of robots is widespread in many sectors like warehouses, automobile manufacturing plants, FMCG factories etc.
As more businesses and industries feel the need of integrating robots, their demands are rising. Therefore, companies with the help of technologies design and develop these AI-powered automated machines for various industries in India and overseas.