Top 20
Top 20 PVC Pipe Brands in India in 2022
Polyvinyl Chloride (PVC) pipes are synthetic polymer plastic that is produced on an extensively large scale and their uses worldwide are increasing exponentially. India is one of the top producers of such PVC pipes and there are a number of companies that manufacture these sorts of pipes that help serve a lot of purposes.
Generally speaking, PVC pipes are used for various piping applications and solutions, for example, both in domestic and industrial plumbing water and wastewater. PVC is the third-largest selling plastic commodity and plumbing industry in India that is home to a number of PVC manufacturing companies situated across the country.
From packaged water bottles to our bank cards and household plumbing etc., they're made from PVC plastic, which can be rigid or soft and flexible.
PVC Pipes and Fittings in India – A Brief Overview
PVC pipes that are available in India (and perhaps, in other countries as well) are generally categorised into four types. These are:
(i) PVC-U (Unplasticised PVC or rigid PVC) – These pipes are used mainly in the transportation of drinking water, soil and waste, sewage and underground drainage, industrial applications, and in making plastic bottles, non-food packaging, food-covering sheets and plastic cards (such as bank or membership cards) etc. PVC-U pipes are 100% recyclable.
On the other hand, the plasticised form of PVC pipes is usually soft and flexible and is mostly used in plumbing, electrical cable insulation, imitation leather, flooring, signage, phonograph records, etc.
(ii) C-PVC (Chlorinated PVC) – These pipes are used mainly in water piping systems in residential as well as commercial construction, and are 100% recyclable.
(iii) PVC-O (Molecularly Oriented PVC) – These pipes are used mainly as pressure pipes for drinking water as well as irrigation and sewer pumping mains, and are 100% recyclable.
(iv) Modified PVC (PVC-M, PVC-HI, PVC-A) – These are thermoplastic alloy pipes which are used mainly in piping systems for the supply of gaseous fuels, such as supplying natural gas and transportation of hydrogen. These pipes are cannot be recycled.
Besides sharing many of the same properties, each type of PVC has its own advantages as well as limitations for different applications which are beyond the scope of this article.
Going forth, let's take a look at some of the popular PVC pipe brands in India.
20 Top Ranked PVC Pipe Manufacturing Companies in India
Here is the list (in alphabetical order) of some of the top-ranked PVC pipe brands or companies in India.
1. Aizar Pipes and Fittings

Aizar is a leading brand in PVC Pipes and related products in India. The company is located in Ernakulam, Kerala and southern Tamil Nadu. Aizar manufactures high-quality products and also provides excellent services and solutions.
The vast range of products in which Aizar deals comprise PVC Pipe, Pipe Fittings, Water Tank, CPVC Pipes, HDPE Pipes, Wiring Pipes, Square Pathy, Half Round Pathy, Pathy Fittings, Solvent, Garden Hoses and Suction Hoses.
Aizar is a non-compromising organisation towards quality standards that makes its products stand out from all other competitive products in the market.
2. Ajay Pipes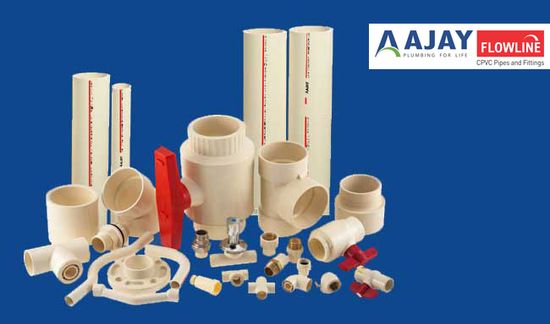 Ajay Pipes is the first company in India to use state-of-the-art European machines for processing the UPVC and CPVC lines of products. It uses "Granule technology" for all its fittings to give high strength and the best product consistency.
The company uses dedicated resources to find and research new generation polymers and additives from across the world. This is carried out with a view to the continuous enhancement of physical properties, product performance, and process-ability along with optimised economics and reduced environmental impact.
The company's manufacturing sites, warehouses and sales offices are strategically located in India and across the globe. Their warehousing facilities are available in various cities, which include Ahmedabad, Hyderabad, Kolkata, Bengaluru, Indore, Mumbai, Chennai, Jaipur, Pune, Dehradun, Kochi and Vijayawada.
3. Apollo Pipes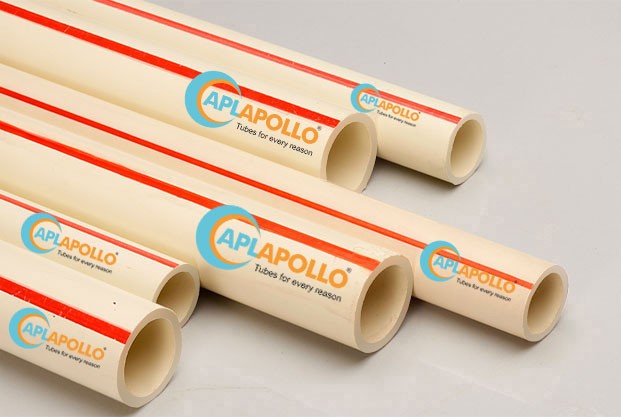 Apollo Pipes is among the leading manufacturers of funnelling and related products under the brand name APL Apollo. The company appreciates a solid standing for their top-notch products and solid appropriation organisation.
Apollo Pipes manufactures their line of products which include C-PVC, PVC, and HDPE pipes and fittings that are of the best quality. The company offers the most flexible range of products to meet the needs of C-PVC funnelling arrangements, Plumbing Piping solutions, SWR, and HDPE pipes.
The company constantly attempts to take care of the market with the best funnelling arrangement and prompted the extension of fittings, and also orders PVC fittings.
4. Ashirvad Pipes Pvt. Ltd.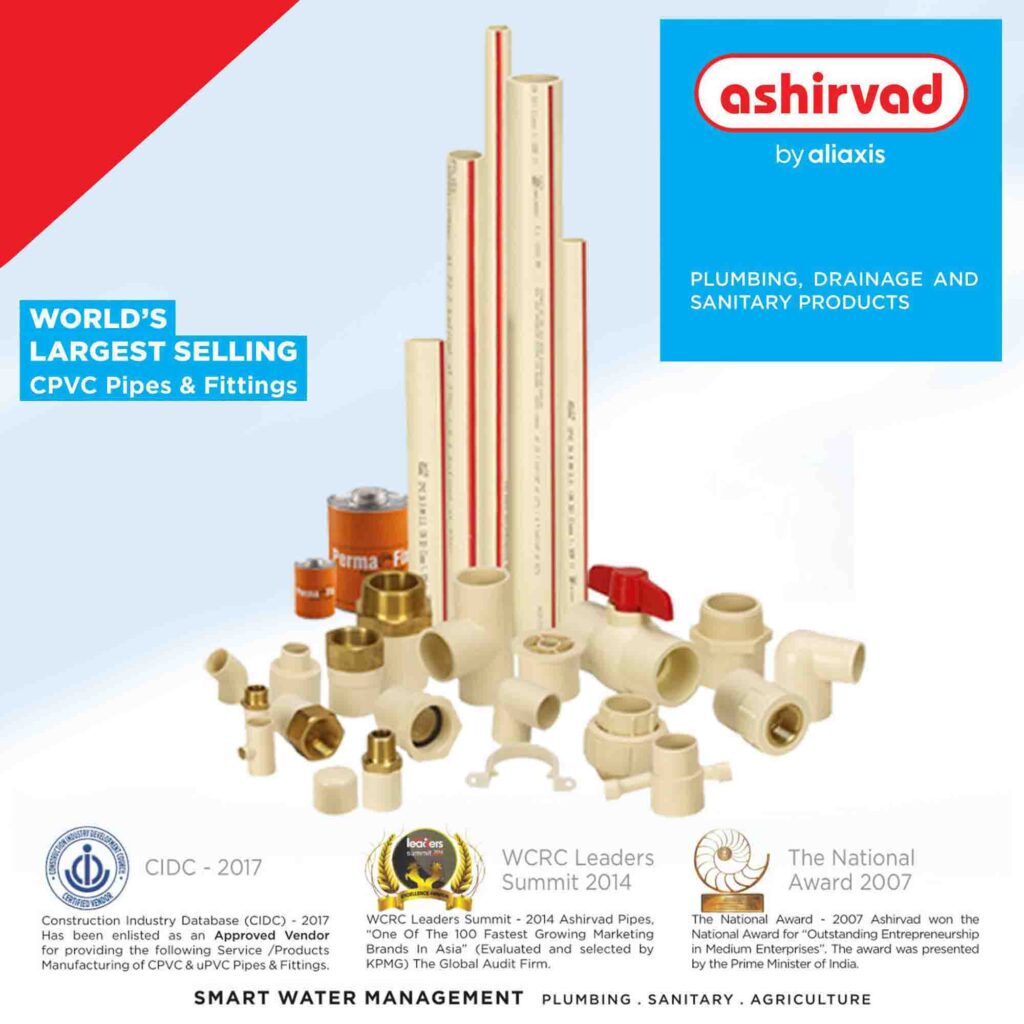 Ashirvad Pipes is one of the largest PVC pipe manufacturers in India. The company produces PVC, PVC-U and C-PVC pipes and fitting systems across a variety of applications in different segments. Their PVC-U (unplasticised pipes) riser/column pipes are used largely in the erection of submersible borehole pumps up to a depth of 1,000 feet.
At present, more than 2,000,000 successful installations have taken place across the globe. The manufacturing systems adhere to the highest level of international best quality for a maintenance-free life.
Ashirvad Pipes has been relentless in its commitment to premium quality and service since 1975. With its state-of-the-art factory spread over 40 acres, the company has an annual manufacturing capacity of 1,08,000 metric tonnes and manufactures a complete range of high technology and superior quality plastic piping systems for domestic and as well as agricultural use.
5. Astral Pipes

Astral Pipes is among the best PVC pipe manufacturers in India. The company was established in 1996 with the aim of manufacturing PVC pipes for plumbing and drainage systems in India. The company meets the needs of millions of households while putting an additional milestone to India's real estate industry which is seen developing at a faster rate.
The company currently has at least six manufacturing units located across the country. These locations include Santej (Gujarat), Dholka (Gujarat), Hosur (Tamil Nadu), Ghiloth (Rajasthan), Sangli (Maharashtra), and Sitarganj (Uttarakhand).
These units are equipped with automated material handling and feeding systems. Their production process and control are based on the SCADA system. They also have an in-house QC department which is required to keep close control over the quality of production of PVC pipes.
6. Captain Pipes Ltd.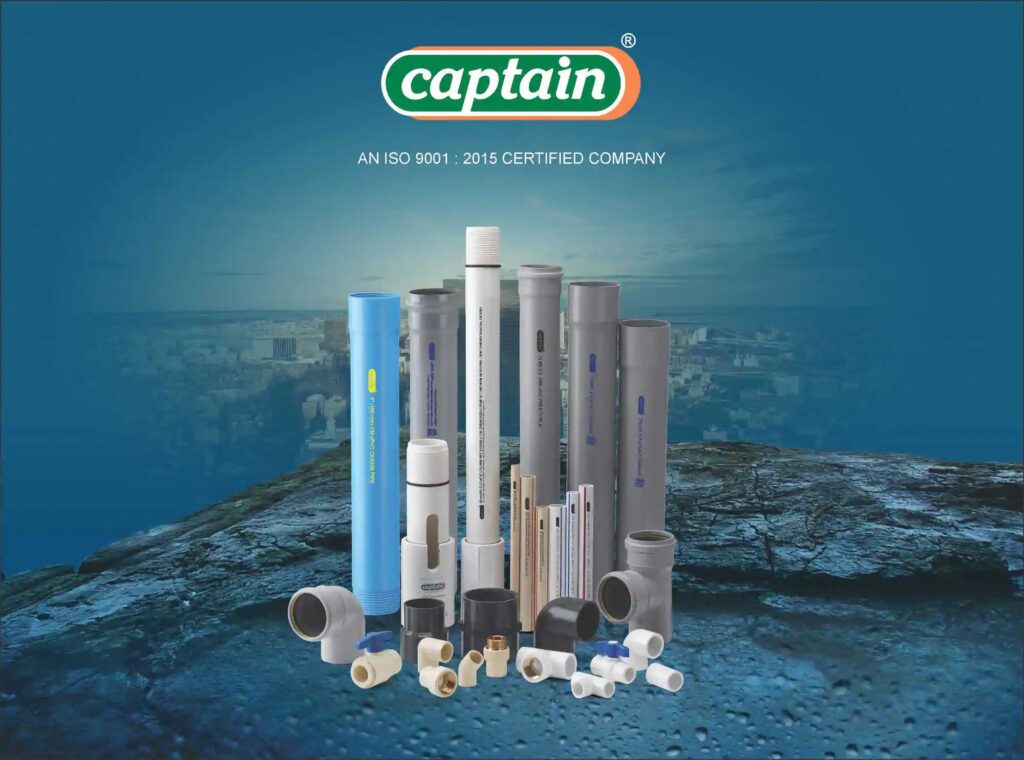 Captain Pipes is a leading manufacturer and exporter of PVC pipes in India. The company which is based in Gujarat offers a complete range of piping solutions for application in agriculture, plumbing and drainage.
Their manufacturing facility is equipped with the latest German extrusion lines and Japanese injection moulding machines for producing the best quality products. They also have their own laboratory and R&D departments with well-equipped instruments and experienced technical persons to ensure the best quality control systems are implemented.
The company manufactures a range of products, which include UPVC Column Pipes, Borewell pipes, UPVC Pressure Pipes, UPVC Pressure Fittings, UPVC/PVC/CPVC Solvent Cement, UPVC Plumbing Pipes, UPVC Plumbing Fittings, CPVC Plumbing Pipes, CPVC Plumbing Fittings, SWR Pipes, SWR Fittings, UPVC Casing Pipes, Suction Pipes, Garden Pipes, HDPE Pipes etc.
7. Dutron Pipes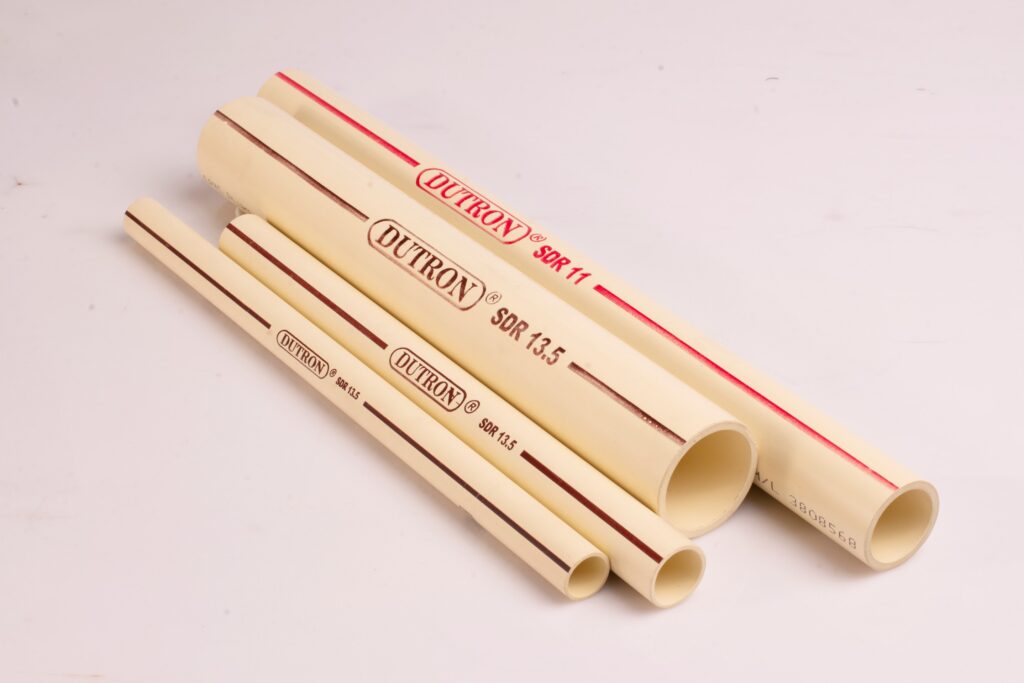 Dutron Pipes is another top PVC pipe brand in India and is part of the Dutron Group. The company makes plastic line frameworks in India. Their PVC Suction Hoses are made in cooperation with the Japan-based company, Totaku Industries Inc.
Dutron Group's assembling plants are located in Vatva, Bharuch and Kheda, all in the state of Gujarat. The company offers products that are made from plastics. These include Polyvinyl Chloride (PVC), High-Density Poly Ethylene (HDPE), and Chlorinated Polyvinyl Chloride (CPVC), which are used in a wide range of funnelling applications in various business sectors.
8. Finolex Industries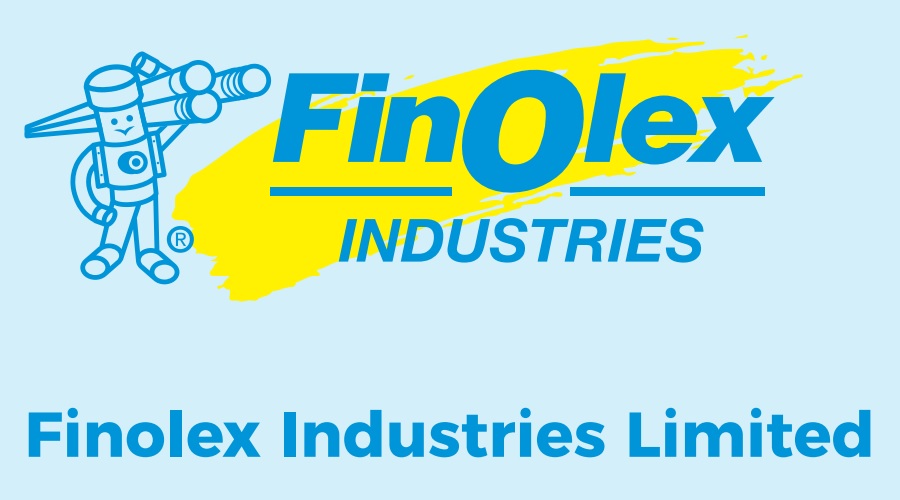 Finolex Industries is another popular manufacturer of PVC pipes and fittings that are available in various sizes, pressure classes and diameters. This makes the brand suitable for diversified applications in both agricultural as well as non-agricultural sectors, including housing, industrial and construction.
The company's manufacturing plants are located in Pune, Ratnagiri and Masar. Their Ratnagiri plant was set up in collaboration with the German-based company, Uhde GmbH. All of their PVC manufacturing plants are equipped with modern-day machinery that helps churn out around 370,000 metric tonnes per annum.
The company provides superior quality PVC-U and C-PVC pipes and fittings throughout the country. This is carried out through more than 18,000 direct and indirect retail outlets.
As a part of its PVC Complex, Finolex Industries Limited (FIL) has also set up an open sea cryogenic jetty, which is the first of its kind in the Indian private sector. Finolex is one of the top PVC pipe manufacturers in India.
9. Jain Irrigation (Piping Division)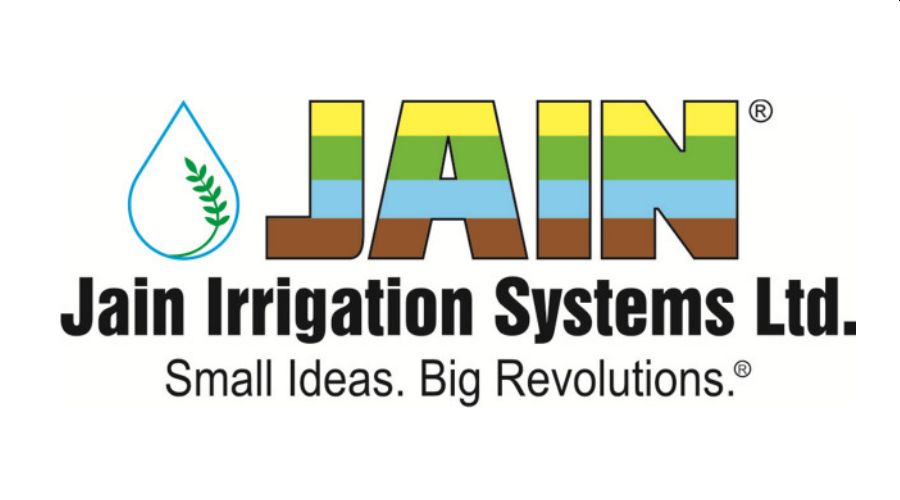 Jain Irrigation (Piping Division) is one of the largest producers of Thermoplastic piping systems in India. The company pipe brands are largely used in all conceivable applications with pipes ranging from 3 mm to 1600 mm in diameter and are available in different pressure ratings.
The company has a production capacity of over 3,00,000 metric tonnes per annum. It is the only manufacturer to own the DSIR-approved R&D setup with state-of-the-art facilities. The pipes are manufactured to conform to IS, ISO, DIN, ASTM, TEC and other customised specifications. Jain Plumbing C-PVC pipes are manufactured from a specially formulated compound that conforms to or exceeds the requirements of the C-PVC compound of cells as per IS 15225.
The company have various piping division which includes PE, PVC Pipes and as well Fittings catering to urban and rural infrastructure needs. In addition to the irrigation needs of the farmers, their C-PVC plumbing pipes and fittings produced for use in hot water application is yet another product which will be forward integration of the high group of infrastructure products. This will convey the hot water with efficiency combined with economy and a longer lifespan.
10. Kankai Pipes & Fittings Pvt. Ltd.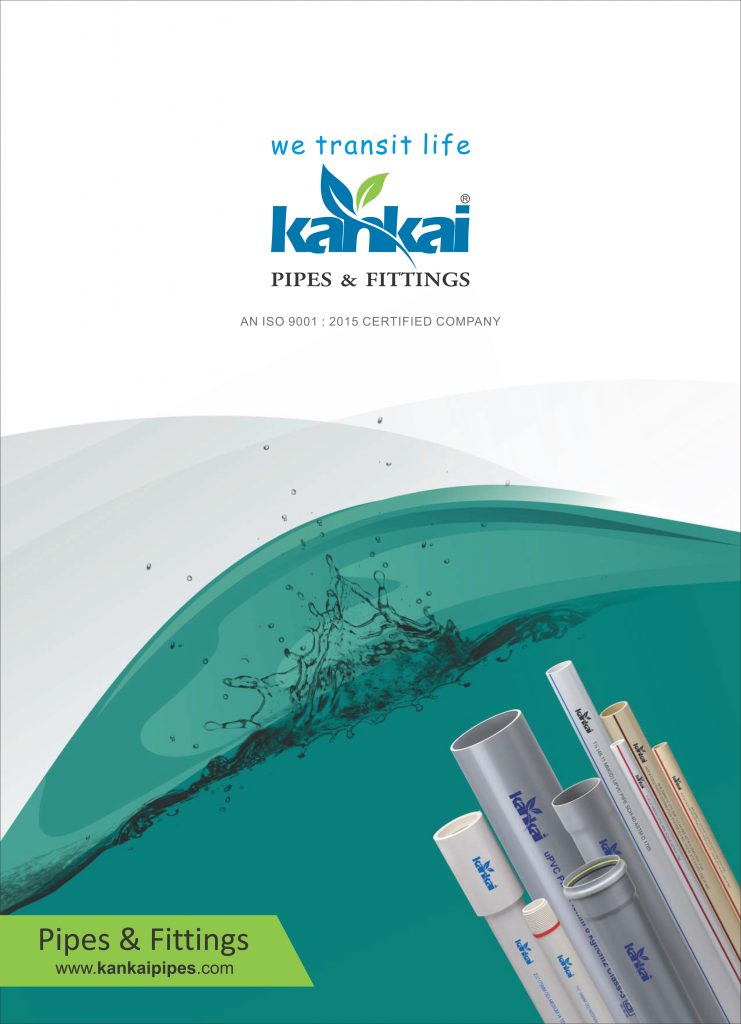 Kankai Pipes & Fittings has earned a spot in the list of the top PVC brands in India. The company has spent a significant amount of time and resources in the assembling and exporting of its range of C-PVC and PVC-U pipes and SWR, CPVC, and UPVC fittings.
Kankai Pipes and Fittings also export quality PVC line of products in various countries, like Romania, Nigeria, United Arab Emirates, Yemen, Nepal, Bangladesh, USA, Kenya, and several other nations.
11. Kisan Pipes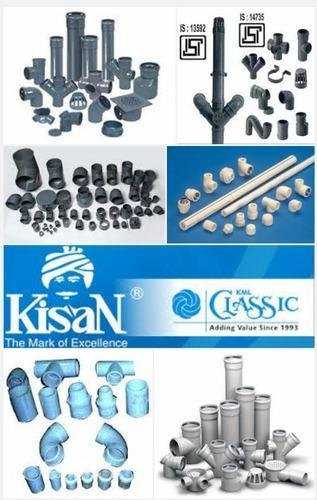 Kisan is a leading company under the Kisan Group that manufactures a PVC line of products in India in the field of pipes and fittings for Water Management, Irrigation, Water Distribution and Sewage Disposal Systems.
Kisan Mouldings Ltd. (KML) is one of India's largest plastics processing companies that produces around 40,000 metric tonnes of polymer each year. KML has one of the widest ranges of Pipes & Fittings ideally suited to meet the varied needs of plumbing in different buildings/projects, such as in residential, commercial or industries. KML's plumbing range consists of KML Classic CPVC Plumbing System, Free Flow UPVC Plumbing System (ASTM) etc.
Kisan Mouldings Limited company manufactures and markets its PVC pipe products under the brand names 'Kisan' and 'KML Classic' and is known for its quality and service.
12. Plasto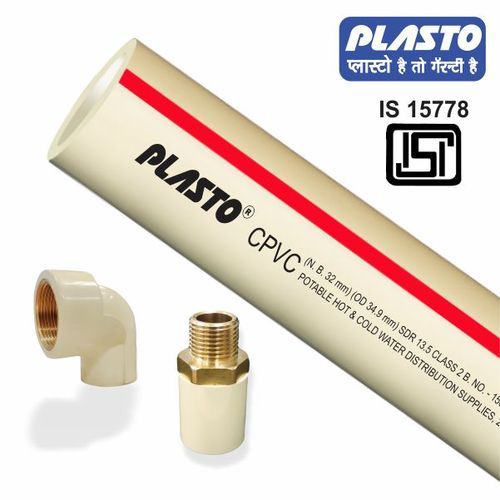 Plasto, also known as R C Plasto Tanks & Pipes Pvt. Ltd., is one of the largest manufacturers and exporters of high-quality water storage tanks, pipes and fittings, sanitary ware and PTMT taps in India. The company operates its business under Vaibhav Plasto Printing & Packaging Pvt. Ltd., and R C Plasto Tanks & Pipes Pvt. Ltd. Both are part of the parent company, Plasto Group of Companies.
Plasto Group of Companies is a leading brand in offering the best quality overhead water tank solutions for residential, commercial and industrial purposes in India.
The company manufactures as well as supplies a wide range of water storage tanks, plastic water tanks, PVC pipes and fittings, CPVC pipes and fittings, UPVC pipes and fittings, plastic pipes, HDPE pipes and sprinklers, sanitary ware and PTMT taps.
13. Prince Pipes & Fittings Pvt. Ltd.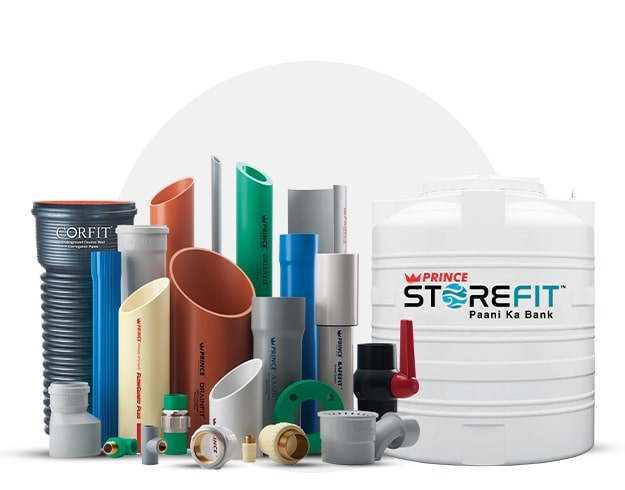 Prince Pipes & Fittings Pvt. Ltd., is another well-known PVC pipe brand that continuously aims at expanding its range of products to meet the needs of the market. The company is geared toward creating innovation in plumbing, irrigation and sewerage technologies to meet the nation's increasing water demands.
Prince Pipes strives to pave the way for a future that provides clean water for everyone and everywhere; from the smallest villages to the largest cities. It creates roof-water harvesting systems for water collection and disposal at catchment areas that can help increase groundwater levels. The company also provides Bore-well systems for groundwater extraction.
With the use of the Zero Defect Manufacturing process to create extremely efficient piping systems, the company aims at providing low-cost, non-contaminated water transport in every part of the country. Its underground drainage systems provide hassle-free sewerage for every situation.
14. Sanco Pipes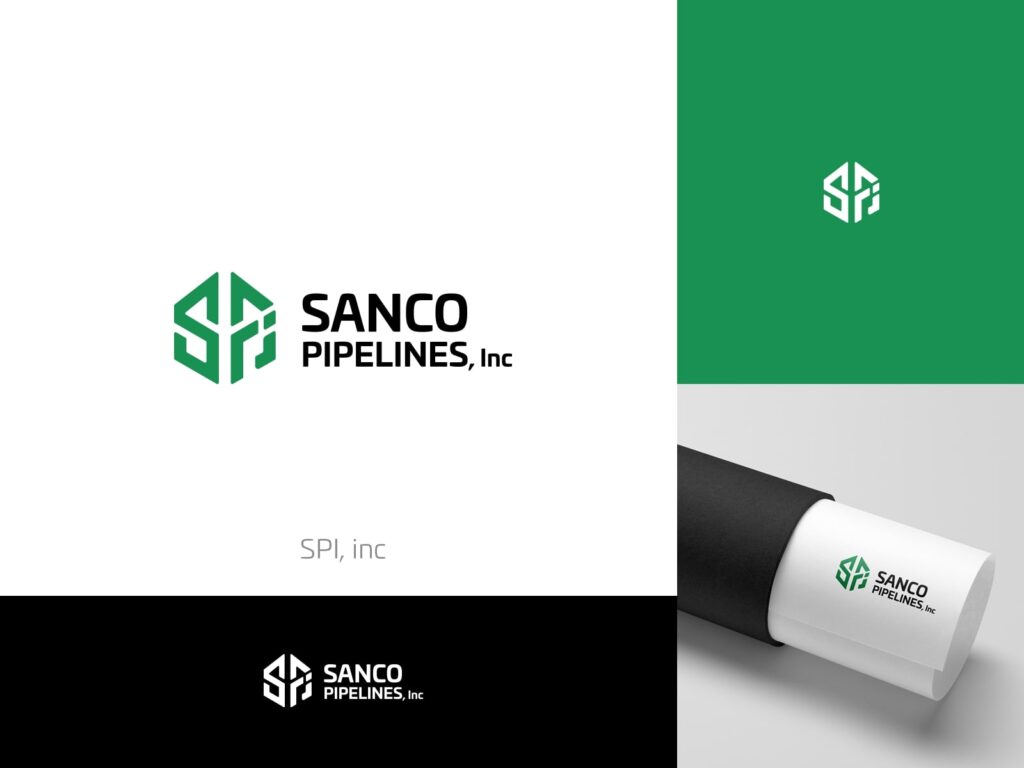 Sanco Pipes is another popular name in the manufacturing of PVC pipes in India. The company is part of the Sanco Group of Industries situated in New Delhi.
The company produces a wide range of PVC products, which include PVC Conduit Pipes, PVC Wires & Cables, PVC Resin, PVC Insulation Tapes, PVC Profiles, LED Lights & Panels (does not contain Mercury), Copper Wire Rods, Calcium Carbonate (imported from several countries in Asia), etc.
Sanco has also established a subsidiary company named Sanjita Polymer Limited in Hong Kong. The company specialises in importing and exporting various products, like Copper wire rods, PVC resin, Calcium Carbonate, speciality chemicals, other Polymers and metals, and various Electronics & Electrical related products that are imported from several countries all over the world.
15. Savera Pipes Pvt. Ltd.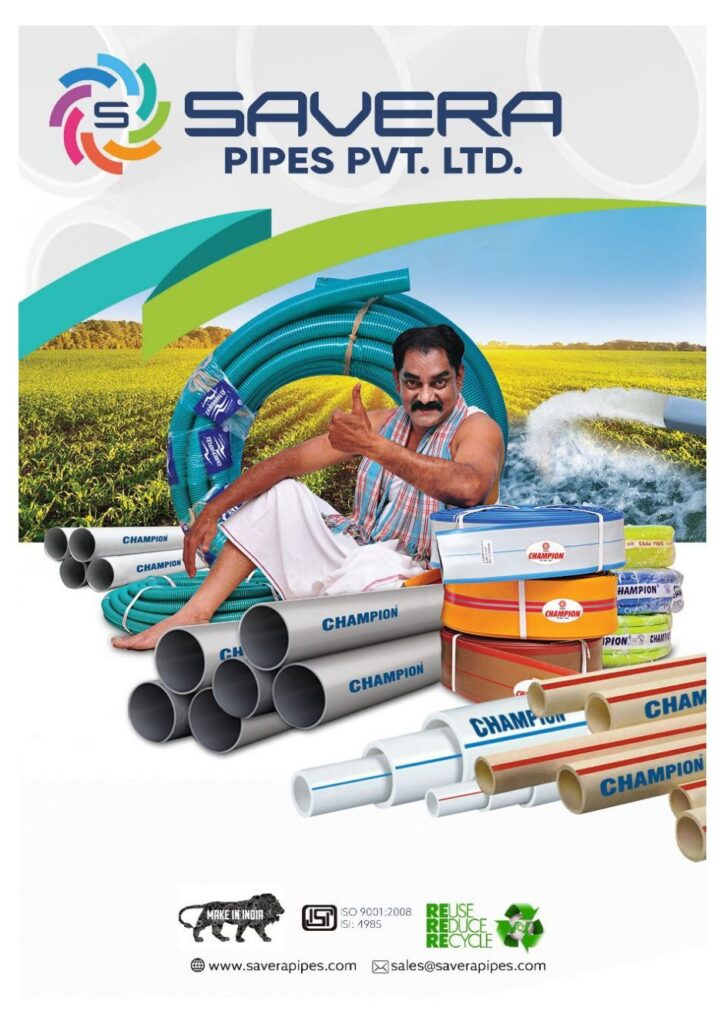 Savera Pipes is a leading manufacturer and provider of the massive scope of PVC Flexible Hose Pipes, like garden pipes, suction hose pipes, PVC duct hose pipes, Lay Flat tubes, Corrugated pipe for electric and sterile purposes, and PVC wire built-up pipe.
The company produces PVC pipes which are highly tough, flexible, and safe from erosion and climate conditions. Their pipes are also lightweight with a capacity to keep up security for quite a long time. This ensures better fluid flow and is easy to introduce.
16. Skipper Limited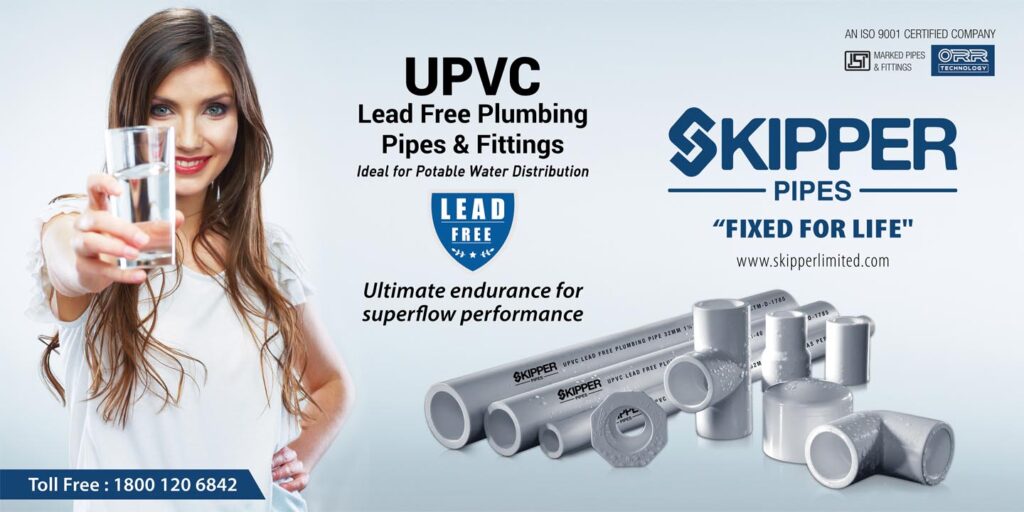 Skipper Limited is a powerhouse in the Polymer Pipes & Fittings business in India. The Kolkata-based company manufactures premium pipes and fittings to cater to the pressing demands of the market. Their products are used in agriculture, bore-well, garden, plumbing, drainage and sewage.
The company's range includes different categories of products such as UPVC Pipes, CPVC Pipes and Fittings and SWR Pipes and Fittings, Rigid Pipes and Fittings, Ribbed Strainer Pipes, Casing Pipes and Column Pipes.
Skipper pipes are built using cutting-edge technology and hence, ensure top quality, corrosion resistance and lightweight. A wide range of PVC products is available to fulfil both domestic and agricultural needs in the country.
17. Spectra Pipes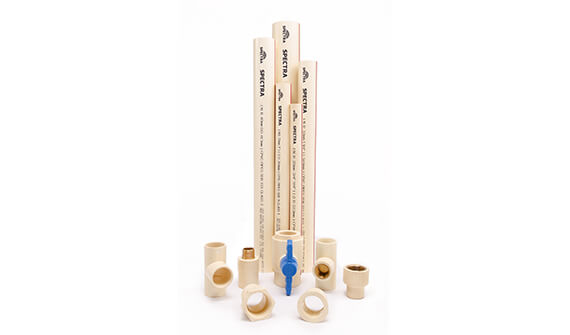 Spectra Pipes is a well-known company based in Bengaluru, Karnataka. Spectra manufactures a PVC line of products in the field of agriculture, plumbing and water storage tanks.
The company's products for plumbing include PVC Plumbing Systems, CPVC Plumbing Systems, SWR Drainage Systems and PVC Underground Drainage Pipes. To fulfil requirements in agriculture, the company provides PVC Agricultural Pipes and Fittings, Drip Irrigation Systems and Garden Hoses.
18. SUDHAKAR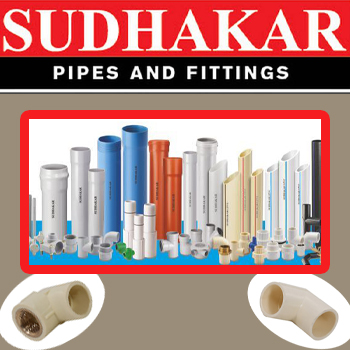 SUDHAKAR Pipes and Fittings is part of the SUDHAKAR Group, a company which is a leading manufacturer of products like UPVC Pipes and Fittings, Wires and Cables, and UPVC Windows and Doors.
The company manufactures high-quality UPVC Pipes and Fittings for potable water supply, UPVC Underground Drainage piping systems, lead-free UPVC Plumbing systems as per ASTM standards, CPVC Piping Systems, Micro Irrigation Systems, Water Storage Tanks etc.
SUDHAKAR also manufactures flame-retardant wires that are used in homes that can cover each and every electrical application. The wires are made from pure electrolytic grade, bright annealed bare copper with specially formulated FR PVC compound with high insulation resistance value.
19. Supreme Industries (Plastics Piping Division)

Supreme Industries is the renowned leader in India's plastic industry having valuable experience in providing an innovative and cost-effective piping solution. The company's goal is to meet the growing needs of its clientele in the water, waste management and infrastructure sector through a specially developed high-performance range of piping products.
The company offers a wide range of piping products that cater to various applications. Their products are created to meet the specific needs of any application, which makes them practically useful.
Whether the requirements are for the buildings and installations, or for the civil construction and infrastructure, i.e. above the ground or for underground applications, Supreme Industries is the one-stop choice for everything in plastic piping products. Supreme Industries also export its products to more than 20 countries across the globe.
20. Vectus Industries Limited

Vectus is one of the leading polymer-based solutions companies in India, primarily in the business of manufacturing water storage tanks and piping systems. The company is based in Noida and also has a registered office located in Gwalior, Madhya Pradesh.
Vectus manufactures PVC pipes in India with a well-diversified portfolio that is ideal for industrial, household, infrastructure and agricultural needs. Their range of piping systems includes Agri PVC Pipes & Fittings, UPVC/ASTM Pipes & Fittings, SWR Pipes & Fittings, Column Pipes, Casing Pipes, Flexible Garden Pipes, CPVC Pipes & Fittings, PPR Pipes & Fittings, Composite Pipes & Fittings, HDPE Pipes and Underground Drainage Pipes.
The company's line of PVC products includes Water Storage Tanks, Pipes & Fittings, Bathware, Gardening, Plastic Household and Waste Disposal Products, and Road Safety and Traffic Management Accessories.
Wrapping Up
PVC is the third-largest selling plastic commodity and plumbing industry in India. There are a large number of PVC manufacturing companies as we have seen in the list above.
PVC pipes and fittings are offered in a range of products that help cater for the needs of households, construction, and other industry sectors in India.