Top 20
Top 20 Namkeen Brands in India in 2023
Are you a fan of ready-to-eat snacks enjoyed while watching your favourite TV or OTT program, or perhaps while having a gossip session with friends? If so, just hearing the word 'namkeen' is enough to make your mouth water. Let's delve into what Namkeen is, its popularity, and the creators of these delectable savoury treats.
Namkeen – A Savoury Taste of India
The name 'Namkeen' (or Namkeens) is a reference to the snacks that are made using a mixture of many ingredients or only adding a few ingredients. They are generally eaten as light appetizers and are also offered to guests when they visit someone. In short, it can be said that these flavoured edible items have become common household traditions among communities in the country than just a leisurely light meal.
India is home to a wide variety of foods and delicious snacks. The snacks are pre-cooked and some require little preparation by adding vegetables, dry fruits, seasoning, spices, pulses etc., to give them flavour and aroma that could make you irresistible. These can be sweet, salty or spicy in taste and are available in a plethora of options and are suitable for any occasion. Many people also prefer these snacks with alcohol and non-alcohol beverages.
Many companies(Namkeen Brands) in the country have established themselves by manufacturing flavoured snacks, which locally are called "Namkeen". You can easily find them at retail stores and supermarkets near you. There are many ideas on how to prepare these savoury snacks at home, too.
Also, read these articles:
"Top 20 FMCG Companies in India"
"Top 20 Ice Cream Flavours in India"
"Top 20 E-Commerce Companies in India"
Now, let's take a quick look at the companies that manufacture and sell ready-to-eat savoury snacks aka 'Namkeens' in India.
List of 20 Popular Namkeen Snacks Brands of India That Will Spice Up Your Appetite!
Below is a list (in alphabetical order) of companies in India that make delicious pre-cooked/ready-to-eat snacks and are popular household brands throughout the nation.
1. Aggarwal Namkeen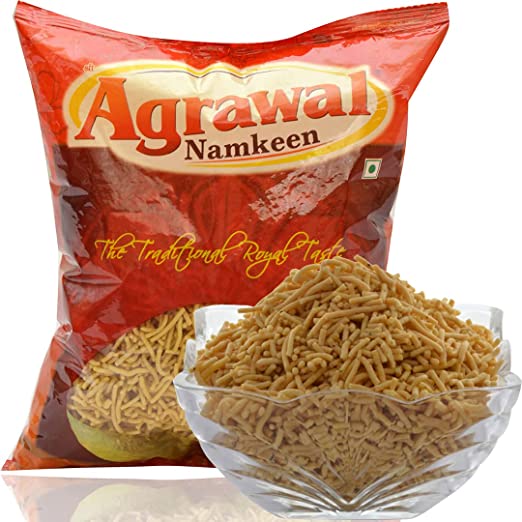 Aggarwal Namkeen is a brand that is widely popular for its namkeen snack items in India. The manufacturer of the snack food brand is Aggarwal Food Product which is based in New Delhi. The company started as a small-scale supply chain of snacks, and today, it has become a well-renowned manufacturer and supplier of more than 300 products including snacks, namkeen, roasted snacks, and confectionery delights.
Their offerings in snacks and namkeen food items include Bhujiya, Chips, Katori, Puff, Corn Items, Roasted Treats, Winter Sweets, and more.
All the food products offered by Aggarwal Food Product are made using millets and other nutritionally rich grains, cereals, and pulses. These snacking variants themselves are categorised in different flavourings, also comprising Italian flavours, so as to suit every mood and taste of the customers.
2. Balaji Wafers Pvt Ltd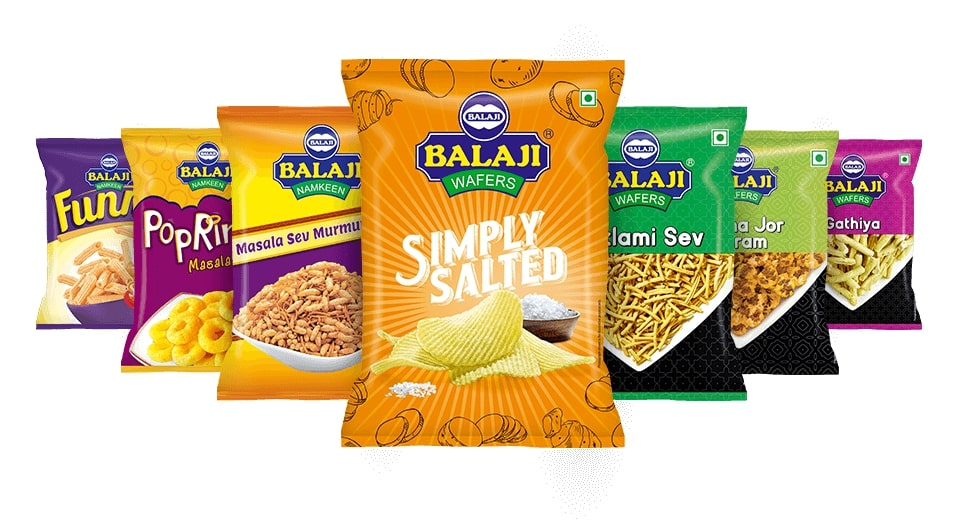 Balaji Wafers is one of the leading snack foods manufacturers and distributors in India. The company was started by the Virani brothers in the 1970s at a small canteen of Astron Cinema in Rajkot, Gujarat. The founders made wafers and sandwiches in the canteen and named their business 'Balaji', and thus, their food business came to be known as Balaji Wafers as we know it today. The expansion of the company also led them to manufacturing various kinds of snacks and namkeens which are offered in a wide range in India.
A few of their popular snacks and namkeens include potato flakes and chips that are offered in different flavours like chilli, salted, spicy, and a mixture of several ingredients.
3. Bharat Namkeen

Bharat Namkeen is a leading manufacturer and seller of snack foods and mixture namkeens in India. The snack food brand was started in the year 1982 with its headquarters, factory, and shop situated in Rajkot, Gujarat.
The ready-to-eat food brand offers a wide selection of snack items in categories of Namkeen Variety, Chevda & Chavana, Kathol, Gathiya, Sev, Puri, Bites Scoop, and Bites Scoop Loose, respectively. One can enjoy many items like Chivda Namkeen, Namkeen, Snack Foods, Shakkar Para, Khari Biscuit, Bite And Scoop, Bites & Scoop, and much more.
Bharat Namkeen continues to satisfy customers with a variety of quality and delightful snack products.
4. Bikaji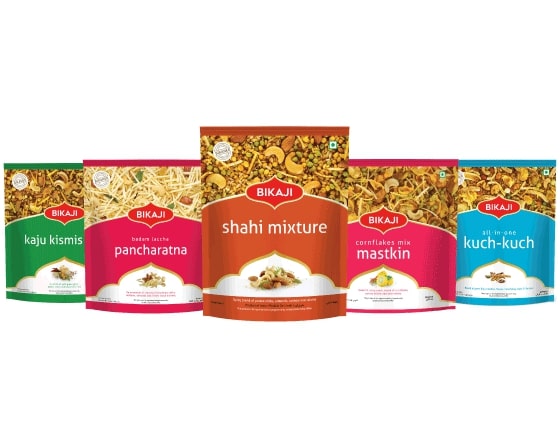 Bikaji is one of the popular brands of 'Bhujia' snacks in India. The food brand was started as Bikaji Foods International Ltd at Bikaner in Rajasthan in the 1980s when the technology to produce 'Bhujia' on a large scale was unthought of. The name "Bikaji" is actually derived from Bika Rao – the founder of Bikaner and the suffix 'Ji', which is used as a mark of respect in India. The company also owns a subsidiary Petunt Food Processors Private Limited that caters to the southern markets in India.
Bikaji offers a wide range of Bhujia, Namkeens, Sweets, and Papad, as well as a selection of Western Snacks and Cookies. Additionally, Bikaji launched its first restaurant 'Bikaji Food Junxon' in the year 2008 which is situated in Malad, Mumbai. Customers often come here to experience a complete royal treat, the authentic taste of Bikaner and the diversity of Bikaji that will strike a chord.
With approximately 30 exclusive stores and 10 factory warehouses across India, Bikaji continues to expand its horizons by offering its consumers an unrivalled royal experience. Over the years, Bikaji has managed to win hearts across the globe, with its power of ethnic snacks. Today, Bikaji stands for authentic Indian taste, with diverse products and innovative packaging, adding to its commitment to taking the real Indian taste to the world.
5. Bikano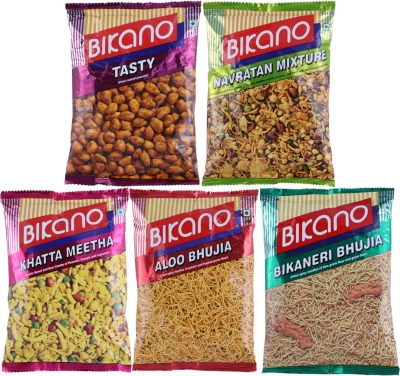 Bikano is a brand of Indian sweets and namkeens manufactured by Bikanervala Foods Pvt Ltd in Delhi. The company originally started in 1950 as a food stall at Chandni Chowk in Delhi offering quality foods and snacks sold under the name Bikaner Bhujia Bhandar to customers. The founders later expanded their business and opened several shops named Bikanervala in the 1960s.
Their food products mainly include a wide category of Namkeens, Snacks, Sweets, Cookies, Rusks & Puffs, Syrups, Frozen Food, Ready to Eat (RTE) Foods, Maida and others. Bikano also manufactures namkeens for PepsiCo's brand Lehar.
In addition to manufacturing and selling packaged sweets and namkeens under the brand name of Bikano, Bikanervala also opened Bikano Chat Cafes, which are restaurants serving fast food with quick services. Bikanervala and Angan Restaurants serve traditional Indian cuisine, as well as packaged Bikano products. Bikanervala has opened several outlets in different parts of the country.
6. Chandu Halwai

Chandu Halwai ('Halwai' locally meaning sweets vendor) has been catering to the Indian sweets segment since 1896, thus, making it one of the oldest sweets and savouries brands in India. The company is based in Mumbai, Maharashtra. Chandu Halwai is often, also branded as Chandu Sweets.
The company manufactures and sells a wide variety of namkeens and sweets (or 'Mithai') using some of the finest and well-tested ingredients to satisfy their customers' tastes. Their ready-to-eat food products are plenty and are offered in the categories of Halwa, Kaju Katli, Dry Fruits, Snacks and Namkeens, Packed Foods, and other kinds of sweets.
Chandu Halwai or Chandu Sweets is among the popular household names in the Mumbai region and beyond.
7. Chhappan Bhog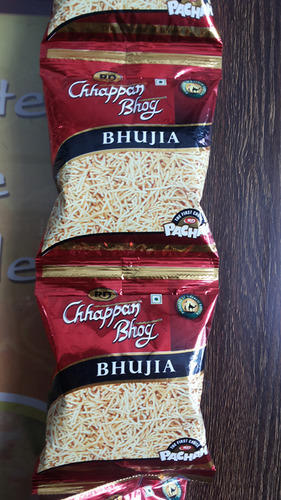 Chhappan Bhog is a well-known brand in India. Started in 1992, the brand has become a reputed name in premium quality sweets and namkeens and other delectable delicacies, perhaps the best that has won millions of hearts across the country and the globe. The name 'Chappan Bhog' refers to a royal get-together taking place with various delicious traditional food items (here 'Chappan' means number 56 and 'bhog' means a meal of foods). The brand has a strong presence in Indian cities offering lip-smacking Indian snacks at affordable prices.
It offers a variety of foods and snacks products such as Bites & Berries, Salty Snacks, Dry-Fruit
Sweets & Savouries, Snacks, Indian Delicacies, Moong Dalmoth, Aloo Lachha, Kaju Dalmoth, Cornflex Mixture, Besan Sev and a wide range of Namkeens.
The company also offers Chappan Bhog Specials, which mainly include a wide selection of snacks in categories like Wedding Sweets, Premium Sweets, Delightful Dry-fruits, and Corporate Gift Hampers.
8. DFM Foods Ltd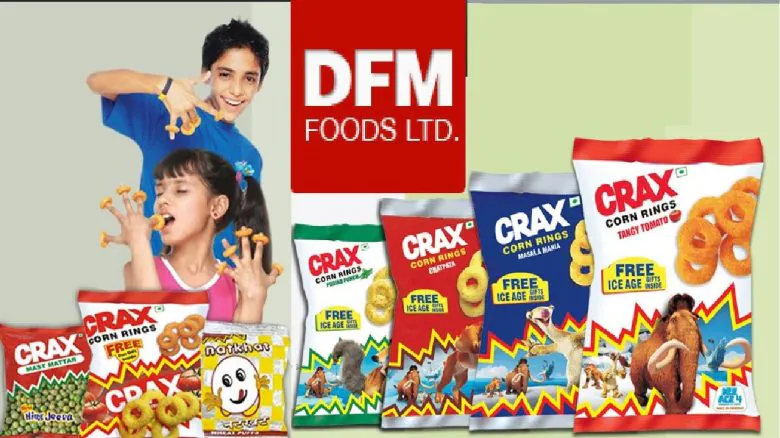 DFM Foods is a leading manufacturer of a variety of packaged snacks under the brands CRAX and NATKHAT in India. The company was founded in 1984 and its head office is located in Noida, Uttar Pradesh. Their range of CRAX snacks is very popular among children – those who have tried these will remember the crispy and spicy CRAX Corn Rings that one puts on their fingers and enjoys the fine taste.
The company makes different kinds of ready-to-eat products, which are mostly sold under the brand names CRAX, NATKHAT, FRITIS and CURLS, respectively. These brands further offer a wide range of snacks and namkeens, like the already mentioned flagship product CRAX Corn Rings, and their Corn Puffs, Wheat Puffs, Crispy Sticks, and in Namkeens there are Bhujyias, Daals, Mixtures, and Nut-Mixes.
CRAX and NATKHAT range of snacks from DFM Foods have become extremely popular among children as well as adults in India.
9. Haldiram's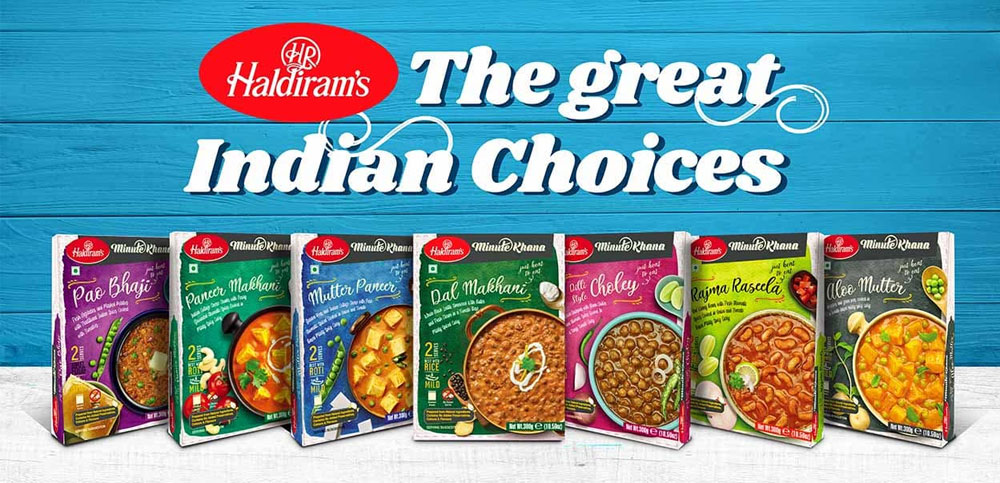 Haldiram's is a unit of Haldiram Bhujiawala Limited that began from a small namkeen shop in Bikaner, Rajasthan and took their delicious variety of 'bhujia' snacks beyond the boundaries of Bikaner. The now popular namkeen brand was founded by Ganga Bishan Agarwal (aka Haldiram Ji). It opened its first full-production unit and introduced a delectable variety of savouries, sweets and beverages to the customers, and quickly became a household favourite among thousands.
Haldiram's offers a wide range of snacks and ready-to-eat food and beverage products including Bhujia Sev Namkeen, Papad, Mathri, Khatta Meetha, Mixture, Phalhari Chiwda, Salted Peanuts, Masala Peanut, and many more in Namkeen. This brand is an integral part of every Indian household and the most popular namkeen brand in India. The variety of 'bhuija' snacks from Haldiram's is loved by all. Haldiram tops the Indian namkeen brands' list.
Haldiram's opened retail chains and stores across India committed to serving the most authentic taste of India through our products. The brand instilled the value of keeping tradition and quality intact, and all of its products maintain a consistent sense of simplicity.
10. Kaleva Sweets and Namkeens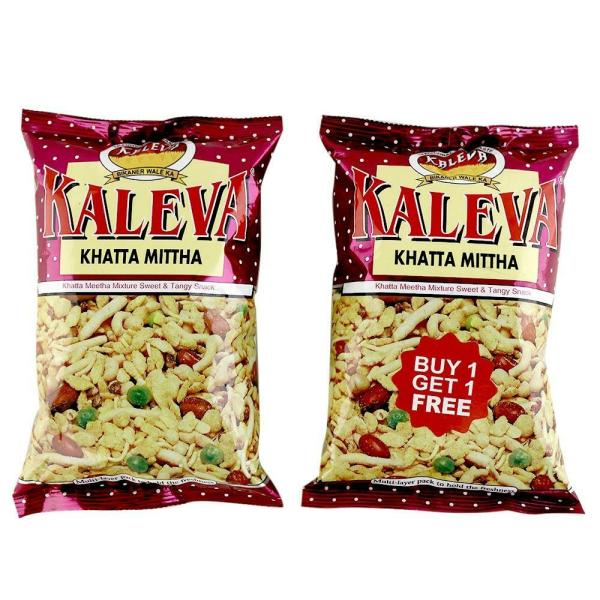 Kaleva is a popular namkeens and sweets brand in India. Although the company's founders, the Aggarwals, are originally from Bikaner (Rajasthan), their business is set up in the heart of Delhi. The company initially started by only making and selling sweets. After the launch of namkeens and other products, they received massive love for their food and beverage products from across the country.
The brand offers a wide variety of delicious sweets, namkeens and other Indian snacks including Raj Bhog, Rasmalai, Pista Burfi, Laddo, Khoya, Ghee, Kaju, Bengali Rossogolla, Rajasthani Ghevar, Badam, Pista, Petha, Panjiri Laddo, Sohan Papdi, Choco Sohan Papri, Karachi Halwa, Bhel Puri, Badam Lachha, Kashmiri Mixture, Navratan Mixture, Moong Dal, Chana Dal, Aloo Bhujia, Bikaneri Bhujia, Chana Jor, Chana Chakh, Chabeni, Tasty, Khatta Meetha, Chaupati Chana Dal, Kaju Mixture, Mini Samosa, Mini Kachouri, Methi Mathri, Mathi, Salty, Pickles, Puri Sazi, Sharbats (Beverages) and many more.
Their Navratan and Dalmoth are among the famous namkeens from their house. Apart from the range of Sweets and Namkeens, the company also sells packaged pickles, traditional Indian ground spices and papads. They also sell non-fried items for health-conscious people.
11. Kipps Confectioners Pvt Ltd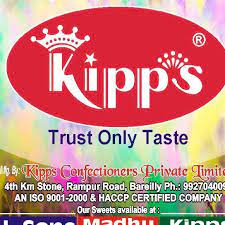 Kipps Confectioners is a manufacturer and seller of Indian sweets, desserts, snacks, namkeens and confectionery in Bareilly, Uttar Pradesh. It also has set up in-house eateries under the brand KIPPS where you can much on a wide variety of delicious sweets, snacks and namkeens to your satisfaction.
Their range of ready-to-eat food products includes Mix Sweets, Bengali Sweets, Kaju Sweets, Traditional Sweets, Fresh Halwa, Fresh Laddu, Milk Items, Sugar-free Sweets, Namkeens, Cakes, and more.
The company is in pursuit of providing high-quality snack food products that also follow international specifications with regard to the processing technique involved, and the use of raw materials, additives, flavours, oil etc.
12. Makhan Bhog Sweet and Bakers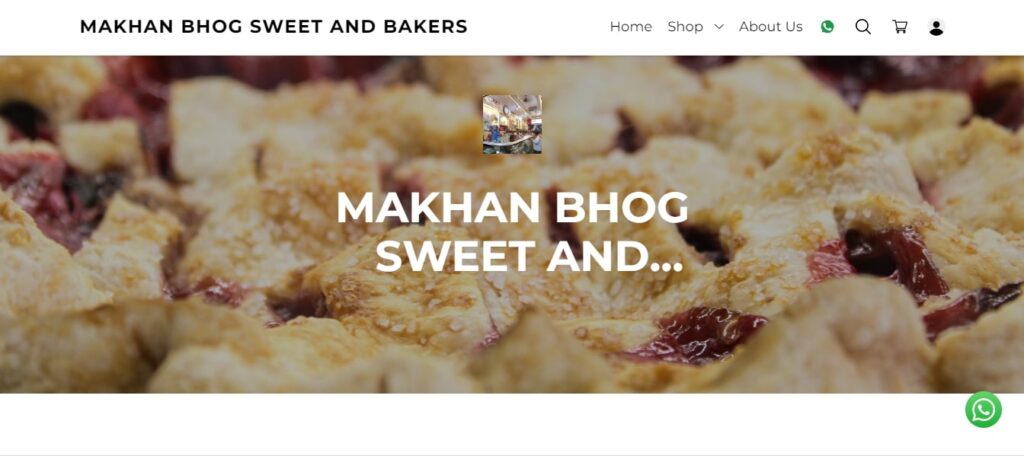 Makhan Bhog is a well-known namkeens and sweets brand founded in Surat, Gujarat, and offers delivery services across India through online orders. They also take orders for any occasion or function like marriage, Tilak ceremony, birthday, ring ceremony, etc.
The company manufactures all kinds of sweet products, including birthday cakes, pastries, patties, and more. Their range of namkeen and sweet products includes Bikaneri Mixture, Diet Chevda, Farali Chevda and King Mixtures. These are some of the most popular product lines of Makhan Bhog, serving delicious sweets and savouries.
They also offer options in desserts, snacks, chocolates, cakes, pastries, 'Halwa', 'Barfi', 'Laddu', fresh paneer and mater and more.
13. Maxvita Foods Pvt Ltd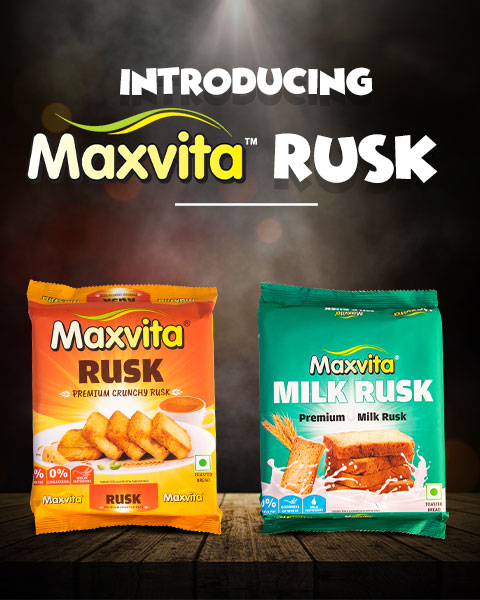 Maxvita Foods is one of the leading snack foods manufacturing companies in South India. The packaged snack foods manufacturing company is based in Mysore (now Mysuru), Karnataka.
The company produces a wide range of ready-to-eat snacks that are offered in categories like Potato Chips, Baked Corn Snacks, Namkeen Snacks, and Rusks. Their range of Namkeen Snacks includes delicacies such as Wheels, Super Rings – Tomato and Spicy, Karumkare – Tomato, Chat Masala and Manchurian, Crunchy Noodles, Crunchy Pasta, and Moong Dal.
Maxvita's snacks and namkeens are loved by both children and adults and bring a light savoury taste to the table.
14. Mukharochak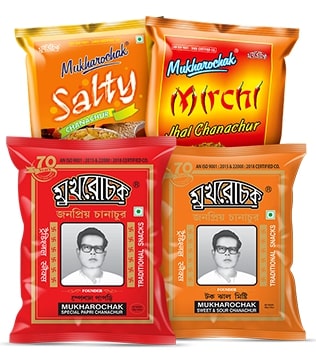 Mukharochak is one of the leading brands bringing Bengal's cuisine of spicy treats to consumers across the country. It rose to popularity for its 'Chanachur' snack which quickly became a popular treat among the Bengali community. This further led the brand to offer a variety of flavours of Chanachur and also introduced several other snack items including sweets. Today, Mukharochak holds its place in the market as an undisputed leader and the most trusted snacks brand.
Their snack products include Chanachur, Chiwra, Bikaneri Bhujia, Aloo Bhujia, Sweets, Ethnic Snacks, Tiffin Snacks, Tea Snacks, Cocktail Snacks, and more. Mukharochak mastered the art of recreating Chanachur, one of the oldest items in the history of snacks in India. The popularity of this snack grew rapidly with a combination of the best spices and farm-fresh ingredients.
Mukharochak also offers a swinging edible pleasure and made its way to every home in West Bengal and beyond. The company is planning for a Pan-India distribution and beyond. At present, you can pick your favourite brand item with just a click as Mukharochak is available on all leading online food ordering portals.
15. Prakash Namkeen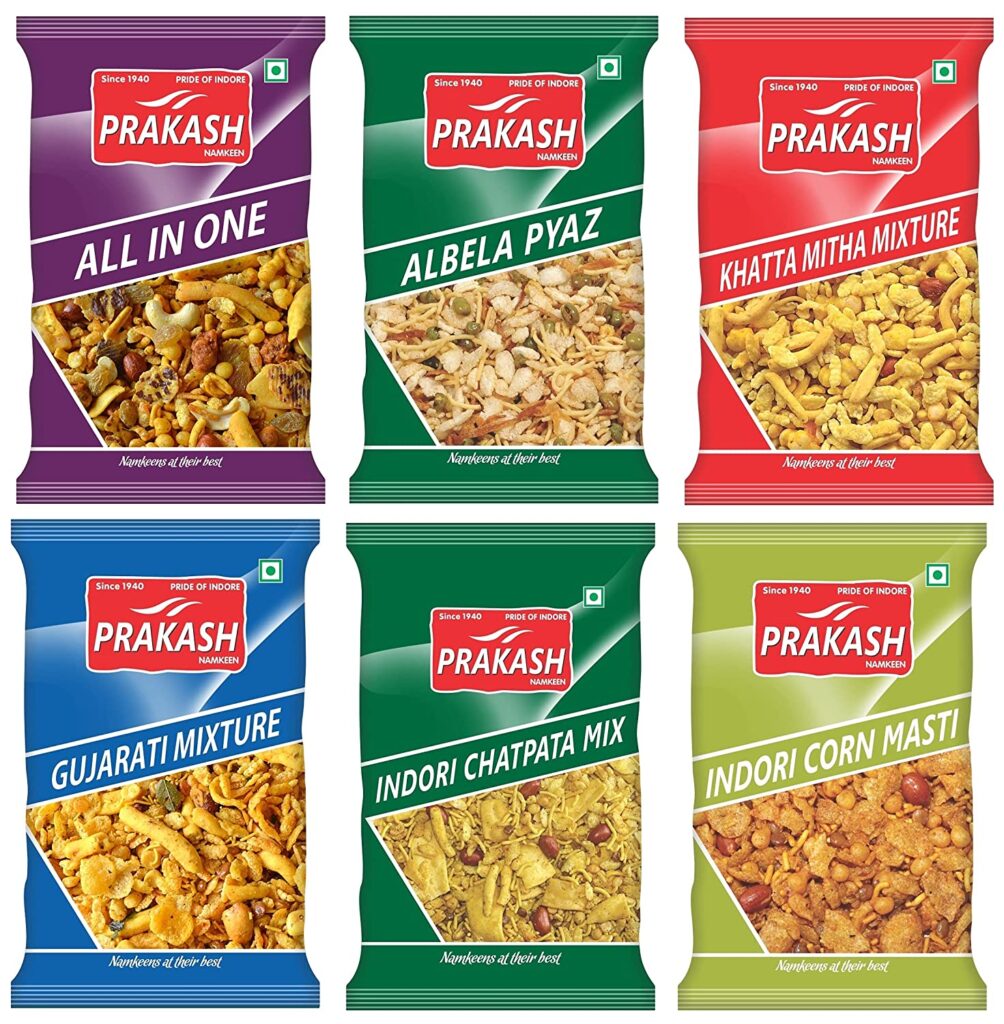 Prakash Namkeen Udyog is committed to the philosophy in which the pride of Indore is all about delivering the best and the tastiest namkeens. Based in Indore, Madhya Pradesh, Prakash Namkeen is a leading manufacturer and seller of sweets and namkeen snacks in India since the 1940s. The company has grown with time from being a small cottage industry to become almost synonymous with the name "Indori Namkeen" across the globe.
The company has been making namkeens and sweets for several decades, offering a huge variety of products that include pickles and chutneys, sweets, chocolates and namkeens.
The taste of Indore is a class apart and Prakash Namkeen ensures each product line is delicious.
16. Priniti Foods Pvt Ltd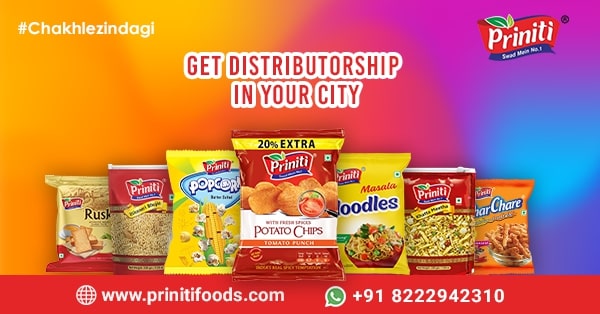 Priniti Foods is listed as one of the top Namkeen and snacks products manufacturing companies in India. It is situated in Sonipat, Haryana. Printi is a popular brand
It offers a wide range of snack products including Potato Chips, Puffs & Fryms, Rusks, Rings, Sticks, Popcorn, Noodles, Sweets, Bhujia, Namkeens, and more. All of its food products are made of quality raw materials.
The company aims to become a market leader in the food business by providing quality, healthy and delicious packed foods to consumers at a reasonable price.
17. Puzzles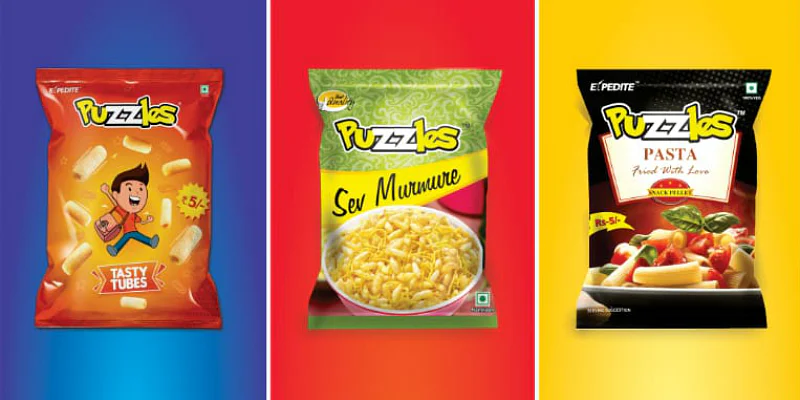 Puzzles is a well-known snack and namkeens brand in India. This brand of snack foods products is manufactured and distributed by Expedite Foods Pvt Ltd, a company based in Vadodara, Gujarat.
The company has specialisation in processing a mouth-watering range of snacks and namkeens treats consisting of categories of products like Puzzles Sev Murmure Namkeen, Spicy Masala Papad, Fun Time Fryum, Sweet Farali Chevdo, Namkeen Snacks, Namkeen Products, Snakes and Ladders Fryum, Popcorn, Potato Chips, and several others.
The ingredients used for making these snacks are of top grade and are sourced from reliable vendors across India.
18. Sethia's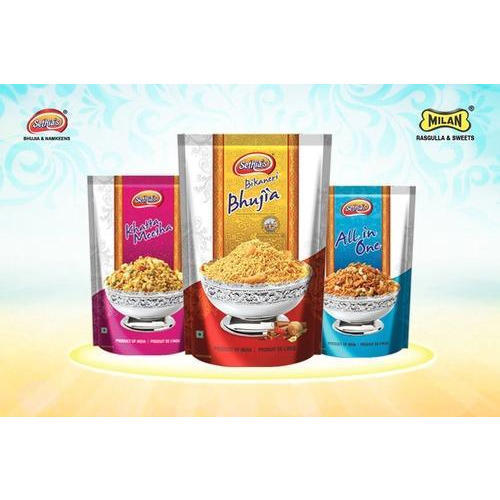 Sethia's is a snacks and namkeen brand manufactured, distributed and exported by Sethia Marketing company based in Jaipur, Rajasthan. The company was founded in 2009. Sethia's namkeen products are quite popular in the regions of Rajasthan, as most other similar brands like Haldiram's, Bikaji's Bhujia, and Bikano's Namkeen treat etc.
The company manufactures a premium quality range of Bikaneri Bhujia, Rasgulla Sweet, Bhel Puri, Corn Flakes Mixture, Khatta Meetha Namkeen, Bhujiya, Gulab Jamun, Papad, and more.
19. Sonal Foods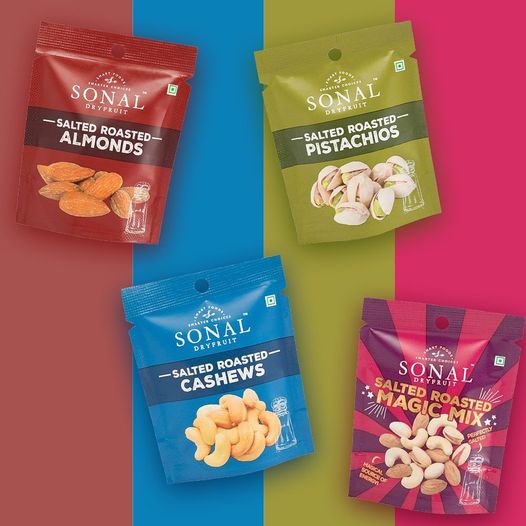 Sonal Foods has established itself as one of the prominent manufacturers, suppliers and exporters of various types of Farsan and Namkeen snack foods in the industry. The company started its food business in 1995 and is based in Thane, Maharashtra.
Under their brand name, Sonal Foods, the company offers a wide range of Processed Snacks, Spicy Namkeen and Spicy Sev delicacies to customers in the region.
Their ready-to-eat snacks are offered to stimulate the taste buds and to provide safe as well as healthy eating options. The products are regularly checked by quality control professionals based on various parameters like shelf life, purity, nutrition value, taste and freshness before being sold to the customers.
20. Yellow Diamond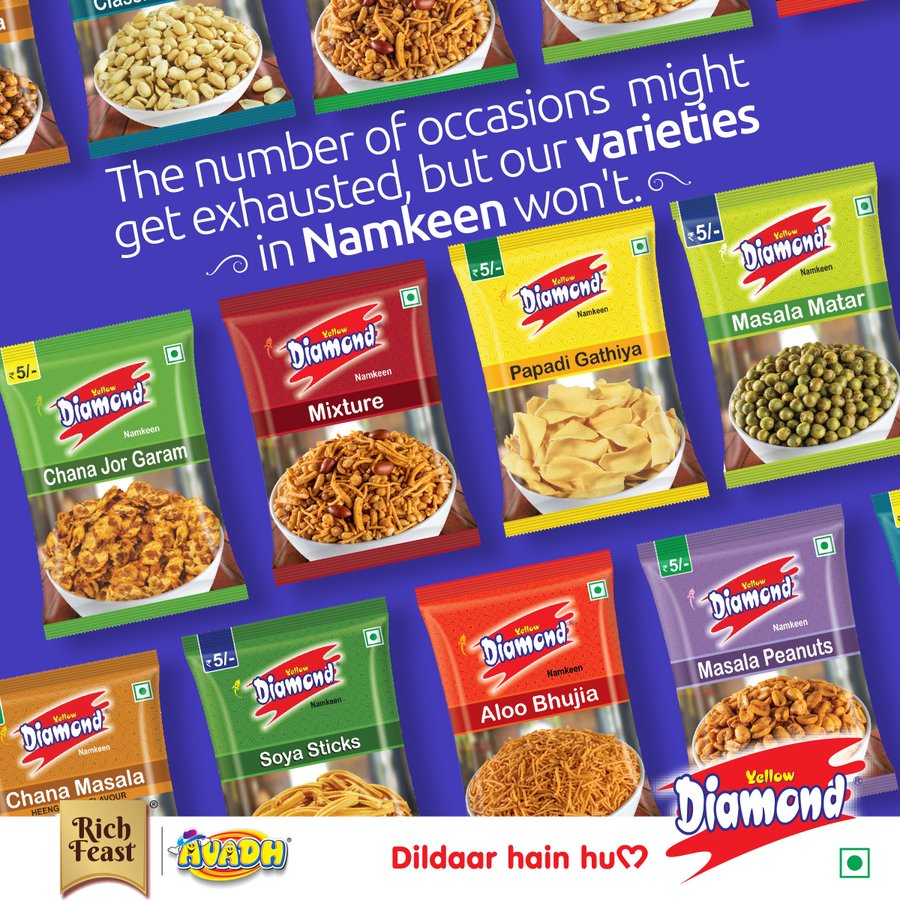 Prataap Snacks Ltd is a leading Indian snack foods company that manufactures and sells its products under the brand Yellow Diamond. Prataap Snacks started in Indore (Madhya Pradesh) offering Namkeen and a home-grown snacks brand that stands among the top snacks manufacturing companies in India. It is a part of the BCM Group.
Their popular snacks are Wheels, Scoops, Avadh and Fungroo. It also offers a wide variety of snack products across categories of Potato Chips, Extruded Snacks, Ethnic Savoury Snacks, Namkeens, and more.
It has recently launched a range of sweet snacks under the distinctive Rich Feast brand. The company products are present across 27 states in India and it is one of the fastest-growing companies in the organised snacks industry.
Wrapping Up
Indian snacks such as Namkeens and sweets are a part of the nationwide tradition, in addition to being savoury treats over family gatherings. These brands have capitalized on the evolving consumer trends, introducing healthier and more nutritious options without compromising the traditional flavours and essence of namkeen. This adaptability has allowed them to capture a wider market segment and attract health-conscious consumers. You should taste these delicacies if you haven't tried them yet.