Top 20
Top 20 Perfume Importers in India in 2023
In India, there are many well-known as well as start-ups that perfume importers (attars), fragrance products, and raw materials from manufacturers around the world. These import houses of India deal in various brands of perfumes and fragrances which are used as ingredients for various products, such as cosmetics, incense sticks (Agarbatti), air fresheners, etc.
Although India is one of the largest manufacturers of Attars (or perfumes), the nation also imports perfume products from different parts of the world. These are mainly luxury brands of perfumes, with popular names like Dior, DKNY, Burberry, Armani, Gucci, and more.
These are some of India's top importers of perfumes and fragrance products, which also include popular and luxury brands for men and women.
20 Popular Perfume (Attar) Importers & Buyers in India
Here are names (in alphabetical order) of twenty companies in India that import perfumes and fragrance products from countries around the world.
1. A. K. Enterprises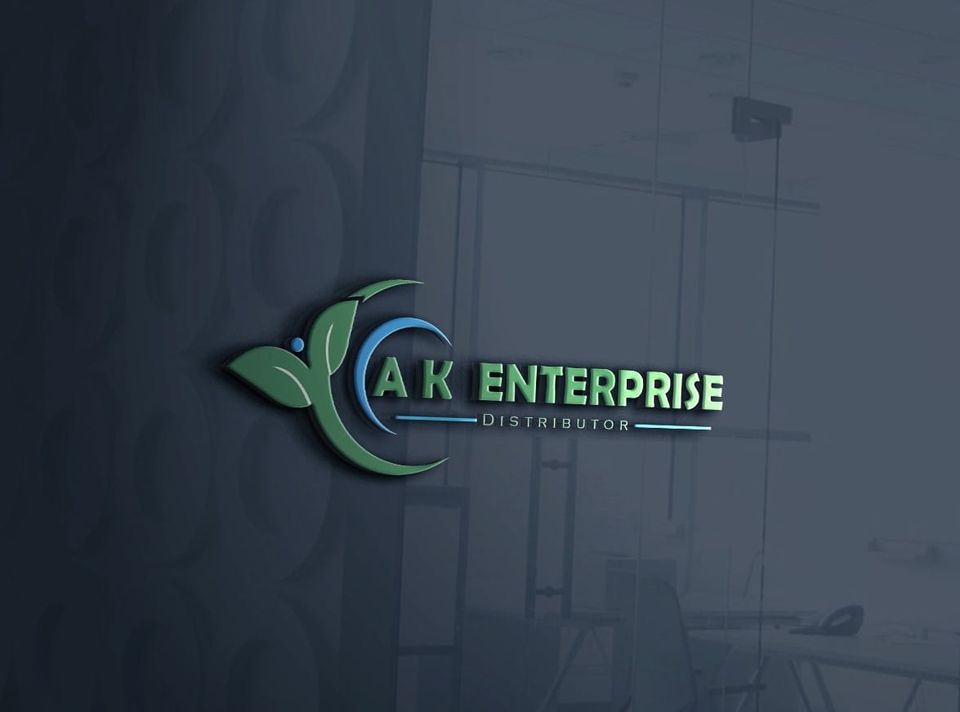 A. K. Enterprises is an importer of Aiteli branded perfumes for car dashboards and various auto accessories. The company is located in New Delhi.
In addition to importing car perfumes and air freshener fragrances, the company also sells products such as Car Interior Organiser, which include items like Holders for beverages, cups, and sunglass, Mobile Holder, Foldable Car Beverage/Can/Glass/Bottle Holder, etc.
It also sells the finest range of Car Cleaning Care, Car Tools, Car Interior and Exterior Accessories, Mobile Phone Accessories, etc.
2. Avon Beauty Products India Pvt. Ltd.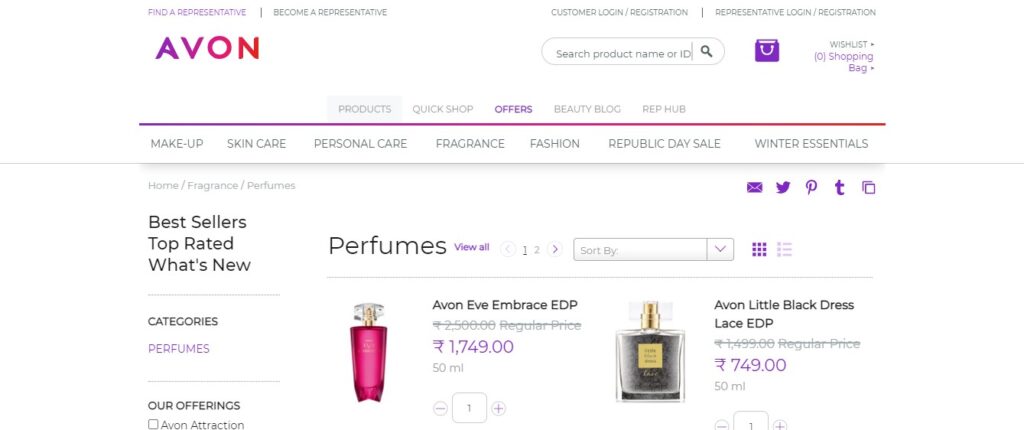 Avon Beauty Products India is a major manufacturer, importer, distributor, and trader of a wide range of cosmetics, including perfumes for women in the Indian market. Avon is a leading global beauty and cosmetics brand that also has a presence throughout the country.
Their fragrance segment includes brands like Luck, Scent Essence, FEMME, Far Away Exotic, IMARI Elixir, Cherish, Little Black Dress, and more.
The brand also has its own online store offering a wide selection of cosmetic products for women in India.
3. Beauty Concepts Pvt. Ltd.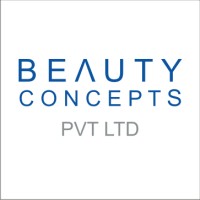 Beauty Concepts (BCPL) company is India's leading distributor of luxury and niche perfumes, make-up, and skincare products. The company was established in the year 1998 and is a member of the Beauty Group of Companies. With a brand portfolio of over 100 brands, BCPL is the preferred partner for International brands foraying the emerging and challenging Indian market.
Their perfume brands are offered in categories like Luxury, Popular, Prestige, Fashion, and Lifestyle. A few popular brands are 007, Aspen, BVLGARI, AIGNER, Aramis, Clinique, DKNY, GUESS, HERMES Paris, and more.
After being in business for four decades, BCPL has established an excellent bond with all the leading perfume and cosmetic retailers, providing clients, brands, and products with over 200 of the highest quality doors across the country.
4. Cosmix Retail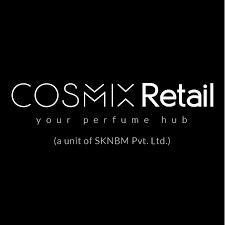 Cosmix Retail has made a name for itself in the list of top importers and suppliers of perfumes and cosmetic products in India. The company is located in Kolkata, West Bengal, and is one of the leading sellers of a range of cosmetics and skincare products.
Cosmix Retail offers the best quality products and services.
5. Deen Palace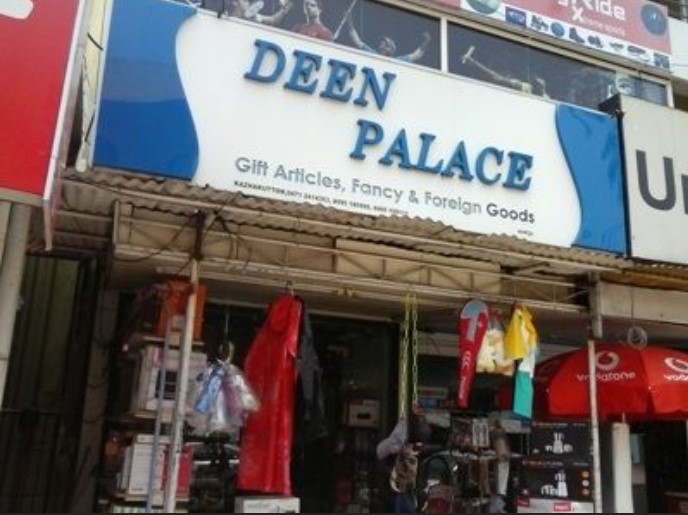 Deen Palace, a proprietorship limited company based in Thiruvananthapuram, Kerala, imports branded perfumes from different regions around the world. In addition to importing quality perfumes from other countries, Deen Palace is also a service provider of various Branded Perfumes, Brut, Gift Items with Glass, and Electronic Audio Systems in India.
The company products offered include a wide range of curios, fancy jewelry for ladies and kids, leather goods including purses and handbags, belts, pens, watches, exotic perfumes, imported music systems, and plenty of gift items and accessories.
The products and/or services offered are well-known for features like high quality, competitive prices, requisite functionality, and low maintenance. The company offers products in multiple ranges and models. Their products, as well as services, have a competitive position in the international market, and they have a proven track record of supplying products/services to their customers and buyers at a market competitive price.
6. Delhi Duty-Free Services Pvt. Ltd.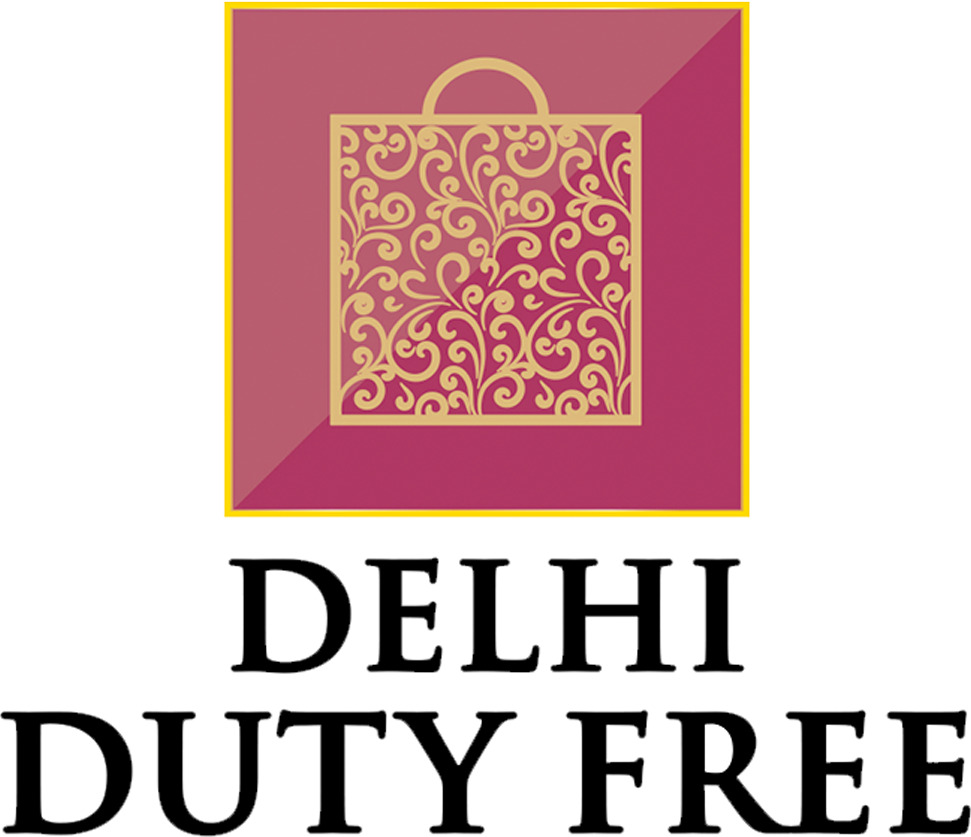 Delhi Duty Free Services Pvt. Ltd. (DDFS), is a joint venture company between Delhi International Airport Limited (DIAL), Yalorvin Limited, a subsidiary of Aer Rianta International CPT (ARI), and GMR Airports Limited. Their flagship store is located at Terminal-3 inside the Delhi International Airport.
DDFS manages and operates duty-free shops at airports in India. It has at least 11 stores including four core duty-free stores, one Indian gourmet store, and five specialty stores. The Company sells a wide selection of consumer products, which mainly include perfumes, cosmetics, watches, jewelry, chocolates, souvenirs, candies, liquor, tobacco products, confectionery, laptop bags, toiletries, apparel, accessories, etc. Delhi Duty Free Services cater to customers in India.
Some of the well-known brands of men's and women's perfumes that are imported and sold to customers include Burberry, Gucci, Armani, Bvlgari, Calvin Klein, Carolina Herrera, Hugo Boss, Davidoff, Chloe, Dior, Jo Malone, Versace, Prada, and more.
7. ELCA Cosmetics Pvt. Ltd.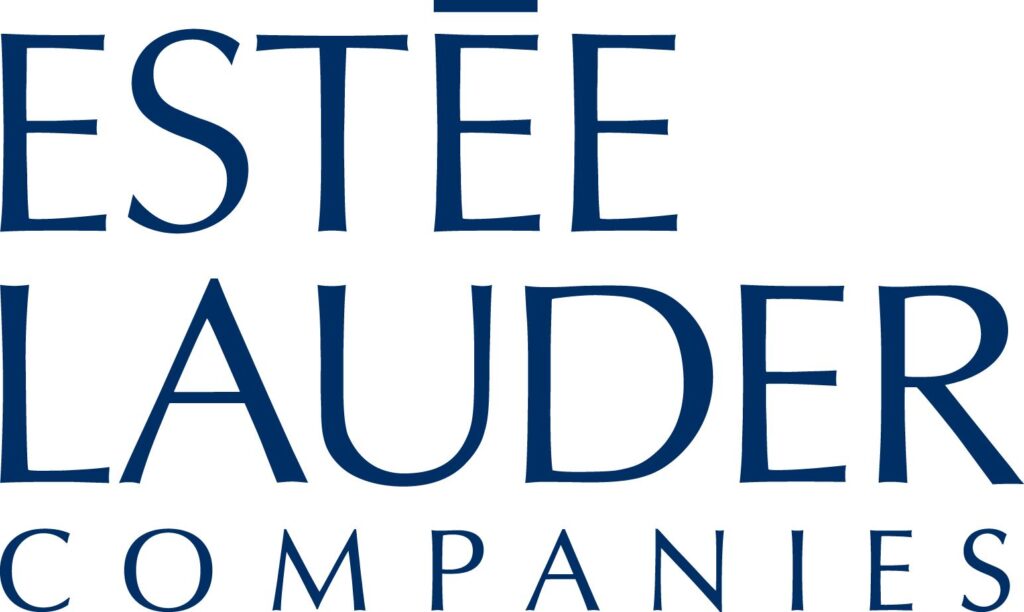 ELCA Cosmetics is a wholly owned subsidiary of The Este Lauder Companies Inc. The company manufactures, exports, imports, and sells a plethora of cosmetic products in India. The company imports and markets perfumes, quality skincare, make-up, fragrance, hair care products, etc. Their Eau De Parfum sprays and colognes, as well as lotions, powders, creams, candles, and soaps, are based on a particular fragrance.
The company's products are also sold in 150 countries and territories across Asia Pacific, Europe, the Middle East, Africa, and The Americas, under different brand names. The brands include Estée Lauder, Aramis, Clinique, Lab Series, Origins, M·A·C, La Mer, Bobbi Brown, Aveda, Jo Malone London, Bumble and Bumble, Darphin Paris, TOM FORD BEAUTY, Smashbox, AERIN Beauty, Le Labo, Editions de Parfums Frédéric Malle, GLAMGLOW, KILIAN PARIS, Too Faced, Dr.Jart+, and the DECIEM family of brands, including The Ordinary and NIOD, respectively.
ELCA Cosmetics also operates its in-house beauty brand MAC Cosmetics, and its branded products are available exclusively on India's leading online store Nykaa.com.
8. Flemingo Duty Free Shop India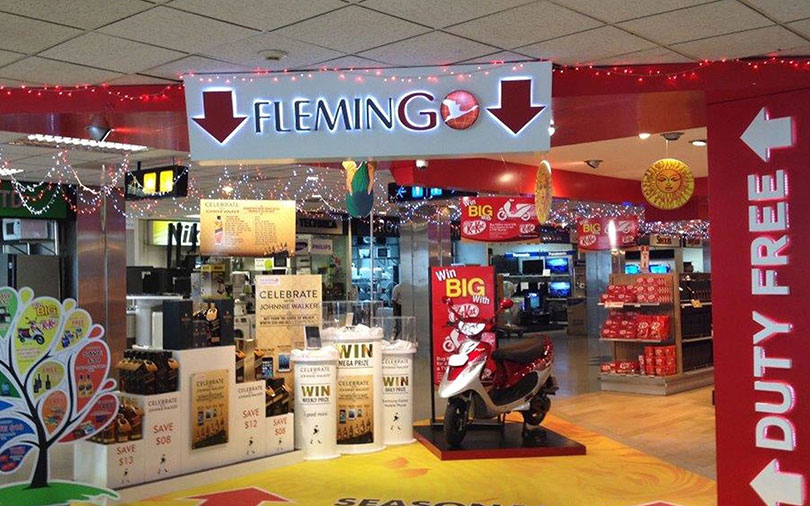 Flemingo International has signed a contract with the Airports Authority of India (AAI) to open duty-free shops at nine airports: Chennai, Kolkata, Calicut, Trichy, Mangalore, Goa, Ahmedabad, Amritsar, and Lucknow. The company has expanded its operations to 11 international airports and eight seaports in India.
The duty-free store imports and sells a wide range of products including liquor, tobacco, confectionery, perfumes and cosmetics, fashion, fashion accessories, electronics, destination categories, etc.
Flemingo International has also undertaken many electronic initiatives, including the launch of Flemingo Reserve, a pre-order site for all Flemingo operations.
9. Fresh India Enterprise

Fresh India Enterprise company is engaged in importing Body Perfume products, among others, from different countries around the world and their distribution in the Indian market. The company is based in Rajkot, Gujarat, and it imports quality and quantity-verified products from various countries.
The company's products include Ceramic Products, Clay cookers, Body Perfumes, Disposable Hair Remover Razors, etc. The products offered offer features like high quality, competitive prices, requisite functionality, and low maintenance.
The company has been able to offer Ceramic Products, Clay Cookers, Body Perfumes, Disposable Hair Remover razors, and other products in multiple ranges and models. Their products have a competitive position in the international market, and they have a proven track record of supplying products to their customers and buyers at market competitive prices.
10. Inditex Trent India Private Limited

Inditex Trent Retail India Private Limited is a wholesaler of clothing and accessories. The Company's line of business includes the distribution of men's, women's, and children's apparel, accessories, and furnishings. In the accessories segment, Inditex Trent India company imports and markets a wide range of luxury perfumes and fragrances for men and women.
Inditex Trent India is the Indian subsidiary of Spain-based Inditex, the owner of the luxury fashion brand Zara. Zara is a designer apparel and accessories brand and its products are sold widely across the sub-continent. Inditex Trent is a joint venture between Tata that runs 21 Zara stores across India. It also markets other brands such as Pull&Bear, Massimo Dutti, Bershka, Stradivarius, Oysho, and Zara Home.
Inditex Trent also has a separate association with Inditex group to operate Massimo Dutti stores in India. Trent also operates the Trent Hypermarket, an equal joint venture between Tata and the British retailer Tesco, which operates the 61 Star hypermarket and supermarkets. The retailer competes with Reliance Fresh and D'mart.
11. KK International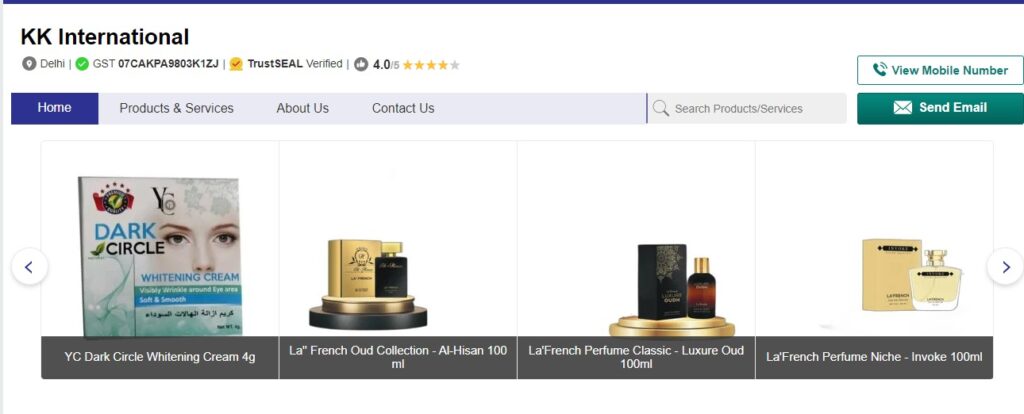 KK International is a Delhi-based wholesaler of products such as Oud Perfumes, Fragrance Perfumes, Face Wash, Face Cream, Face Scrub, Face Serum, etc. In the perfume and fragrance segment, KK International mainly sells the La'French Perfume brand. The brand offers a selection for men and women.
Their range of men's and women's perfume products include La'French Perfume Classic – Luxure Oud, La'French Perfume Oud Collection – Mashroof, La'French Perfume Oud Collection – Adventure Oud, and La'French Perfume Oud – Oud Moments.
12. LDG International

LDG International has developed a reputation as one of the leading suppliers of essential oils, carrier oils, natural skin-care products, raw materials, perfumes, and fragrances in India. The company supplies these products for use in the flavor, fragrance, cosmetic and pharmaceutical industries.
The company offers fine fragrances that are valued by its consumers. Their signature scent is as unique as the individual wearing it.
LDG International caters to Europe, the USA, Australia, China, Asia, the Middle East, and India.
13. Mane India Private Limited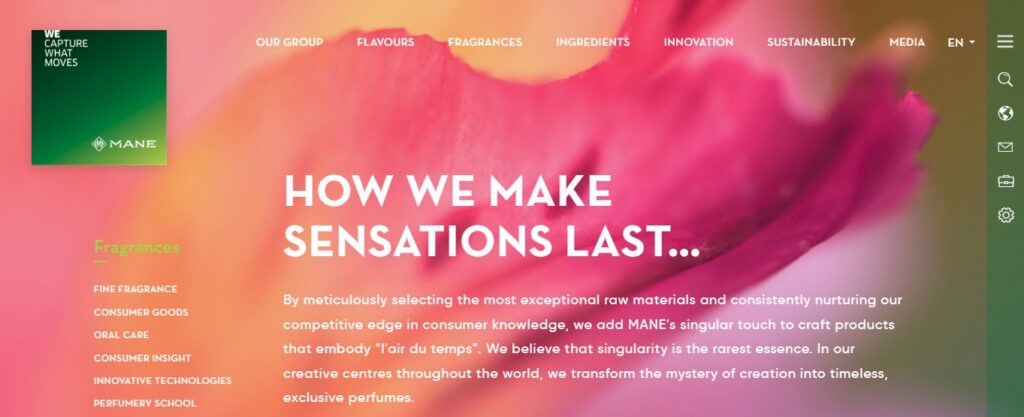 Mane India Pvt Ltd is an Indian subsidiary of the French fragrance and flavors brand Mane in the Indian market. The company is engaged in the manufacture, import, and distribution of perfume and fragrance products. Their range of products and services includes Fragrances, Flavours, Oral Care, Fine Fragrances, Food Flavours, and Agarbatti Perfumes.
The company caters to FMCG players across segments such as personal care, food & beverage, dairy, confectionery, bakery, nutrition, and tea and coffee, among others.
French flavors and fragrances manufacturer V Mane FILS is expanding its manufacturing and R&D presence in India, including at its India headquarters in Hyderabad, Telangana. This includes setting up a new plant for liquid fragrances and flavors at Dahej, Gujarat, and enhancing the capacity for powder flavors and seasoning as well as setting up a dedicated flavors R&D facility at Hyderabad.
14. Perfumer's Club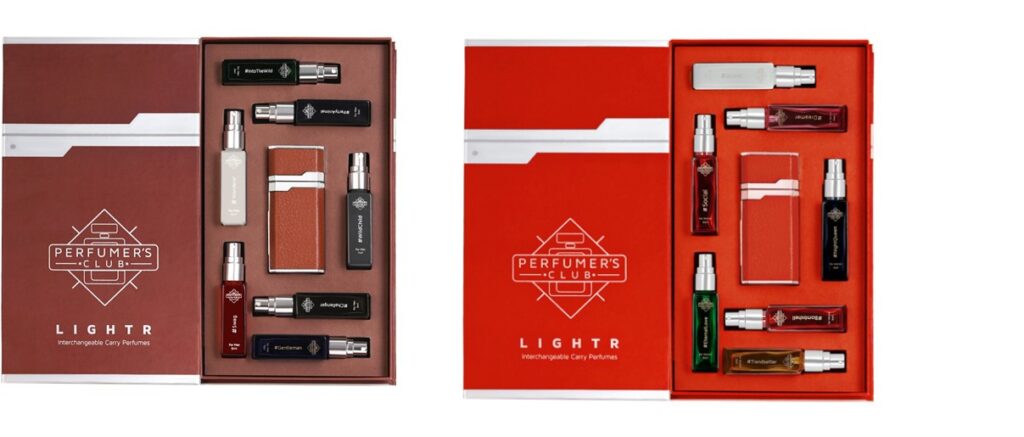 Perfumer's Club, based in New Delhi, offers a wide range of men's and women's perfumes imported from brands around the world. The company creates a niche club for people who understands that the quality, last, and pricing of perfume are always better than deodorants.
Their range of men's and women's perfume products are available as Lightr + 3 Perfumes, Set of 3X8ml Perfumes, 7X8ml Perfumes, Lightr + 7 Perfumes, Set of 3X50ml Perfumes, Full-Size 50ml Perfumes, and Scent Match, respectively.
Their fragrances are created by experts and contain 18% fragrance essence or oil which gives an experience of premium branded perfumes. Their fragrance experts hand-pick the finest scents from all around the world and modify them to suit the needs of Indian customers.
15. Radha Imports

Radha Imports, company is based in Darjeeling, West Bengal, and are importer and supplier of genuine, box-packaged, and new perfumes in India.
The company deals in branded, sealed, and genuine imported perfumes from various foreign brands like Tom Ford, Christian Dior, Emporio, Armani, Creed, Issey Miyake, Versace, Calvin Klein, Ferrari, etc.
16. Ridhaan Retails

Ridhaan Retails is a leading retailer of perfume for kids from Indore, Madhya Pradesh. This retailer imports and trades perfumes under the brand Miakki, which are particularly targeted toward kids, both boys and girls.
Ridhaan Retails offers a range of branded perfumes for kids in categories which include Code Pink Girls Spray Non-Alcoholic Perfume, Kids Fantasy Non-Alcoholic Perfume, Secret Boys Spray Non-Alcoholic Perfume, Code Blue Boy Spray Non-Alcoholic Perfume, and more.
These perfumes are a favorite for many kids as well as adults, mainly because of their non-allergic properties. Their perfumes have a woody and spicy blend of flowers and herbs. This brand of perfumes stands exclusively as an embodiment of elegance and the flavors and fragrances are loved by both genders.
17. SCENTIDO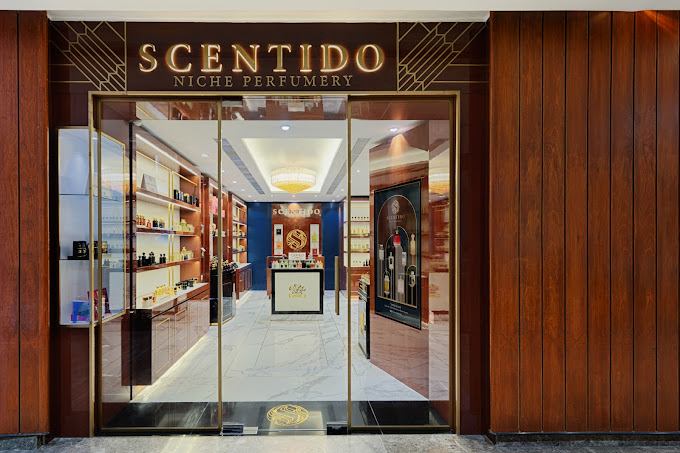 SCENTIDO is a leading importer and marketer of a range of branded luxury perfumes and fragrances in India. The company is situated in Mumbai, Maharashtra. SCENTIDO Luxury Trading perfumery is a distribution company that supplies designer and branded label brands to traditional markets, departmental stores, and wholesale markets.
The founder and team behind SCENTIDO luxury perfumery are highly experienced in luxury retail and distribution in perfumes, fashion, beauty, and style sectors.
The company offers a collection of some of the most unique and sought-after niche fragrances from around the world. Their perfume products are hand-picked from different corners of the world, including France, New York, Italy, and London.
18. TARZ Distribution India Pvt. Ltd.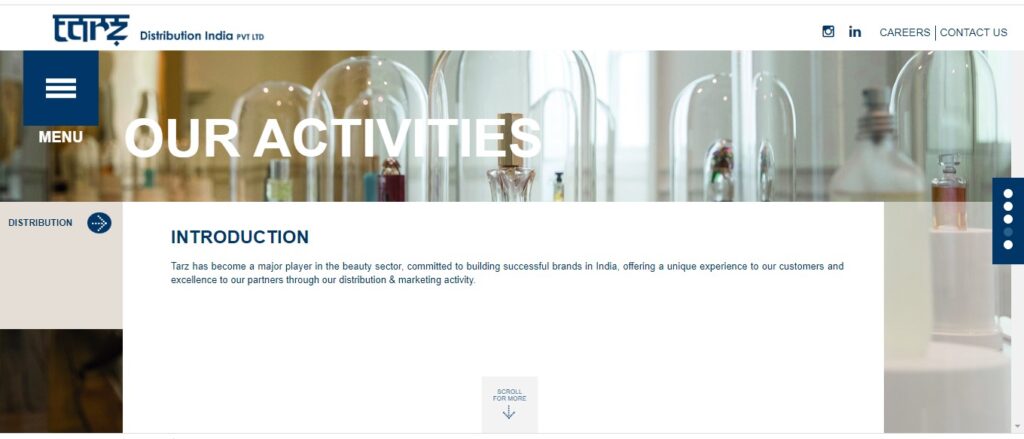 TARZ Distribution India is a Cosmetics company and has headquarters in Mumbai, Maharashtra. The company offers service excellence coupled with a unique experience via its passionate teams.
Their expertise and intimate knowledge of luxury beauty, spanning six decades, is derived from being an integral part of The Chalhoub Group, making them a major player in the luxury beauty market. The company offers a unique experience to its customers and excellence to its partners through its distribution and marketing activity.
19. The Empress Trading Company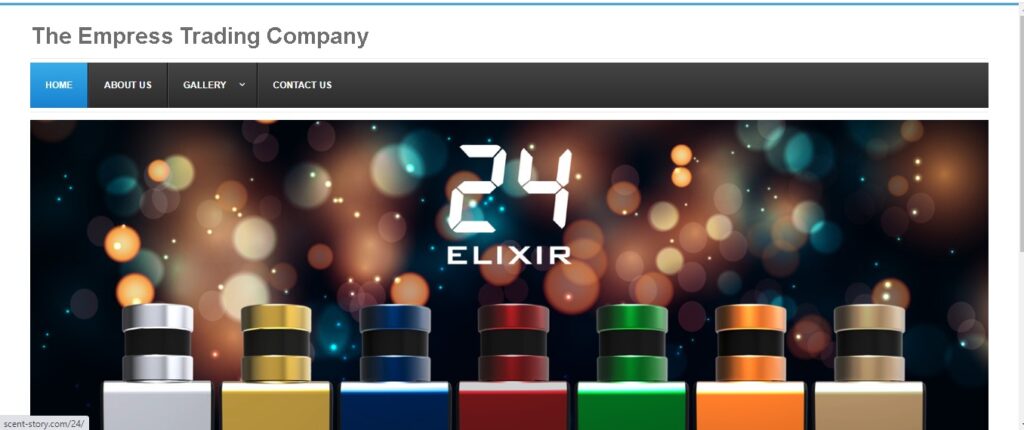 The Empress Trading Company is young and over the years has established a reputation of being the most responsive perfume importer and distributor in the Indian market. The company was established with the intent to bring renowned perfume brands to the Indian market.
Their range of men's and women's perfumes are marketed in large numbers. A few of these brands of perfumes include 24 Elixir, Soul, HOMME, NUSODE, Berdoues, and more.
With experience of the Middle East, South East Asian countries, and Duty Free market for luxury perfumes, the company is passionate to create awareness for niche perfume brands in India. It also takes great care to represent each brand through its focused PR, staff training, and high-end distribution of products.
20. Unboxed Perfumes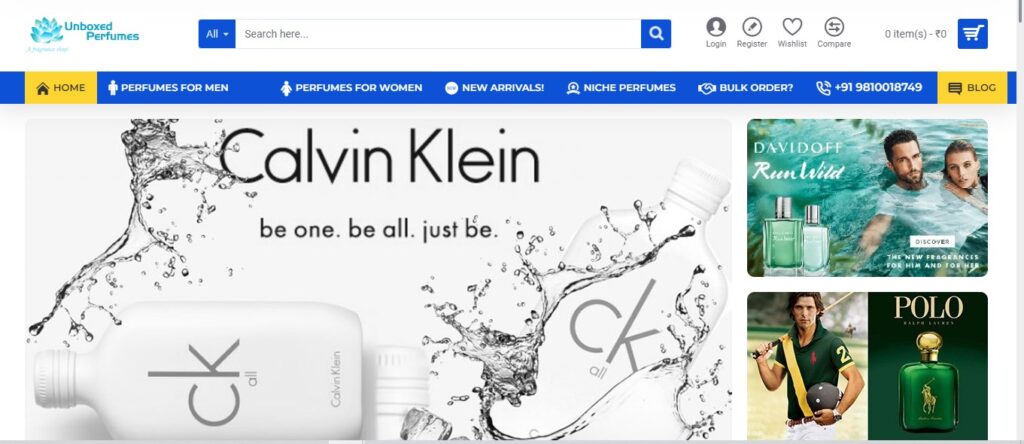 Unboxed Perfumes is a highly sought-after provider of imported brands of men's and women's perfumes. Unboxed Perfumes has the largest range of products that meet all kinds of preferences, choices, and tastes. This vendor can provide you with some rare collections that you are unlikely to get elsewhere. In fact, this provider can offer you options that will even exceed the limits of your imagination.
A few major brands of men's and women's perfumes which are available at Unboxed Perfumes' online store include Issey Miyake pour Homme, Calvin Klein, Mont Blanc, Paco Rabanne, Polo, Davidoff, Yves Saint Laurent Kouros, Burberry, Giorgio Armani, and many more.
Wrapping Up
The major perfume importers in India buy and sell popular as well as luxury branded fragrances which are a favourite among men and women in India.