Top 20
Top 20 Journalism Colleges in India in 2023
For those that are looking to pursue degree in journalism in one of India's top colleges, we have curated a list of the twenty best institutions here.
Journalism is not limited to only becoming news journalists. As a matter of fact, its scope is much more wider. For instance, obtaining a BA or MA degree or Diploma in Journalism can provide opportunities in various professions like Journalists, Correspondents, Reporters, Photo Journalists, News Makers, Academicians, Editors, Sub-Editors, Assistant Editors, Public Relations Executives, Event Managers, and Film Makers, etc.
Also, there are over a dozen media companies and platforms that offer jobs and placements to aspiring individuals as well as professionals. A few such media houses in India include popular names like The Times of India, Hindustan Times, Indian Express, The Hindu, Dainik Jagran, Dainik Bhaskar, The Tribune, Times Now, CNN IBN, ABP News, India TV, NDTV India, Zee News, India Today, Outlook, and several independent media channels.
Journalism – A Career Option in a Democracy Like India
Among many career options that are available to students and experienced professionals in India, working as a journalist is a pivotal and critical responsibility. Journalism is not just a job, it becomes a duty for the individual(s) who are at the forefront and bringing updates about things that are happening around us and the world.
India is the world's largest democracy. It is also home to diverse religious communities and sections with varying social beliefs. There is no doubt that journalists and news media go through challenges during their course of gathering news from across the sub-continent and bringing them to the audience.
To pursue a degree in journalism in India, students can choose a Bachelor of Arts (B.A.) in Journalism after completing the 10+2 level in academics. Most institutions also offer Post-graduate Degree and Diploma programmes to students which can be availed in a range of areas.
As for taking up journalism as a career option, there are many opportunities, such as print media, news-gathering and reporting, film direction and production, event management, public relations, advertising, corporate communication, and so on.
Also, read these articles:
Here, we're going to share with you some of the best colleges for studying journalism in India.
List of 20 Best Colleges for Studying UG, PG & Diploma Courses in Journalism in India
The following list (sorted in alphabetical order) consists of twenty leading colleges for pursuing degrees and diplomas in journalism in India.
Note: To know more details about the programmes/courses offered, admission, fees, facilities, placements, etc., at the institutions listed below, we advise our readers to visit the websites of the respective institutes.
1. Amity School of Communication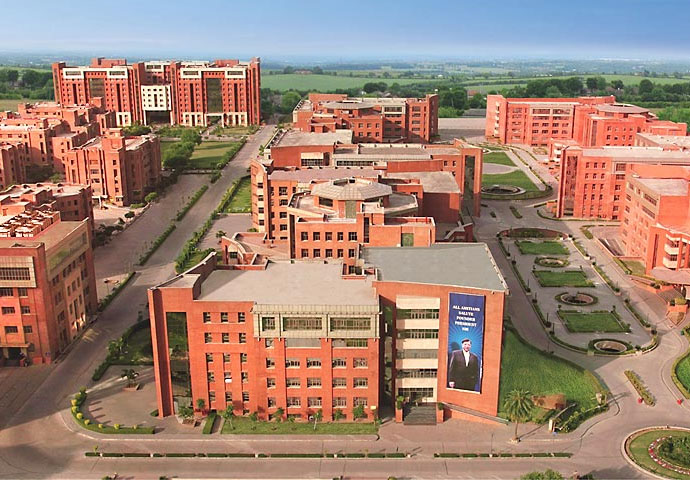 City: Noida, Uttar Pradesh
Amity School of Communication (ASCO) is a premier journalism and mass communication institute under the Amity University umbrella. The institute offers professional courses at undergraduate, post-graduate, and diploma levels. Other than Noida, ASCO has campuses in cities like Mohali, Lucknow, Jaipur, Gurugram, Gwalior, Greater Noida, Mumbai, Raipur, Kolkata, Ranchi, and Patna.
The academic programmes, certification, and doctoral courses offered by Amity School of Communication to students enrolling in Journalism include B.A., M.A., Certificate, and PhD. The B.A. (Journalism & Mass Communication) is a 3-year bachelor's degree program that students can apply for after completing their 10+2 academic level.
The admission process to the Amity School of Communications includes the registration of candidates on the official website of admission to Amity University. Admission to BA, MA, and MBA is based on performance in an English language test and a personal interview.
2. Asian College of Journalism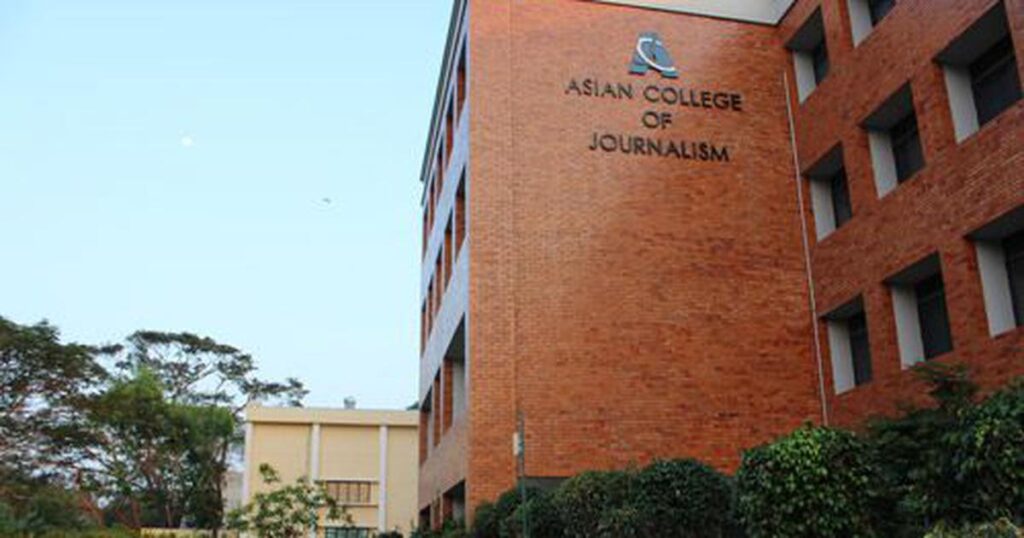 City: Chennai, Tamil Nadu
The Asian College of Journalism (ACJ) situated in Taramani, Chennai is lauded as Asia's premier journalism institute. ACJ tasks itself with creating journalists who are capable of imbibing all necessary professional skills and also embracing the knowledge, integrity, and social commitment that makes outstanding journalists.
The college offers degree programmes that include Postgraduate Diploma in Journalism (Integrated Course) and Postgraduate Diploma in Business and Financial Journalism. PGDM in Business and Financial Journalism is a collaboration between Bloomberg, the world's biggest news organization, and ACJ which offers aspiring journalists to learn from the best professionals and leading-edge technology for a rewarding career in financial journalism.
3. Banaras Hindu University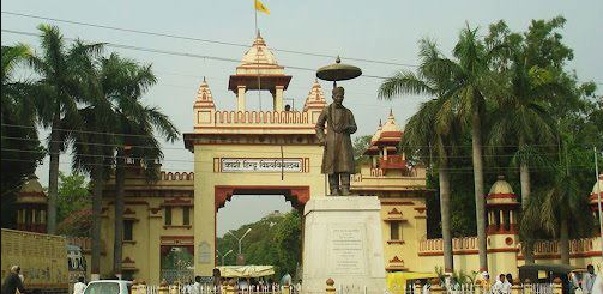 City: Varanasi, Uttar Pradesh
Banaras Hindu University (BHU) located in Varanasi (erstwhile Banaras) in the state of Uttar Pradesh is one of the oldest universities in India. BHU is also the largest residential university in Asia. BHU is organized into six institutes, 14 faculties (streams), and about 140 departments including Journalism & Mass Communication.
The BHU Department of Journalism & Mass Communication maintains the standards of journalism and mass communication courses. The courses include M.A. in Mass Communication and PhD in Media Study.
The college covers all parts of educational field. The students have all sorts of materials related to their project works and have all sorts of guidance provided by the faculty members of this institute. The institute commences various communications programmes along with scholarship programmes for the students.
4. Chandigarh University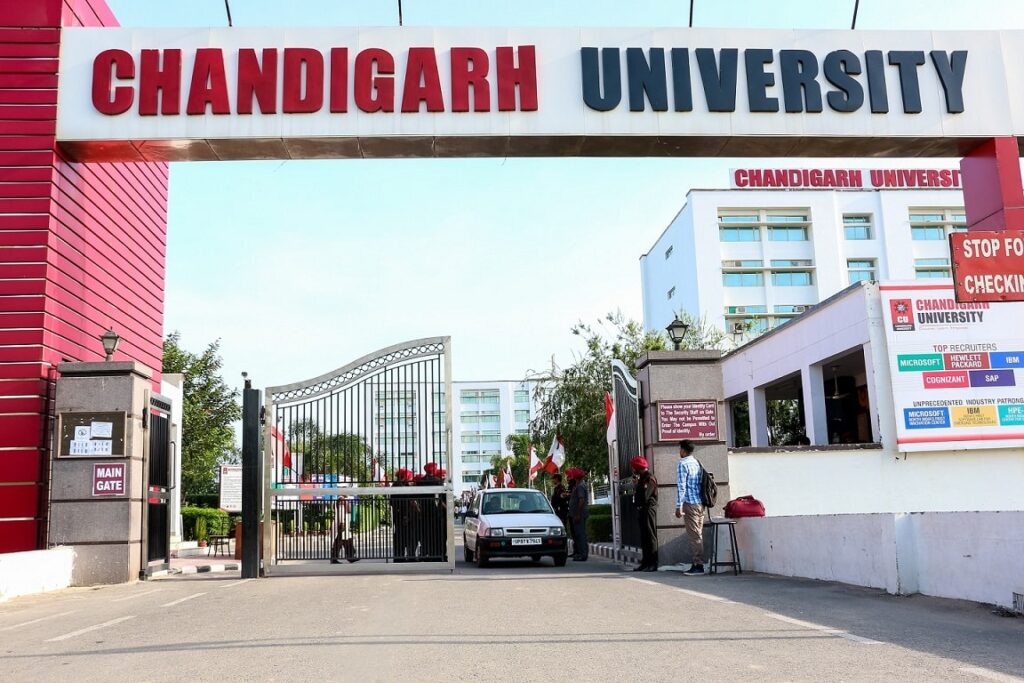 City: Chandigarh, Punjab
Chandigarh University (CU) is a private university that is accredited by NBA and with an A+ Grade by the NAAC. The university is approved by UGC, NCHMCT, PCI, AICTE, BCI, COA, NCTE, AIU, and CSI. CU Chandigarh is a member of ICAR, ACU, IEEE, AUAP, IAU, ASME, IUCEE, and ACS.
CU University, through 17 institutes and various departments, offers more than 200 UG, PG, PhD, diploma, and other courses to students across the Management, Engineering, and other streams. The University also offers distance learning and online courses to students.
Admission to CU is granted through the Chandigarh University Common Entrance Test (CUCET) which takes place in two phases.
5. Christ University (Deemed to be University)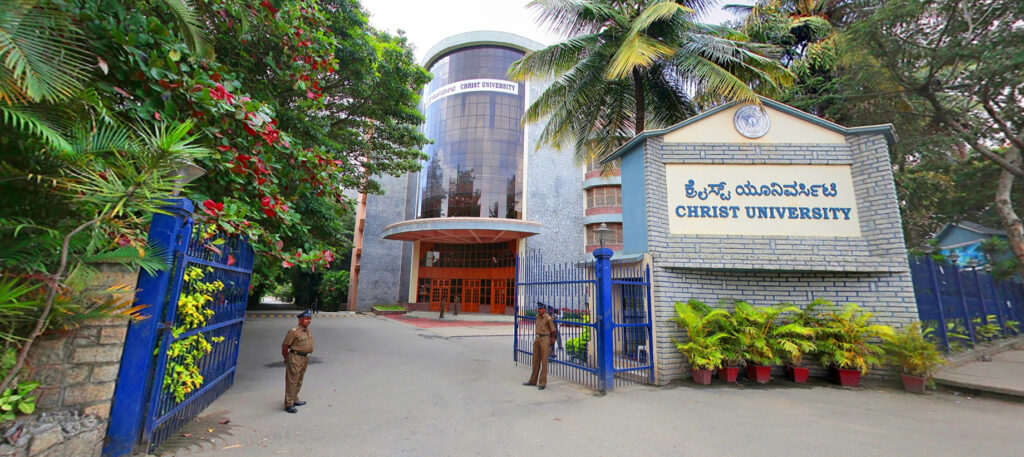 City: Bengaluru, Karnataka
Christ University (Deemed to be University), previously called Christ College, is administered by the Catholic indigenous congregation, Carmelites of Mary Immaculate (CMI) in India and is recognized by the University Grants Commission (UGC). The multi-disciplinary University offers Bachelor, Master, and Doctoral programmes in Humanities, Social Sciences, Sciences, Commerce, Management, Engineering, Architecture, Education, and Law. The institution has three campuses in Bengaluru, Pune, and Delhi-NCR.
The institute offers BA Journalism (Honours) programme with non-core subjects that include Political Science and Economics. The BA Journalism (Honours) programme is a 3-year degree programme, having Political Science and Economics as allied subjects.
The program offered by Christ University enables the students to have sound ground in the various aspects of journalism, both theoretical and practical. The institution also strives to train students to become journalists who can help define communication, as well as to help create a common understanding rooted in reality.
6. Delhi College of Arts & Commerce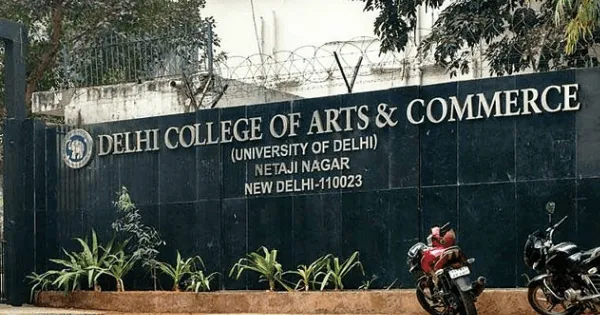 City: New Delhi, Delhi
Delhi College of Arts & Commerce (DCAC) situated in New Delhi, is a unit of the University of Delhi (also called DU) and is affiliated with the DU. DCAC's Department of Journalism ranks among the top ten institutions/colleges for Mass Communication and Journalism in India.
The Department of Journalism offers undergraduate courses in BA (Hons.) Journalism as well as many General Elective options for students. The syllabus is a focused blend of inputs on all forms of mass communication including advertising, public relations, documentary film-making, print journalism, and television production.
DCAC provides students with an interface between the media industry and academia, providing materials from prominent media personalities and well-known journalists.
7. Indian Institute of Journalism and New Media

City: Bengaluru, Karnataka
Indian Institute of Journalism and New Media (IIJNM) located in Bengaluru, Karnataka, is among the leading post-graduate schools of journalism and media. The institute offers a curriculum that is developed in collaboration with the Columbia University Graduate School of Journalism, New York, USA.
The institute offers three 1-year post-graduate Diploma programmes in disciplines like Print Journalism, Broadcast Journalism, and Online/Multimedia Journalism. The curriculum combines both theory and practicals to prepare students for positions in the media industry.
The programmes for print, television, radio and multimedia journalism offered by IIJNM embody the best practices in the media industry and technology.
8. Indraprastha College for Women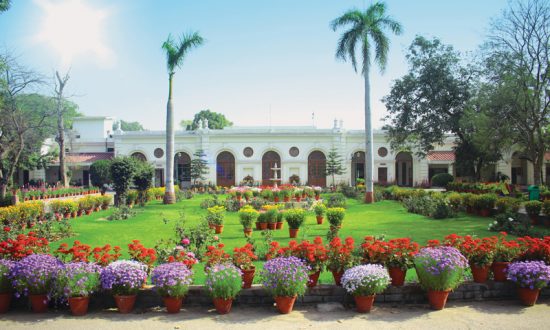 City: New Delhi, Delhi
Indraprastha College for Women, also known in short as IP College, is the oldest women's college at the University of Delhi. It is also the only one in the country to provide Bachelor's of Mass Media and Mass Communication (BMMMC) program.
There are 52 seats in total with 26 in a general category, 14 in OBC, 8 in SC, and 4 in ST. The college also offers Self-Financing courses to students. A self-financed bachelor's degree course in multimedia and mass communications is globally viable because it prepares its students not only to work as mere journalists but also to fulfill various roles in the media. The admission is done through an entrance test which tests students with their General Awareness and Current Affairs and English Comprehension, Grammatical and Analytical Skills.
Students completing this course have an exceptional opportunity to be the only ones with such qualifications in the country. The college flaunts a separate BMMMC studio which has all the facilities for any aspiring journalist to sharpen her skills. From shooting to editing, there is the best equipment for all mass communication activities in the studio.
9. Lady Shri Ram College for Women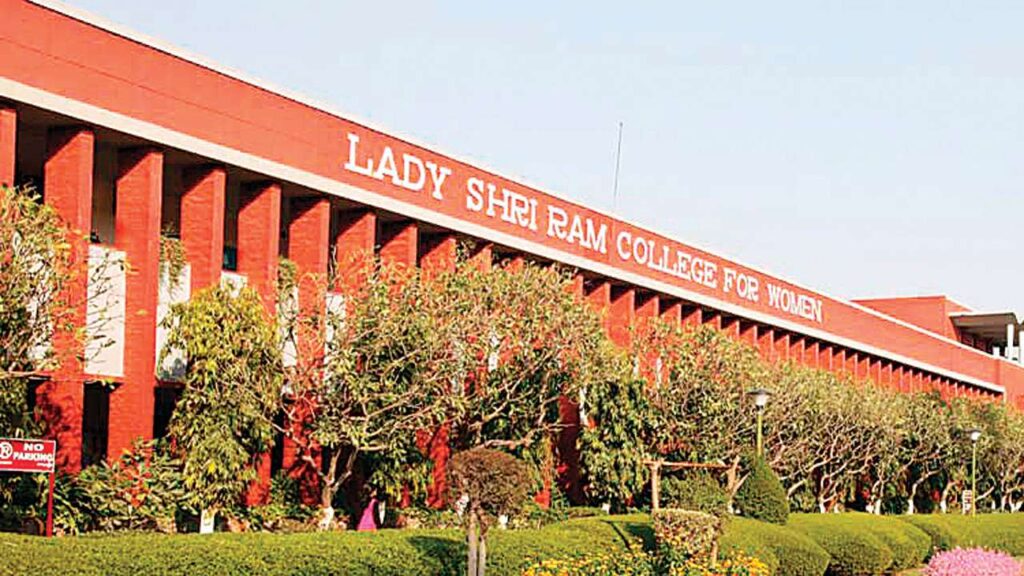 City: New Delhi, Delhi
Lady Shri Ram College for Women (LSR) located in New Delhi is affiliated with the University of Delhi (aka Delhi University). It is a leading women's higher education institute in India. Its Department of Journalism is designed to give women an effective voice in the world of media and to train professionals, who are sensitive to the demands of this role, and who, in the pursuit of truth, is alive in many of its dimensions.
LSR offers BA and one-year Diploma programmes in Journalism. The teaching methodology includes lectures, master classes, and workshops, and also focuses on independent projects and extensive written assignments.
The institute also provides students with a diverse faculty drawn from the ranks of academics and practitioners and conducts seminars and workshops by practitioners. The students attend film screenings and documentary festivals as well as seminars and conferences on the media to expand their horizons of experiences and expose them to a plethora of views.
10. Madras Christian College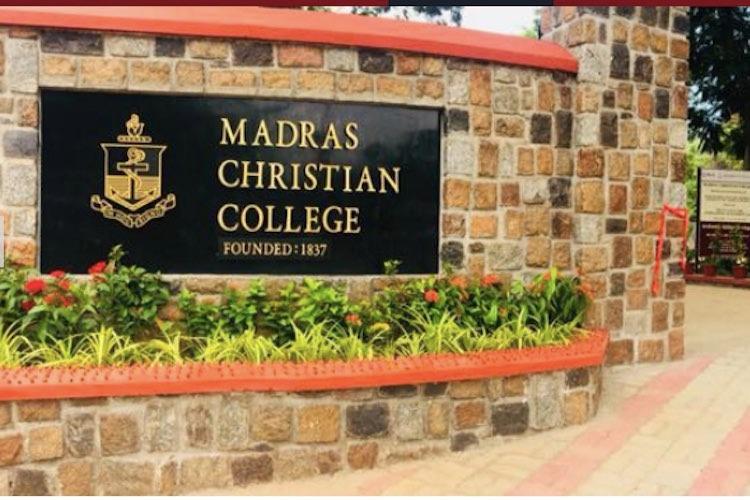 City: Chennai, Tamil Nadu
Madras Christian College (MCC) is an autonomous institution situated in Chennai, Tamil Nadu. The college is accredited by NAAC with 'A' Grade status.
The Department of Journalism, Madras Christian College offers a platform to transform theory into practical experiences and to gear the students to meet the needs of the media industry. Theory-cum-practical specializations, such as Event Management, Photography, Public Relations, and Corporate Communication, Advertising – aspects and aesthetics, Online Journalism, Documentary Film-making, Media Management, and Film Studies, etc., are a part of the curriculum that offers much-sought-after careers to many students at MCC.
The Faculty of Communication at Madras Christian College stands out for many reasons than this one. The department opens its arms to welcome students from various disciplines, just as long as they have an aspiration for journalism, media, and communication.
11. Manorama School of Communication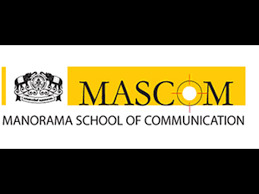 City: Kottayam, Kerala
Manorama School of Communication (MASCOM) is one of the premier journalism training institutions in the country. The institute was founded under the wise guidance of acclaimed journalist KM Mathew and it is situated in Kottayam, Kerala.
The institute offers two 10-month full time programmes to students. One is PG Diploma in Broadcast & Digital Journalism and the other is PG Diploma in Print & Digital Journalism.
The courses offered to students at MASCOM provide the utmost emphasis on hands-on training while ensuring that the students acquire a solid grounding in journalism theory. The aim of the courses is to train competent journalists who will become full members of the media industry in the shortest possible time.
12. Mudra Institute of Communication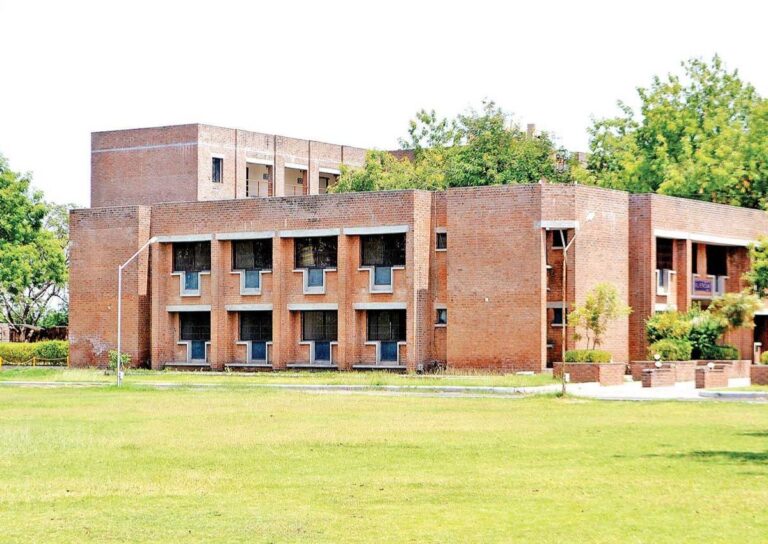 City: Ahmedabad, Gujarat
Mudra Institute of Communication (MICA) situated in Ahmedabad, Gujarat is the only residential institute in the country dedicated to creating Leadership in Strategic Marketing and Communication and offers a wide range of academic programmes.
The programmes offered to students at MICA include Post Graduate Diploma in Management- Communications, Fellow Programme In Management – Communications, and Crafting Creative Communications.
The shortlisted candidates appear for MICA's FPM Admission Test. The FPM Entrance Test is a three-day process organized on the MICA campus, including a written test (WT), an individual presentation (IP), and a personal interview (PI).
13. Savitribai Phule Pune University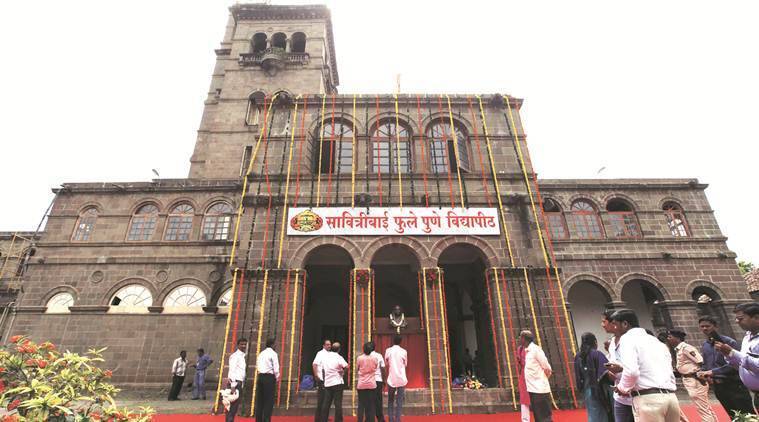 City: Pune, Maharashtra
Savitribai Phule University in Pune (SPPU) is one of the leading universities in India.
It is recognized by UGC and is accredited 'A' grade by NAAC. The university is popularly known as the 'Oxford of the East', and Pune University. SPPU has over 700 affiliated colleges offering UG, PG, diploma, PG diploma, PhD, and certificate courses in 17 distinct fields of education.
In addition to the regular courses, the university also offers distance learning courses at UG and PG levels. SPPU offers various undergraduate and postgraduate courses to its students in different streams such as Arts, Education, Science, Engineering, Mass Communications, Computer Applications, Commerce, Law, etc. The selection to the courses of the university is done on the basis of the entrance exam conducted by the university.
SPPU has established academic cooperation with many well-known universities in developed countries, such as the USA, Great Britain, Canada, Germany and Japan, covering a wide range of subjects in the field of arts. Science and languages, etc.
14. School of Journalism & New Media, Shoolini University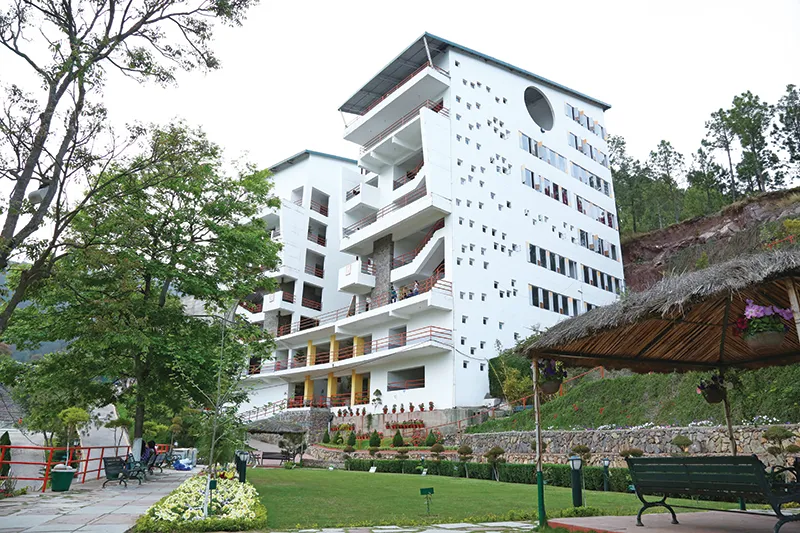 City: Solan, Himachal Pradesh
The School of Journalism & New Media under Shoolini University (SU) is a private university situated in Solan, Himachal Pradesh. The university has an agreement for international collaborations and exchange programmes with universities in several countries.
The programmes offered to students include BA Hons (with specialization in Film & Animation), BA in Journalism and Mass Communication, MA in Journalism & Mass Communication, MBA in Communication Management, PG Diploma in Journalism, PhD Journalism, PhD Mass Communication, and PhD Public Relations.
Students are assisted in finding employment after completing the 3-year BJMC course, as this is the basic qualification required to work in this field. Students are even taken to several editorial offices of newspapers and TV/radio stations to get an idea of real offices.
15. School of Communication, Manipal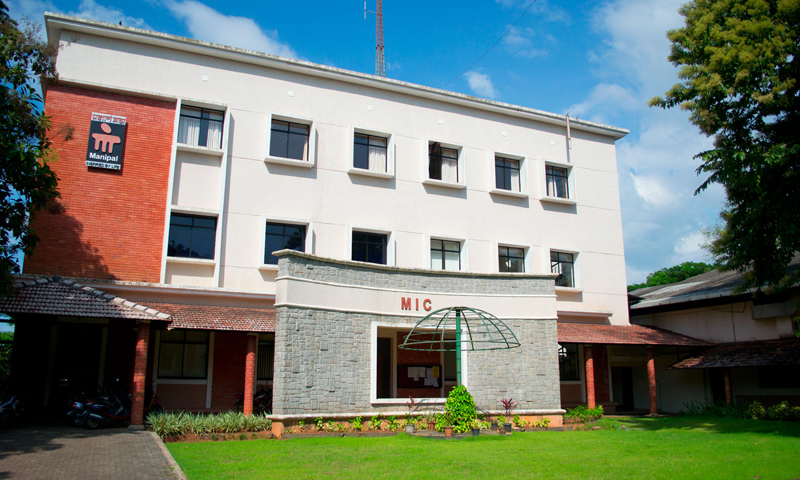 City: Manipal, Karnataka
The School of Communication, Manipal is a constituent unit of and affiliated to Manipal University. It is also known as the Manipal Institute of Communication and is situated in Manipal, Karnataka. The institute is ranked among the top journalism, media, and communication colleges in India.
Manipal Institute of Communication offers UG, PG, and PhD programmes in Media, and Communication, and Animation. It also provides short-term specialist post-graduate diploma programmes in Corporate Communication and Sports Communication.
The institute also collaborates with foreign universities in the Netherlands, Australia, Germany, Netherlands, France, and Czechoslovakia. This type of collaboration gives its students global exposure and prepares them to work in harmony with people from other nations. This is one of the main reasons why these students often get placed in some of the top international companies.
16. St. Pauls Institute of Communication Education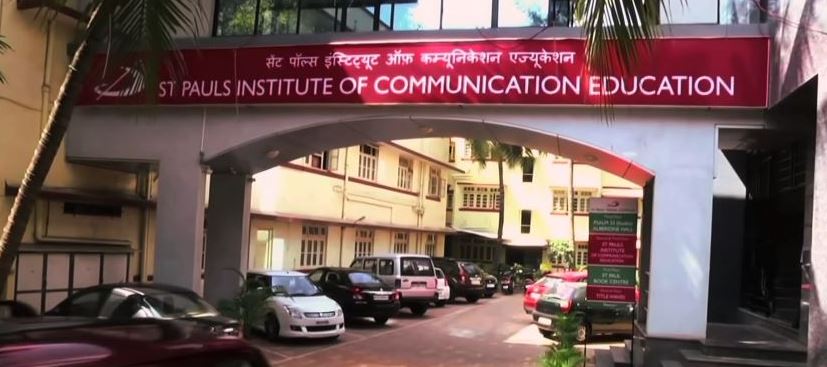 City: Mumbai, Maharashtra
St. Pauls Institute of Communication Education (SPICE) is a premier media institute located in Bandra, Mumbai. It is one of the fastest-growing media institutes in India. The institute offers a 10-month full-time post-graduate course in Journalism.
The course aims at training budding journalists with an in-depth understanding of the field and inculcating in them the skills required for being the journalist that society and the industry needs. The course caters to the multiple platforms available and would also instill in students about the in and outs of being a newsroom/media-ready journalist.
The course is designed, executed, and supervised by industry experts who ensure the inculcation of the theoretical and practical aspects of what goes into being a journalist that knows their responsibilities towards the job and towards society.
17. Symbiosis Institute of Media and Communication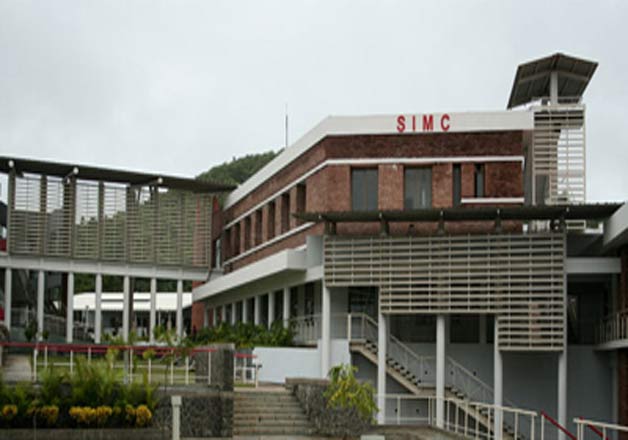 City: Pune, Maharashtra
The Symbiosis Institute of Media and Communication (SIMC) is a constituent of Symbiosis International (Deemed University), one of the best universities in India. The institute is also regarded for its media training beyond Journalism, and in keeping steps with the present industry requirements. In the year 2007, the institute was recognized and re-christened as Symbiosis Institute of Media and Communication (SIMC).
SIMC is the premier media and communication school with a vision of nurturing and developing future leaders in fields such as Creative Content Generation (MMC) and Managing Creative Businesses – MBA (CM). It is also the largest institute of postgraduate education in the media and communication space. The institute courses in MA (Mass Communication) and MBA (Communication Management) in multiple specializations.
SIMC has constituents/departments, which include the Symbiosis School of Visual Arts and Photography (SSVAP), Symbiosis School of Media & Communication (SSMC), and Symbiosis Centre for Media & Communication (SCMC).
18. Tezpur University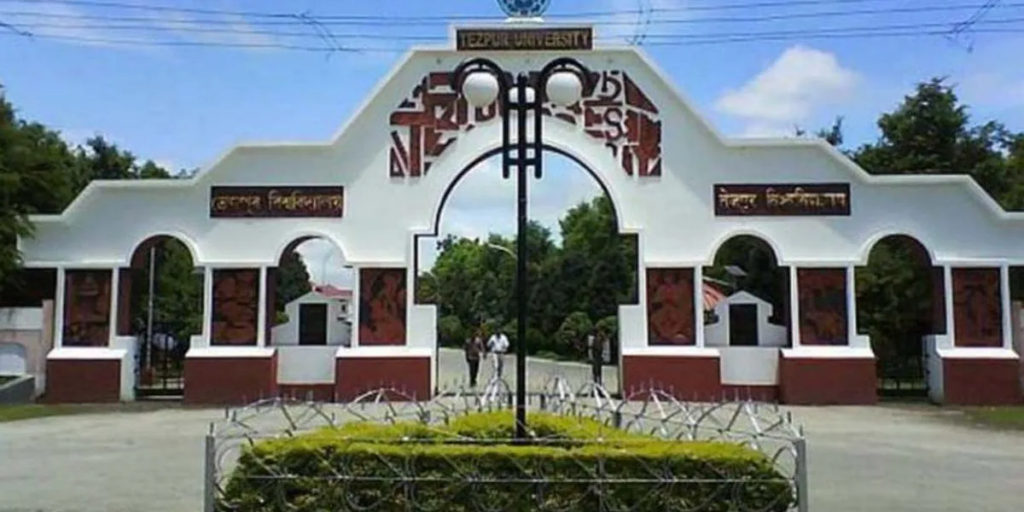 City: Tezpur, Assam
Tezpur University situated in Assam is recognized by the UGC, AIU, NAAC, and AICTE and accredited by NAAC with a Grade "A". The university comprises four schools, namely the School of Sciences, School of Management Sciences, School of Humanities and Social Sciences, and School of Engineering, respectively.
The university has a total of 27 departments and the programmes offered include B.Sc., B.A., B.Com., B.Ed., M.A., M.Sc., and MBA among others. The programmes are offered in various specializations including Journalism and Mass Communication.
The Tezpur University Department of Mass Communication and Journalism endeavors in its approach to higher education. The Department provides state-of-the-art facilities to the students to produce industry-grade quality media content. The Department offers a two-year (four-semester) MA in Mass Communication & Journalism (MA MCJ) programme. The program includes print journalism, television production, advertising and public relations, new media, development communication, communication research methods, etc.
19. Times School of Journalism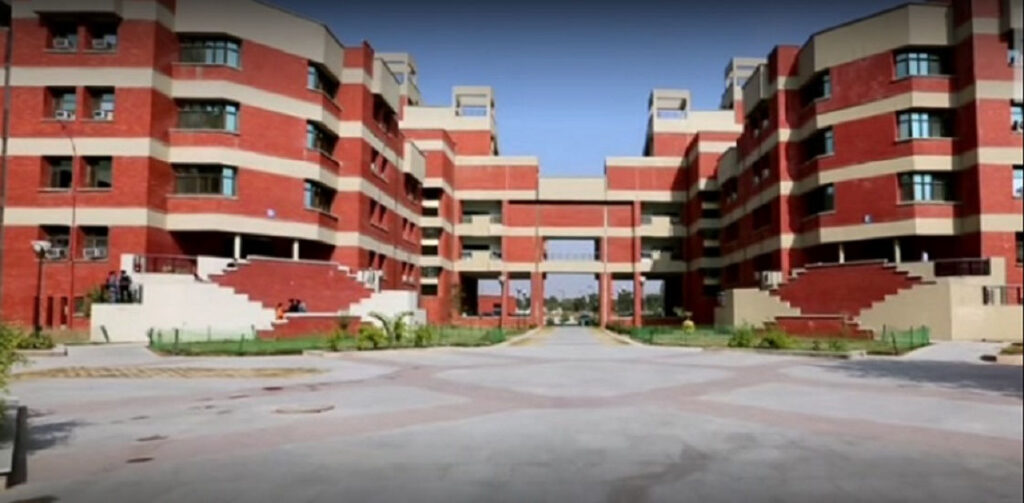 City: New Delhi, Delhi
The Times School of Journalism (TSJ) is a unit of the Times Group, which is India's largest media house, popularly known as The Times of India (TOI) and sister publication The Economic Times. TOI media house has a dominant presence across all media platforms and a footprint spanning the whole of the Indian sub-continent.
TSJ conducts a year-long full-time PG Diploma programme in Journalism with the objective of churning out fully-trained journalists and content professionals for leading media organizations, not just in India, but overseas as well. The program enables students to learn the art of reporting, writing, editing, designing, scripting, programming, etc., in its state-of-the-art facilities.
The facilities include a fully-functional newsroom and a TV studio enabling students to get exposure to all aspects of print publishing, online content systems, and TV programming. The skills taught in class are further polished not once, but twice, during the hands-on training period that our students undergo in various newsrooms of the Times Group and other prominent media organizations.
20. Xavier's Institute of Communication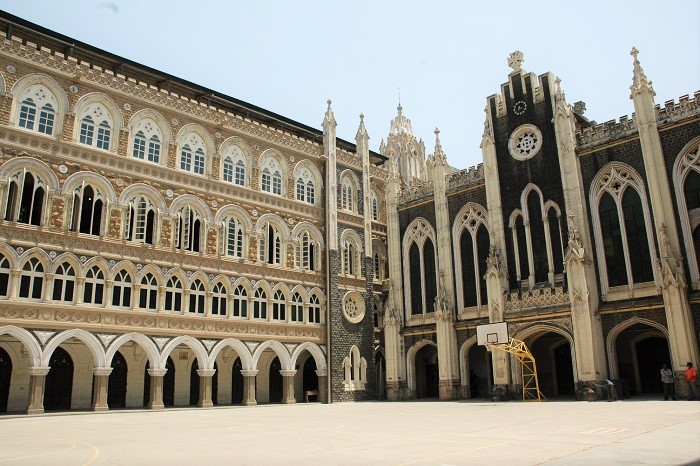 City: Mumbai, Maharashtra
Xavier's Institute of Communication is one of the top media institutes of Journalism. The institute is located in Mumbai. It is a prestigious professional media center that offers a variety of degree courses and resources in training and production to students.
The institute offers a 10-month full-time Diploma programme in Journalism and Mass Communication. The program examines the principles, practices, and responsibilities of journalistic reportage and how the lines have blurred between traditional media and new media.
The course equips and enables students to possess a variety of skills, acquiring the necessary knowledge and context to become future journalists and reporters.
Wrapping Up
The colleges for journalism listed above are among the top colleges in India to study journalism. The degree and diploma programmes that are offered by these institutions can be considered the best.