Top 20
Top 20 Coffee Brands in India: You Must Sip
The top coffee brands in India are the ones that provide high-quality coffee and a long-lasting delightful experience taste. While we all know of Nescafe as the most popular Swiss brand of coffee, most of us are unaware of several other brands that are making their way into the hearts of consumers.
Coffee is the Next Taste of India!
Although tea may be the preferred choice as a hot beverage among all age groups of people in India, there is no doubt that coffee is becoming the next leading taste in India! Similar to black or milk tea, coffee too, is consumed in the form of black coffee or milk coffee and can be hot or cold.
Did You (Ironically) Know?
If you consume a cup of hot or cold coffee in the evening or at night, you are going to lose your sleep, as the energy-filled beverage helps you stay active for longer hours.
Coffee is not just a mere drink, it has the potential to literally kick-start your "internal chakras", thus, providing you with a boost of energy all through the day.
India is a major producer of coffee beans, which are grown extensively in the Southern and Eastern regions of the sub-continent. These include states like Kerala, Karnataka, Tamil Nadu, Andhra Pradesh, Odisha, Assam, Tripura, Mizoram, and more. Also, most of its premium-grade produce is exported to countries around the world.
Coffee beans are generally available in varieties, two of which are Arabica and Robusta. These two varieties of coffee beans are also used by several other popular coffee manufacturers across the globe. For instance, Nescafe offers pure coffee, and it is the leading coffee brand all over the world. Nescafe and Bru brands of coffee are produced using the Robusta variety, which contains more caffeine than Arabica.
Also, read these articles:
Top 20 FMCG Companies in India
Top 20 Namkeen Brands in India
Top 20 Ice-Cream Flavours in India
Let us now take a look at a few of the best coffee brands in India.
List of 20 Popular Home-grown and International Coffee Brands in India
Here are some of the well-known coffee brands of India (sorted in alphabetical order). These include both home-grown and international brands that have become common household names among hundreds of consumers across India.
1. Araku Coffee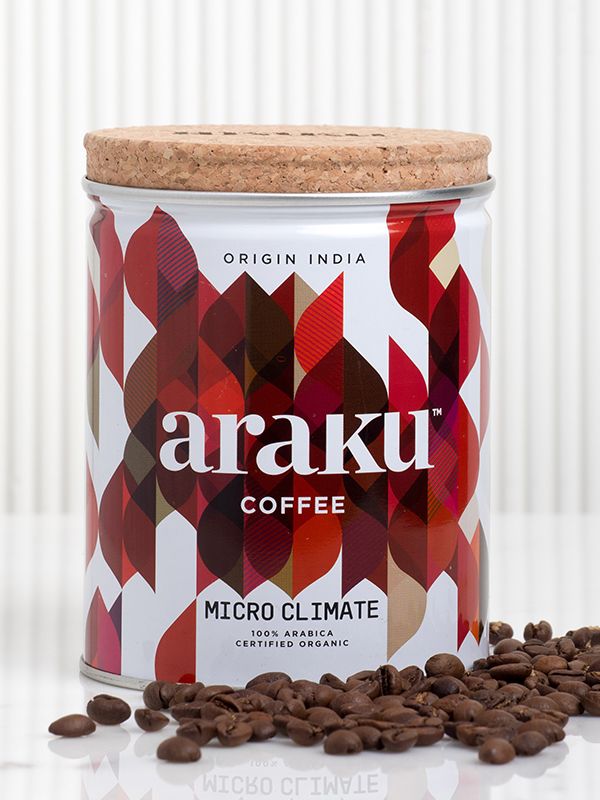 Named after the Araku Valley in the Eastern Ghats, Araku Coffee is an Indian coffee brand. The brand opened up its first flagship store in the year 2021 in Bengaluru, Karnataka. Its parent company is Araku Originals Private Limited with its headquarters located in Hyderabad, Telangana.
Araku coffee is pure Arabica with a rare aromatic profile that combines smoothness, balance, and roundness. Araku has been created by the coming together of international coffee experts and farmers in the region. They offer 100% organic, single-origin coffee that also tastes divine.
Araku coffees are available in beans, ground, and capsules, in tins or refills. The aluminum-free Nespresso-compatible coffee capsules are biodegradable and compostable vegetable capsules.
2. Black Baza Coffee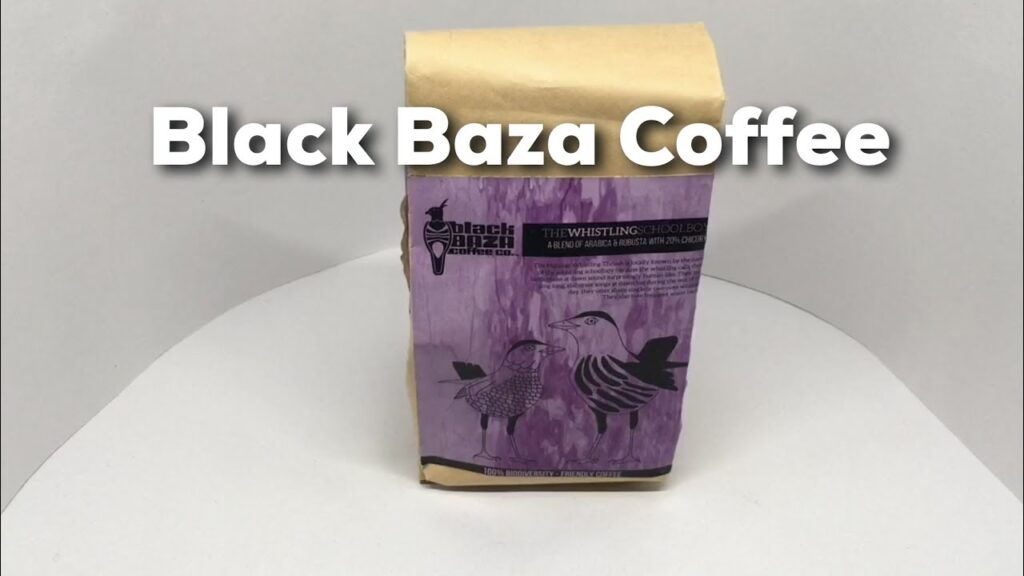 Black Baza coffee originated from the idea of creating a production and market system that values producers and nature equally. The company came as a need from the coffee growers themselves who wanted to give rise to a meaningful coffee movement in India that encouraged local production and participation.
The company works with local coffee growers across Bengaluru and BR Hills to bring you the best, most premium quality coffee beans straight from the farm. They use Arabica and Robusta coffee beans blended with chicory. They offer one of the best flavors of coffee.
Their coffee flavors are offered in varieties like a medium roast, medium dark roast, and dark roast. This variety of flavors is packaged and branded as Black Baza, Luna, Ficus, Otter, Galaxy Frog, Frogmouth, and more.
3. Blue Tokai Coffee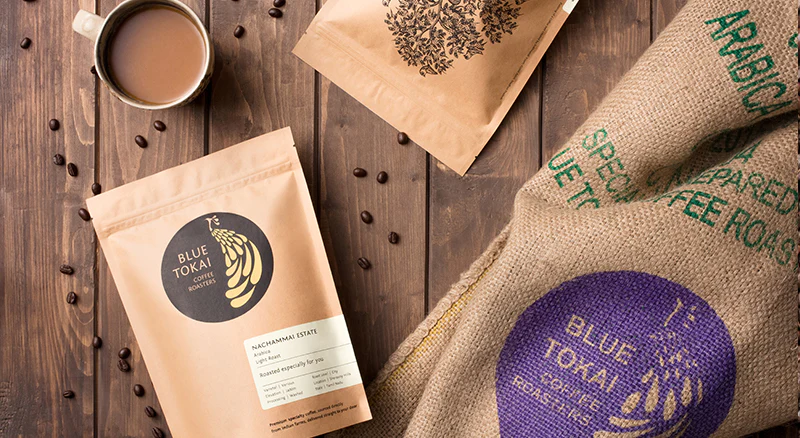 Blue Tokai is a well-known Indian coffee brand that was started by a couple from the South Indian region who missed the original filter coffee while living in Delhi. The brand was founded in the year 2012 with its headquarters located in New Delhi. The company offers a variety of coffee options as well as flavors that would make you want to never switch to another coffee again. The freshly roasted Arabica coffee beans provide an irresistible aroma that will leave you wanting more.
Blue Tokai's coffee is freshly roasted and is made entirely using Arabica coffee beans. The coffee beans are roasted to perfection to suit the brewing method. The result of roasting provides a medium-dark texture to the coffee product.
Blue Tokai coffee products are available in brands like Blue Tokai Coffee Roasters Baarbara Estate, Blue Tokai Coffee Vienna Roast, Blue Tokai Coffee French Roast, Blue Tokai Coffee Roasters Monsoon Malabar, and Blue Tokai Coffee Attikan Estate.
4. Bhava Coffee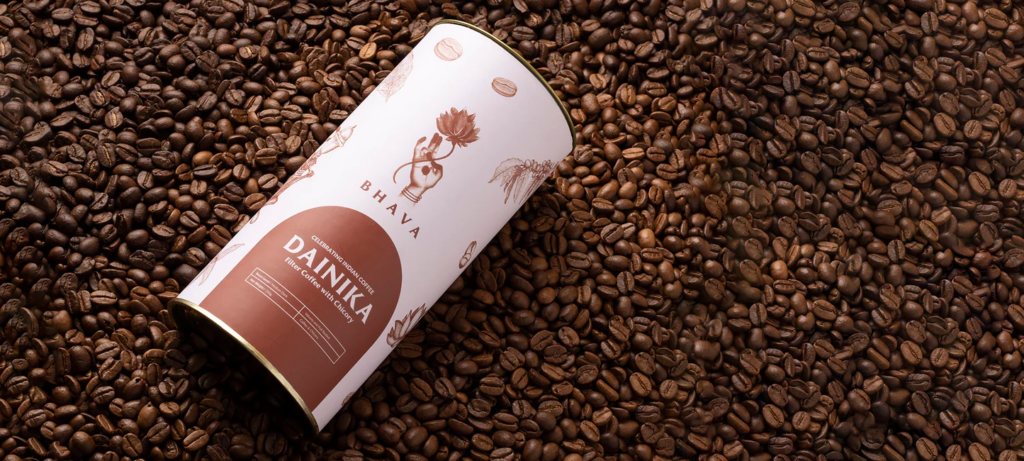 Bhava Coffee is a newly launched coffee brand in India and is making its name among the finest quality coffee in the country. Bhava Coffee's parent company is Bhava Food and Research Labs. They strive to create their own signature blends using the highest quality coffee. Invigorating and flavourful, the blends are a perfect fit for discerning consumers who love the best of both worlds; taste as well as wellness.
Bhava Coffee offers a plethora of artisanal blends to satiate the tastes of all coffee drinkers. The company is committed to providing good quality coffee to coffee lovers all over. Bhava is highly focused on research, and it curates its coffee exclusively from Indian-origin coffee beans, allowing a plethora of artisanal blends. The blends are curated based on key coffee attributes like aroma, flavor, body, and after-taste that the consumer wants to experience.
Some of the blends offered by Bhava include Anandam (medium roast), Dainika (medium dark roast with a mix of coffee and chicory) and Asmita (medium dark roast coffee blend with milk chocolate), and many others.
5. Bili Hu Coffee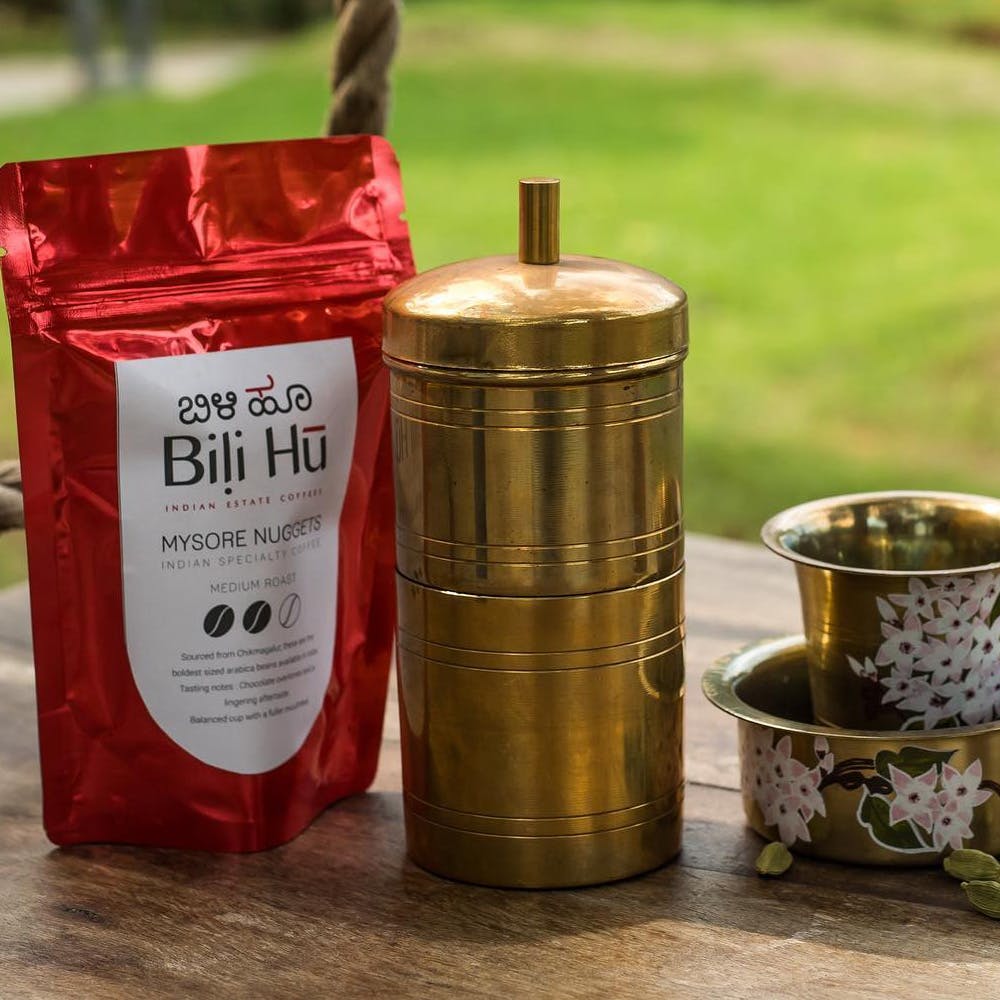 Bili Hu is an Indian brand that curates its coffee from some of the best coffee estates in India, and all its unique blends tell a story. For instance, its Mysore Nuggets Extra Bold blend tells the story of how this coffee was meant for royalty in the old days in Mysore. It also tells about how the way the coffee beans from Harley Estate are processed and provide a fruity flavor. They have many more interesting mixtures and result in drool-worthy coffee.
They offer premium standalone coffees, while also offering balanced blends that are easily available at their clients' hotels, restaurants, and cafes. The coffee they offer has been created in close collaboration with the best curators, roasters, and coffee estate owners across India.
Bili Hu sells coffee packs and coffee makers among other products.
6. Bru Coffee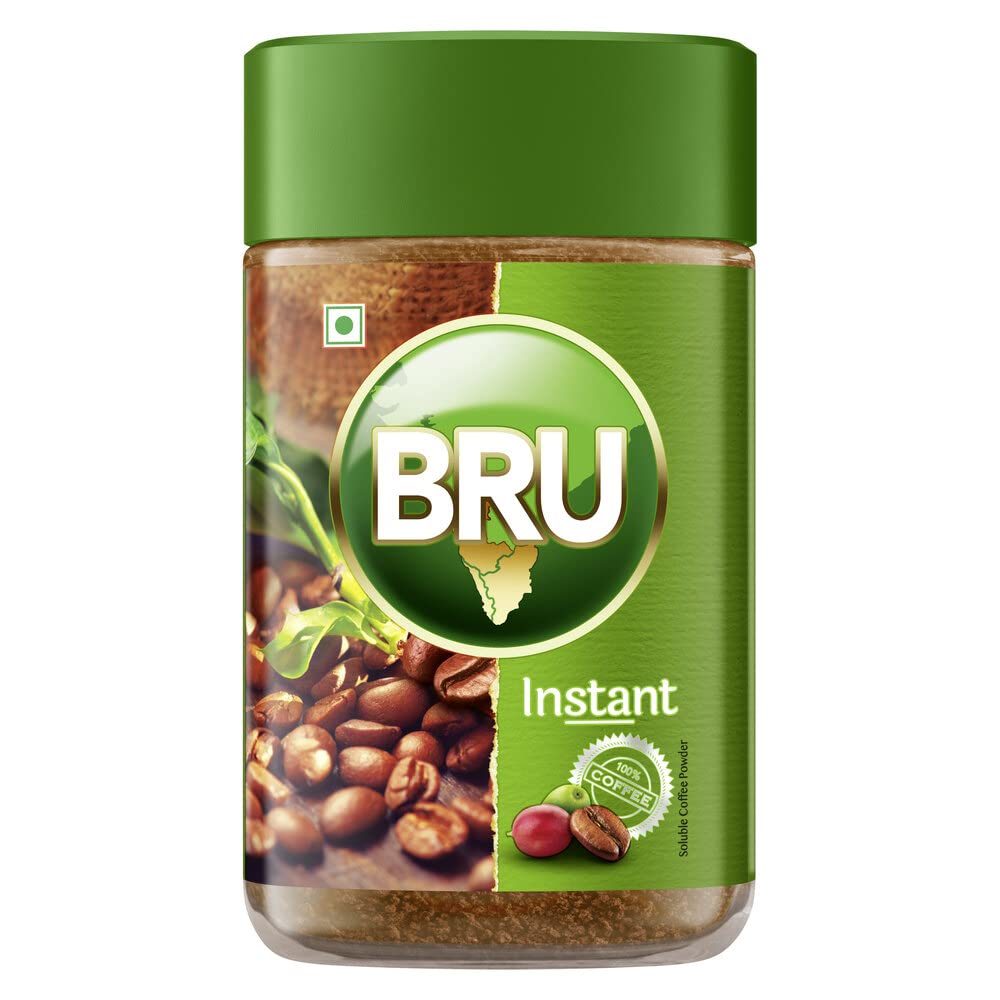 Bru is an Indian brand of coffee that has gained a lot of popularity among consumers in India. The company was established in the year 1968 and has since, been producing high-quality coffee in the country. Bru was one of the first Indian brands to add chicory to its instant coffee blend to enhance the aroma and taste of its coffee, which was widely appreciated across the country. It's patent Arabica and Robusta flavors provide a long-lasting taste and make anyone want more of this coffee.
Bru brand of coffee is a pure granulated coffee with a genuine coffee flavor in every sip. Robusta and plantation beans are chosen mainly from South Indian farms and are further roasted to add fineness. It's every sip offers a real coffee flavor and aroma.
Bru coffee is available in brands like Bru Green Label, Bru Instant Gold, Bru Instant, and Bru Select.
7. Continental Coffee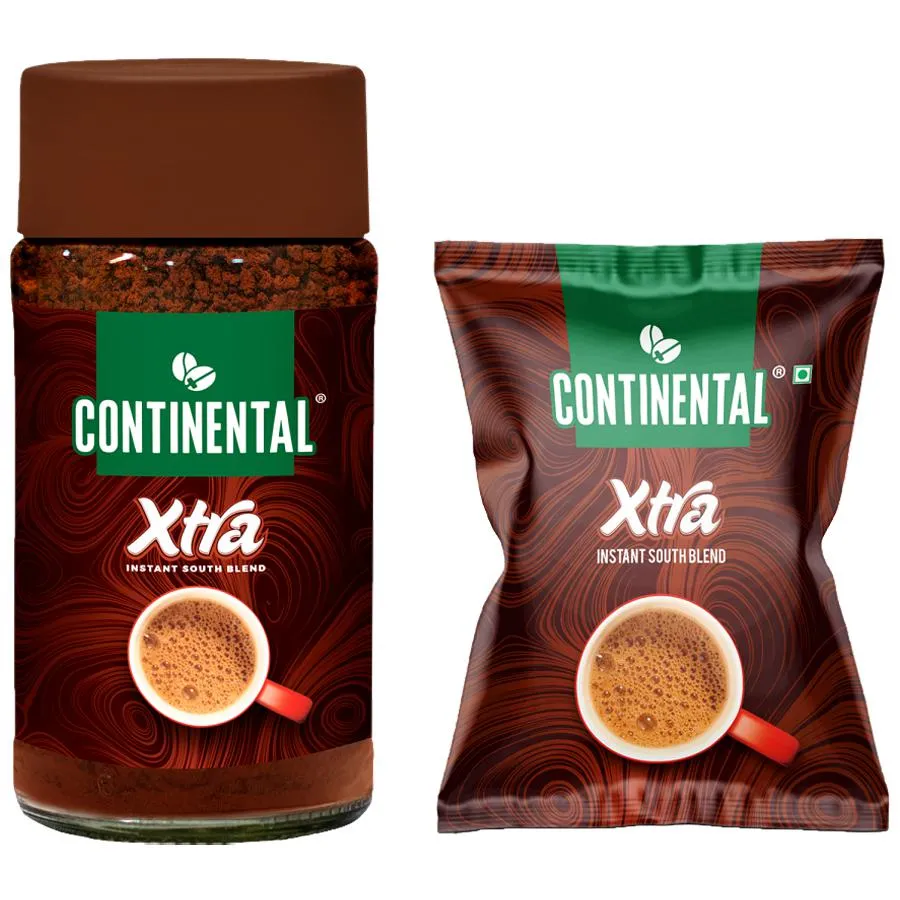 Continental Coffee is another popular coffee brand that was established in the year 2016 by Challa Rajendra Prasad. The company is headquartered in Hyderabad, Telangana. The brand was formed to share its love for high-quality coffee with the world. The company incorporates about 30% Chicory in its manufacturing of coffee and also, for offering the best taste and aroma even that is even more sensational. The brand has many excellent coffee varieties behind it.
Continental Coffee brand is a one-of-a-kind mix that is made up of 70% pure coffee and 30% chicory. Its carefully selected coffee beans are combined with roasted chicory to create a powerful cup of rich flavored coffee. In addition, its large granules lock in the aroma and flavor, giving the coffee a powerful and delicious flavor.
Continental Coffee brands of coffee products are available as Continental Coffee Xtra Instant, Continental Coffee Strong, and Continental Coffee Speciale Pure.
8. Country Bean Coffee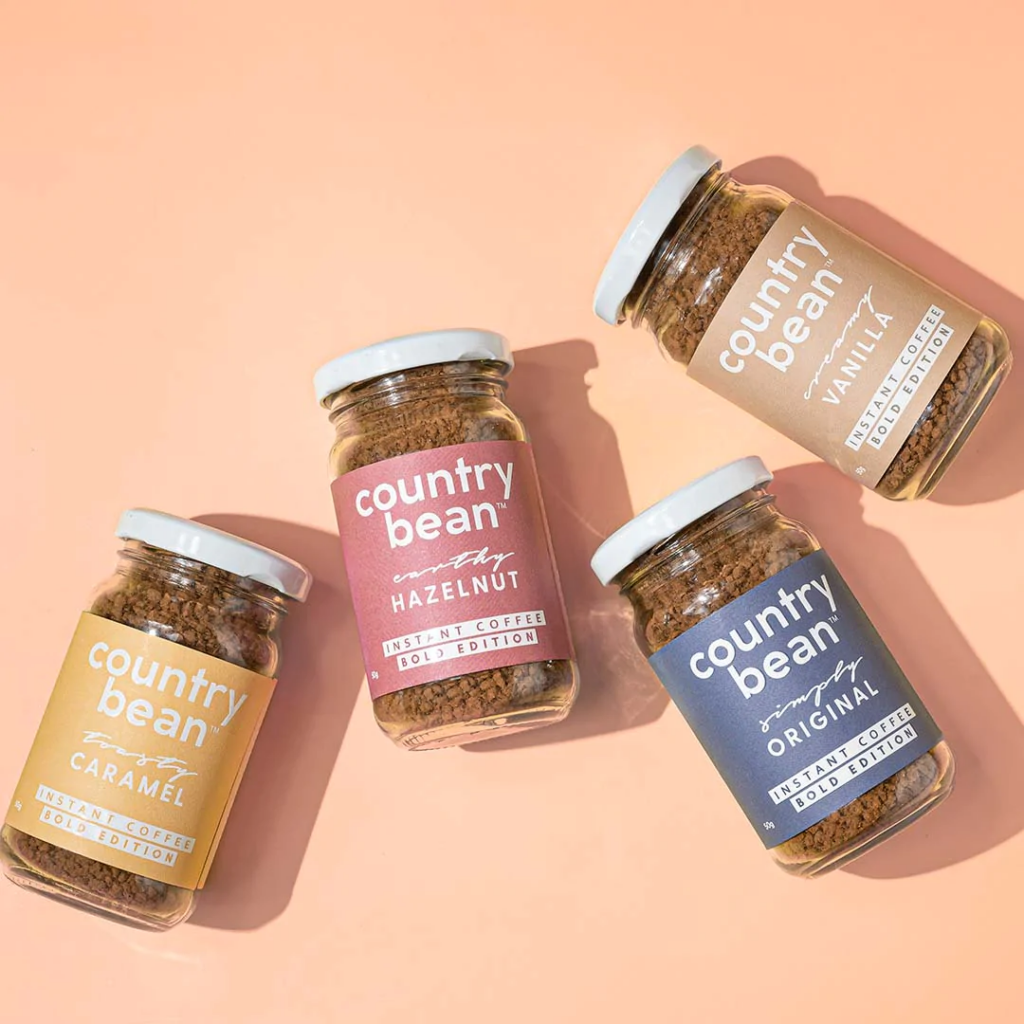 The Country Bean coffee brand is among the new coffee sensations in India that is gaining a lot of attraction for its fresh and unique options in its brand of coffee products. The brand offers a beautiful filter-coffee flavor that is perfect for everyone, as well as for those who aren't a fan of regular instant coffee powders. So, whether you prefer your coffee black or with milk, Country Bean has a great variety of options available for everyone. The brand has seen tremendous success in recent times.
Country Bean brand of coffee provides every cup of coffee with a smooth after-taste. Also, its coffee beans are chosen from the best estates and roasted to provide a perfect taste. The fresh aroma of the coffee is preserved using new and improved techniques.
Country Bean coffee products are available in brands like Country Bean Hazelnut Coffee, Country Bean Mint Coffee, Country Bean Vanilla Coffee, and Country Bean Cardamom Flavour.
9. Davidoff Coffee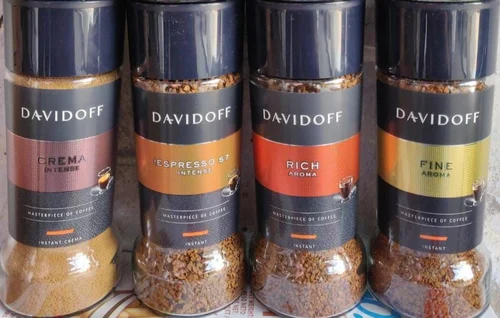 Davidoff is one of the world's most influential luxury coffee brands. It has a massive clientèle in India. The company is owned by the Zino Davidoff Group, which is a Swiss family business that was established in the year 1980. The company also deals in other consumer products, such as watches, leather goods, accessories, fragrances, etc.
Davidoff coffee products are made from imported East African and South American coffee beans that are blended to produce high-quality coffee with a rich and opulent aroma. Their coffee is very pleasant and comes in a variety of flavors. All the added flavors complement the coffee to bring out its unique beauty, and you should definitely give it a try.
Davidoff's brand of coffee is a wonderful combination with the regulated intensity needed to fuel the contemporary explorer's lifestyle. Their coffee is available in brands like Davidoff Cafe Instant, Davidoff Fine Aroma, Davidoff Cafe Espresso, Davidoff Crema Intense, Davidoff Cafe Grande Cuvee, and Davidoff Explorers Choice.
10. Kings Coffee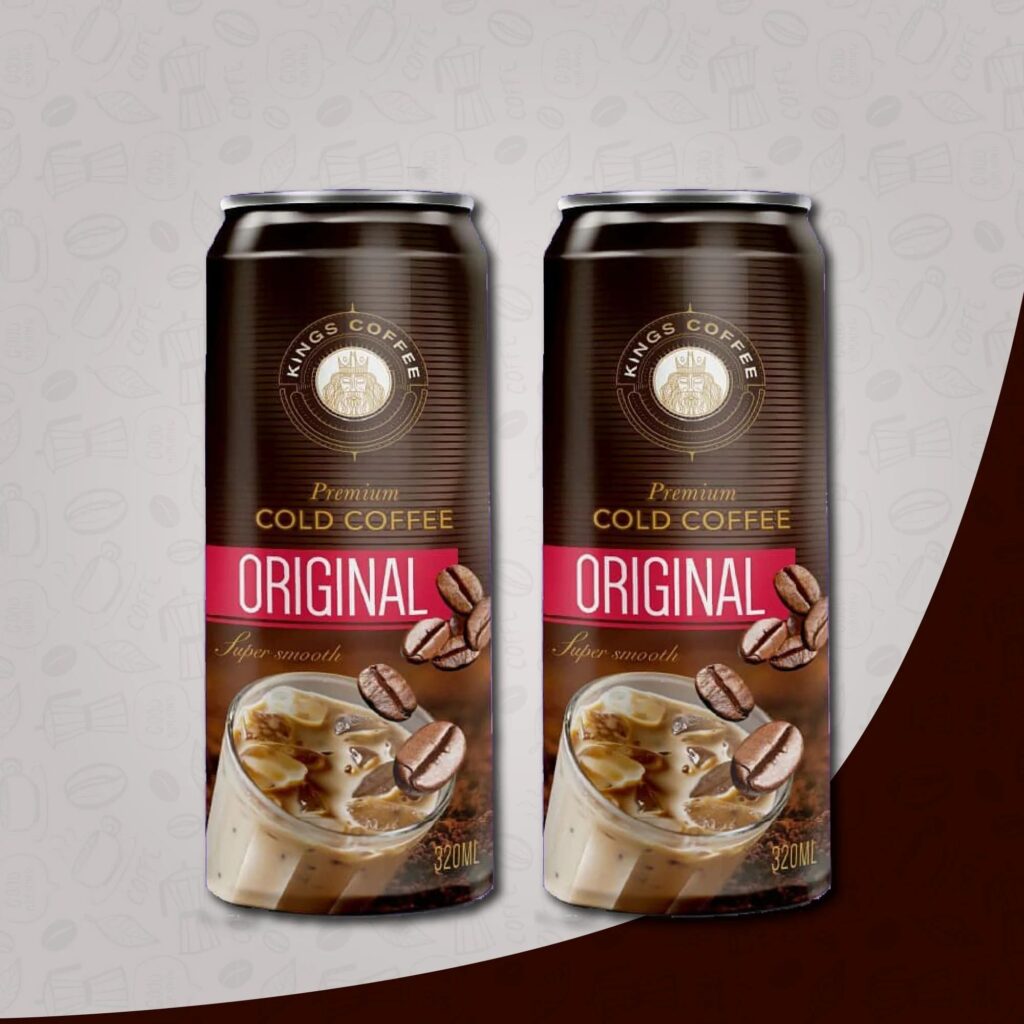 Kings Coffee has become extremely popular ever since its launch in India in 2017. This coffee brand has a range of options including lactose-free ones as well. They are present in more than 3 cities and have partnered with quite a few retail outlets. The brand has partnered with a number of offline as well as online retail companies. They have collaborated with the likes of Big Basket, Amazon, Reliance Industries, and many others.
Their use of Arabica coffee beans is sourced mainly from Vietnam. The company aims to provide an experience for all coffee lovers to try indigenous coffee made by using the best coffee beans from the world's second-best coffee bean manufacturing country, Vietnam.
Kings Coffee products are available in various options including Mocha Can, Dark Roast Brew Bags, Medium Roast Brew Bags, Kings Coffee Hazelnut, etc. They also sell cold coffee bottles and cans. The cold coffees are offered in flavors like Mocha, Vanilla, Original, Hazelnut, and Latte.
11. Nescafe Coffee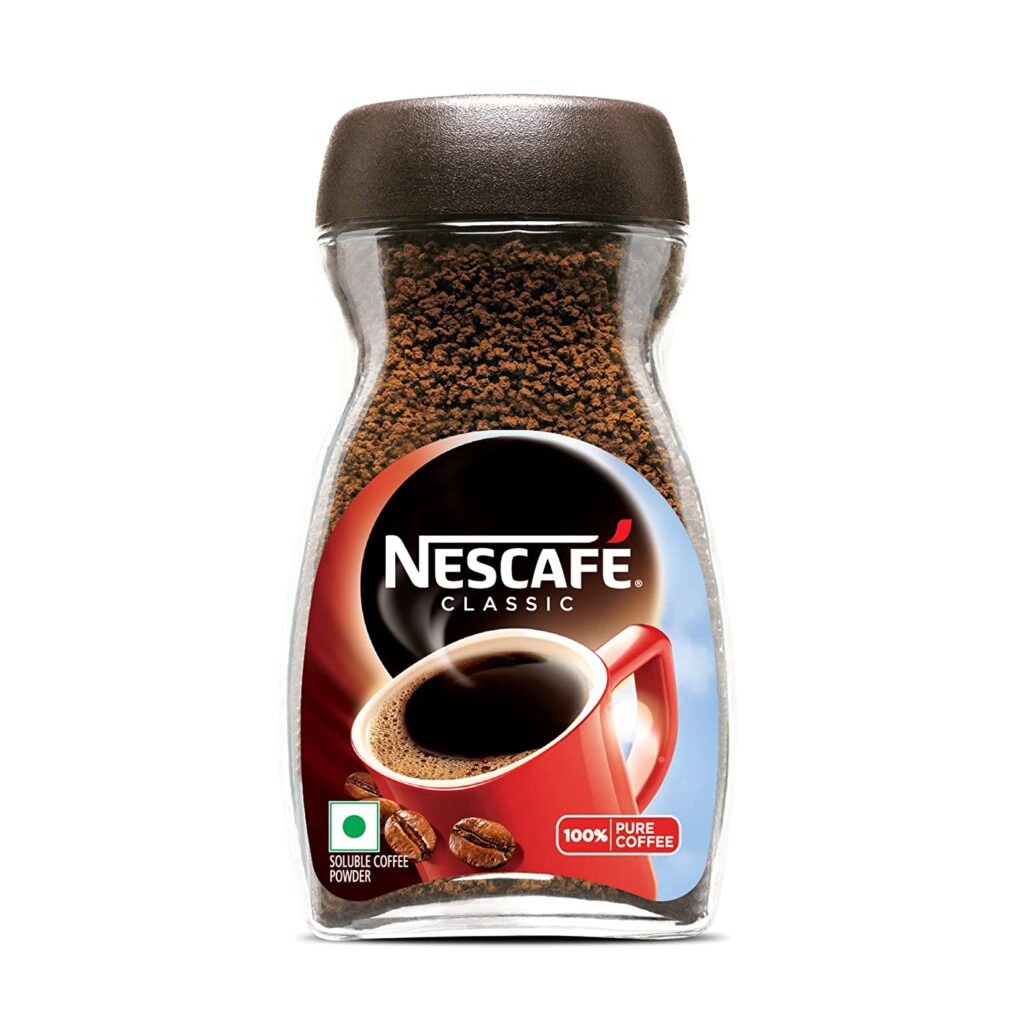 Nescafe is among the few names that immediately pop up in our heads when we think about coffee. It is a Swiss coffee brand that was established in the year 1938 and is one of the largest brands across the globe. Its parent company is Nestle. Nestle is known worldwide for its wide variety of FMCG products, including in India.
The imported premium soluble coffee powder (available in sachets) from Nescafe provides an instant coffee experience to its consumers. Also, to add a pleasant taste, their coffee is made with the best types of Robusta and Arabica coffee beans. These types of coffee beans indulge your senses in a really unique premium coffee experience. The specially crafted glass jar preserves the coffee, so as to preserve its taste and aroma till the very last drop.
Nescafe distributes its coffee products in almost every corner of the world. The Nestle coffee series has a variety of coffees for you to choose from. Their coffee brands include Nescafe Classic, Nescafe Sunrise, Nescafe Classic Black Roast, Nescafe Extra Forte Original, Nescafe Gold, and Nescafe Cappucino.
12. Rage Coffee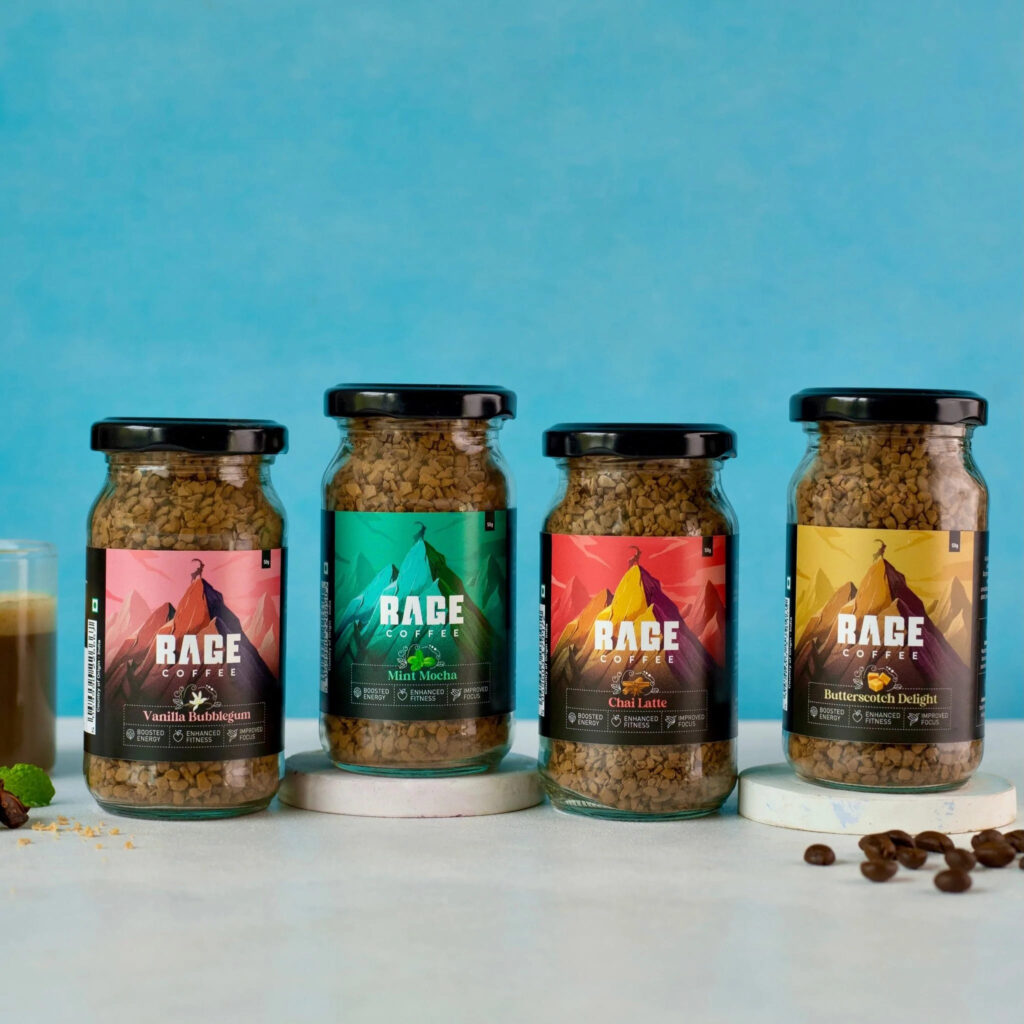 Rage is a fast-moving consumer goods (FMCG) company in India that is bringing a revolution in how Indians consume coffee with its carefully crafted products that taste good and are made with high-quality ingredients. The company was established in 2018 by Bharat Sethi, and has become a new sensation amongst coffee lovers in India. Rage Coffee has headquarters located in New Delhi and the company products can be easily bought from various online stores as well.
The Rage Coffee Irish Hazelnut flavor is made using 100% Arabica coffee beans that deliver freshness. The naturally-procured hazelnut flavor adds an interesting experience to its coffee products. Their coffee provides a balanced and smooth flavor that is very pleasant to one's taste. Their coffee can also be used with hot or cold milk or just hot or cold water.
Rage company's coffee helps keep you fuelled and energetic all day long. Rage Coffee products are available in brands like Rage Coffee, Ethiopian Arabica, Rage Coffee Instant Coffee Powder, Rage Coffee Chocolate Flavour, Rage Cofee Hazelnut Cold Coffee, and Rage Coffee Vanilla Flavour.
13. Seven Beans Coffee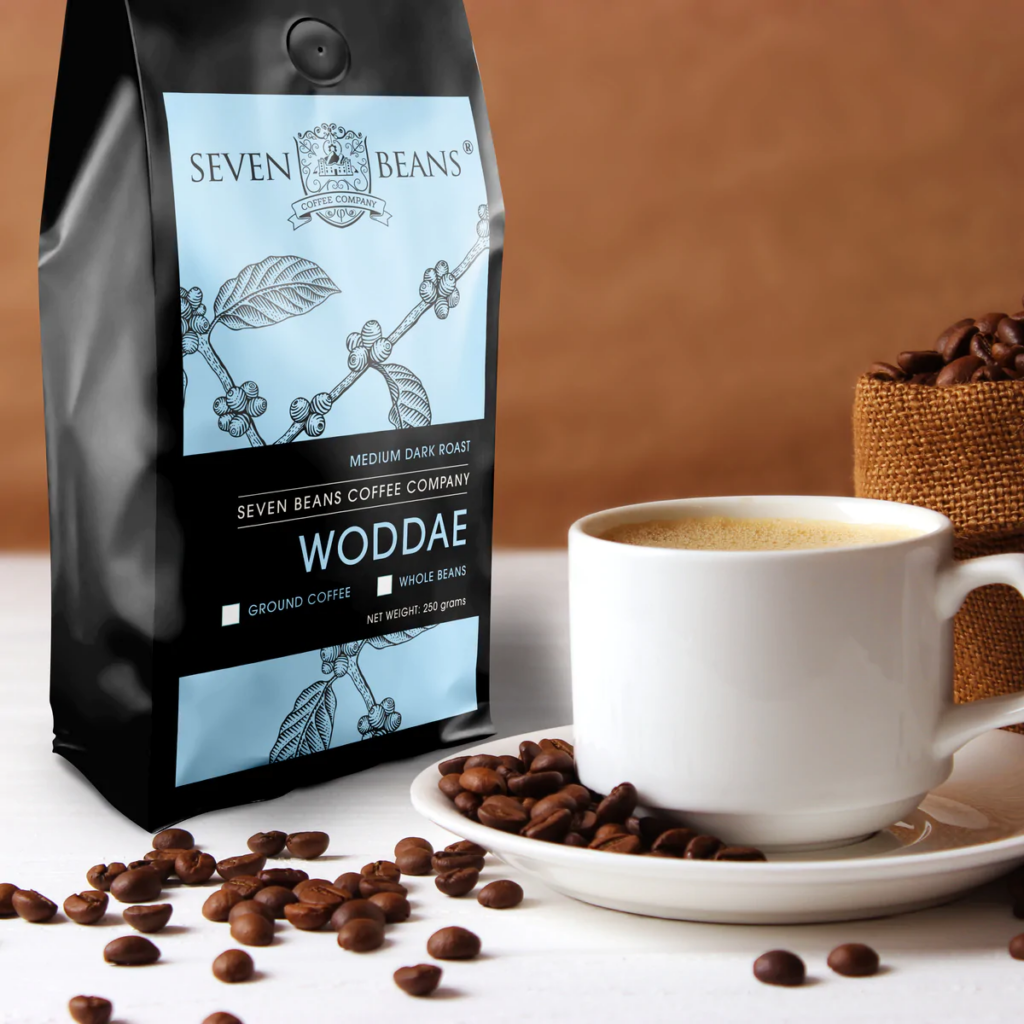 Seven Beans Coffee is an enterprise between Indian coffee planters and Italian roasters. The company was founded in 2013 in partnership with the Italian company, Caffe L'Antico. Its headquarter is situated in Bengaluru, Karnataka. The company uses Arabica and Robusta varieties of coffee beans for its wide selection of rich-flavored coffee brews as well as instant coffee.
The coffee grown in the hills of Chikmagalur in the state of Karnataka is roasted using traditional Italian techniques to produce exquisite gourmet coffees assured to elevate the senses. In addition, the company also sells coffee brewing equipment, coffee machines, etc., that are available at their online store.
Seven Beans Coffee products are available in several options, which include "Urubage", a South Indian filter coffee powder, "100% Arabica", a single-origin gourmet coffee, and "Mishta", a medium-roast, single-origin, monsoon Malabar blend of gourmet Indian coffee to name a few.
14. SLAY Coffee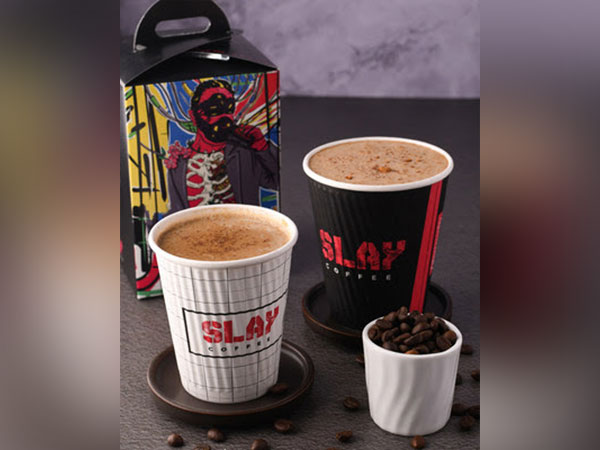 SLAY Coffee is a brand that delivers hand-crafted gourmet coffee. Its parent company is Dropkaffe Food & Beverages Pvt. Ltd. The brand has managed to create a completely new category for gourmet, hand-crafted coffee available on-demand to consumers. It operates in more than 80 locations across cities like Bengaluru, Mumbai, Pune, and Delhi-NCR.
SLAY coffee beans (both Arabica and Robusta varieties) are sourced from the mountains of Chikmagalur in Karnataka. Their coffees are suited to varied tastes and lifestyle preferences. These generally range from calorie-conscious individuals to vegan range, the black range for purists, and SLAY-X for the strong coffee drinkers. The brand claims that its SLAY-X coffee is India's strongest coffee.
You can easily brew the coffee yourself at home, order from any one of their Cloud Cafes, or simply pick it up from one of their SLAY Coffee Bar close to your location.
15. Sleepy Owl Coffee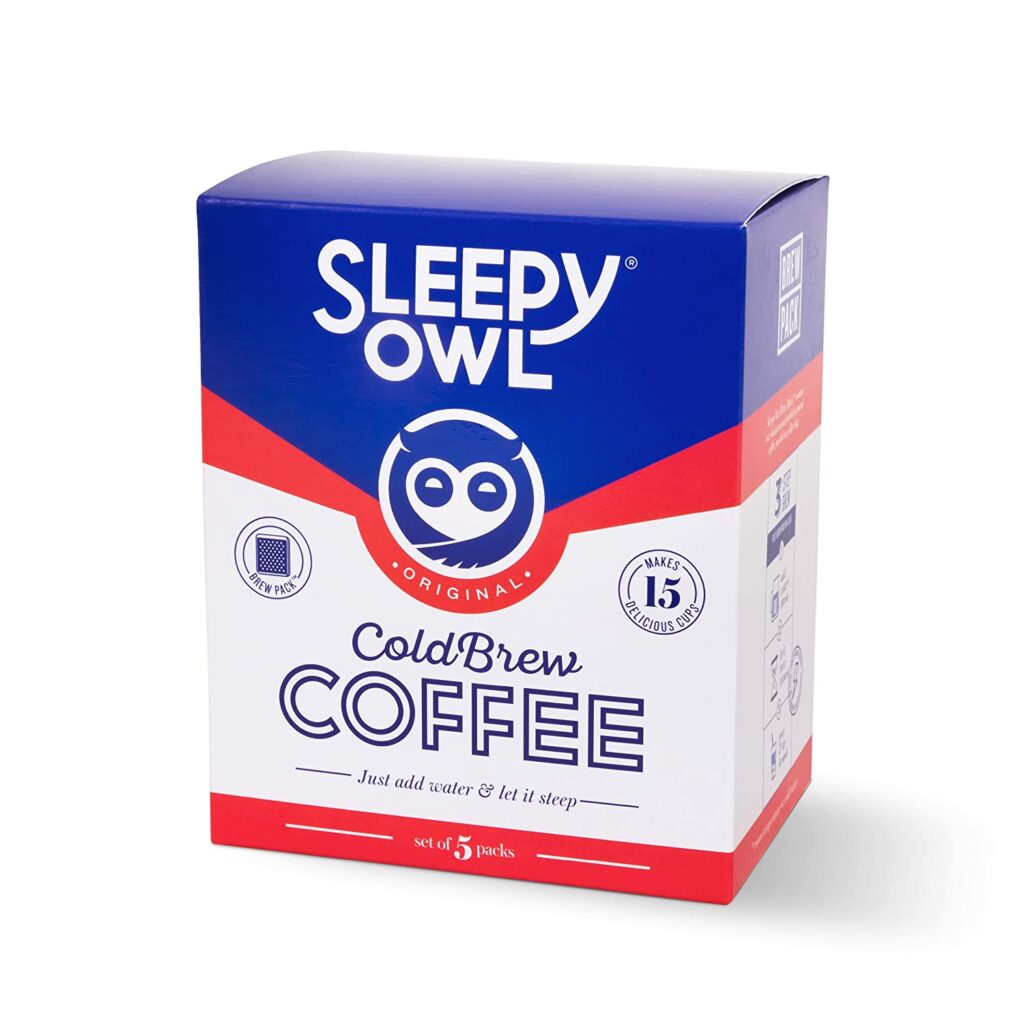 Sleepy Owl is a recently launched coffee brand that was founded in the year 2016 by three friends, Jai Thandi, Arman Sood, and Ashwajeet Singh. The brand has gained a lot of traction in the Indian market and has also managed to raise $500,000 in the year 2018. The home-grown coffee brand is famous for its delightful cold brew coffees which are slowly gaining a lot of attraction in the country. The brand also offers a selection of amazing coffee variants that you can choose from.
Sleepy Owl coffee is made exceptional by curating high-quality coffee beans, with the proper roast, and freshly grind. Their coffee has a rich, distinctive chocolate flavor that is a direct result of the coffee beans used. Also, it is smooth and has a natural sweetness to it.
Sleepy Owl coffee products are available in brands that include Sleepy Owl Cold Brew Coffee, Sleepy Owl Hot Brew Coffee, Sleepy Owl French Vanilla Coffee, and Sleepy Owl Caramel Coffee.
16. Starbucks Coffee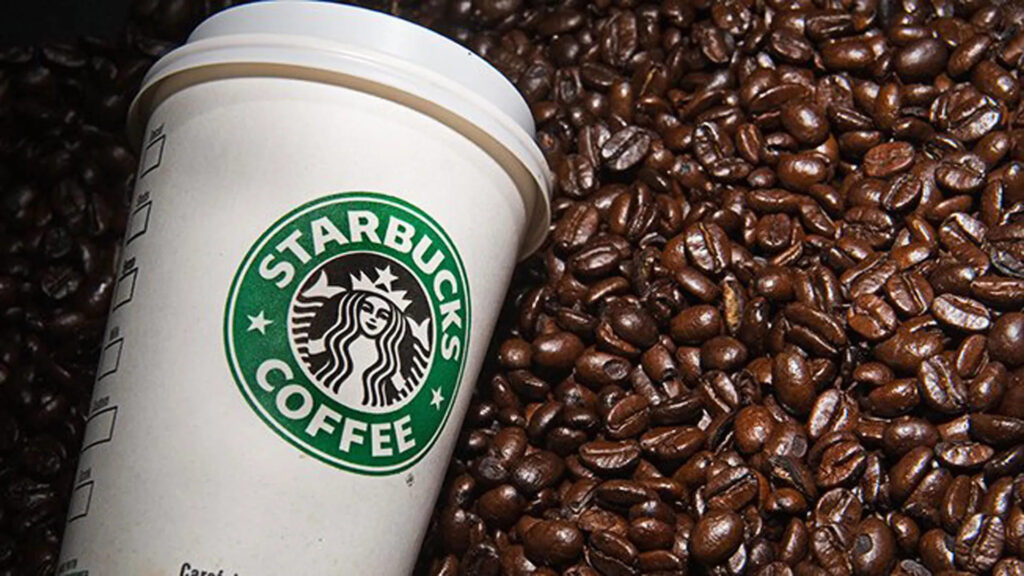 Starbucks is a popular coffee shop having its origins in Seattle, USA. In India, Starbucks operates as a joint venture between Starbucks Corporation and Tata Consumer Products, an FMCG subsidiary of the Tata Group based in Mumbai. In the segment of coffee, all its espresso coffees sold in Indian outlets are made from Indian-roasted coffee beans supplied by Tata Coffee. As of now, Starbucks has opened more than 250 outlets across 28 cities in India. Starbucks is one of the largest coffee chains in the world and has almost 33,000 stores across the globe. The brand also manufactures freshly roasted and aromatic coffee grounds that you can easily prepare at home and are available in numerous delicious options.
Starbucks coffee comes with expertly prepared premium coffee, dairy milk, and a delectable buttery caramel flavor. When made, the coffee is topped with a layer of soft foam. Its coffee is made with 100% Arabica coffee beans that are of the highest grade. Each package contains 5 individual serving sticks.
Starbucks coffee is available in several options like Starbucks Blonde Espresso Roast, Starbucks Caramel Latte, Starbucks Espresso Dark Roast, Starbucks Cafe Mocha, Starbucks Veranda Blend, and Starbucks Vanilla Latte.
17. Tata Coffee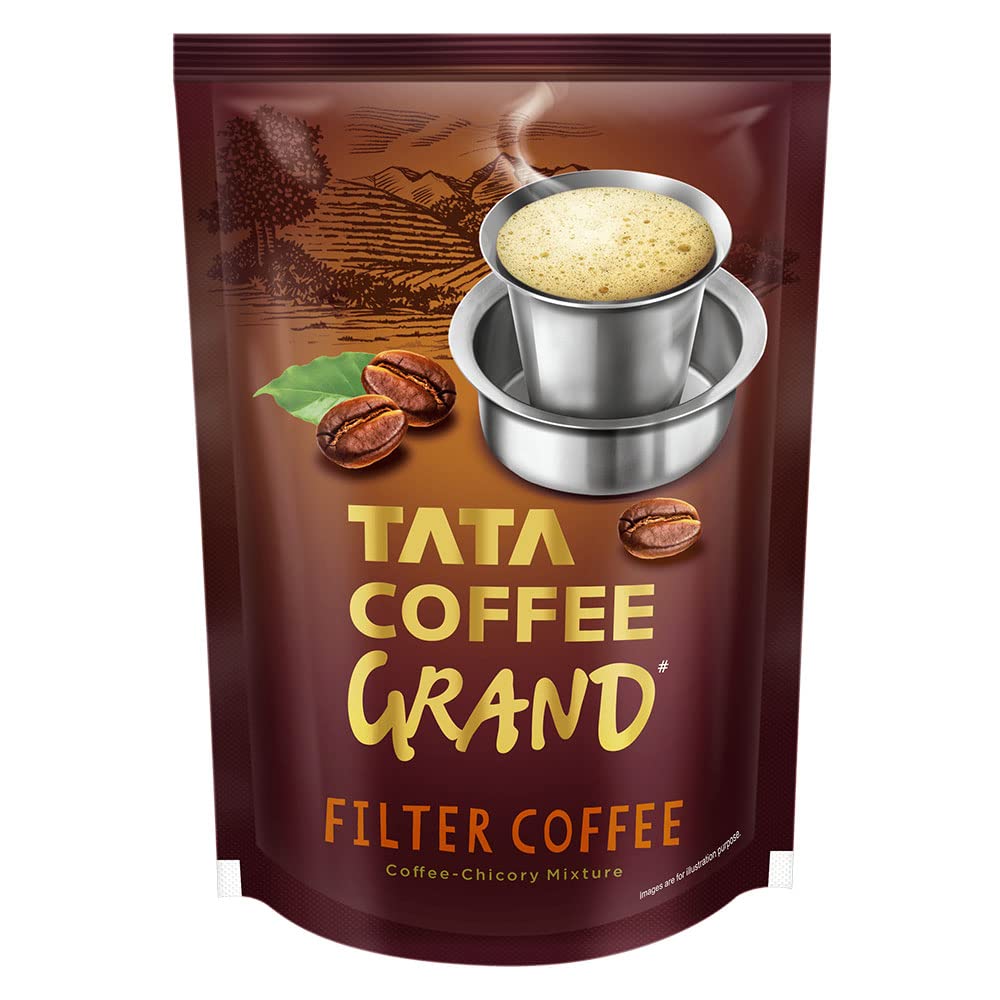 Tata Coffee is among the most popular brands in India. It is a subsidiary of Tata Consumer Products owned by the Tata Group of companies. The company currently has more than nineteen coffee estates across South India and the company produces top-quality coffee in India. Tata Coffee company was established in the year 1922 and has since, generated a revenue of more than Rs. 7.19 billion. Tata Coffee has its headquarters located in Kolkata, West Bengal, and operates smoothly across India.
Tata coffee offers a smooth combination of frozen and dried coffee and agglomerated coffee powder. Its coffee is excellent in both flavor and aroma. The combination is made up of 53 percent coffee and 47 percent chicory.
Their coffee is brewed with a pleasant flavor that will gratify all coffee aficionados. Tata Coffee products are available n brands like Tata Coffee Grand, Tata Coffee Quick Filter, and Tata Coffee Sonnets Arabica.
18. The Flying Squirrel Coffee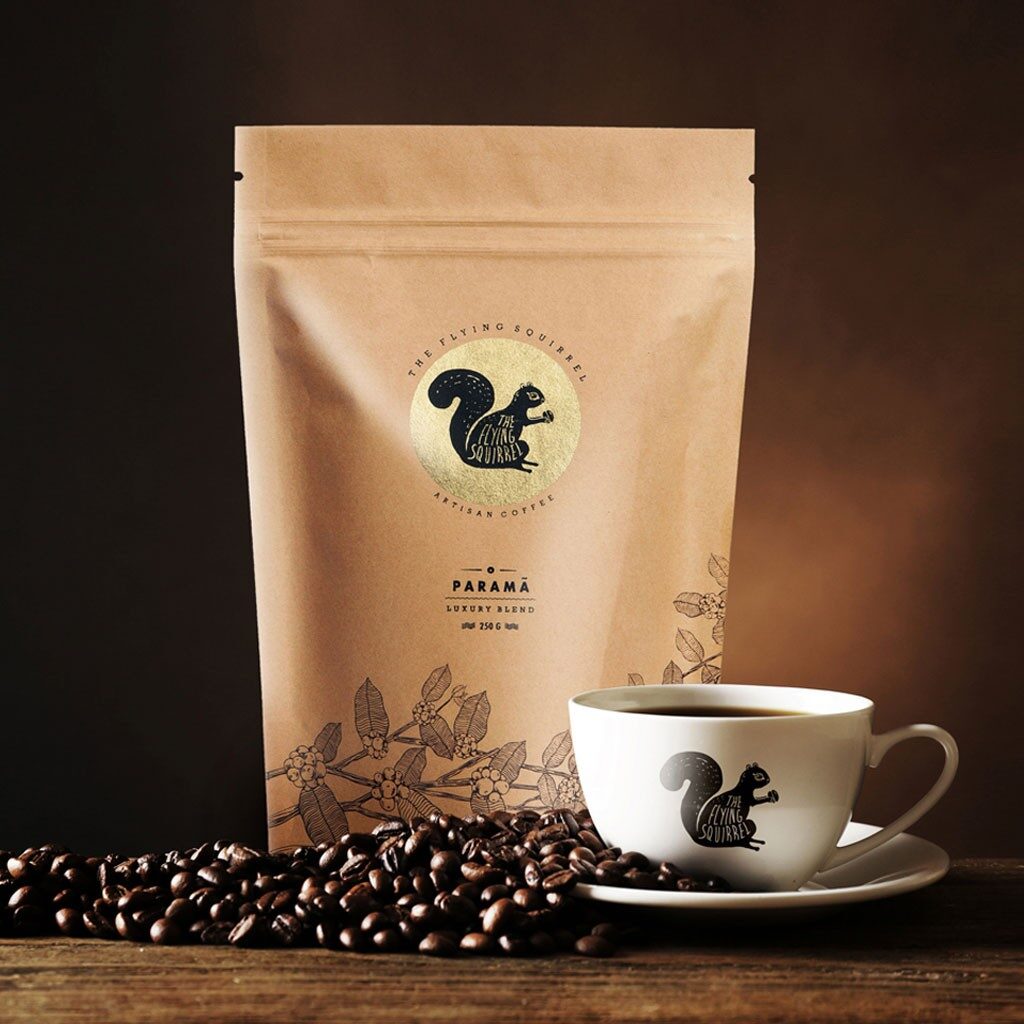 The Flying Squirrel is one of India's leading coffee brands that is delivering amazing coffee around town from the lush Tej's farm in Coorg, Karnataka. The company's coffee beans go through various different processes of drying and roasting to make sure you get the best taste, day after day.
The company grows high-quality Arabica and Robusta coffee beans on its own estates in Coorg, a beautiful, picturesque district in Karnataka. The main estate is called Nellikad estate which is over a hundred years old and has been with the Ajjikuttira family for the last three generations.
The Flying Squirrel company offers its coffee products in freshly roasted coffee, ground as well as packed coffee. The company offers seven different variants which include Parama, Sattva, Sunkissed, Aromatique, Cafe Chic, Deep Bliss, and Clouds in my Coffee. They also offer a taster pack of sex flavors, which you can pick and choose from the variations that suit your taste buds.
19. The Good Life Coffee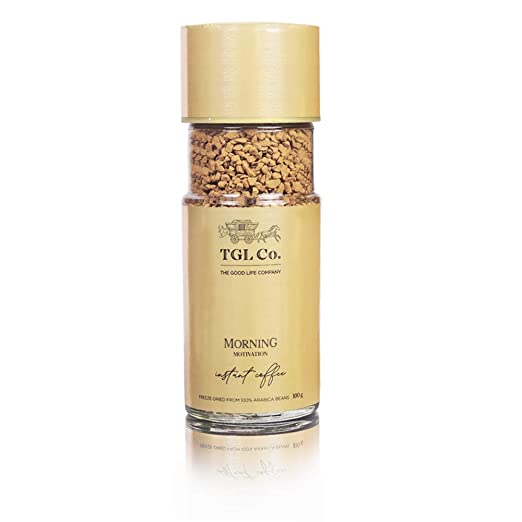 The Good Life, also commonly known as TGL, is a top coffee brand in India. TGL is a producer of coffee and tea in India. The company was established in the year 2016 by Bhuman Dani and Shariq Ashraf. The TGL brand is well-known for producing quality tea and coffee using organically available ingredients. Their coffee and tea exhilarate aromas and are perfect for making coffee at home and taste like that of a cafe.
The Good Life brand of coffee has strong charred notes with traces of burnt wood, clay, minerals, and some starchy, corn-like notes in the rear. It is a mixture of Arabica and Robusta coffee beans. Their coffee accommodates cream and sweetener beautifully.
TGL's brands of coffee products are available as TGL Instant Coffee, TGL Euphoria Instant Coffee, and TGL Breakfast Fusion Coffee.
20. Third Wave Coffee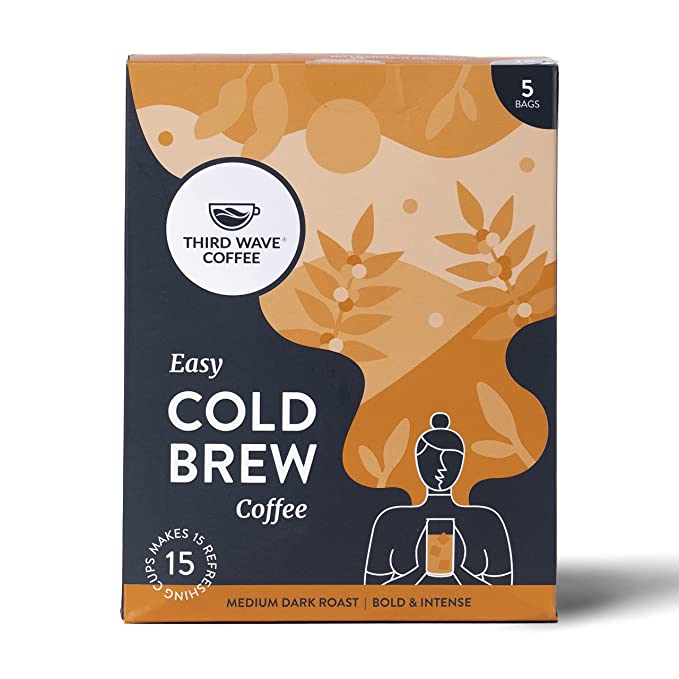 Third Wave Coffee is another popular Indian coffee brand that is highly recommended by many coffee enthusiasts. Their coffee is sourced from the Chikmaglur Hills situated in the Western Ghats in the state of Karnataka. This coffee brand based in Bengaluru, Karnataka, was founded by three coffee enthusiasts, Sushant Goel, Ayush Bathwal, and Anirudh Sharma.
Their coffee is sourced from the estates where the Arabica variety is grown extensively in the region as well as other estates in Southern India. The difference in coffees from various estates is that coffee from each estate is curated to provide the finest beans from the best farmers. The coffee plant has multiple growth stages during which it is precisely cared for by experts. The manufacturing company selects beans from varying altitudes, locations, and processes, thus, offering a range of flavor notes to enjoy.
They also have more than 50 cafes located in cities that include Coonoor, Bengaluru, Delhi NCR, Pune, Mumbai, Chandigarh, Gurugram, and Hyderabad. Third Wave Coffee products are available in brands like Baarbara Estate, Vienna Coffee Bean, Bettadakhan Coffee, and French Roast.
Wrapping Up
India has a rich culture both in the production and consumption of high-quality coffee and is one of the biggest suppliers of coffee in Asia. You can find top-grade coffee in a myriad of home-grown as well as international coffee brands, such as Nescafe, Bru, Davidoff, and Sleepy Owl to name a few.