Top 20
20 Best Things To Do In Rishikesh, Uttarakhand, India
Planning to visit Rishikesh during your holidays and want to know what you can do here? We have picked a couple of exciting things for you to do in one of the holiest and most interesting places in Uttarakhand, India.
Visiting Rishikesh in India for Your Holidays
Rishikesh, quite popularly known as the 'Yoga Capital of the World', is an ancient town situated in the Tehri Garhwal region of Dehradun district in the Indian state of Uttarakhand (previously known as Uttaranchal). The elevation of this town is about 1,120 feet (340 metres) above sea level.
Although being a spiritual place for the Hindus, Rishikesh is also noted for its amazing sightseeing, adventures and many other activities. Bear in mind, Rishikesh is considered one of the sacred places, therefore, only vegan foods are made available and consumption and selling of alcohol (and alcohol beverages) are prohibited.
Rishikesh is the starting point for travelling to the four 'Chota Char Dham' pilgrimage places, which are 'Badrinath', 'Kedarnath', 'Gangotri', and 'Yamunotri', respectively. It is also a starting point for the Himalayan tourist destinations such as Harsil, Chopta, and Auli and the famous summer and winter trekking destinations like Dodital, Dayara Bugyal, Kedarkantha, Har Ki Dun for camping and the grandeur of Himalayan panoramic views.
How to Get to Rishikesh
Rishikesh is well-connected via air, rail and road (taxi, shared taxi and bus or personal vehicle) transportation. The nearest airport is Jolly Grant Airport. The distance between Rishikesh and the capital city Dehradun is about 50 km (31 miles). If you are travelling from Dehradun Airport aka Jolly Grant Airport, then Rishikesh is at a distance of 15 km (9 miles). Or, if you're travelling by road, it should take less than an hour by car or taxi.
There are taxi and bus services available for rent from several travel agencies in and around the Dehradun-Rishikesh regions. If you are travelling from another nearby state or city like New Delhi, Chandigarh, Shimla, Jaipur etc., a taxi or bus would be convenient, in case there's no rail connectivity from and to your region. There is minimal availability of direct bus service from Dehradun to Rishikesh, which leaves you with the option of the taxi, else driving a personal vehicle to reach Rishikesh. You can take a bus from ISBT Dehradun (48 km or 29.8 miles) to Rishikesh.
You can also pre-book a taxi for a day's or week-long sightseeing in Rishikesh. There are a lot of interesting places to explore, even beyond Rishikesh. One example is the famous Rajaji National Park and Tiger Reserve, which is situated and encompasses Uttarakhand's three districts: Dehradun, Haridwar and Pauri Garhwal.
Accommodation In and Around Rishikesh Town
If you're going to visit Rishikesh for a few days, even weeks for that matter, there is accommodation available here. The place has many inns and hotels for people that plan on staying longer. The price difference can range from budget to expensive accommodations.
20 Things You Can Do During Your Visit in Rishikesh, Uttarakhand
Here are twenty things you can do in Rishikesh and make the most of your holidays.
Advisory: During the monsoon season (mid-June to September), the areas surrounding the town of Rishikesh experience torrential rainfall and flooding. It is, therefore, advised to avoid visiting the place during monsoon.
1. Rafting and Kayaking (Canoeing)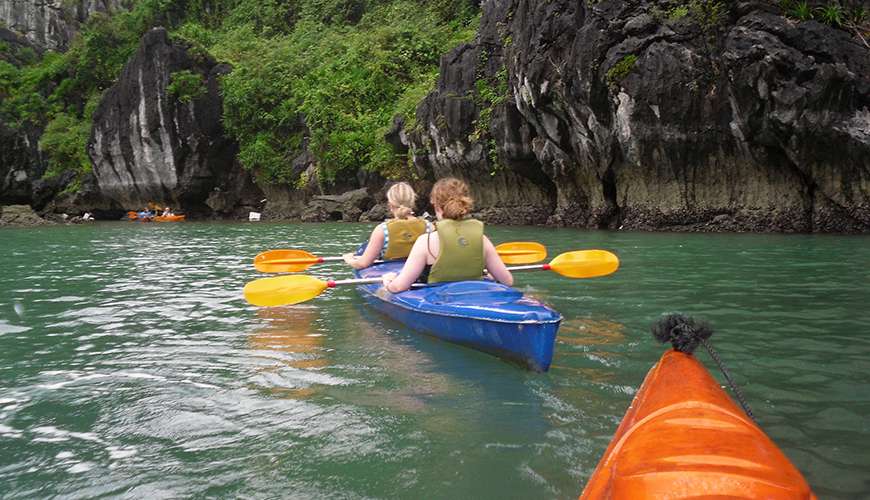 River rafting in Rishikesh is hands down the best and one could endeavour in India. From the gifted natural circumstances to the top professional assistance, it has just the best to offer. There are some certified operators, whose safety arrangements are well in place, and there are customised packages for camping and rafting (or without camping) at Rishikesh. Food, water and rafting arrangements are taken care of by operators if you want a stress-free outing. The peak season (March to mid-June) sees Rishikesh pretty crowded, so you can keep a check on that detail when you are planning to visit here.
Kayaking or canoeing is one of the most unique things to do in Rishikesh. The activity involves a person in a small boat or kayaks to ride down the river. The activity requires a small training to ride through the rapids and tides, for the first timers. After that, you will be good to go on your own.
2. Cliff Jumping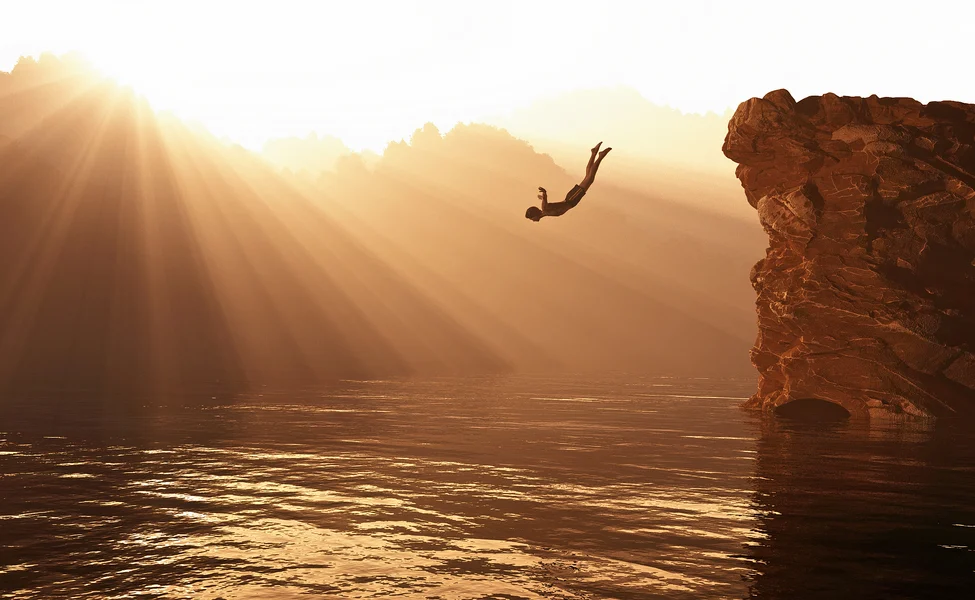 Cliff Jumping in Rishikesh is one such activity that offers travellers a lifetime experience. Nestled in the lower range of the Himalayas and along the banks of the river Ganges, Rishikesh has some dizzying cliffs. The most well-known cliff-jumping site is located in the lower part of the Brahmapuri Stretch, just 2 km (1.24 miles) before Laxman Jhula. Adventure lovers can enjoy cliff jumping while going river rafting in Rishikesh. En route to the rafting stretch, the raft can be parked on the banks of the river Ganges and you can jump from the cliff at the site.
The activity is mostly done when you are down in the river, swimming or rafting or just taking a dip. It is basically just jumping down in the river from a considerable height i.e. from a high cliff. Considered one of the most thrilling water sports, this is one of the best things to do in Rishikesh.
3. Bungee Jumping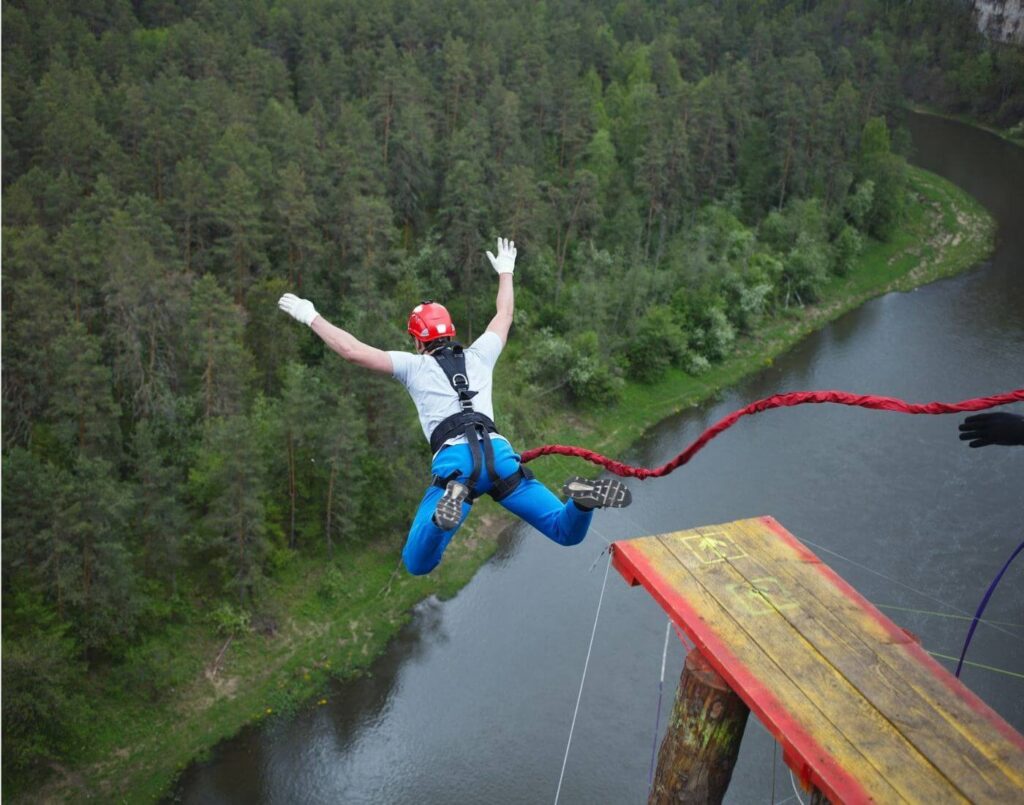 Bungee Jumping is a thrilling activity for people who aren't afraid of heights. It is one of the most challenging activities, where one has to dive from an altitude of about 120 (36.57 metres) to 160 (48.76 metres) feet off of a cliff or jumping board. After making the jump, one can relish capturing pictures of beautiful surroundings on the camera. The jumpers are also conferred with certificates along with giving out the recorded video of the person doing bungee jumping.
The bungee jumping site was designed by the professional jump master from New Zealand, David Allardice.
4. Air Safari/Paragliding and Parasailing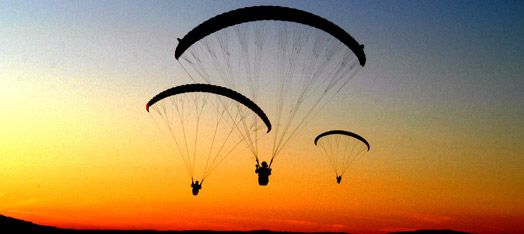 Air Safari brings a great adventure sport for adventure lovers. You can explore the blissful natural beauty of Rishikesh from the sky. Air Safari in Rishikesh will take you to amazing heights of the sky with the help of powered parachutes by experienced pilots. A powered parachute is a type of ultra-light aircraft consisting of a motor and wheels with a parachute. A powered parachute is also known as a para-plane or motorised parachute and is often, abbreviated as PPC.
A powered parachute flies at an average speed of 40-60 km per hour. The average operating height ranges between 500 feet (152 m) to 1500 feet (457.2 m). PPCs have very short take-off and landing rolls which can sometimes be less than 100 feet (30.48 m). One can enjoy the enchanting bird's eye view of the Shivalik Range of the Himalayas.
5. Flying Fox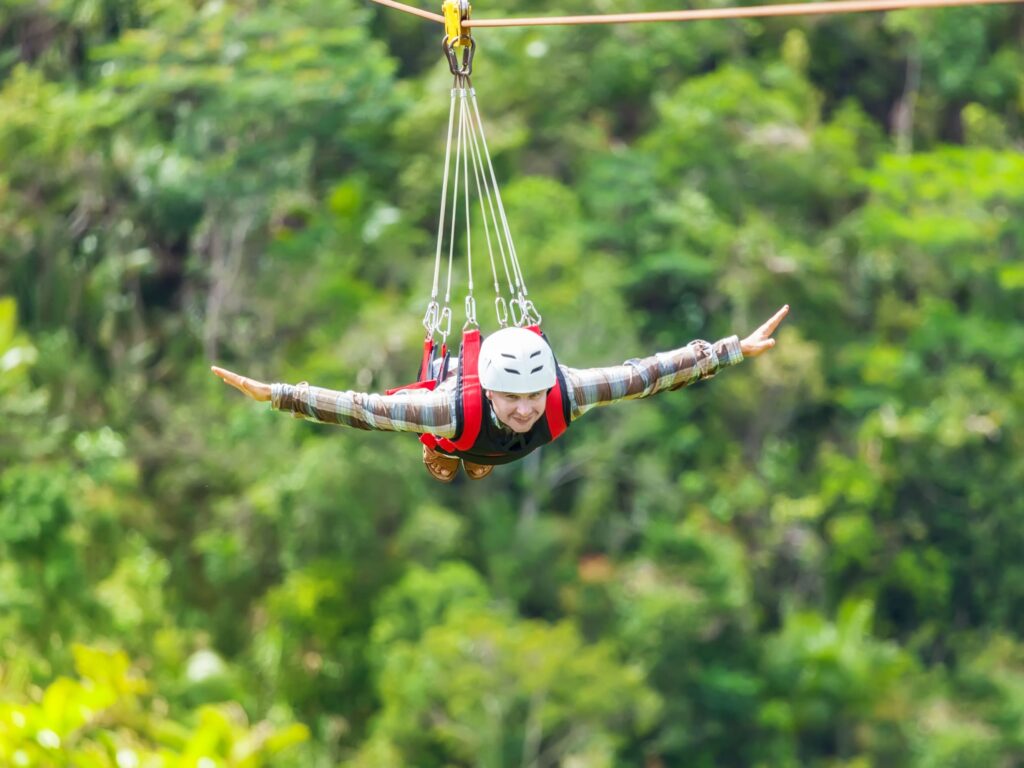 Flying Fox is another thrilling adventurous sport you can do in Rishikesh. The sport is carried out by three persons at one time. The entire tour may take up to 60 minutes. All three persons have securely harnessed to a wire and upon release, the trio roll down at a speed of 140 kmph (87 miles) covering a distance of up to 1 km (0.6 miles) and at a height of 23 feet (7 metres) above the level of the river.
Once the descend makes a successful completion, the trio is then pulled upwards, and thus, finally returning and settling down at the lowest point.
6. Giant Swing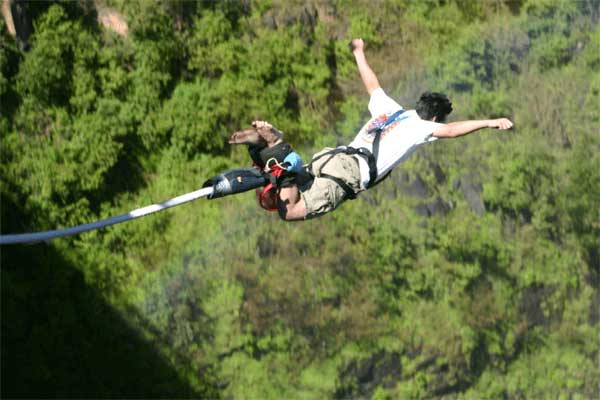 Giant Swing is another adventurous activity which you can do in Rishikesh. It is a little different from bungee jumping. Whilst in bungee jumping, a cord is attached to the ankles of the person, in Giant Swing however, a seat harness is provided and is securely attached with two ropes. The site for Giant Swing and Bungee Jumping is the same.
The Giant Swing in Rishikesh is the largest of its kind in India and is truly world-class. The operation is run by Jump Masters from Queenstown in New Zealand and it shows. The swing is also called "Jumpin Heights" and you can jump solo or tied to your partner. There is also pick-up from and drop-off at your accommodation services available.
7. Zip-line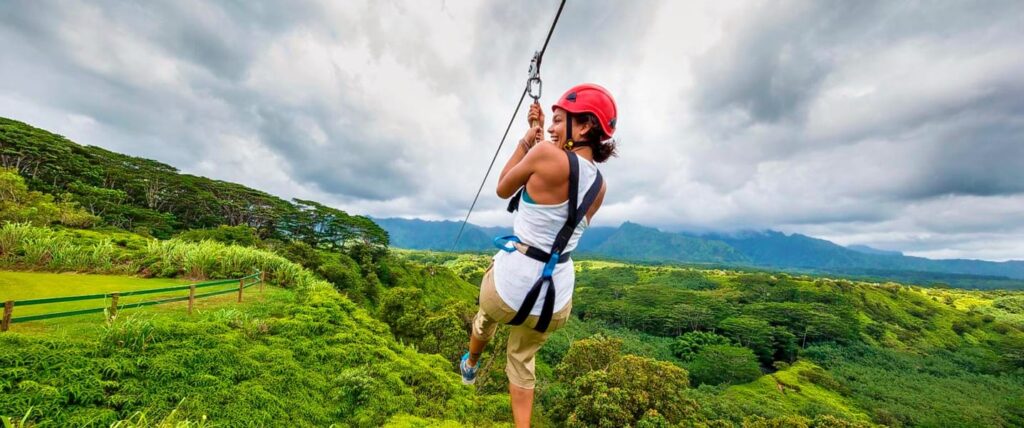 Zip-line in Rishikesh is the only activity operated over the river Ganges and at 230 feet (70 m) above the white water rapids. In this activity, a person is harnessed to a cable which is designed to enable a person propelled by gravity to travel from the top to the bottom of the inclined cable. Give your adventurous side a fresh breath of air by enjoying the activity, all under the supervision of highly-trained instructors and enjoy the stunning views of the Himalayas.
Winds will be brushing your face at speeds over 140 kmph (86.99 mph). The entire tour takes up to 60 minutes, including a safety briefing and a demonstration of zip-lining by professionals. The total distance covered by zip lining is 2,460 feet (750 metres).
Zip-line activity in Rishikesh has located 16 km from Tapovan in Shivpuri, a small village, opposite to the Camp Ganga Vatika office.
8. Rock/Mountain Climbing and Rappelling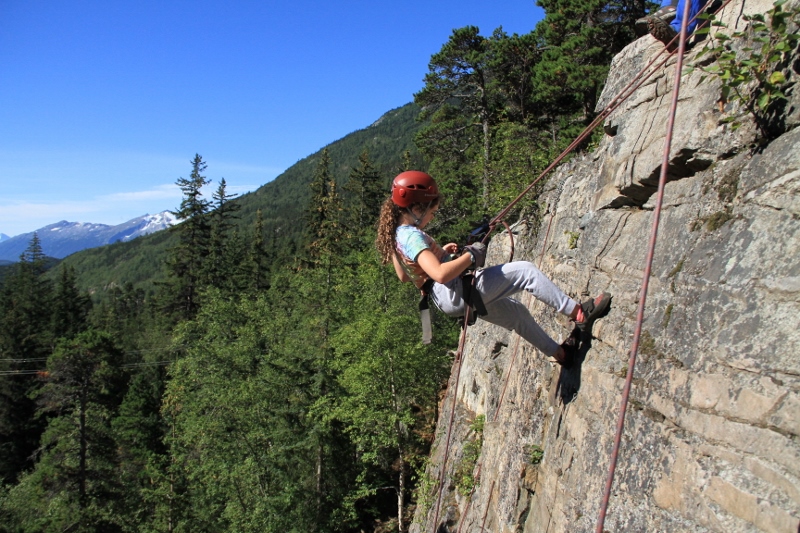 Rappelling and rock climbing are two of the most popular and sought-after activities in Rishikesh. Rappelling is basically roping down a cliff, instead of climbing up rocky mountains. The expedition is available and suitable for both amateurs and professionals. The duration of this activity can take up to 4 hours, even more, or less depending on the person's ability.
Climb the rock at a height of 70 ft and grab the view of picturesque valleys all around Rishikesh. Rappel down from 70 ft, defying your fear of height and soaking in the exotic views of the Shivalik mountain range. Feel safe as experienced instructors will take all precautions for your safety and guide you at every step. One of the most sought-after activities, these are two of the most thrilling things to do in Rishikesh.
9. Trekking and Camping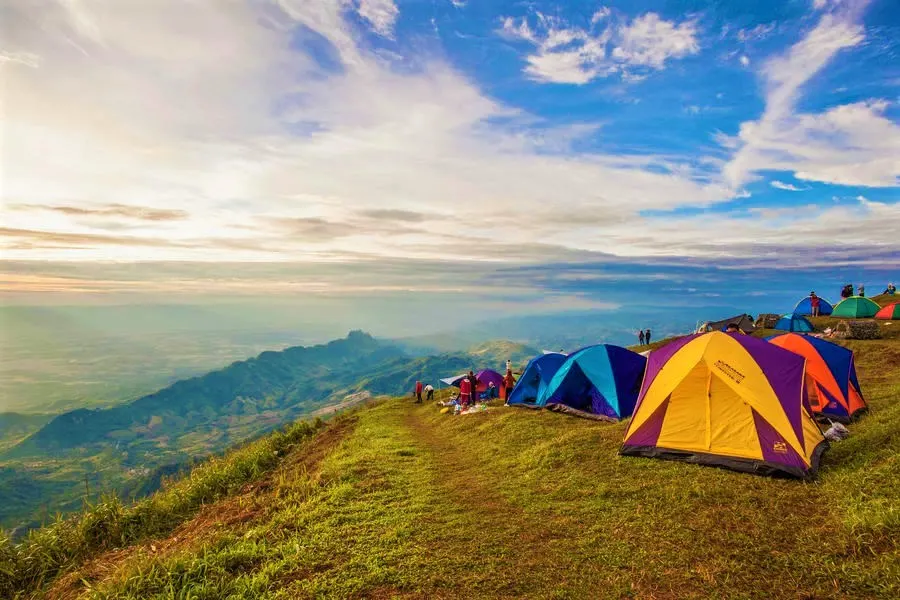 Trekking in Rishikesh is epitomised by wonderful trails (marked and unmarked trails) leading to lush hills to dense woods. A trek on these beaten trails is every traveller's delight. October-March is the perfect time to plan a trek in Rishikesh. Summer months (May-June) are slightly hotter and only ideal to plan river rafting. However, winters are exciting with perfect weather conditions to charge you up for an amazing trek.
The opulence of the majestic Himalayas, the clear waters of the Ganges and the mesmerising beauty of the adjoining forests make Rishikesh the ideal spot for adventure sports like trekking, camping, rafting and many more activities. The hill town brings to you the world-class camping experience with umpteen camping and rafting services available in the area.
10. Jeep Safari in Rajaji National Park & Tiger Reserve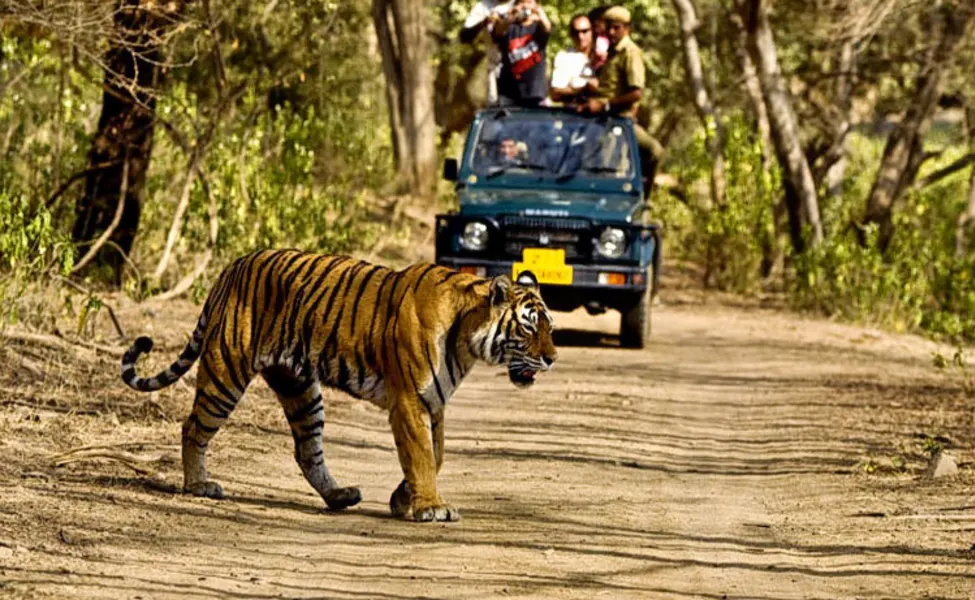 Rajaji National Park and Tiger Reserve are located in the Dehradun, Haridwar and Pauri Garhwal districts of Uttarakhand. Haridwar and Rishikesh are the nearest cities. It was established in 1983. Wildlife Jungle Safari at Rajaji National Park can be done between November and June every year. It is a 33 km drive in a jeep which passes through thick forest and lush green areas. The jeep safari provides an opportunity to see peacocks, groups of spotted deer or cheetal, monkeys, sambar deer, elephants and many other animals and birds. Jungle Safari or Jeep Safari is open in two ranges, Chilla Range and Motichur Range.
Rajaji National Park has the highest number of elephants of all other national parks of Uttarakhand. Tigers, Leopard, Monkey, Barking Deer, Sambar Deer, Wild Boar, and Antelopes such as the Nilgai and Goral also live here. The Rajaji National Park has more than 400 bird species. Scaly Thrush, Snowy-browed Flycatcher, Rusty-flanked Treecreeper, Pale-footed Bush Warbler, Tytler's Leaf Warbler, Green Avadavat and Reed Bunting, Northern Goshawk, Black-necked Stork, Yellow-billed Blue Magpie Greater Scaup, White-naped Woodpecker, Great Hornbill, Black-bellied Tern, Pallas's Fish Eagle are popular bird species found here.
11. Shop at Local Markets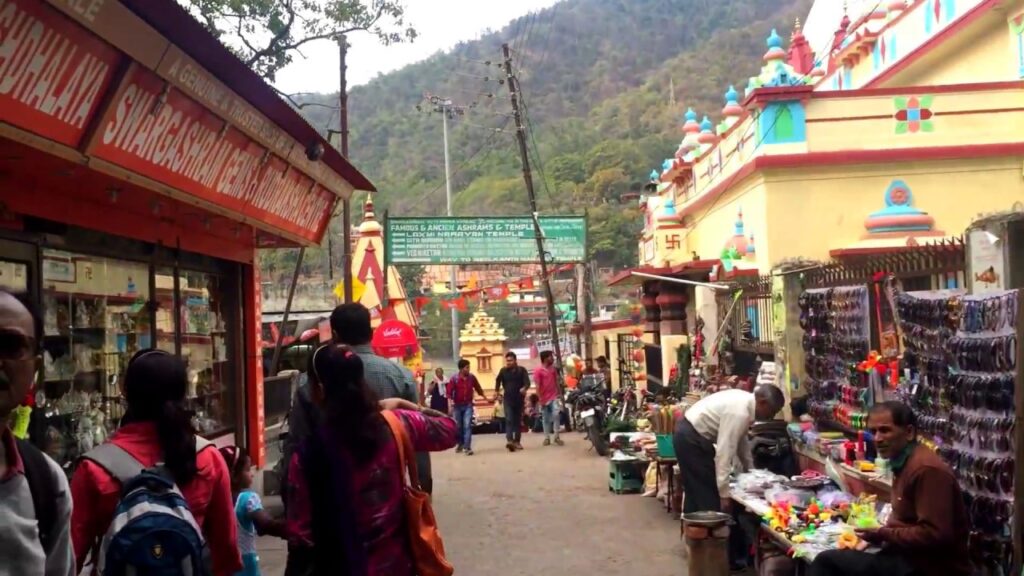 Spending time in Rishikesh and going shopping at the local markets is another common thing to do here. There is no shortage of places to enjoy shopping, even getting souvenirs for your loved ones. Rishikesh is a great place to shop for religious and commercial items, books, clothes, jewellery, handicrafts etc.
The main market areas are around Lakshman Jhula and Ram Jhula. The town's lanes and alleys retain an old-world charm, and it remains a wonderful place to relax and unwind with nature.
12. Try Out Delicious Treats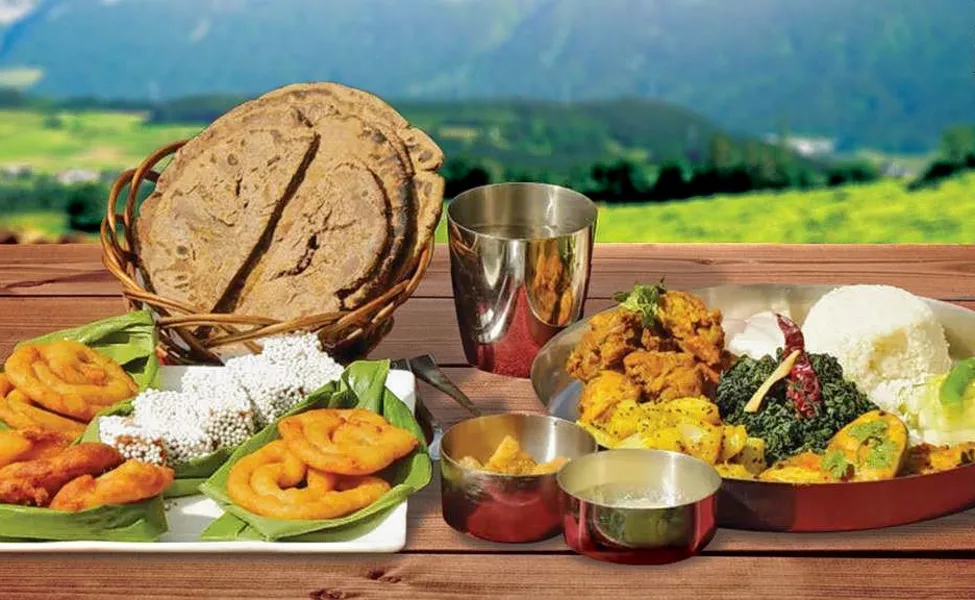 You'll be able to feast on delicious Ayurvedic, organic, and healthy food. Head to Ayurpak (which also provides homestay accommodations and jungle cottages), Ramana's Organic Cafe, or Pure Soul Organic Cafe & Kitchen. Only vegan foods are available here and alcohol is prohibited. However, you will never run out of servings, as there are plenty of options on the menu.
In addition, Nature Care Village is a wonderful organic farm specialising in raw food, yoga, and meditation retreats.
13. Visit the Veda5 Retreat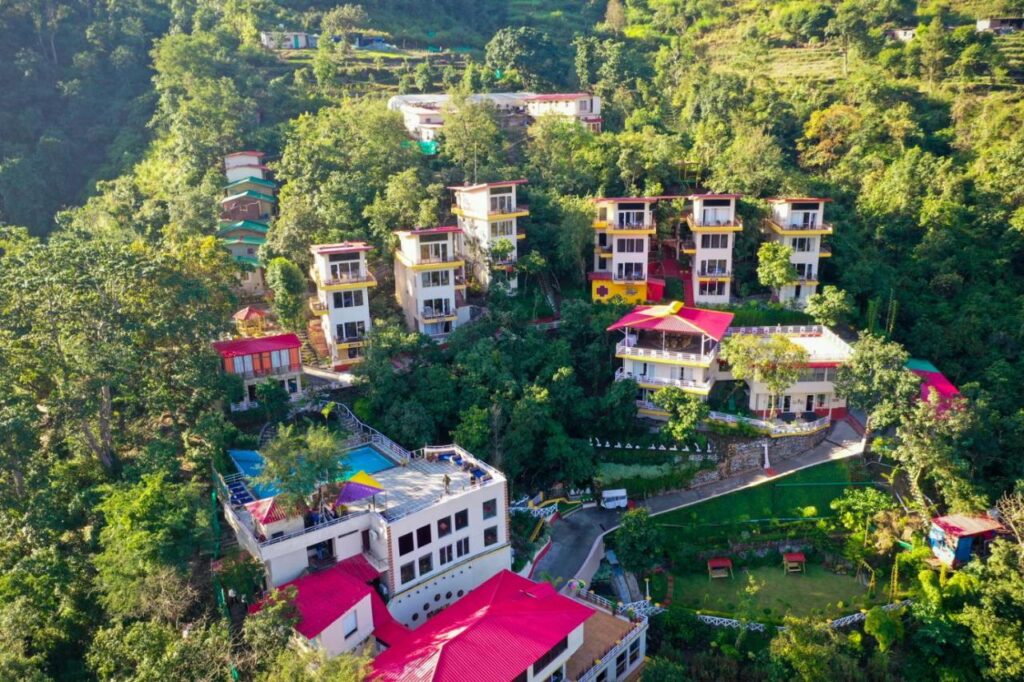 Veda5 is one of India's best luxury wellness destinations. It is nestled in the Himalayas near Rishikesh and offers healing and rejuvenation through Ayurveda treatment, yoga classes, guided meditation sessions and amazing organic food.
The best part is, you can drop into Veda5 Retreat on a holistic, 8-hour day visit which includes lunch, 1-hour Ayurveda or organic spa therapy or massage, hotel pick-up from Tapovan or Rishikesh town, use of swimming pool and Ayurveda bar, yoga and meditation sessions by yoga gurus, and village temple trek.
While this isn't for adventure seekers, visiting the Veda5 Retreat on a day trip is one of the best things to do in Rishikesh to unwind. However, this is a popular retreat and they limit the numbers, so it's best to book in advance.
14. Take a Leisure Walk on the Aastha Path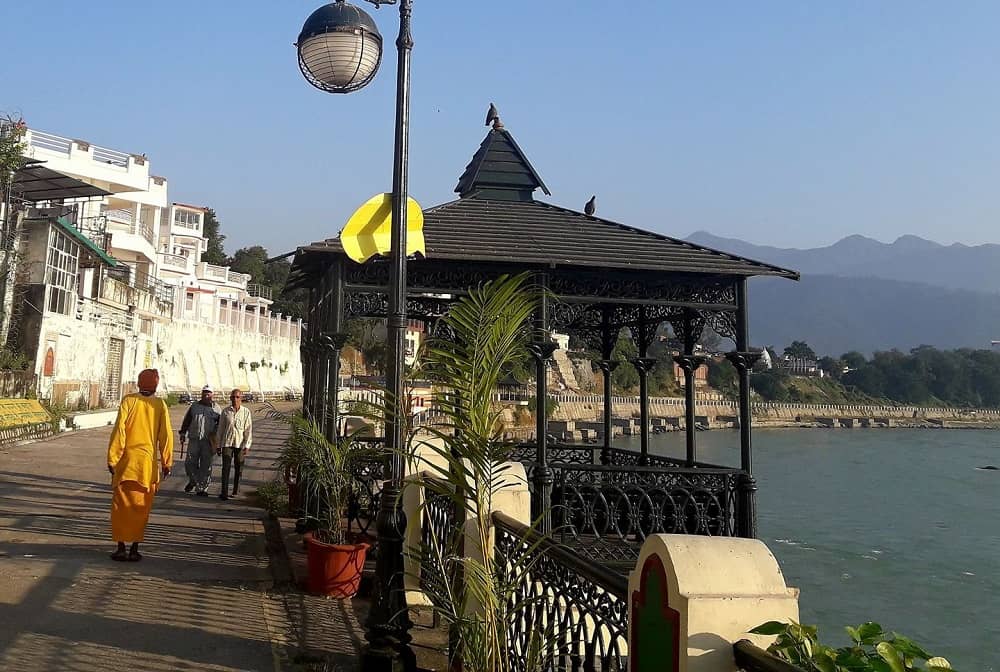 A walking path, named Aastha Path has been built along the river Ganges. Astha Path is also known as Asthapath or Marine Drive in Rishikesh. The path runs from the barrage to Triveni Ghat which has further plans of being extended till Ram Jhula. The pathway is about 20-25 feet wide. You have to go down about 50 steps from the adjoining road to get to this pathway, ensuring that vehicles will not be able to come on this path.
As of now, the whole path is about 2.5 km. Beautiful but solid ramparts ensure the safety of the walkers. The lampshades and the rampart's design complement each other. Ironically the locals call it marine drive rather than the more apt name Aastha Path, probably they are done with the spiritual names and need a change.
15. Walk on Pedestrian Suspension Bridge – Laxman Jhula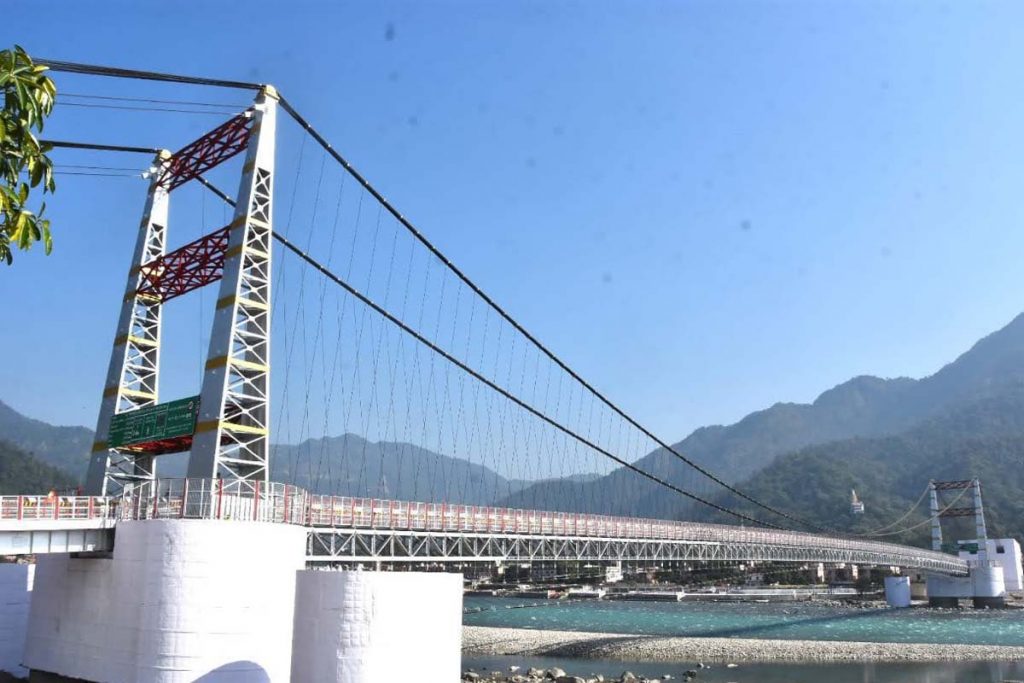 The historical 'Laxman Jhula' (bridge named after the Hindu Lord Rama's younger brother Laxman) is a 248-foot long iron-rope suspension bridge that was built at a height of 70 feet on the sacred river Ganges in 1889. However, it was washed away by flooding in 1924, and in 1927, it was rebuilt and replaced by the current, stronger bridge built by the United Provinces Public Works Department (UPPWD).
The bridge connects the Tapovan, Tehri and Jonk, and Pauri Garhwal districts. A suspension bridge named 'Ram Jhula' was built in 1986 at the nearby Sivananda Nagar. The Skanda Purana also mentions the site as "Indrakund", where Lord Indra underwent a holy bath to remove a curse.
Other important places around the Lakshman Jhula include the Terah Manzil temple, the Lakshman temple, and the Ram Jhula. The entire area resonates with the sounds of the chanting of 'mantras' and 'shlokas' from the temple.
16. Explore Ancient Temples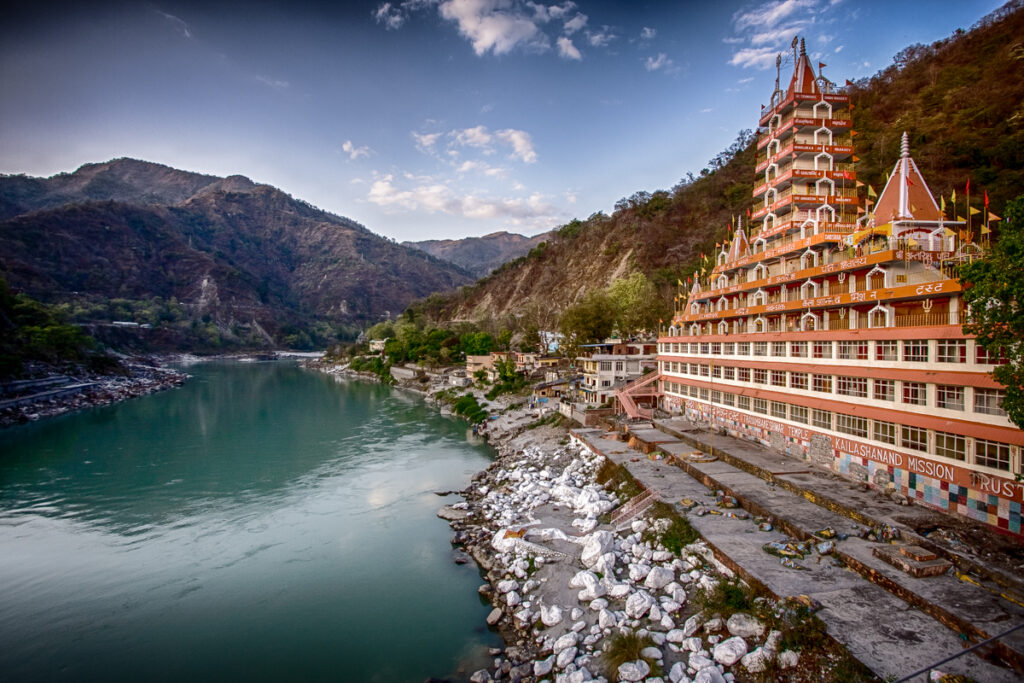 While the overall tourism of Uttarakhand has been on the rise, temple tourism is one of the main aspects of the state that has given a major boost to the overall tourism. Many devotees regularly visit the religious sites, and there are about 12 mystical temples in Rishikesh that are a must-visit for every traveller at least once in their lifetime.
These temples are Shatrughna Temple, Shri Bharat Mandir, Kunjapuri Devi Temple, Neelkanth Mahadev Temple, Bhootnath Temple, Raghunath Temple, Trayambakeshwar Temple, Lakshman Temple, Parmarth Niketan, Geeta Bhawan, Swarg Niwas, and Hanuman Mandir, respectively.
Neelkanth Mahadev Temple is dedicated to Shiva as Neelkanth is his another name. This temple is located around 7 km (4.35 miles) from Swarg Ashram and the route is a 3-hour long walk along a forest path. Besides the verdant green forests, the path also offers beautiful picturesque views of the valley below.
17. Take a Tour of the Geeta Bhawan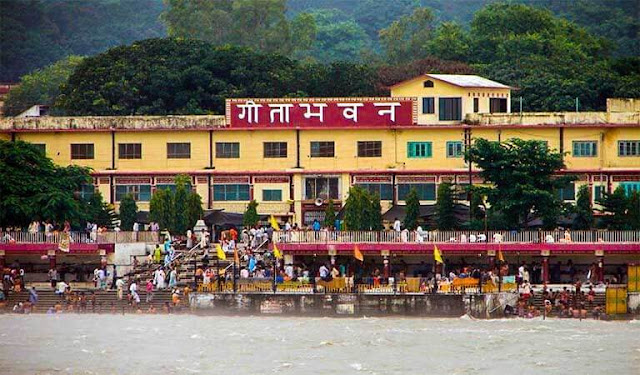 Also popularly known as the Guru Shri Ram Sukh Daasji, the Geeta Bhawan is a vast and spacious complex that is located on the banks of the river Ganges in Swargashram in Rishikesh, at the foothills of the Himalayas. The ashram is renowned as an important institution that preserves Hindu literature since it houses the Gita, a holy book of Hindus, and which symbolises the Hindu Vedas and epics.
The Geeta Bhawan is visited by a large number of people each year, who flock here to take a dip in the holy waters of the Ganges, listen to the discourses and meditate. Touring the Geeta Bhawan is one of the most common things to do in Rishikesh.
18. Yoga and Meditation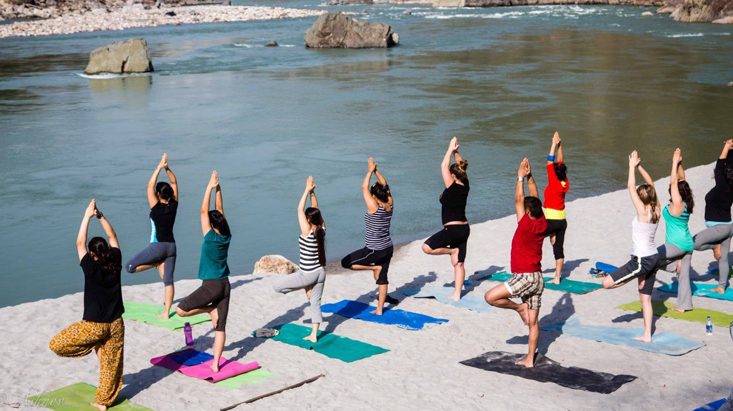 Rishikesh is one of the most popular destinations for yoga in India. There are numerous 'ashrams' where one can choose to learn different styles of yoga and meditation. Hence, it is crucial to investigate which best meets your needs. Also, it is believed that meditation may lead to salvation. The main spiritual district is known as Swarg Ashram with many more ashrams.
Did You Know?
The famous English band The Beatles visited the ashram of Maharishi Mahesh Yogi in the 1960s to learn meditation. They also wrote about 40 songs during their stay at the ashram.
Those interested in yoga shouldn't miss the International Yoga Festival which is held at Parmarth Niketan Ashram in Rishikesh in March each year. The week-long festival is one of the biggest annual yoga gatherings in the world. During the festival, attendees participate in a comprehensive programme of yoga classes and evening discussions with some of India's leading spiritual leaders. There are also vegetarian cooking classes and the Yoga Aid Challenge charity fundraiser organised.
19. Watch Sunset on the banks of The Ganges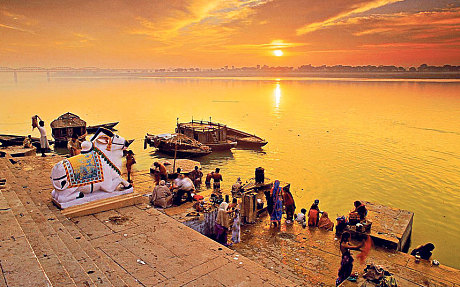 After a long day of adventure-fuelled adrenaline, it is always great to sink into the beautiful sunset view. Head down to the river banks, hostel rooftop, or any of the hundreds of cafes near Laxman Jhula and finish the day off with an incredible view of the sunset.
20. Attend Evening Rituals and Worships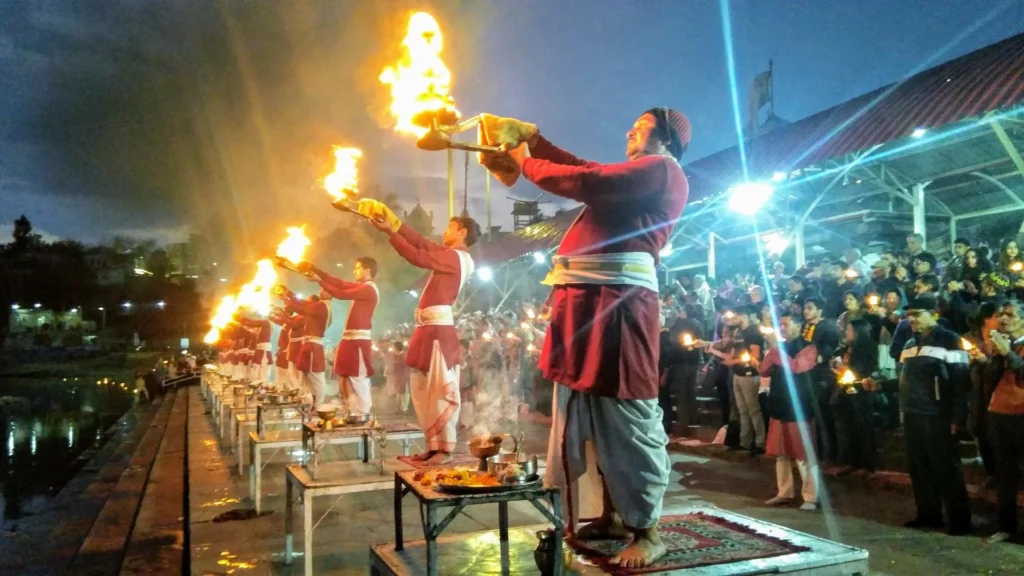 People gather every evening at Parmarth Niketan Ashram in the Swag Ashram as well as the 'Triveni Ghat' area to experience the 'Ganga Aarti' (a form of ritualistic worship with lighted lamps and chants). It is magnificent to witness this sacred ritual which is performed by the 'Pundits' in a ceremonial way.
Conclusion
The Indian state of Uttarakhand in itself has an age-long history, where it is believed that many gods and goddesses resided here. This is also a reason one can find many sacred structures and ruins in different regions.