Top 20
20 Best Silent Diesel Generator Brands in India For Noiseless Performance
India is one of the largest manufacturers, suppliers and exporters of diesel generators (DG) in the diesel Genset market. The market has seen significant growth in the manufacturing and industrial sectors and is expected to be a major driving factor in the coming years. Here, we're going to take a look at the best silent diesel generator brands in India.
A diesel generator (also called Genset) is a piece of equipment built to provide an alternate power supply in case of power cuts by using a diesel-fuelled compression engine which generates alternating current. In the process, the mechanical power generated by the diesel engine rotates the motor that produces electromagnetic current. Such equipment can power a lot of electrical devices to provide alternative backup power for a limited period of time. Diesel generators usually come in distinct models and variants, which include their size, fuel capacity, power output, carbon emission, noise generation, etc.
Silent diesel generators are another variant of gensets that as the name suggests, produce less noise. This type of diesel generator is highly adopted in commercial sectors, like airports, hospitals, universities, telecom, banks, malls, hotels, restaurants, retail stores, etc., as well as in the domestic sectors, such as residences.
Top 20 Silent Diesel Generator Manufacturers of India
Below is a non-exhaustive list (in alphabetical order) of major silent diesel generator manufacturing brands in India.
1. Bajaj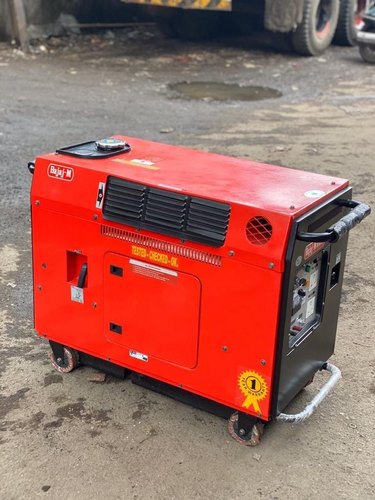 Website: https://www.bajajmgenerator.com/
Bajaj Generators Private Limited is a popular brand in India that manufactures generators that are available at extremely affordable prices they come in compact designs, are lightweight and offer good performance.
The Bajaj-M portable Diesel Generator (DG) sets range from 1 kVA to 5 kVA. These diesel generator sets are commonly used at homes and in small and mid-size establishments, such as stores, offices, etc. Their power backup generators can support various common electrical appliances used in homes at a frequency of 50 Hz. Also, most models of Bajaj-M portable generators offer a key switch, mounted on wheels for better portability, user-friendly control, ultra-compact size, and CPCB-II compliant for air and noise pollution.
2. Bharat Industries

Website: https://www.bharatengine.com/
Bharat Industries is a leading manufacturer and supplier of silent diesel generators in India. Their range of products includes Air and Water Cooled Diesel Engines, Power Generators, Pumping sets, Electric Mono Pumps, Diesel Monoblocks, Spare Parts, and many more.
The company has two manufacturing facilities situated in Agra, Uttar Pradesh. The diesel power generators manufactured by Bharat Industries offer portability, i.e., these are mounted on a set of smaller wheels for easy transportation. These are available in several models with varying power outputs.
3. Birla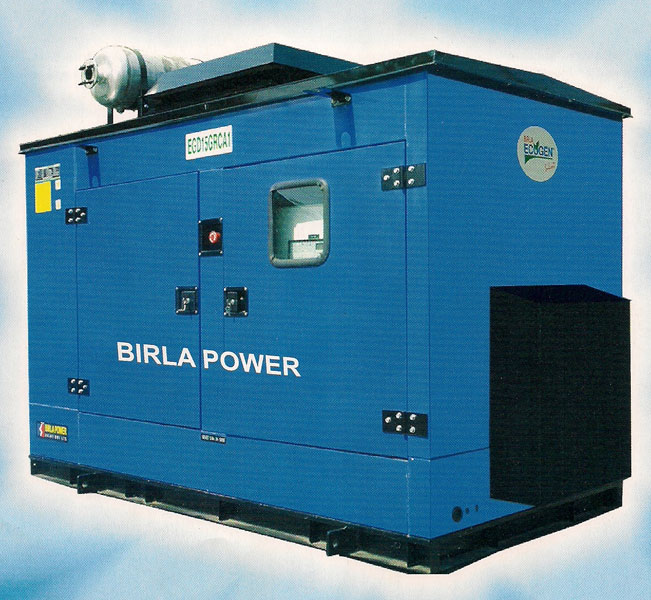 Website: N/A
Birla is an Indian brand known for engineering products that are ideal for commercial and non-commercial purposes. Most of their products are also portable and come in diesel, petrol, LPG (liquefied petroleum gas) and CNG (coal and natural gas) variants. Their portable generator sets and engines are offered in the range of 0.5 KW to 4.0 KV. In the case of generators, the company adopted the self-excitation brushless system which would render the process immune to dust, humidity and other vagaries of atmospheric conditions.
Birla Power Solutions Ltd. produces a wide range of generators catering to the power requirement of 500 W to 5.5 KW and is among the first companies to launch self-starting gensets in the country. The company also pioneered the launch of emission compliant generators under the brand name Birla Ecogen. The proposed expansion project, which is to be entirely financed from the issue proceeds, will simultaneously augment capacities and improve BPS's existing products, including diesel gen-sets, multi-purpose engines, alternators and fuel tanks and will also finance the setting up of a new plant to manufacture LPG/CNG gensets, inverters, engines and acoustic hoods.
4. Cooper Corp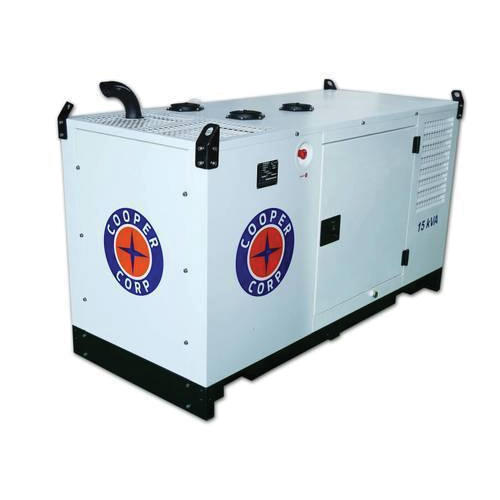 Website: https://www.coopercorp.in/
Cooper Corp specialises in the design and manufacture of the BOLT series of super silent gas gensets in India. Their gas-powered silent gen sets can produce power ranging from 10 kVA to 140 kVA and run on up to 6 cylinders, in-line, 4-stroke engines. The company also develops LPG gas engines using CRDi technology and is used on their machinery and pieces of equipment.
Cooper Corp, which is based in Mumbai, is in partnership with a UK-based company, Ricardo, to collaborate in the design of their commercial equipment. The company's gas-powered silent generator sets are equipped with an electronic engine management system, double overhead camshaft and four valves per cylinder, low fuel and oil consumption, low carbon emission, and safety switches and sensors to regulate water temperature, oil pressure, IMV, etc.
5. CSH Power Himoinsa Pvt. Ltd.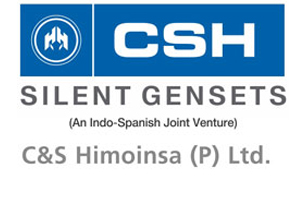 Website: https://cshpower.co.in/
CSH Power Himoinsa is a leading manufacturer of silent diesel generator sets in India. The company is in a joint venture with the Japanese company Himoinsa which also designs and manufactures gensets. The manufacturing facilities of CSH Power Himoinsa are located in the state of Uttarakhand, India.
Their silent diesel gen-sets are available in the range of 5 kVA to 250 kVA. The equipment in this range of producing power output is designed with international standards, high in fuel efficiency, easily maintained, produces less noise and carbon emission, and is environment-friendly. They also provide silent gen sets with a power output of 320 kVA and above which are available on request.
The company uses sturdy and reliable engines on their silent diesel gensets ensuring better performance and requiring minimum equipment services. They also provide after-sale support services to customers.
6. Cummins India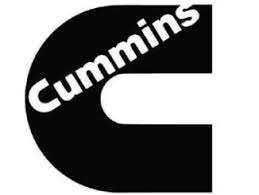 Website: https://www.cummins.com/
Cummins India Ltd. manufactures and markets diesel generators which are used widely in industrial and commercial sectors. Their diesel generators are offered in the range of 7.5 kVA and up to 2750 kVA in India. The Cummins Standard Diesel Series and the Quiet Diesel Series (heavy-duty) models of generators are enclosed, including cooling, muffler and intake systems.
Their Power Systems Business Unit offers integrated generator sets for use in commercial industrial, mining, marine, and defence applications to name a few. Cummins Generator Technologies India Pvt. Ltd., manufactures the world's broadest range of AC generators from 5 kVA to over 10,000 kVA.
7. Escorts Genset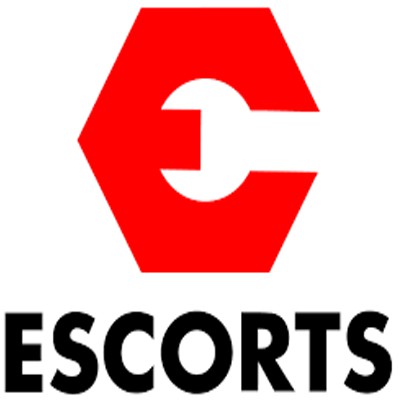 Website: N/A
Escorts is a well-known company that manufactures a wide range of tractors, railway equipment, automotive components, construction material and handling products. However, the most demanding in the industrial and commercial sector, the Escorts Diesel Generator is one of the best feature products of this company. The DG set product line is available ranging from 7.5 kVA up to 125 kVA, 2-cylinder, in-line, water-cooling system. The 10 kVA Escorts Diesel Generator are ideal for household and commercial purposes, while other models are preferred for commercial purposes.
The rugged and robust design of the Escorts DG Set makes them an ideal choice for the worst job location or any weather condition. Along with these features, efficient fuel consumption during the operation helps to cut down fuel prices. The wide range of Escorts silent DG Set presents the quality features and upgrade product specifications.
8. Greaves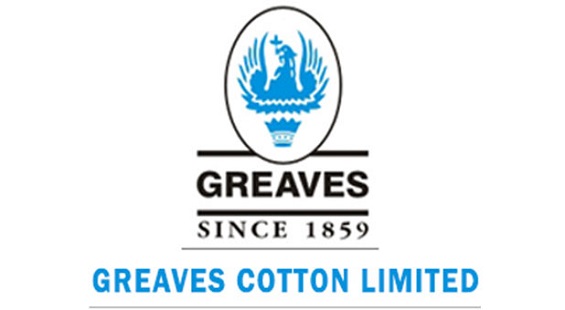 Website: https://www.greavescotton.com/
Greaves is a manufacturing brand of power generator sets in the range of 5 kVA up to 2500 kVA. The company's Gensets are used in various industrial sectors to power critical installations and applications and their demands are ever-increasing. The silent diesel generators built at Greaves produce low noise levels, have a low footprint and have better efficiency.
Their GPA II-5 model of portable generators offers a 5 kVA power output and complies with the CPCB-II guidelines for air and noise pollution. This model of portable silent diesel generator is used in industries, like Manufacturing, Processes, IT/ITeS, Clinics, Hospitality, Education, BFSI, Banks, Real Estate – Residential & Commercial, Petrol Stations, Infrastructure, DGS & D, Railways, Defence, Retail, and Government etc.
9. Honda India Power Products Limited (HIPP)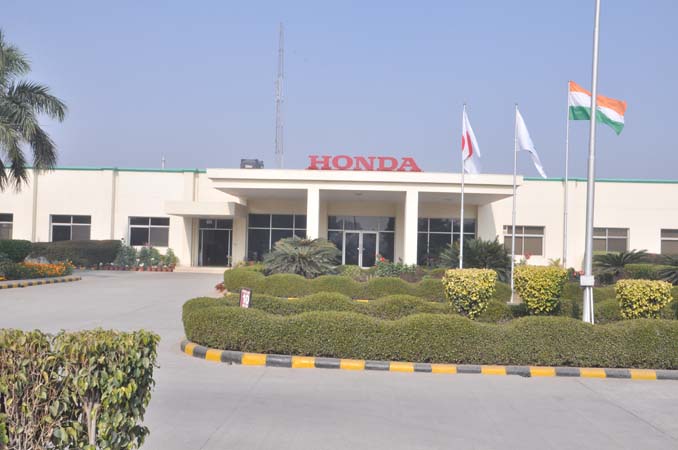 Website: https://www.hondaindiapower.com/
Honda is another major brand name for portable and silent generators in India. Honda, being a Japan-based engine manufacturing company, i.e., Honda Motor Co. has established a subsidiary company situated in Greater Noida, India, and is called the Honda India Power Products Limited (or HIPP). The company mainly focuses on manufacturing and marketing power products, such as Power Generators, Water Pumps, Lawn Mowers, Tillers, Brush Cutters, Marine Outboard Motors, General Purpose Engines (GPE), etc. for the power products industry.
Their general purpose portable silent generator is offered in a single model, the EX2400S Portable Genset Silent Series. It is equipped with a single cylinder, 4-stroke, overhead valve engine that uses a forced air cooling system. The power output produced by the EX2400S Silent Series portable generator is 2.1 kVA.
10. Hyundai
Website: N/A
Hyundai's portable silent diesel generators are widely used in both households and small-sized commercial sectors. Their gensets are offered in a range of models, each delivering different power outputs that are needed for applications.
Silent diesel generators from Hyundai are equipped with semi-automatic, air-cooled, single or 3 phase engines and can also run on petrol fuel. The starting power output produced by these series of quiet generators is 1 kVA and above.
11. Jakson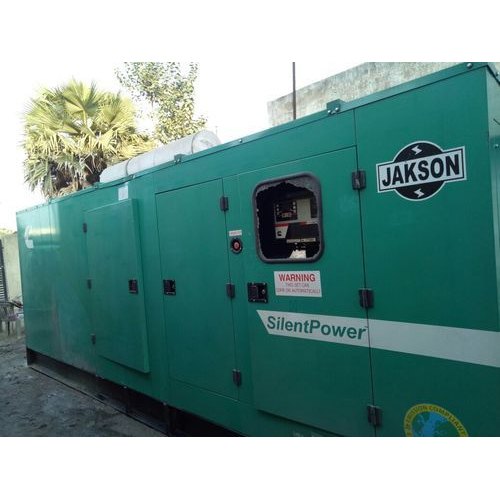 Website: https://www.jakson.com/
Jakson is one of India's oldest diesel generator manufacturing companies since 1979 with its facility situated Mayapuri Industrial Area in Delhi. The company manufactures diesel generators in partnership with engine-maker Cummins and offers a wide range of generators that produce power from 7.5 kVA up to 3750 kVA. These generators are used by several customers, from industries, such as Healthcare & Hospitality, Auto-mobile, Manufacturing, Agro & Aqua, Agrochemical, Infrastructure & Realty, and IT & ITES to individuals.
The Jakson Group company also manufactures silent Diesel Gensets that offer better fuel efficiency, low carbon emission, performance and reliability. Their silent diesel generators are available in low, mid, and high-capacity variants. The company's manufacturing plants are situated in Kathua, Jammu & Kashmir and Kalsar, Gujarat. Jakson Diesel Generators are used largely in various industrial and commercial sectors both within and outside of the country.
12. KOEL GREEN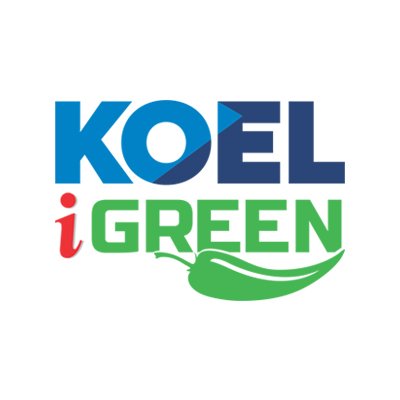 Website: http://www.kirloskar-electric.com/
KOEL GREEN is India's leading Genset brand from Kirloskar Electric Company Limited based in Bengaluru. The company manufactures a wide range of industrial products, like AC Motors, AC Generators, DC Motors, DG Sets, Electronic, Switchgear, Traction, Transformers, etc.
Kirloskar Electric's KOEL GREEN DG Sets are available in Freedom Series (12.5 kVA to 45 kVA) and Republic Series (50 kVA to 200 kVA). Their Freedom Series variant of DG Sets is applicable for industries, such as Defence, Builders, Telecom, Railways, Fuel Stations, Institutions, Banks, Retail Chains, Hospitals, Government Organisations, Educational Institutions, Convocation Centres, and other industries.
13. LEYPOWER

Website: https://www.ashokleyland.com/
LEYPOWER from Ashok Leyland is a leading brand of diesel generator sets in India. The company is also known for manufacturing engines, alternators and controllers using state-of-the-art technology. Their silent diesel generator sets are offered to range from 5 kVA up to 2500 kVA and comply with the CPCB II norms for air and noise pollution.
LEYPOWER silent diesel generators are fuel-efficient and environment-friendly among other features. Their silent Diesel Genset models are available as LP5D equipped with a single cylinder, air-cooled engine and produce 5 kVA power; LP20D1 equipped with a 2-cylinder, in-line engine and produces 20 kVA power, and several more models, each one offering varying power outputs.
14. Mahindra Powerol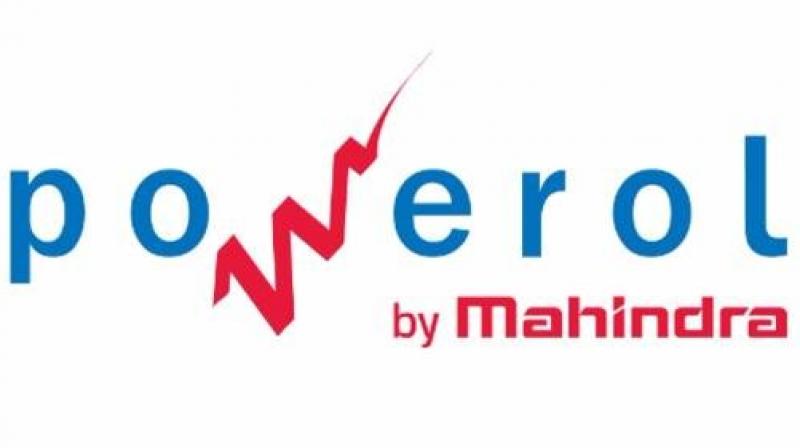 Website: https://www.mahindrapowerol.com/
Mahindra Powerol is a part of the Mahindra Group's Automotive & Farm Equipment Sectors (AFS) in the Power Generation sector. The engines developed by the company are used in Diesel Generator sets that are available ranging from 5 kVA up to 625 kVA. Mahindra Powerol DG sets have made a big name in the Indian genset industry. Their DG sets are mainly used by major companies, such as Reliance Jio, Indus Towers, Bharti Infratel, Viom Networks, American Tower, Telesonic Networks, Etisalat, Ooredoo, Tata Tele, Vodafone, Nokia, BSNL and MTNL across India and globally.
Additionally, Mahindra Powerol DG sets are powering customers from a diverse cross-section of industries and segments, which include Banks, Building & Construction, Public Sector Units, Hospitals, Hotels, Homes and Manufacturing units in India and in Global markets. Mahindra Powerol Diesel Generators are also available in exclusive showrooms all over India. Presently, there are more than 70 such retail showrooms selling DG sets across different cities in India.
15. OJUS Power & Technologies Pvt. Ltd.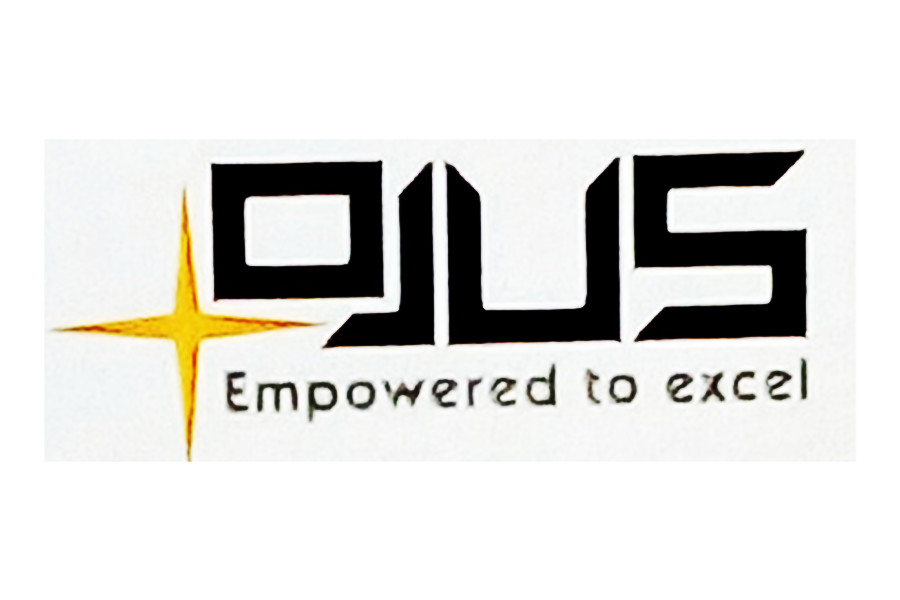 Website: https://ojuspower.com/
OJUS is a leading Original Equipment Manufacturer (OEM) of silent diesel generators and DG Sets and is based in Bengaluru. The company in partnership with major engine suppliers, such as Ashok Leyland Limited and Perkins, offers DG sets ranging from 5 kVA up to 2250 kVA.
Their DG sets are available in several models – OJUS OL 5D, OJUS OL 10D, OJUS OL15D, OJUS OL 25D and up to OJUS OL 250D; OJUS LP 400, OJUS LP 500 and up to OJUS LP 2250. The OJUS OL 5D model is a super silent diesel generator which is powered by an air-cooled engine from Ashok Leyland. It runs on a single cylinder to produce 5 kVA of power. Their base model is ideal for households, in addition to various infrastructures in the industrial and commercial sectors.
16. Powerlux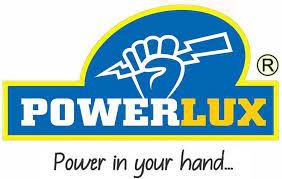 Website: https://www.powerlux.in/
Powerlux is a leading OEM Manufacturing Genset brand in India. The company manufactures silent diesel generators and the engines used in their power generators are made by TATA, which is another leading company serving in the automobile sector and various other industry sectors of India. Their silent diesel generator product lines available are in the range of 25 – 40 kVA TATA Silent Diesel Generator. These generators use a 4-cylinder, 3 phase, water cooling system, and the sound efficient DG gets conforms to CPCB II norms for air and noise pollution.
17. Prakash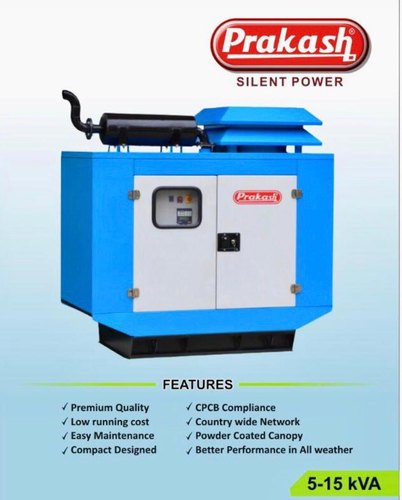 Website: https://www.prakash.in/
Prakash is a leading manufacturer of diesel gen-sets and eco-friendly gensets in India. The company based in Agra designs and develops water and air cooled diesel generator sets using modern technology and intended for running consistently and requiring low maintenance. Their generators also comply with the CPCB II norms for air and noise pollution. The diesel generators produce power ranging from 3 kVA to 125 kVA.
The company's range of eco-friendly generators is offered in five types of gensets. These include Bio Gas Genset, Bio-Mass, Natural Gas, Biogas and Biogas (product gas). Their eco-friendly silent gen sets are equipped with alternators for lowering the effect of gas emissions on the environment. The Bio Gas Gensets are available in small capacity models ranging from 1.5 kVA to 5 kVA.
18. RAPOWER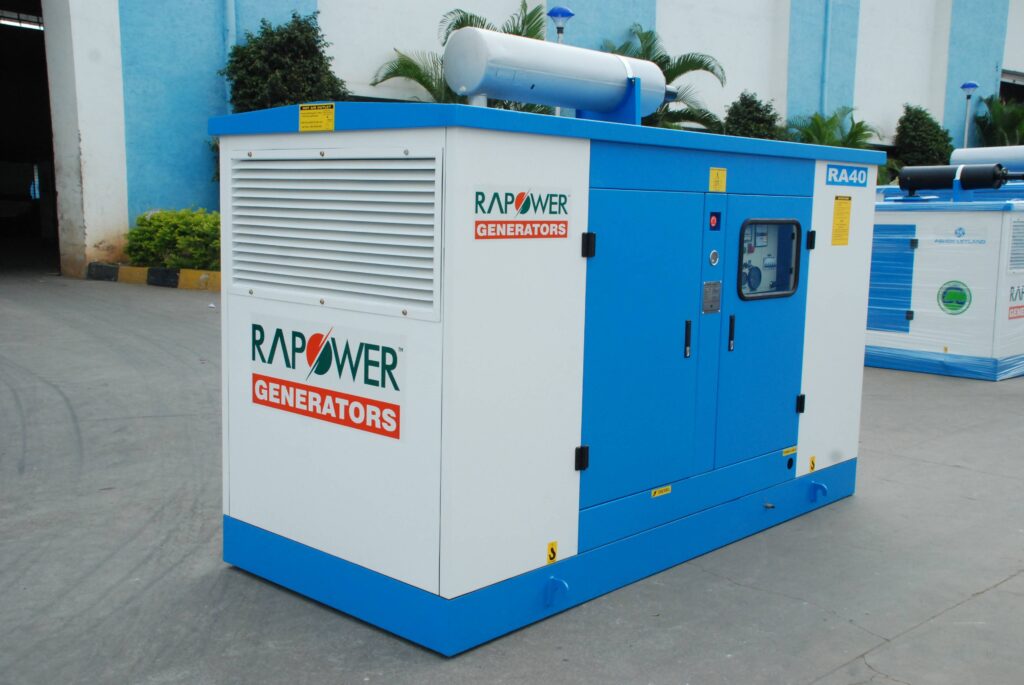 Website: N/A
RAPOWER, a brand name of RA Powergen Engineers Private Limited, is a Bengaluru-based company that manufactures diesel generators in India. The company is the Original Equipment Manufacturer (OEM) for Ashok Leyland engines and their generators are free from vibration, noise and corrosion. The company uses state of the art engine, alternators and controller technologies to bring quality products that keep going even when the power goes out.
The company also offers to the industry sector a wide spectrum of power solutions ranging from 10 KVA to 2250 KVA. Their portable silent gensets produce less harmful gases, much-reduced noise and steady voltage, and frequency, and provide uninterrupted supply to make it most attractive for any kind of sensitive requirements.
19. Sudhir Power Ltd.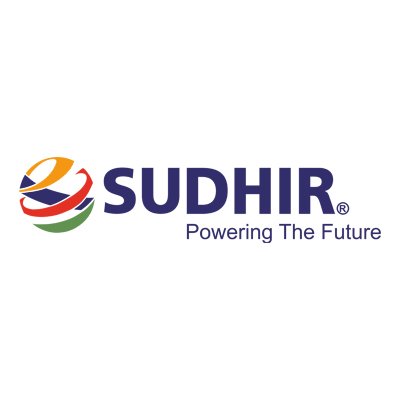 Website: https://www.sudhirpower.com/
Sudhir Power Ltd. is a leading silent diesel generator brand in India. Based in Gurugram, the company is in partnership with Cummins India Ltd., which is another popular name in the manufacture of gensets. Their Diesel Generators are available in the range of 7.5 kVA up to 3350 kVA. They also offer fuel choices for their Gensets and provide options for diesel fuel or gas. The company complies with the CPCB II norms for air and noise pollution. They cater to a wide array of institutional and individual customers, which include sectors like Telecom, Construction, IT/ITES, Realty, Hospitality, Textiles, Auto & Auto Ancillaries, Food Processing, Data Centre, Infrastructure, Pharmaceuticals, and Manufacturing.
The company is also a major supplier and dealer of Cummins Diesel Generators and Original Equipment Manufacturer (OEM) of Cummins Diesel Generators in several parts of India.
20. TAFE Motors and Tractors Limited (TMTL)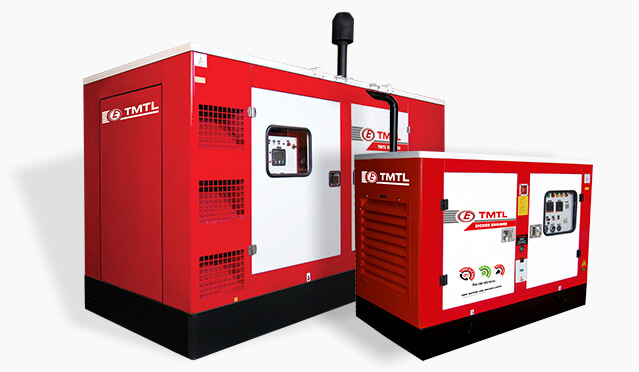 Website: https://tmtl.in/
TMTL is one of the leading silent diesel generators and DG set manufacturers and suppliers in India. TMTL Engines Division unit together with Eicher Engines manufactures a wide range of air and water-cooled engines. TMTL engines can produce more than 62.5 kVA and up to 125 kVA power, while Eicher engines produce up to 45 kVA power. Their engines are used in automotive and stationary applications, such as generators, prime movers for agro-industries and several other industrial applications.
The company produces silent diesel generators and their products are branded as Eicher Silent Gensets 5 – 45 kVA and TMTL Silent Gensets 62.5 kVA and above power. The Silent Genset 5-45 kVA range of gensets is the air-cooled range and is sold under the Eicher Engines brand and in partnership with the TMTL Engines Division. Their gensets are relatively maintenance free as parts such as the radiator, radiator fan, water pump etc. are absent. This also results in higher fuel efficiency as no power is expended to run the water cooling system. Being air-cooled, these gensets can work for longer durations without stopping even under hot weather conditions.
Wrapping Up
Silent diesel generators or gensets are developed with environmental friendliness and to keep both air and noise pollution in check. There are several major brands, as we've seen above, that manufacture such soundproof silent diesel generators for use in the commercial sector and households as well.