Top 20
Top 20 Wealth Management Companies in India in 2023
In today's increasingly competitive and complex financial landscape, individuals and businesses are seeking professional assistance to manage their wealth effectively. Wealth management companies play a crucial role in providing comprehensive financial advisory services tailored to meet the unique needs of clients. As India continues to experience rapid economic growth and an expanding affluent population, the demand for wealth management services is also on the rise.
This article aims to shed light on the top 20 wealth management companies in India as of 2023. These companies have demonstrated exceptional expertise, experience, and a proven track record of delivering exceptional value and long-term financial success to their clients. Whether you are an individual looking to grow your personal wealth, a family seeking succession planning, or a business in need of strategic financial guidance, these companies are at the forefront of providing comprehensive wealth management solutions.
You will need a company that is competent with their detailed research and has enough experience to give the right advice to you and knows how to best handle your money.
Hiring a Wealth Management Service Provider for Your Business/Organisation
When it comes to managing your business or organization's wealth, hiring a professional wealth management service provider can be a valuable decision. These experts possess the knowledge and experience to effectively handle your finances, investments, and overall wealth strategy. Here are some key reasons why hiring a wealth management service provider is beneficial:
Firstly, these professionals offer specialized expertise in financial planning and investment management. They can assess your financial situation and understand your goals, creating a customized wealth management plan that aligns with your objectives.
Additionally, wealth management service providers have a deep understanding of market trends and investment opportunities. They possess the skills to analyze risks and rewards, making informed decisions on behalf of your organization for maximum growth and profitability.
As a person looking for a reliable wealth management company for himself or a business, there are a few things to take care of before making a final decision.
Investment offerings and services
Manage investments efficiently
Scope for a customized investment approach
Provide comprehensive financial advice
Transparent methodologies
A firm whose business is based on wealth management is more likely to have highly specialized experience. They then provide their expert resources to you, so you can understand and analyze your specific wealth management-related needs.
Also, read these articles:
Top 20 Companies in India By Market Capitalisation
Here, we're going to share with you a few well-known and reliable wealth management companies in India.
List of 20 Best Wealth Management Firms to Hire for Your Business in India
The below-given list (sorted in alphabetical order) includes names of twenty best-selling brands across India.
1. Aditya Birla Finance Limited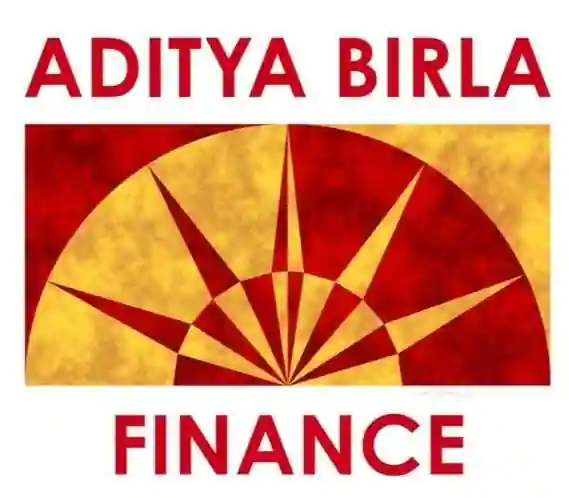 Aditya Birla Finance Limited (ABFL) is a leading non-banking financial company in India. It is a part of the Aditya Birla Capital Limited, which is a prominent conglomerate with a strong presence in various sectors like financial services, telecom, cement, and more.
Established in 1991, Aditya Birla Finance offers a wide range of financial products and services to cater to the diverse needs of corporate, institutional, and retail customers. The company operates with a customer-centric approach and strives to provide tailored solutions that aid in wealth creation and financial growth.
Aditya Birla Finance focuses on multiple segments, including corporate lending, structured finance, capital market finance, personal finance, and wealth management. They offer customized financing solutions for various purposes like working capital requirements, infrastructure funding, project finance, acquisition financing, and debt capital market solutions.
The services and solutions offered by ABFL include
Corporate Finance
Mortgage Finance
Personal Finance
Wealth Management
Loans
2. Anand Rathi Wealth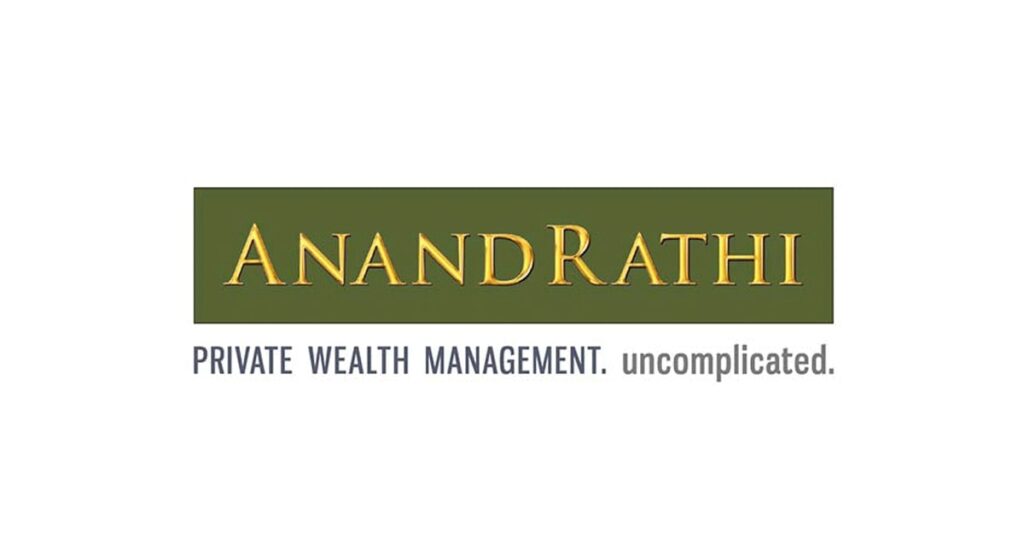 Anand Rathi Financial Services Limited operates as a financial services firm in India having over 25 years of financial expertise. Mr. Anand Rathi and Mr. Pradip Kumar Gupta founded the Anand Rathi group in 1994. The company entered the capital market lending business in 2019. Their corporate office is located in Mumbai.
The Company offers services that include stock broking, wealth management, investment banking, commodities broking, construction finance, capital market lending, and distribution services to its clients amongst others. The company also trades in equity, commodity, currency, mutual funds, and derivatives markets.
The primary services of Anand Rathi Wealth company include
Investment Services
Insurance Broking
Investment Banking
Institutional Equities
Global Investing
Private Wealth
3. Avendus Capital Pvt. Ltd.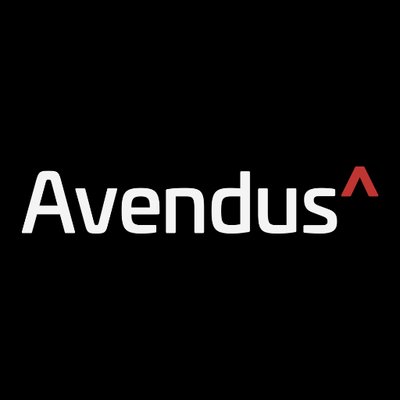 Avendus is a financial services firm that offers bespoke solutions in asset management, credit solutions, investment banking, and wealth management to its business clients. The firm provides customized solutions in the area of financial services to high-performing entrepreneurs and pioneers of the new-age economy.
The company is based in Mumbai and currently has operations in eleven cities across India, Europe, and the USA. Avendus Capital Incorporation and Avendus Capital (UK) Private Limited, located in New York and London, respectively, are subsidiaries wholly owned by Avendus Capital Pvt. Ltd., India.
The services offered by Avendus Capital Pvt Ltd include
Wealth Management
Asset Management
Credit Solutions
Investment Banking
4. BNP Paribas Wealth Management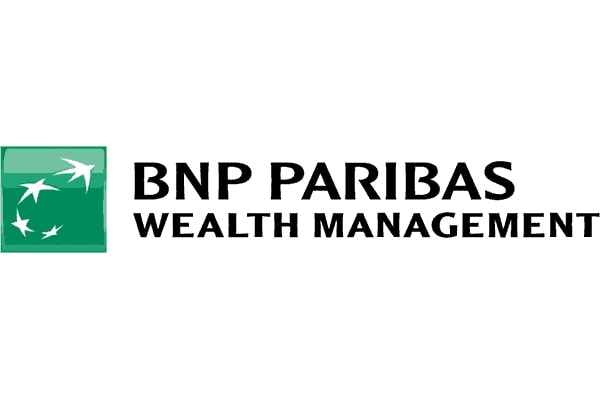 BNP Paribas Wealth Management is a prominent division of the BNP Paribas banking group, specializing in providing comprehensive wealth management services to high-net-worth individuals and their families. With a strong global presence, BNP Paribas Wealth Management caters to clients in Europe, United States, Asia, and the Middle East.
The division offers a range of wealth management solutions, including investment advisory services, portfolio management, estate planning, financing solutions, and philanthropic services. BNP Paribas Wealth Management aims to customize its services according to the unique needs and goals of each client, ensuring a personalized approach.
In an increasingly digital world, BNP Paribas Wealth Management has also embraced technology to enhance its services. Through the use of innovative digital platforms, including mobile apps and online portals, clients can access their investment portfolios, monitor performance, and receive real-time updates, enabling greater convenience and transparency.
The services and solutions that are offered by BNP Paribas Wealth Management firm to its clients include
Financial Advisory
Investment Banking
Wealth Management
Asset Management
5. Bajaj Capital

Bajaj Capital is one of the leading Indian companies in the organized sector to offer Wealth Management services with a wide spectrum of financial products to its clients. The company has won the trust of over a million individual investor clients, including hundreds of High Net-worth Investors, NRIs, and members of business-owning families. The firm offers its services as a personal financial consultant to several families that have been investing through the company for many generations now.
Bajaj Capital La Premier is an exclusive Wealth Management Service group. It is a specialized group of professionals providing exclusive and world-class services to an affluent group of very special clients, both individual and institutional. The company observes rigorous quality principles and professional integrity, and at the same time, it ensures that its services are delivered to clients.
The services and solutions that are offered by Bajaj Capital include
Investment Banking
AMC for Investments
Insurance
Wealth Management
6. DBS Treasures

DBS Treasures is a comprehensive wealth management platform offered by DBS Bank, one of the leading financial institutions in Asia. It caters to high-net-worth individuals and provides a wide range of personalized investment and banking solutions.
One of the key features of DBS Treasures is its strategic investment advisory service. Clients receive tailored advice from a team of experienced professionals who analyze market trends and craft investment strategies based on individual goals and risk profiles. This service helps clients make informed investment decisions and maximize returns.
As a DBS Treasures client, you gain access to exclusive privileges and benefits. These may include preferential pricing on banking services, priority access to DBS events, exclusive lifestyle offers, and invitations to curated investment seminars. Moreover, DBS Treasures frequently provides market insights and research reports to help clients stay informed about the latest financial developments.
Mutual Funds
Alternate Investment Funds (AIF)
Portfolio Management Services (PMS)
Insurance Solutions
Mortgage Solutions
Wealth Management
7. Edelweiss Wealth Management

Edelweiss Wealth Management (EWM) is an India-based leading wealth management solution provider with a presence across wealth and investment management, institutional securities, and custodial and advisory services. EWM is a business in partnership between Pacific Alliance Group (PAG) and Nuvama Group, with PAG holding a majority stake in PWM. PAG is one of the world's largest Asia-focused private investment firms with assets under its management.
Edelweiss offers a wide range of corporate financings like project funding and working capital loans, besides advisory services on structuring and syndicating loans from the market to access a quantum of capital required to grow a business.
The services and solutions offered by Edelweiss Wealth Management (EWM) company include
Investment Management (Capital Markets, Real Estate, Commodities, Currencies and Alternatives, Family Governance, and Wealth Structuring)
Asset Protection and Asset Transfer Strategies
Risk Management
Investment Banking
Financing
Insurance Advisory
8. First Global Securities Pvt Ltd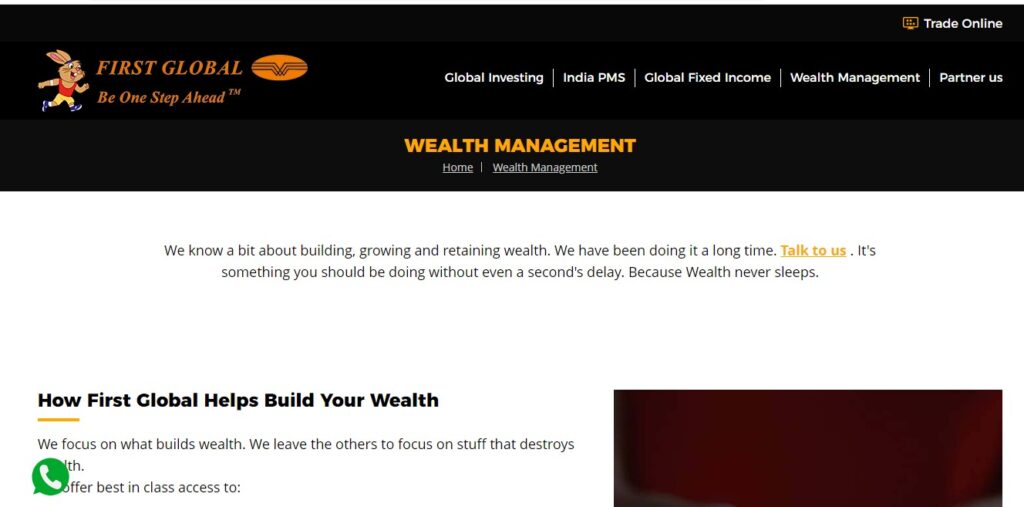 First Global is a leading wealth management company based in Mumbai. The firm has been in the investing business for over three decades and its clients include investors of all sizes. The company is regulated by the Financial Conduct Authority (FCA), UK, Securities & Exchange Commission (SEC), US, Securities & Exchange Board of India (SEBI), India, and Cayman Islands Monetary Authority (CIMA).
The company caters to High Net Worth Individuals (HNI), corporate executives, promoters- founders of listed/unlisted companies, and self-employed professionals/business persons.
The services and solutions that are offered by First Global include
In-house and Third-Party Portfolio Management Services (PMS)
Mutual Funds
Venture Capital Funds
Asset Management
Wealth Management
9. Franklin Templeton Asset Management India Pvt Ltd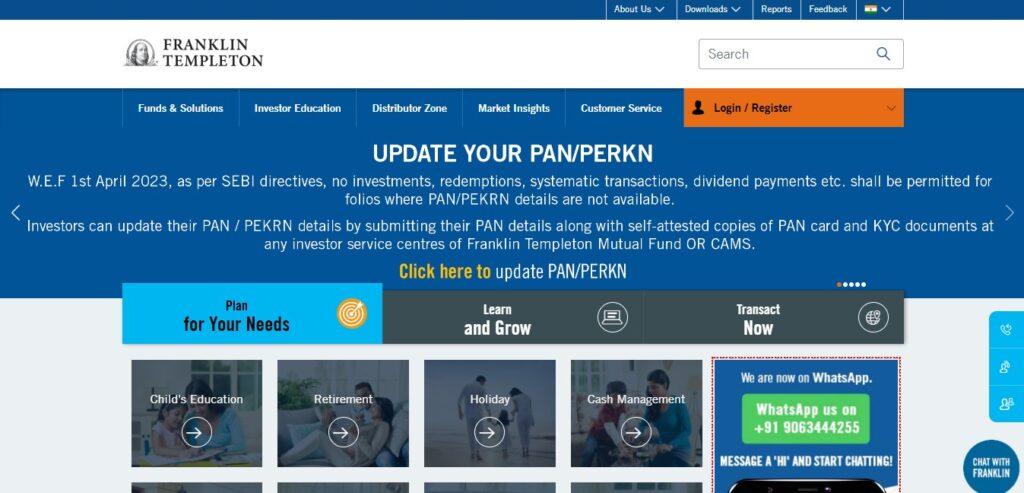 Franklin Templeton company's association with India dates back over two decades as an investor. As part of the group's major thrust on investing in markets around the world, the India office was set up in 1996 as Templeton Asset Management India Private Limited. This put an end to the mutual fund business with the launch of Templeton India Growth Fund in September 1996, and the business has grown at a steady pace since then.
The firm has been delivering exceptional asset management services for institutional, retail, and high-net-worth clients. It currently has a presence in over 25 countries around the world. Franklin Templeton Asset Management India Pvt Ltd operates as an investment management company. The company provides investment advice, asset management, securities, portfolio valuation, funds, and financial planning services to its clients.
The services and solutions offered by Franklin Templeton India Pvt Ltd company include
Investment Advisory
Mutual Funds
Asset Management
Wealth Management
10. HDFC Bank Wealth

HDFC Bank Wealth offers a range of financial investment products that aim to successfully adapt to the ever-evolving economic landscape while providing customized solutions to create and manage wealth for its clients. It is a division of HDFC Bank, a private-sector bank in India. Its tailor-made solutions are backed by regular inputs from the in-house research team which consists of skilled professionals including Research Analysts, Relations Managers, and Product Specialists, and augmented further by periodic analysis of its client's investments.
HDFC Bank Wealth firm offers Wealth Management solutions that are customized to meet the financial needs of High Net Worth and Ultra High Net Worth individuals, groups and establishments and to partner their wealth ambitions. It has a coverage of 53 Hub and 149 Spoke locations across the country.
The services and solutions provided by HDFC Bank Wealth include
Financial Advisory
Premium Banking Programmes
Wealth Management
Insurance
Mutual Funds
11. IIFL Wealth Management Limited

IIFL Wealth is one of the fastest-growing private wealth management firms in India. The company serves the highly specialized and sophisticated needs of high-net-worth and ultra-high-net-worth individuals, affluent families, family offices, and institutional clients through a comprehensive range of tailored wealth management solutions.
IIFL Wealth & Asset Management is backed by leading global financial institutions including private equity firms General Atlantic, Fairfax, and Capital Group. The group and its wholly-owned subsidiaries straddle the complete wealth and asset management space with offerings ranging from wealth management, asset management, credit solutions, and corporate finance.
The services and solutions offered by IIFL Wealth include
IIFL-ONE
Investment Products
Lending Solutions
Estate Planning
12. Kotak Investment Advisors Limited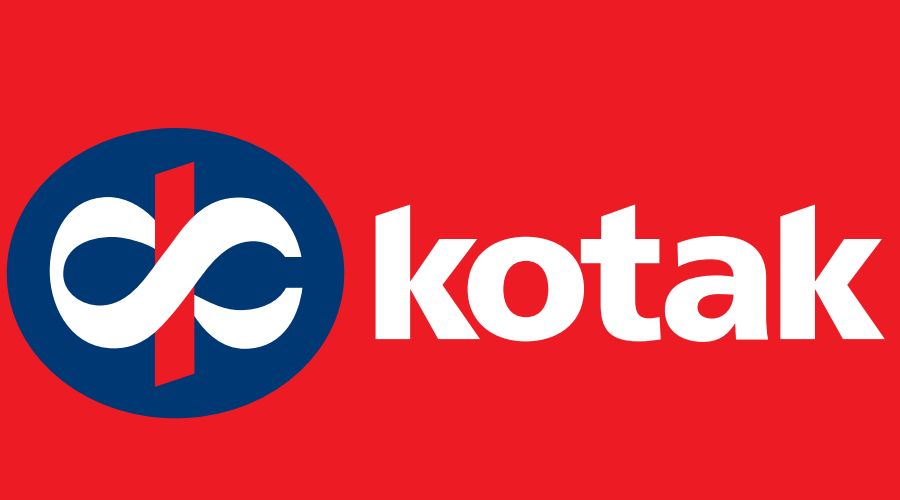 Kotak Investment Advisors Limited is an esteemed financial services company based in Mumbai, India. It operates as a subsidiary of Kotak Mahindra Bank, a leading Indian private sector bank. Kotak Investment Advisors offers a wide range of investment and advisory services to domestic and international clients across various sectors.
The company provides investment solutions across multiple asset classes, including private equity, real estate, infrastructure, and alternative investment funds. Their team of experienced professionals analyzes market trends, conducts due diligence, and identifies investment opportunities to deliver value to their clients.
Kotak Investment Advisor Ltd (KIAL) provides wealth management, advisory, and asset management services exclusively catering to ultra-high net worth individuals (UHNIs) and high net worth individuals (HNIs). KIAL is a licensed registered investment advisor regulated by the Securities and Exchange Board of India (SEBI).
The services offered by Kotak Investment Advisors Ltd include
Investment Services
Wealth Planning
Lending
Asset Management
Wealth Management
Financial Advisory
13. L&T Financial Services Private Wealth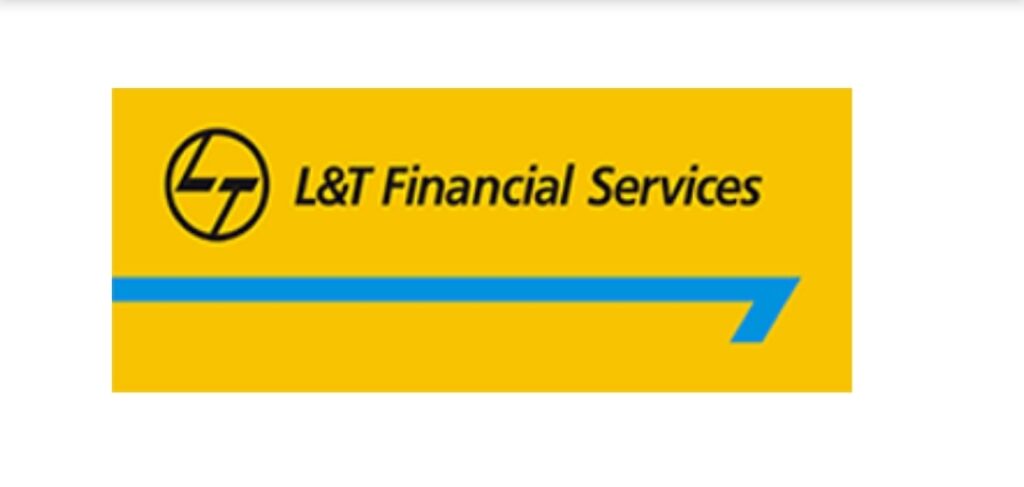 L&T Financial Services provides Wealth Management strategies that help clients identify opportunities tailored to every requirement and long-term aspirations for growth. Their robust execution capability and strong, customer-focused approach ensure that their clients are always in control.
The services and solutions offered by L&T Financial Services to its clients include
Wealth Management
Alternate Investments
Risk Management
Lending
Estate Planning, Trust & Wills
14. Morgan Stanley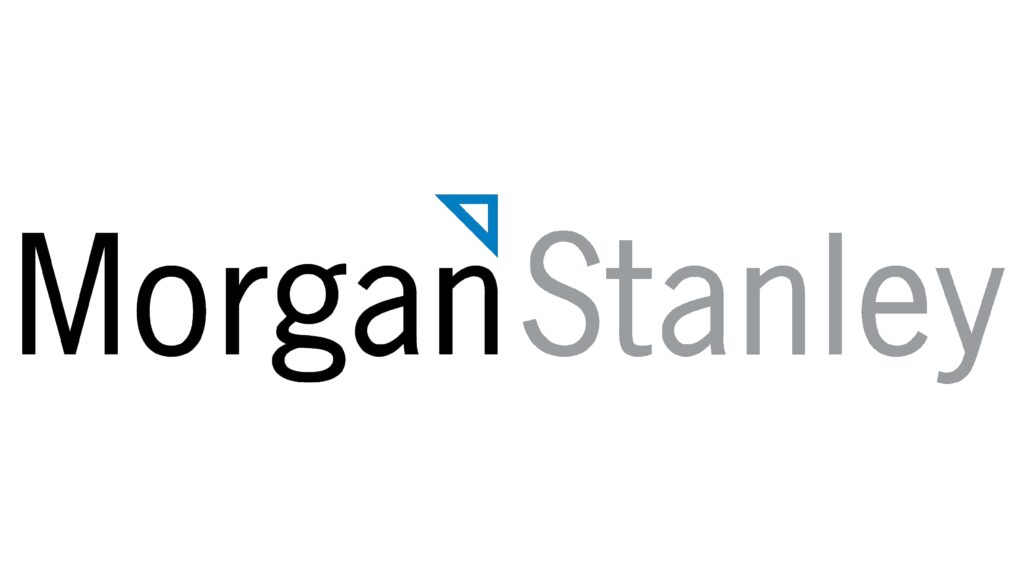 Morgan Stanley has been operating in India for over two decades, providing a variety of services to domestic and international clients. The firm has a premier institutional securities platform in India. It offers a range of services such as investment banking, capital markets, equities, fixed income, commodities, and derivative products, as well as research. Morgan Stanley has also been an active investor in Indian Infrastructure, Real Estate, and Private Equity projects over the last several years.
In 2003, Morgan Stanley established a new Global In-House Centre in Mumbai to support the firm's Institutional Securities, Wealth Management, and Investment Management businesses worldwide. The center houses Technology, Operations, Finance, Legal and Compliance, Human Resources, Internal Audit, Corporate Services, Fund Services, Prime Brokerage, and other specialized functions. The company is located across three sites in Goregaon, Mumbai, and Bengaluru.
A few services and solutions that are offered by Morgan Stanley to its clients include
Investment Banking and Capital Markets
Wealth Management
Investment Management
Sales & Trading
15. Motilal Oswal Private Wealth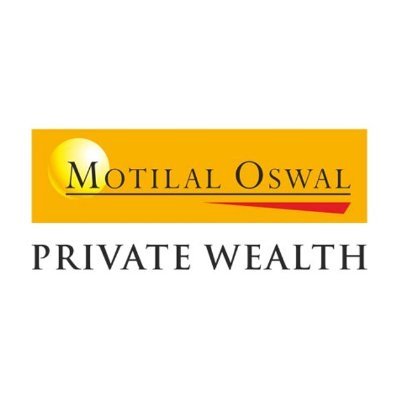 Motilal Oswal Private Wealth (MOPW) is a part of Motilal Oswal Group, an Indian brand that is trusted for knowledge-based investing with a proven performance track record of over three decades. The company mainly caters to Corporates/Institutions, High Net Worth, and Ultra High Net Worth Individuals. The company's head office is located in Mumbai, and it has branches in several cities across India.
The company uses knowledge to identify the right mix of Fund Managers across asset classes to ensure its clients have a winning portfolio. Its relationship managers are empowered with the science and art of investing. In addition, clients can also experience new insights and ideas on wealth creation through their exclusive knowledge events.
MOPW offers its clients a range of wealth management services and solutions which include
Institutional Research
Asset Management
Wealth Management
Equity Commodity Currency Trading
Investment Banking
Capital Market Lending
Private Equity
Home Finance
16. Muthoot FinCorp Ltd.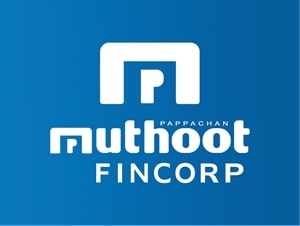 Muthoot FinCorp Ltd is a subsidiary of Muthoot Pappachan Group, also popularly known as Muthoot Blue Group. Muthoot is India's leading Gold Loan and Investment provider. The company was founded by Mr. Pappachan Muthoot, and thus, named after him. Muthoot FinCorp Ltd is the flagship company of Muthoot Pappachan Group having branches across India.
Prior to offering wealth management services, Muthoot FinCorp assesses the needs and investment goals of its clients as well as market conditions and projections in order to create the required plan.
The services and solutions provided by Muthoot FinCorp Ltd company include
Insurance
Mutual Funds
Equity Investments
Forex
Money Transfer
Loans
Wealth Management
17. SBI Capital Markets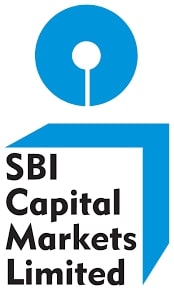 State Bank of India is the country's premier public sector bank. The SBI Capital Markets is a subsidiary of the bank that provides its client's investment banking and corporate advisory services. Its Financial Advisory Services cover various services such as Project Advisory and Structured Financing, Capital Markets, Mergers & Acquisitions, Private Equity, and Stressed Assets Resolution.
SBI Capital Markets Limited (SBICAP) is registered with SEBI as a category I Merchant Banker and a Research Analyst. SBICAP is one of the oldest investment banks in India. SBICAP provides credible, professional, customer-focused, world-class investment banking services to its clients.
The services provided by SBI Capital Markets include
Corporate Financial Advisory
Investment Banking
Wealth Management
Asset Management
18. Sanctum Wealth Private Limited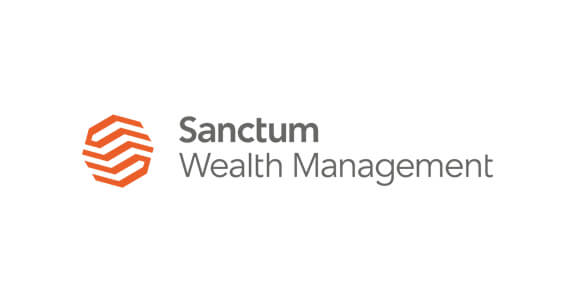 Sanctum Wealth is a privately-owned wealth management company based in Mumbai. It also has a subsidiary, Sanctum Wealth Advisors Private Limited in Mumbai. Sanctum is led by some of the most experienced people in the Indian private wealth management sector. With diverse backgrounds and extensive knowledge of markets and opportunities, the company helps steer the organization and its response to a dynamic market and a fast-changing world, always looking for ways to create value for its clients.
The company facilitates the implementation of solutions and structures through its subsidiary company, Sanctum Wealth Advisors Private Limited, which employs its in-house team of experts as well as a carefully identified set of technology partners to ensure a comprehensive solution to clients.
The services and solutions that are offered to clients by Sanctum Wealth company include
Investment Products
Portfolio Solutions
Wealth Planning
Real Estate
19. Tata Capital Limited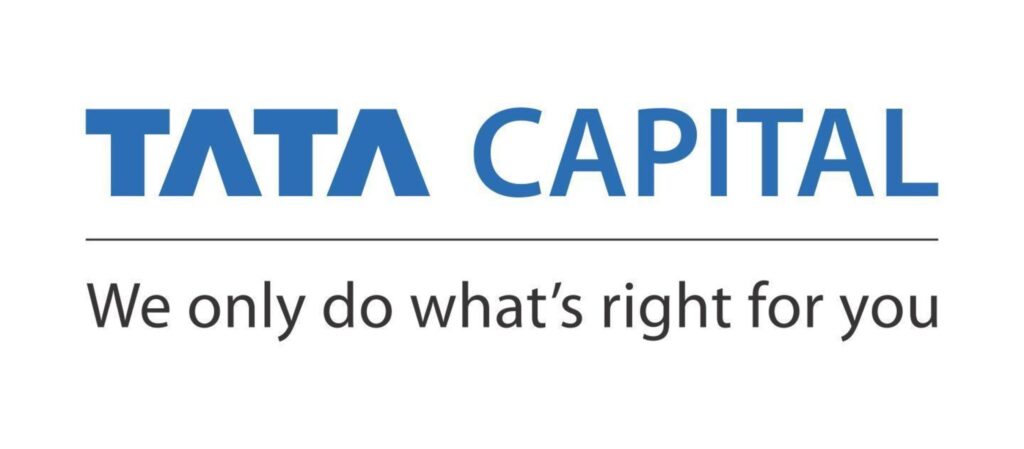 Tata Capital Limited, a subsidiary of Tata Sons Limited, is a reliable financier helping Indians realize their financial aspirations. The company extends a wide gamut of bespoke Investment, Protection, and Financing Services that fit the needs and objectives of individuals and businesses. Its experienced Wealth Managers and Investment Product Specialists are equipped with research-driven market insights and their services are readily available..
Tata Capital Limited offers a wide spectrum of well-researched and tailor-made investment, financial, and protection products to both Indian and NRI clients through leveraging quality financial guidance and the expertise of seasoned experts.
The services and solutions offered by Tata Capital Limited include
Mortgage Loans
Loans
Credit Cards
Life Insurance
Wealth Management
Investment Banking
Private Equity
20. Waterfield Advisors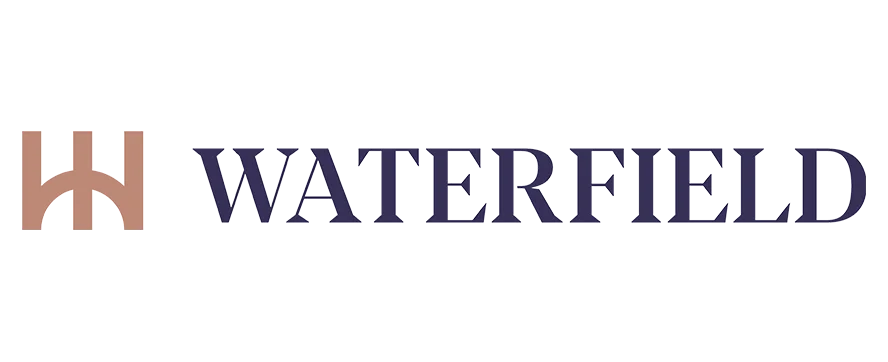 Waterfield Advisors is India's leading independent Multi-Family Office and Wealth Advisory Firm that provide services to the UHNI community without any conflict of interest. The firm was established in 2011, and has since, advised on assets worth billions on behalf of several prominent Indian business families. The firm has seven offices in cities like Mumbai, Goa, Bengaluru, Chennai, Kochi, Hyderabad, and Noida.
Waterfield Advisors was set up as India's first pure financial advisory company taking on established banks and financial institutions that considered distribution as a norm in wealth management. It was one of the first boutique financial services firms in the country to introduce and pioneer the concept of investment advisory in wealth management.
The services offered by Waterfield Advisors mainly include
Personal Wealth Management
Family Wealth Management
Wrapping Up
The top 20 wealth management companies have demonstrated their ability to adapt to technological advancements and evolving customer preferences. By leveraging digital platforms and incorporating advanced analytics tools, they have enhanced their service offerings and provided personalized wealth management solutions to a diverse range of clients.
These companies, known for their excellence in managing wealth, have showcased remarkable growth and consistently delivered value to their clients. With their strong financial expertise, robust investment strategies, and client-centric approach, they have successfully navigated the turbulent market conditions of the year.