Top 20
Top 20 Tourist Places in India: You Must Visit
India is home to a myriad of holiday destinations for national and international tourists that visit the country each year from different parts of the world. From national parks to hill stations to historical places, religious places, museums, beaches, and honeymoon getaways, there are plenty of spectacular sites that will add fun-filled moments to one's leisure time in the country. These best tourist places in India must be visited.
Tourist Attractions in India
India's tourism industry is among the major contributors to the nation's GDP (gross domestic product). Tourism is one such sector that welcomes visitors from all corners of the world and allows people of all age groups to have a pleasant experience.
The Indian sub-continent is known for its ancient culture, heritage, and cuisine. In addition, the nation houses some of the mesmerizing sights which are must-see places on everyone's holiday bucket list. For instance, some of the most popular places and heritage sites that are visited by hundreds and thousands of local and foreign tourists every year include the Taj Mahal, Red Fort, Shimla, Leh Ladakh, Kaziranga National Park, the Golden Temple, Varanasi, Ooty, and many more.
Well, these are only a few popular attractions one can see when visiting a country like India. But, there are even more sights that are captivating and are located in every region throughout the country.
Also, read these articles:
Top 20 National Parks in India
Top 20 Oldest Universities in India
Top 20 Developed Cities in India
Here, we're going to share with you some of the must-visit tourist sights all across India that will make your holiday trip a memory to cherish back home.
List of 20 Best Holiday Destinations & Sights to Visit in India
These holiday destinations and sights cannot be missed when traveling to India.
1. Andaman & Nicobar Islands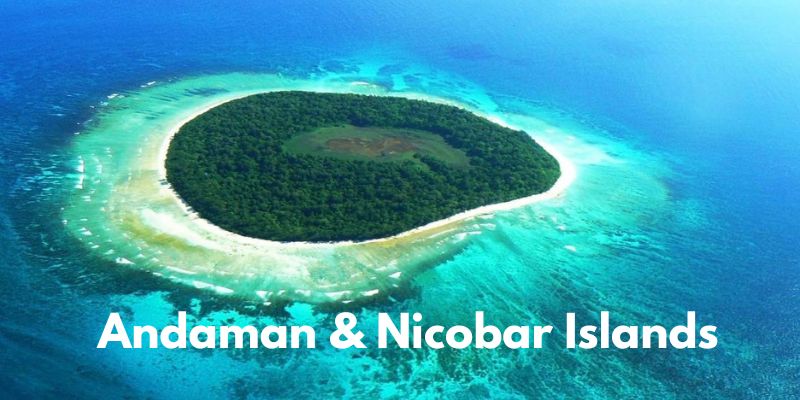 Category: Beaches, Honeymoon Getaway, Snorkelling, and Scuba Diving
Location: Andaman & Nicobar Islands
Best Time to Visit: October – June
The Andaman & Nicobar Islands archipelago comprises 572 islands, of which only 37 are inhabited, and a few are open to tourists. Among them, Havelock Island is one of the largest and most popular islands in the Andaman and Nicobar Islands. Travelers usually arrive from Port Blair by flight or ship and spend a few nights on Havelock and Neil Islands, which offer several excellent resorts.
The Andaman and Nicobar Islands are a small piece of paradise located about 1400 km from the east coast of mainland India. Port Blair, the capital of this Union Territory, has a major airport and seaport connected to the rest of the country and various tourist islands by numerous daily ferries. Havelock Island and Neil Island are popular with tourists for their white sandy beaches and incredible diving opportunities.
Tourists spend a day or two here exploring the town and nearby beaches. People also travel from Port Blair to Ross Island and North Bay Island or Balatang and Jolly Buoy Island for day trips. Andaman island has the most exotic beaches, and some of them also give the opportunity of trying out a number of water sports such as Scuba Diving, Snorkelling, Sea walks, etc. The North Bay Island near Port Blair, Elephant Beach on Havelock Island, and Bharatpur Beach on Neil Island are three popular beaches and well-known for water sports.
2. Calangute Beach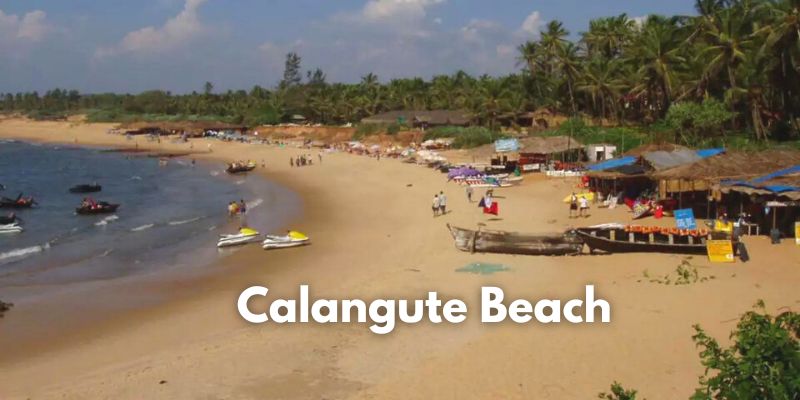 Category: Beach
Location: Panjim, Goa
Best Time to Visit: October – March
When you think of Goa, you imagine sandy beaches, fabulous parties, beautiful little villages, delicious food, and a magical vacation. Yes, Goa is rightfully known as the most popular tourist destination on the West Coast of India, and not only because of its picturesque beaches, but also because of its tropical climate and the rich Portuguese heritage that you can still find in some parts of the city. Located in the Konkan coastal belt, Goa has a coastline of more than 100 kilometers and attracts millions of visitors both inside and outside the country all year round.
Calangute Beach is 15 kilometers from Panjim and is the longest beach in North Goa, extending from Candolim to Baga. Due to its huge size and popularity, it is a center for tourists and backpackers from all over the world. Popularly known as the "Queen of Beaches", the Calangute Beach of Goa is among the most visited beaches in the world. Being one of Goa's busiest and most commercial beaches, it is teeming with eateries, shacks, and clubs serving cocktails, beer, and seafood. Calangute Beach is also known for its water sports activities, such as parasailing (including boating with a parachute), water surfing, banana riding, and jet-skiing (with or without a professional rider).
Other facilities provided at the Calangute Beach include changing rooms, lounges and sunbeds, beach shacks, water sports, two-wheeler, and four-wheeler parking, etc.
3. Darjeeling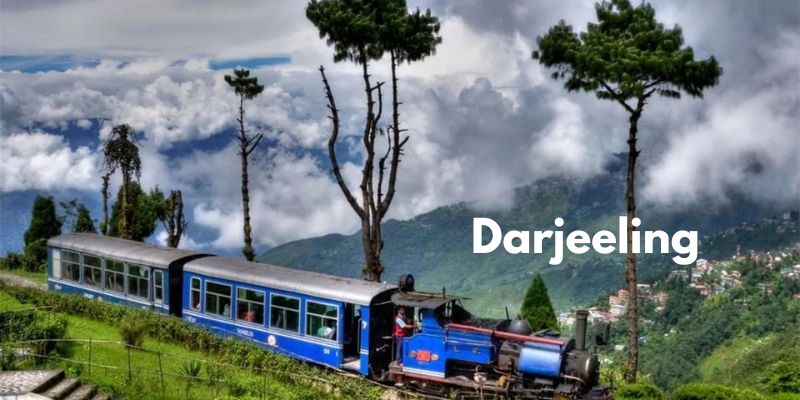 Category: Hill Station
Location: West Bengal
Best Time to Visit: February – March and September – December
Darjeeling has become one of the most popular mountain stations in India. Located in the Indian state of West Bengal, this scenic hill station is the perfect getaway for a romantic honeymoon and outdoor adventures.
The town is not only known for its establishment on the foothills of the Himalayan range, but it is also home to the vast expanse of tea plantations, the popular toy train, and many tourist sights. Some of Darjeeling's most popular attractions include monasteries, botanical gardens, a zoo, and the Darjeeling-Rangeet Valley Passenger Ropeway cable car, which is the longest Asian cable car. Apart from this, the Tiger Hill is a fantastic spot to see the sunrise over the mountains in all its fiery glory. Also, the third-highest peak in the world and the highest in India, Mt. Kanchenjunga peak, is visible from here, and one can enjoy a panoramic view of the peak.
Other places in Darjeeling that tourists can visit are the Darjeeling Himalayan Railway, Batasia Loop, Nightingale Park, etc. There is also the Himalayan Mountaineering Institute and which is recognized as one of the best mountaineering institutes in the world. Aspiring climbers from all over the world come to this institute to develop their skills.
Besides being one of the best mountaineering institutes in the world, the Himalayan Mountaineering Institute has become a significant tourist attraction due to its picturesque location at the Darjeeling Mountain Station. The magnificent view of the 8586-meter peak of Mount Kanchenjunga, the third-highest peak in the world, opening from this institute, is truly fascinating.
4. Elephanta Caves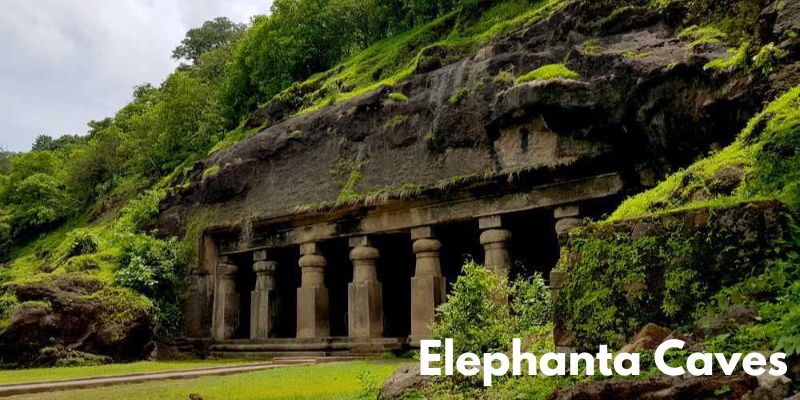 Category: Historical Site
Location: Maharashtra
Best Time to Visit: November – February
Elephanta Caves are a sample of rock-cut art and architecture from the time of medieval India. This collection of cave temples dates back to the 5th-7th centuries and most of them are dedicated to Lord Shiva, a Hindu God. Originally known as Gharapurichi Lenny, the Elephanta caves that exist today were once ruins of elaborately painted artifacts. Now Elephanta Caves has become a UNESCO World Heritage Site.
The caves are located on the Elephanta island, also known locally as Gharapuri island, which is situated at a distance of 11 km from the city of Mumbai in Maharashtra. It also gives an amazing view of the skyline of Mumbai. One can reach the Elephanta Caves via a ferry ride from the Gateway of India, which is another heritage sight to visit in India.
At the site of the Elephanta caves, there are two groups of alcoves. The first is a large group of five Hindu caves and the second is a small group of two Buddhist caves. The Hindu caves contain stone sculptures that represent the Shaiva Hindu sect. Idols include' Trimurti 'or three-headed Shiva,' Gangadhar 'which is an expression of the river Ganga as it descends to earth, and' Ardhanareshwar', which represents Lord Shiva and wife Parvati in the same body. Apart from being an important heritage site, Elephanta Caves are also an unexpected trekking destination.
5. Gir National Park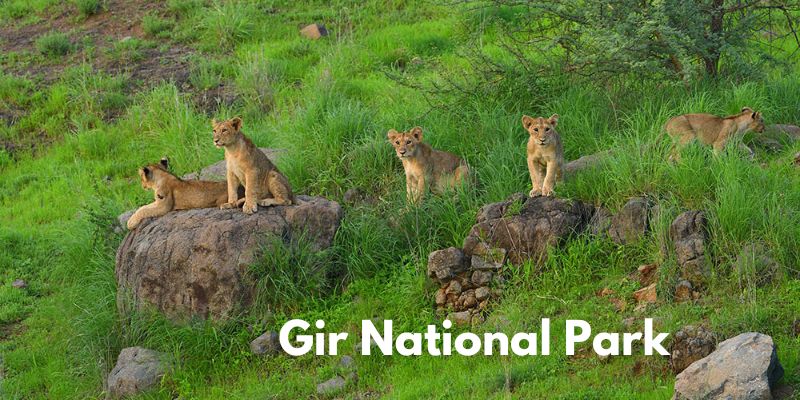 Category: National Park
Location: Talala Gir, Gujarat
Best Time to Visit: April – May and December – March
Advisory: The National Park is closed every year from June to October.
Gir National Park is a popular national park in India, which was established in 1965. It is also known as Gir National Park and Wildlife Sanctuary, as well as Sasan Gir. It is located about 379 km (235 miles) from the capital of Gujarat, and a road trip can take up to 7 hours or more.
It is said that before its establishment as a national park and Wildlife Sanctuary, the forest area used to be a private hunting ground for the Nawab of Junagadh in the 19th century.
The Gir National Park is a major habitat for lions, and their population is protected by the government authorities in order to prevent the decline of the species. The National Park has about 75 species of animals, 300 species of birds, and 2,000 species of insects. The common fauna species which you can see here are of a lion, leopard, hyena, jackal, fox, mongoose, four-horned antelope, tortoise, wild boar, black buck, cobra, monitor lizard, crocodile, etc. Also, there are about 400 species of trees and plants, including banyan, teak, etc.
6. Guntur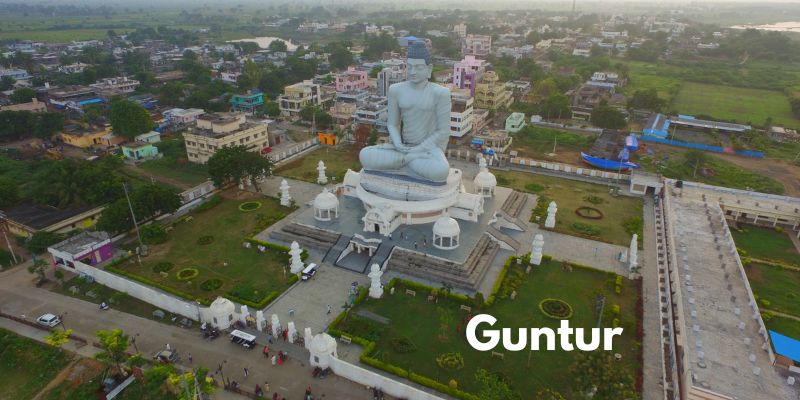 Category: Religious/Heritage Sites, Sightseeing, Trekking
Location: Andhra Pradesh
Best Time to Visit: April – June and October – February
Guntur is a major city in Andhra Pradesh, India. Its district is surrounded by the Krishna river, where it merges into the Bay of Bengal on the east. It is also known as the 'Land of Chillies' since Guntur is famous for its massive chilli market yard in Asia and exports chili products around the globe.
The city is dotted with museums, several parks, nature conservation sites, forts, caves, and resorts. It also takes credit for housing the only Buddhist pilgrimage site in South India – the Nagarjunakonda, and the captivating relics of Amravati Caves. There are several places in and around Guntur that can be visited by tourists from India and overseas. A few such places and attractions include Amaravathi Temple, an ancient kingdom of Bhattiprolu (formerly the Kingdom of Prati Palaputra), Kondaveedu Fort, Guthikonda Caves, Someswara Swamy Temple, Sitanagaram Beach, Undavalli Caves, Mangalagiri Hills, and many more.
Guntur City has its own modest down-town centers and residential areas. The Center of Brodipet and Arundelpet, Jinnah Tower Center, Naaz Center, Inner Ring Road, Outer Ring Road, and Old Guntur. The Brindavan Gardens is one of the famous residential areas here. Manasa Sarovar is like the Central Park of Guntur City. Located in the eastern part of the city, it is one of the man-made parks in Guntur which is managed by the GMC and UDA together.
7. Gwalior Fort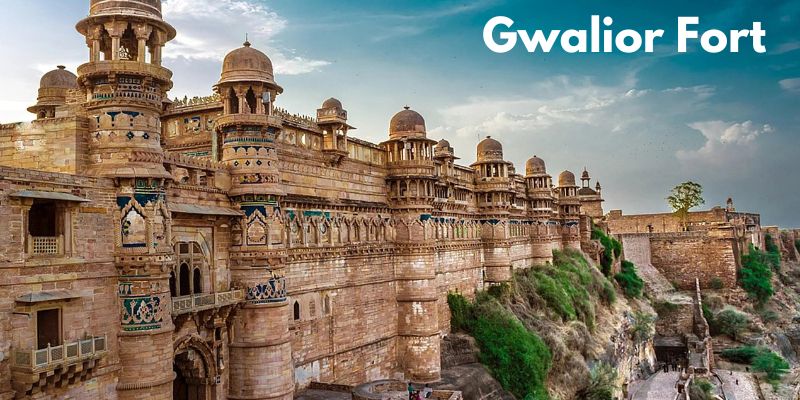 Category: Historical Site
Location: Madhya Pradesh
Best Time to Visit: October – February
The Gwalior Fort is one of the most impenetrable fortresses located in Gwalior in the Indian state of Madhya Pradesh. This historical fort was built by the Mughal emperor Babur and is a place you definitely must visit. Also referred to as 'the pearl amongst fortresses in India', the structure is situated on the top of a vast rocky mountain and dominates the entire city of Gwalior.
The identity and architecture of this city are inseparable, and there is evidence that it has existed since the 6th century. It is also the place where the second oldest reference of the number 'zero' has been found in the form of a carving inside a temple on the top of the fort.
The construction of the Gwalior Fort took place in two parts and in two different time periods, and thus, this architectural marvel has an intriguing history attached to it. It has gone from the possession of one dynasty to another many times. The entire fort complex is well-maintained and includes temples, water tanks, and palaces such as Man Mandir Palace, Gujari Mahal (State Archaeological Museum), Jai Vilas Palace, and Usha Kiran Palace.
8. Jaisalmer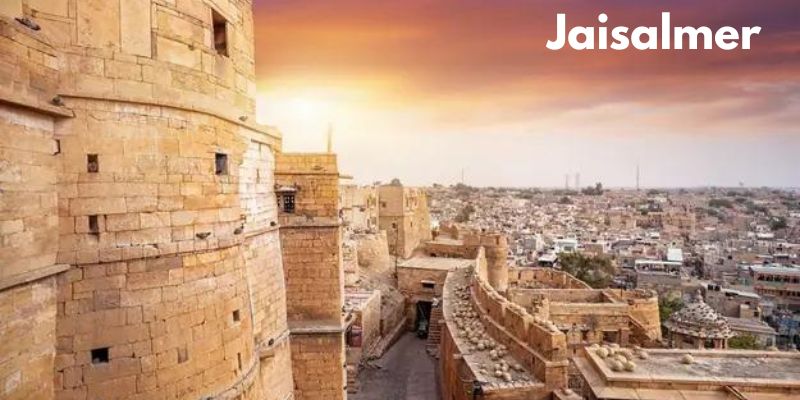 Category: Historical Site
Location: Rajasthan
Best Time to Visit: October – March
Jaisalmer, founded in 1156 A.D., by Raja Rawal Jaiswal (of the Bhatti clan) is a historical site and a prominent tourist place located in the northwestern state of Rajasthan in India. It is also known as the 'Golden City' because of its golden dunes and castles clad in sandstone. Jaisalmer (which means "The Hill Fort of Jaisal") is a town, and to reach the Sand Dunes, travellers have to take a jeep safari followed by a camel ride. Thus, Jaisalmer is an amalgamation of exotic Indian desert culture, adventure, and heritage adorned with lakes, ornate Jain temples, and 'havelis' (palaces).
Jaisalmer fort is a castle with narrow alleys where generations of people have lived and shops selling colorful handicrafts and other items. Apart from the historical Jaisalmer Fort, there are other sites here that attract tourists, such as Patwon Haveli, Jain Temples, and Gadisar Lake, etc. In addition, travellers can enjoy camping, quad biking, and desert safari (i.e., camel ride) along the vast sand dunes.
The Jaisalmer Desert Festival is an event organized by the Rajasthan Tourism Development Corporation in February each year. It is celebrated in the Thar Desert and the locals dress up in their traditional and colourful attires. A lot of activities are held here during the festival, like singing and dancing, gymnastic acts, camel races, tug of war, turban tying competition, and a march from the Jaisalmer Fort to the desert.
9. Jim Corbett National Park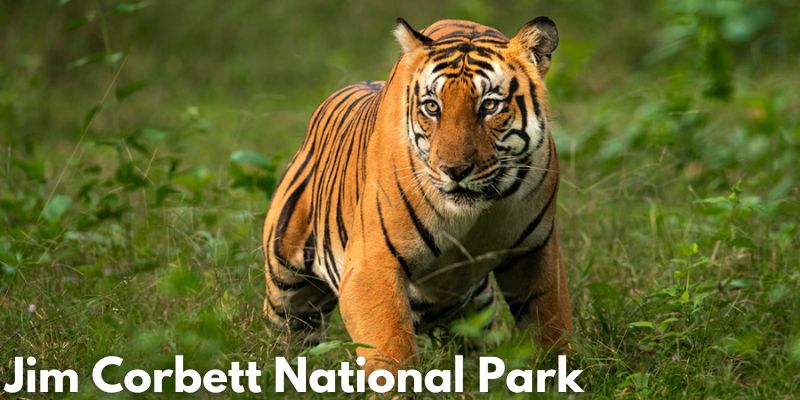 Category: National Park
Location: Nainital, Uttarakhand
Best Time to Visit: April – June and November – January
Advisory: Camping can be dangerous and a special permit may be required.
The Jim Corbett National Park is one of the oldest national parks in India. It was opened in 1936 at the Nainital district of Uttarakhand, which is 178 kilometers (107.6 miles) from the capital city of Dehradun. That's about a 3-hour journey by road from the city. It can also be called Corbett Tiger Reserve interchangeably, so don't be confused..
Jim Corbett National Park is named after Jim Corbett, a British naturalist and hunter who lived in India and died a year before the wildlife habitat was named in his memory and for his work. It is said that the national park was first called Haley National Park, named after Governor William Malcolm Haley in the early years of its founding, but was changed to what we know today.
In addition to its history, Jim Corbett National Park is home to several species of animals and birds and is covered with forests covering an area of several kilometers. There are about 75 species of animals, 580 species of birds and more than a hundred species of trees, including mango trees, pipal, sal, rohini, haldu, etc. Several animal species include tigers, elephants, deer, buffaloes, leopards, langurs, crocodiles, gharials, pythons, etc.
10. Kanyakumari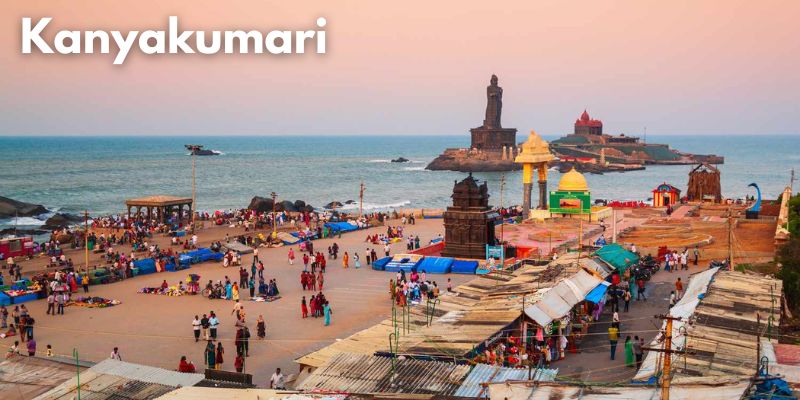 Category: Beach, Historical Sites
Location: Tamil Nadu
Best Time to Visit: October – February
The southernmost tip of the Indian Peninsula is Kanyakumari. It is a small coastal town situated in the state of Tamil Nadu and was earlier known as Cape Comorin. The town has a mountainous terrain with elevated patches of hills, coconut trees, and lined with paddy fields. The town is bordered by three seas – the Arabian Sea to the west, the Indian Ocean to the south, and the Bay of Bengal to the east. Thus, Kanyakumari offers the marvelous convergence of the Bay of Bengal, the Arabian Sea, and the Indian Ocean meeting together in this section.
What truly lies in its beauty is the water of three seas that do not mix, instead, one can clearly distinguish between the turquoise blue, deep blue, and sea green waters of the three seas. To enjoy the best view of sunset and sunrise, one can visit the Triveni Sangam point and the famous View tower here.
Kanyakumari is popular not only for its unique phenomenon but also for its temples and memorial on Vivekananda Rock among other cult monuments. Waterfalls in Kanyakumari that cannot be missed here include the Thirparappu Falls, Courtallam Falls, and Olakaruvi Falls. Other places to visit here are Kanyakumari Beach, Thiruvalluvar Statue, and Kumari Amman Temple. Kanyakumari has authentic South Indian cuisine too, with seafood and coconuts being an integral part of almost all dishes.
11. Kaziranga National Park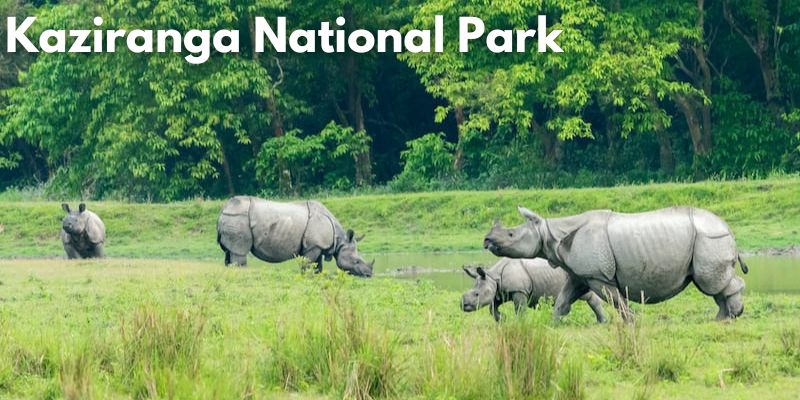 Category: National Park
Location: Between Golaghat and Nagaon districts, Assam
Best Time to Visit: March-May and November – February
Advisory: Avoid visiting in the monsoon season (i.e., June – September), due to excessive flooding in the region on rainy days.
Kaziranga National Park is one of the most popular national parks in India, as well as the oldest in the country. It is located between the Golaghat and Nagaon districts of Assam State and is known worldwide as the habitat of the one-horned rhinoceros. It was previously called the Kaziranga Hunting Reserve, then renamed the Kaziranga Wildlife Reserve and renamed again to what it is called today. The National Park has also been declared a UNESCO World Heritage Site since 1985. From the capital Guwahati to Kaziranga National Park, the distance by road is about 193 km (119 miles), and the trip can take up to 4 hours or more.
Looking back at the creation of this wildlife sanctuary in India, it can be said that it originated in 1905 as a protected forest reserve by Lord Curzon of Kedleston, then Viceroy of India, and the credit for this belongs to his wife Mary Curzon, who initiated a project to protect a species of rhinoceros. Thus, in 1968, the Government of India declared the reserve a wildlife sanctuary, as well as to protect the flora and fauna in the region. Its landscape is located in close proximity to the mighty Brahmaputra River.
The National Park is often in the news about cases such as floods and rhino poaching. Nevertheless, a visit to Kaziranga National Park, especially to see one-horned rhinos, will amaze every local, national and foreign tourist. In addition to rhinoceros species, there are also various species of Sambar deer, elephant, buffalo, Bengal tiger, jackal, flying squirrel, leopard, pangolin, langur, mongoose, python, monitor lizard, etc., as well as numerous species of birds.
12. Lakshadweep Islands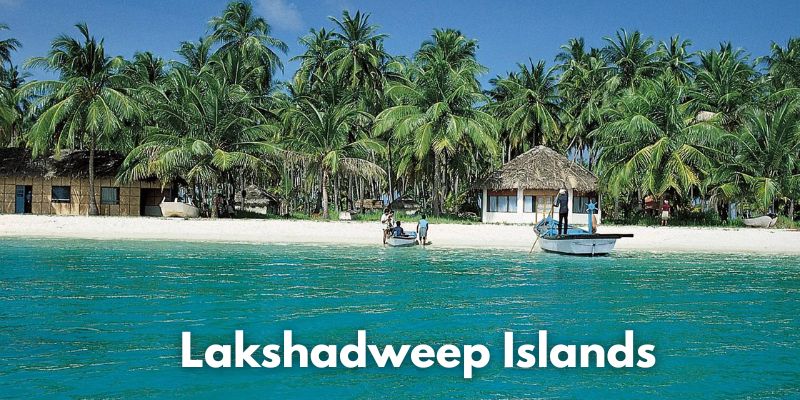 Category: Beaches, Scuba Diving
Location: Lakshadweep Islands
Best Time to Visit: September – May
Lakshadweep Islands (previously known as Laccadive Islands), literally translates to 'one hundred thousand islands' in the Malayalam language. The archipelago lies 400 km off the south-west coast of the Arabian Sea and is the smallest union territory of India comprising of 36 islands. It is made up of 12 atolls, 3 reefs, and 5 submerged banks out of which ten islands are inhabited.
Lakshadweep is accessible from Kochi (Kerala) and a permit is required to visit this island for all tourists (including Indians). After obtaining permits, Indian tourists are allowed to visit all its islands, but even after obtaining permits, foreign tourists are allowed to visit only the islands of Agatti, Bangaram, Minikoy, Kavaratti, Kalpeni, and Kadmat. Permits can be obtained in Kochi itself.
Far off the beaten track, the islands attract no hordes of merrymakers to their shores. The islands, though all equally mystical and beautiful, each offer a unique blend of tourist spots. Some islands were created for diving and water sports, and yet others were designed in such a way that people enjoy the charm of relaxation.
13. Leh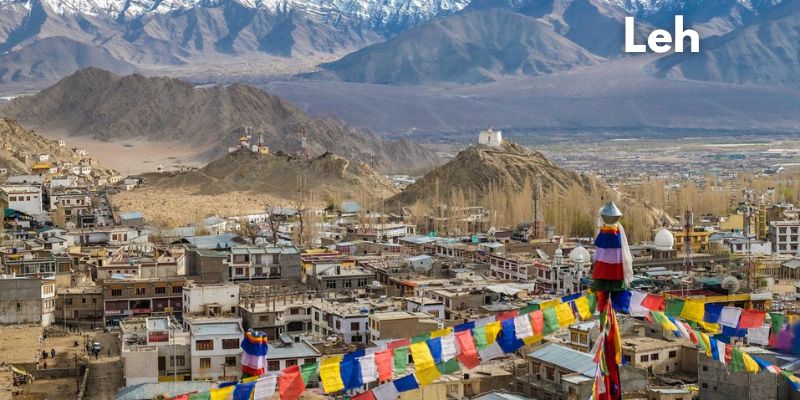 Category: Sightseeing, Biking, Peak Climbing, Trekking, Honeymoon Getaway
Location: Ladakh
Best Time to Visit: April – September
Leh is a spectacular Himalayan town situated in Ladakh, a union territory of India. The region was once an essential stopover for vital trade routes that connected Tibet to the east, and Kashmir to the west and borders India and China. Leh is administered by the Ladakh Autonomous Hill Development Council (LAHDC), unlike the other districts of the Indian state of Jammu & Kashmir.
Today, Leh is considered one of the best Himalayan cities for exploring unspoilt natural beauty. It is said that most of the towns around Lech were founded by Nyima Gon. Many historical events led to the formation of today's Lech, and the city reflects its past through various monuments, palaces, mosques, monasteries, etc.
Most of the famous restaurants of the city are located on Changspa Road in Leh. Buses, taxis, motorcycles and bicycles are available to get around Lech but beware of road closures and landslides in mountainous areas. The winter season in Ladakh lasts from October to February. Heavy snowfalls are falling on the entire region, which sometimes lead to road closures. Nevertheless, Ladakh can be reached by air flights in winter.
Leh is home to some of the breathtaking sights of the majestic Himalayas. Some of the main attractions include the Shanti Stupa Ladakh, Likir Monastery, Leh Palace, Namgyal Tsemo Monastery, Khardung La, Chang La, Nubra Valley, Magnetic Hill where strange gravitational waves cause vehicles to climb uphill, Hall of Fame dedicated to the sacrifice of fallen soldiers in the Indo-Pak War. the war and the Khardung La pass, which is the highest pass accessible to vehicles (at an altitude of 5602 m above sea level). It is also a paradise for bikers and certainly not for the faint of heart
14. Manali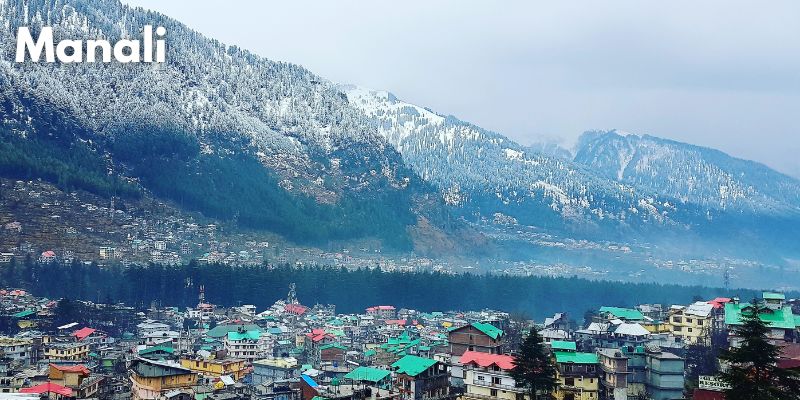 Category: Hill Station
Location: Himachal Pradesh
Best Time to Visit: October – June
Advisory: Due to unpredictable weather conditions, adventure sports like Paragliding are bound to get cancelled at the last moment.
Manali is a beautiful hill station situated in the Indian state of Himachal Pradesh in the north. Also referred to as Lover's Paradise, Manali is one of the most popular hill stations in the country. It is home to spectacular valleys, breathtaking views, snow-capped mountains, and lush forests of oak, fir, deodar, and pine. Manali is a magnificent hill station situated at the northern end of Kullu Vally along the mighty Himalayas. This place is known as one of the most popular places for newlyweds, offering spectacular views of the Pir Panjal and Dhauladhar mountain ranges, which are covered with thick snow cover most of the year.
Manali has been blessed with extraordinary scenic beauty. From museums to temples, from quaint little hippie villages to bustling fashionable streets, from river adventures to trekking routes – Manali always has a reason to be a tourist magnet all year round.
15. National Museum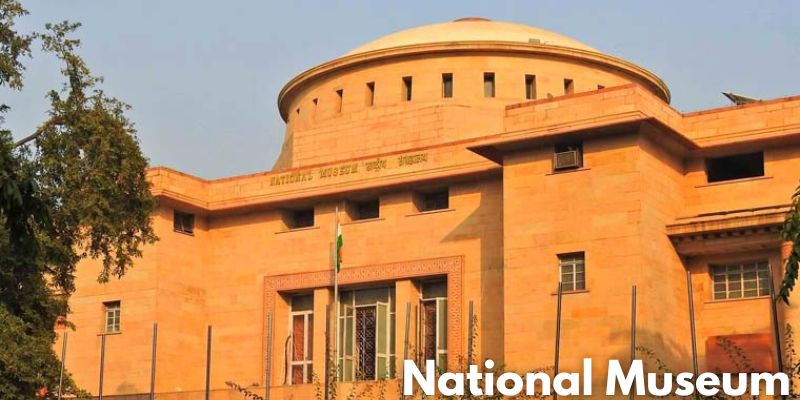 Category: Museum
Location: New Delhi
Best Time to Visit: All year round
Advisory: Closed on Mondays
The National Museum located in India's capital city New Delhi is one of the largest museums in the country. This museum exhibits a collection of diverse articles from the magnificent ancient era. It was commissioned in 1946 and opened to the public in 1949. The museum remains closed on Mondays.
National Museum is among the best places in Delhi to visit as one can also experience and learn about the luxury coaches of trains, which were once used by the great kings. The museum houses a variety of collections that include jewellery, paintings, armours, decorative arts, manuscripts, etc. There is also a Buddhist section where one can find a portion of the Buddha statue, and the famous Buddha Stupa, having remnants of Gautam Buddha, constructed in the 3rd century BCE by Sovereign Ashoka.
The museum is maintained by the Ministry of Culture, Govt. of India, and exhibits an enormous collection of exclusive artifacts. If you are fond of learning about history then you can visit this museum and explore an extensive collection ranging from prehistoric times to modern creations of art.
16. Ooty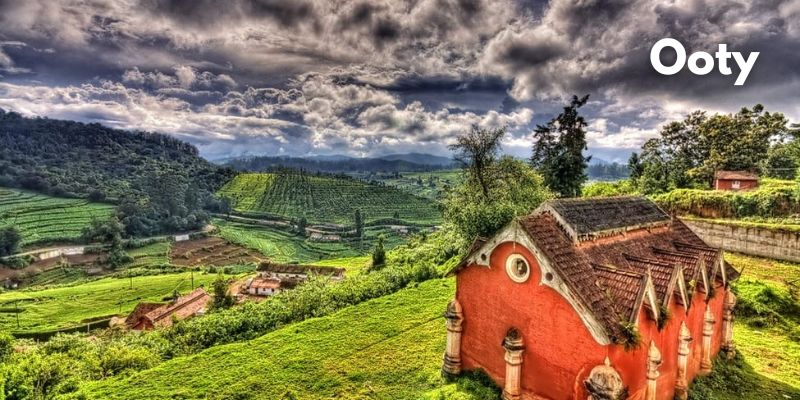 Category: Hill Station
Location: Tamil Nadu
Best Time to Visit: All year round
Ooty is another magnificent hill station situated in the Nilgiri Hills in the South Indian state of Tamil Nadu. Also known locally as Udagamandalam, Ooty serves as a must-see tourist destination. Once regarded as the summer headquarters of the East India Company, the Queen of the hills is a picturesque getaway with tea gardens, serene waterfalls, winding country lanes, and charming colonial architecture. It is the perfect respite, and also being popular among couples and honeymooners that allures its visitors with the panoramic views of the Nilgiri mountains.
This hill station has many other notable attractions, such as the Nilgiri Mountain Railway, Ooty Botanical Gardens, Dolphin's Nose, Wax World Museum, St. Stephen's Church, Tea Museum, Ooty Lake, Emerald Lake, and Pykara Lake. Most lakes here also provide speedboat rides and there are adventure sports like mountain biking and hand-gliding etc.
In addition, the city houses quite a few temples situated on hilltops, and the views from the temple are no less ethereally beautiful than the temples themselves. The lofty mountains, grasslands sprawling across miles, a miniature toy train, and forest trails that abound in hues gathered from nature don't take much for a place like Ooty to win the hearts of travellers flocking here.
17. Rishikesh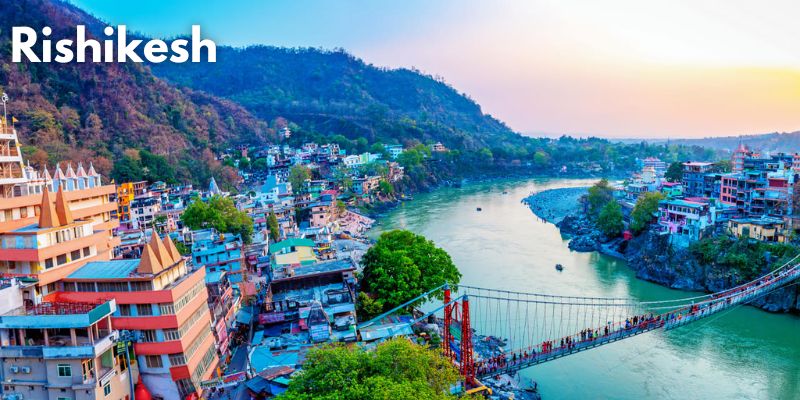 Category: Historical & Religious Site
Location: Uttarakhand
Best Time to Visit: September – June
Advisory: Not ideal during monsoon as the Ganges river swells which can be dangerous for adventure activities.
Rishikesh is a small town situated on the outskirts of the Dehradun district, and close to Haridwar in the Indian state of Uttarakhand. It is known for its adventure activities, ancient temples, popular cafes, and as the "Yoga Capital of the World" as well. Rishikesh is also a pilgrimage city and one of the most sacred places for Hindus. It lies on the banks of the Ganges river that converges with the Chandrabhaga river.
Rishikesh is and has been a hub for 'Sadhus' (saints) with numerous ashrams teaching spirituality, yoga, meditation, and Ayurveda medicine. Since it is a religious town, non-vegetarian food and alcohol are strictly prohibited here. The tranquil town has long been a spiritual center but is equally popular for activities like water rafting, bungee jumping, mountain biking, trekking, and camping along the fast-flowing Holy Ganges river.
Rishikesh is divided into two main areas – the down-town area known as Rishikesh town, which is where the popular Triveni Ghat is situated about 2 km upstream from the popular Ram Jhula (bridge), and the Lakshman Jhula (also a bridge), which is the other side of Rishikesh where most of the popular ashrams, cafes, accommodation, and flock of tourists can be found.
18. Sundarbans National Park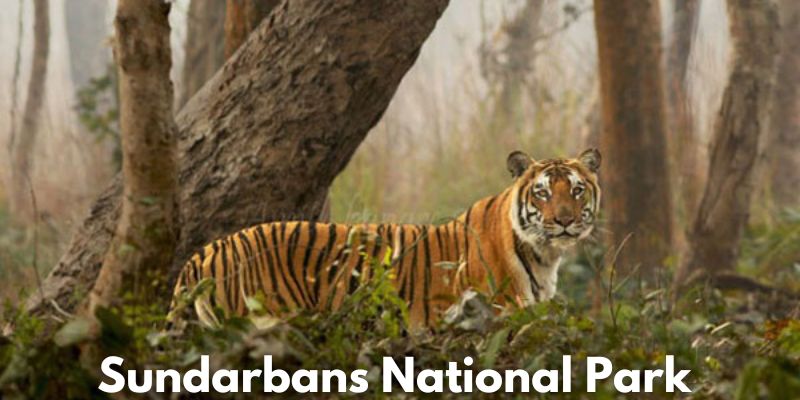 Category: National Park
Location: South 24 Parganas district, West Bengal
Best Time to Visit: October – March
Advisory: The monsoon season is not ideal for visiting Sundarbans National Park, as the area can be affected by storms and cyclones. In addition, visitors and tourists are advised to take precautions against the presence of man-eating tigers.
Sundarbans National Park is one of the most popular wildlife sanctuaries located in the Indian state of West Bengal and bordering the neighboring country of Bangladesh. It is also popular for its delta, swampy terrain, mangroves, salt water, royal Bengal tigers, and many others. The reserve was declared a national park in 1984.
The National Park is located in the South 24 Praganas area, which is about 160 km (81 miles) away from the capital Calcutta.
The entire region surrounding Sundarbans National Park is a natural habitat for a variety of animal species, migratory birds and flora. Most endangered wildlife species are protected in the reserve. Tourists can go on a boat safari to explore the national park and observe its wildlife.
19. Taj Mahal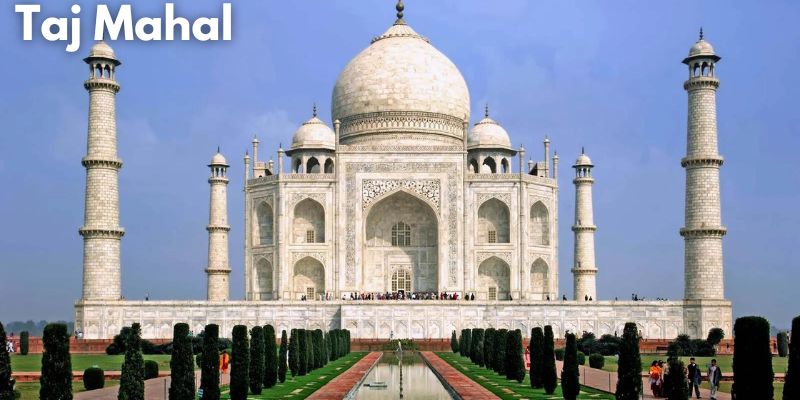 Category: Historical Site
Location: Agra, Uttar Pradesh
Best Time to Visit: All year round
Advisory: Closed on Fridays. Every Friday Taj Mahal is only accessible to practicing Muslims to attend the prayers in the afternoon.
The Taj Mahal is one of the eight wonders of the world – an iconic monument, and its four minarets were built of white marble by the Mughal Emperor Shah Jahan between 1631 and 1648 in memory of his dearest wife Mumtaz Mahal.It is said that Shah Jahan's wife Mumtaz was buried under the mausoleum inside the Taj Mahal. There is also the tomb of Shah Jahan himself.
It is currently a UNESCO World Heritage Site located on the banks of the Yamuna River in Agra, Uttar Pradesh. There are water channels and fountains at the entrance, which makes the monument even more impressive. The reflection of this magnificent spectacle in the Yamuna is almost poetic in its perfection. The Taj Mahal is the most gorgeous monument in the world. Every year, visitors who outnumber the entire population of Agra passes through the magnificent gates to catch a glimpse of this breathtaking monument.
The Taj Mahal can be entered through three doors. Tourist groups enter through the east and west gates, and independent travelers enter through the south gate. The east gate has the shortest queues. All three gates have separate queues for men and women.
20. Talasari Beach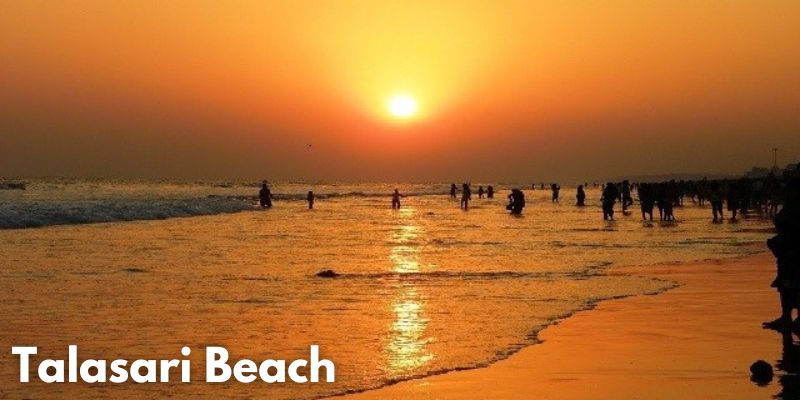 Category: Beach
Location: Odisha
Best Time to Visit: October – February
Talasari Beach is located in the Baleswar district, just 10 km from Digha in the state of Odisha. The beach is untouched and serene, it offers a breathtaking panorama. Talasari gets its name from Tala (rhythm) and Sari (row) – the rhythm formed by a well-arrayed lush green belt and golden sands with an occasional red fleck (because of the red crabs ambling around) meeting the enormous sea, thus, making it almost melodious.
This beach has sand dunes and calmer waves among several palm trees, coconut palms, and cashew trees. It is also known to be the last beach on the eastern coast of India.
Talasari doesn't experience much tourist rush. There is a concrete structure where fishermen catch fish and sell them in the fish market near the beach where one can also find cooked chicken, crabs, and fish. Here you can just walk along the riverbed or enjoy boat rides and high tides. Apart from being a sea beach, Talasari also is a river bank of the Subornorekha river which flows to merge into the Bay of Bengal.
Wrapping Up
The tourist places to visit in India that are listed above offer magnificent sights that will leave you amazed and is worth travelling for. In fact, there are hundreds of such attractions throughout India alone. Every state within the country has one or more marvellous places which are open to tourists, both local and international visitors, almost all year round.
Whether you are living in India or are visiting for your holidays, these and several other tourist places in India will make your holiday trip worthwhile and memorable.