Top 20
Top 20 Masala Companies in India: To Enhance Flavour
The top masala (spices) companies in India produce a variety of high-quality spices that are undoubtedly rich in flavour and aroma and provide health benefits, as well. India is home to some of the best spices, such as chilli powder, garam masala, cardamom (elaichi), turmeric powder (Haldi), cinnamon (daalchini), mustard seeds (sarso daana), carom seeds (ajwain), cumin powder (jeera), black pepper (kaali mirch), red chilli pepper (laal mirch), clove (long), bay leaf (tej patta), and dried mango powder (amchoor), to name a few. These and several more spices are widely used in various regional dishes across the country.
Hot & Spicy Indian Masalas Complement Your Favourite Delicacies!
Masalas are known as spices in India and these have a long and illustrious history, particularly in Indian cuisine – both traditional and contemporary culinary. Without these spices, most foods and snacks may lack flavour and aroma. So, in order to enhance the flavour and aroma of your favourite dish, you can choose your favourite spices for that special recipe that is offered by the best masala companies in India.
There are different types of masalas (spices) that are used in Indian cuisine. Each one has a different flavour, aroma, purpose and health benefits. Most spices also provide health benefits in addition to making a delightful flavour to your favourite dish. Thus, masala such as turmeric, garlic and ginger contains anti-bacterial and immunity-boosting properties, which makes them beneficial to one's health.
Also, read these articles:
"Top 20 Namkeen Brands in India" [link to article]
"Top 20 Ice Cream Flavours in India" [link to article]
"Top 20 FMCG Companies in India" [link to article]
Here, we're going to share with you a couple of best-selling masala brands in India that have become must-have items in every household.
List of 20 Best-Selling Masala (Spices) Brands of India
The following list (sorted in alphabetical order) includes names of twenty best-selling masalas (spices) brands across India.
1. Ashok Masale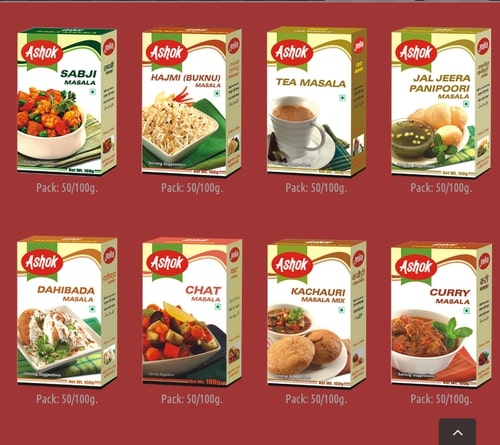 Ashok Masale is an Indian spices brand of repute that delights its customers with a wide variety of pure and high-quality spices. It has grown into a diversified group, promoting brands that are known for their superior quality and purity.
Ashok Masale is a brand owned by Ashok Griha Udyog that offers a wide range of spices produced and supplied to consumers across India. The spices produced by the company are divided into 8 categories consisting of over 69 products for all cooking needs.
One thing about the company is that it never bought its raw materials from the market. Rather, it discovered the highly selective source to collect only garden-fresh whole spices from the place of their origin that provide the real taste of pure original spices. Ashok Masale has a wide network of distributors throughout India making it possible to supply fresh masalas to homes across the country.
2. Badshah Masala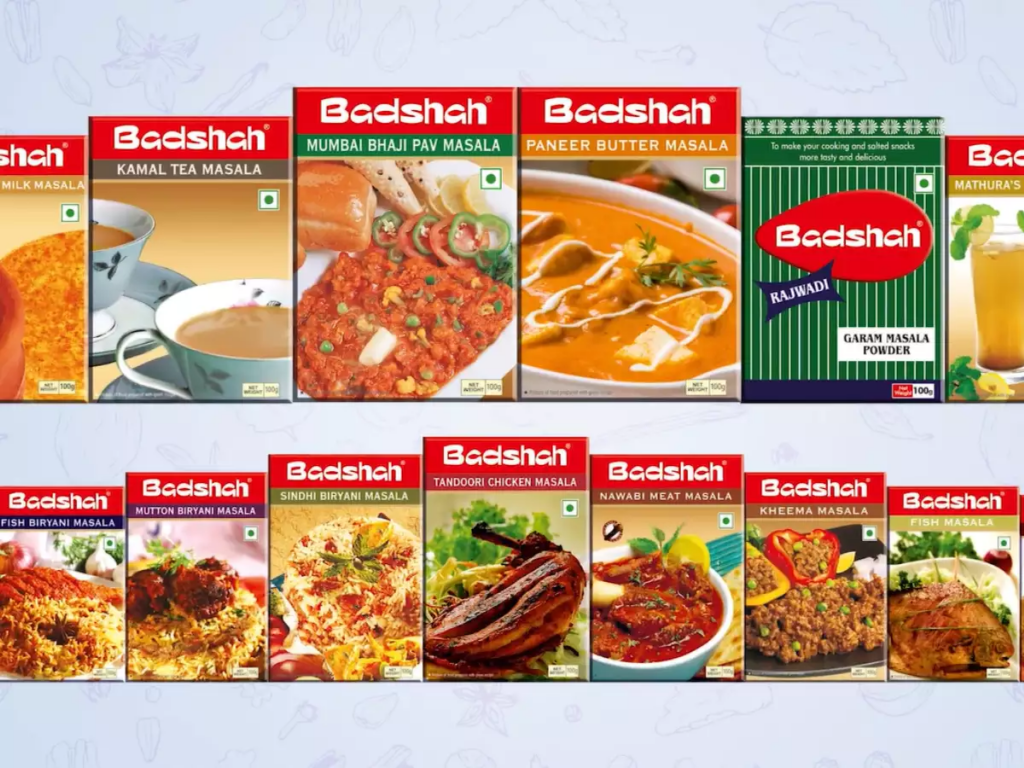 Badshah Masala is one of India's well-known spices brands that was started by Jhaveri Industries several decades ago. The company has been producing high-quality and genuine spices for a long time and has always managed to maintain its quality. Today, Jhaveri Industries has garnered international space in the global spice market.
The finest spices meticulously selected from all around India are offered by Badshah Masala. Since its founding in 1958, the masala company has been a leader in this business. It stands to be one of the most famous masala companies in India. Badshah Masala is the preferred choice of many households across India.
Its ability to bring authentic flavours of India to homes across the country and around the world makes the Badshah Masala brand an essential spic product.
3. Catch Salts & Spices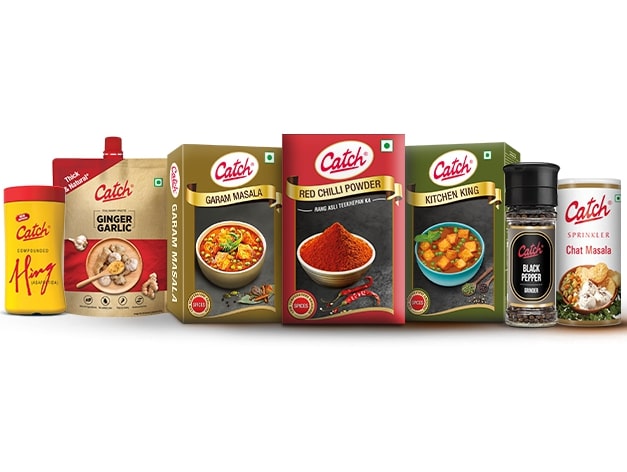 Catch brands of spices have gained huge prominence in Indian households. Its parent company, Dharampal Satyapal (DS) Group is a multi-business corporation with having presence in India and overseas. Catch spices were introduced in India in 1987 in the form of tabletop salt and pepper dispenser (sprinklers). Its uniqueness comes from the source, where the ingredients are manually chosen, sorted, and graded at an optimal low temperature.
The Catch Salts & Spices brand offers an enviable range of whole, pure, and blended spices (sprinkler/dispenser) and pastes across eight categories with more than 131 variants and 263 SKUs. These spices are rich in aroma and flavour. Catch spices adhere to the highest quality standards, which assume the best processes of production, packaging and delivery to customers.
The company has progressively grown to become one of India's top masala brands. It offers a wide range of spices products in the market. Additionally, it places a strong emphasis on quality, doesn't skimp on taste, and complies with the highest norms of quality.
4. CookMe Masala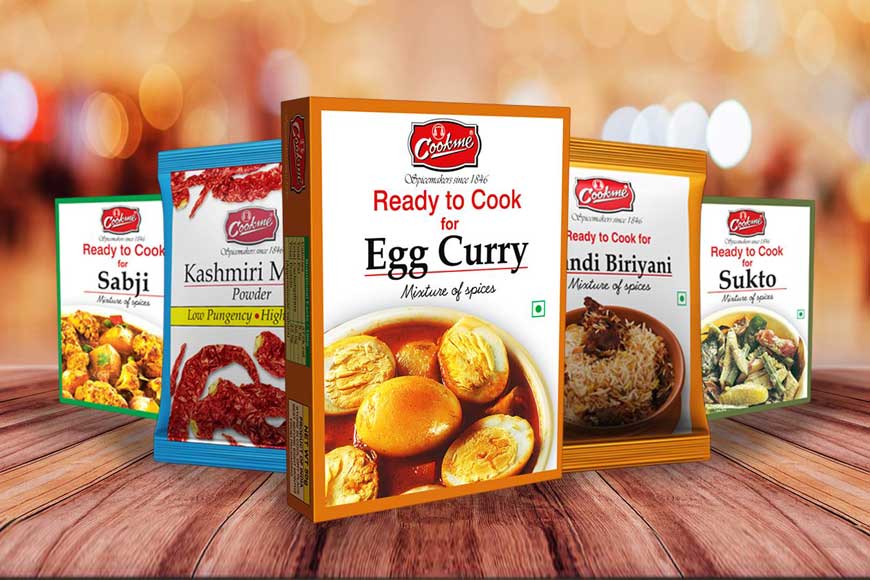 Cookme Masala is a leading spice brand from Cookme (Spice) Pvt Ltd company based in Kolkata, India. Its spices provide a rich aroma, colour, taste and texture to the dish. Cookme spices are well-known for Ready to Cook Spices, Blended Spices and Whole Spices.
Cookme brand's Curry Powder revolutionised Bengali cooking when the product was made available for Bengali kitchens. Cookme also launched its Curry Paste which made cooking dishes more enjoyable for everyone. With the introduction of the Cookme brand's Ready To Cook range of spices, cooking became simple and enjoyable in many households.
The company products signify purity and quality and are packed and handled as per specifications laid down by AGMARK (Authorised by the Directorate of Marketing & Inspection), under the Ministry of Agriculture, Govt. of India.
5. Eastern Condiments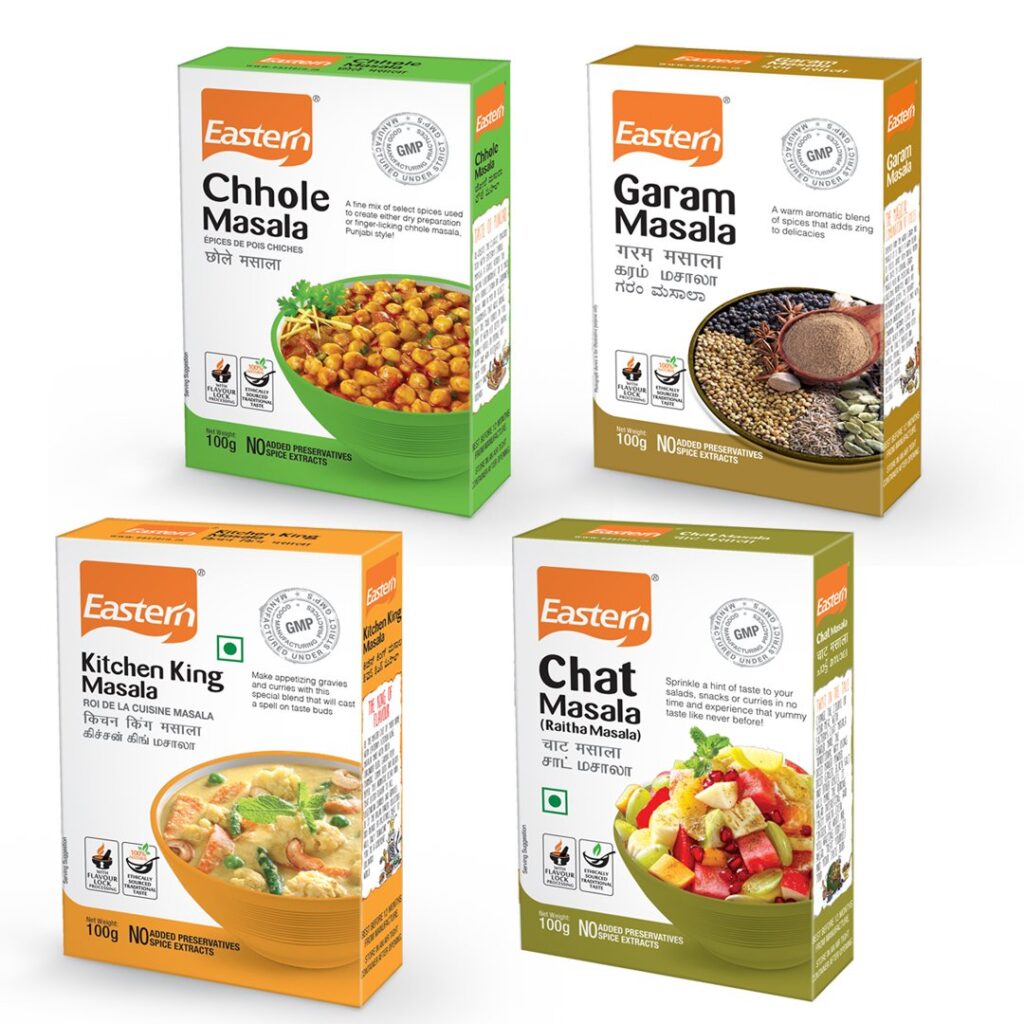 Eastern Condiments is a popular spice brand from Eastern Condiments Pvt Ltd, a company owned by the Eastern Group. It produces, manufacturers, supplies and exports condiments like spices, chilli powder, coriander powder and turmeric powder etc. The company's range of 'Blended Spices' gained instant popularity among the Malayali population in southern India. Also, its other spice products such as Chicken Masala, Eastern Meat Masala and Eastern Sambhar Masala marked the beginning of the company's innovative food products.
It offers a wide range of Spices & Flavours products in categories like Spice Powders, Masala Blends, Spice Mix, Pickles, Snack Up and Breakfast Treats. Its range of Masala Blends products includes Sambar Powder, Kabsa Masala, Bahraini Masala, Omani Masala, Dhaka Masala, Pani Puri Masala, Zaika Sabji Masala, Zaika Garam Masala, Tandoori Masala, etc.
The company has a huge market in the Southern part of India and is slowly gaining popularity in other parts of the country. Eastern Condiments (P) Ltd company is based in Kochi, Kerala.
6. Everest Spices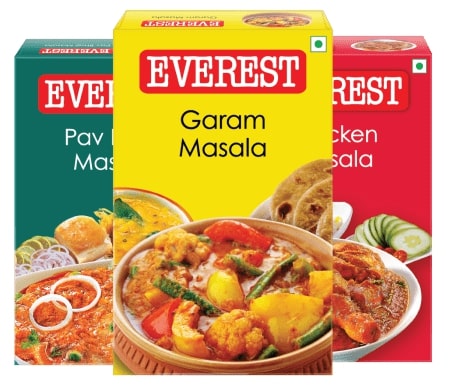 Everest Spices is another well-known spice brand that provides a large selection of ground spices and spice mixtures in India. The brand Everest Spices has more than five decades of expertise, and every masala pack is held to the highest standards of authenticity, purity, and freshness. This Indian masala brand is a product of Everest Food Products Pvt Ltd company.
Its spices manufacturing business makes no sacrifices to keep up with authentic flavours and aromas. All of Everest's spices deliver pure flavour and aroma. The company is well known not only in India but all over the world.
The purity of Masalas Everest is supported by research, inventions and technology. It has continued to produce aromatic masalas and has earned several prestigious awards.
7. Golden Masala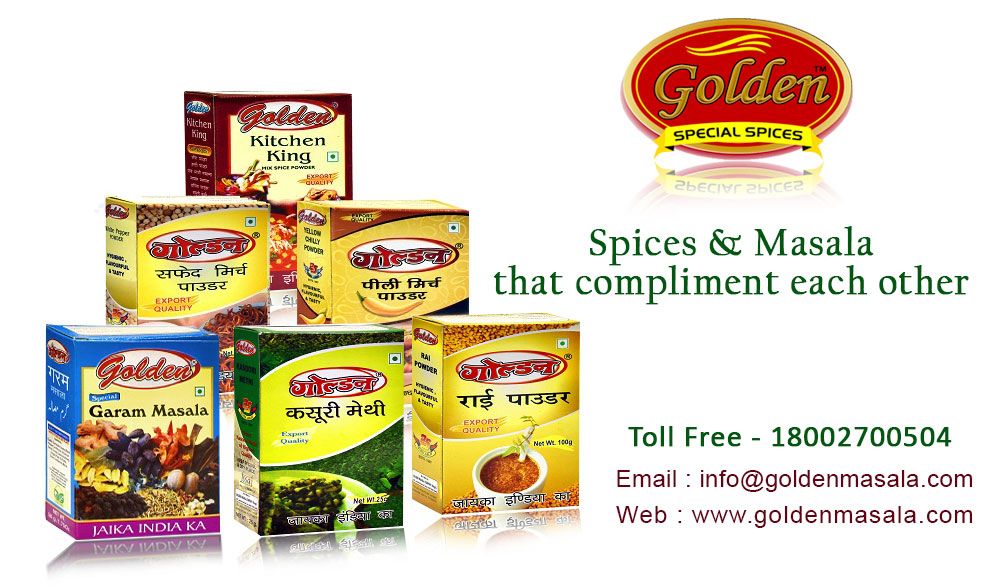 Golden Masala is a world leader in Indian cuisine. It offers the best quality spices for a low price and with the tagline 'Quality & Purity'. Golden Masala has made history in the world of spices and is favourable amongst housewives in every household in India for its excellent taste and quality.
Golden Masala offers a wide range of spice products with various kinds of Masala having deep essence of taste, flavour, and aroma. The products are available in different categories, such as Basic Spices, Blended Spices, Whole Spices, Premium Spices, Green Tea Stick, and Others. Their Basic Spices categories consist of spice products like Amchoor Powder, Garam Masala, Dhania Powder, Haldi Powder, Lal Mirchi Powder, etc.
Golden Masala is a very renowned spice brand in India, having a wide variety of spice products that are made for all cooking needs. The company is affiliated with the South African Association for Food Science and Technology. It also has forayed into other businesses, like catering, meat processing, marinades, and many more.
8. Goldiee Masale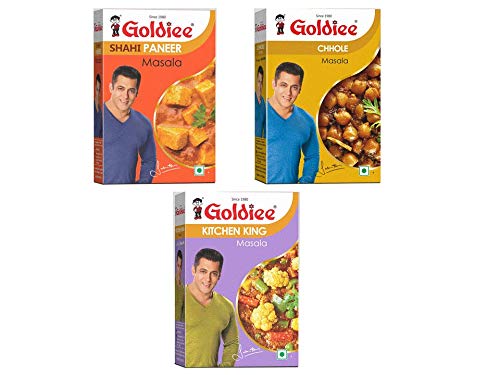 Goldiee Masale is another popular spice brand in India that is manufactured by the Goldiee Group of companies. It is one of the largest producers of quality spices and food products in India. The broad reach of the company has helped it become an original and well-known brand that takes into account the needs of its customers.
Goldiee Masale offers a wide variety of the finest spices and masala blends used for preparing rich Indian food delicacies. With a focus on fragrance and flavour, it ships the best masalas from Kanpur to every corner of India.
Known for its richness in aroma, flavour and premium quality spices, the Goldiee Masale brand has a well-built network of Spice cultivators and likewise a sturdy network of distributors which makes the spice brand amongst the best in the country.
9. Kitchen Treasures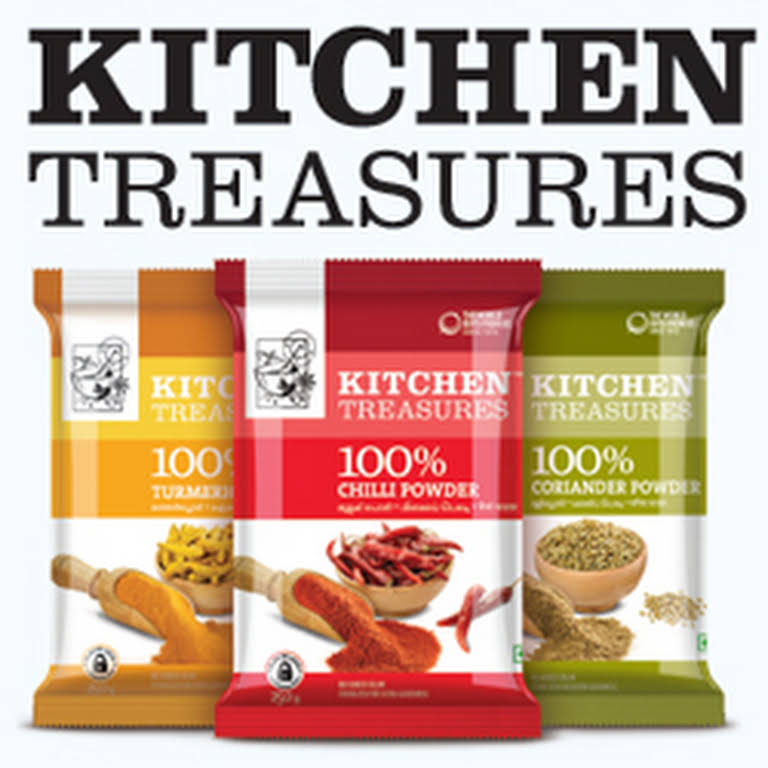 Kitchen Treasures is among the best Indian masala brands which provides high-quality, pure and authentic spices that meet all food safety standards. The company products include premium Masalas, Spices, Pastes, Pickles, Ready Cook, and more.
Kitchen Treasures masala products are available in a wide variety of spices to meet the cooking needs of consumers. A few popular masala products from Kitchen Treasures include Garam Masala, Sambar Powder, Brahmin Sambar, Vegetable Masala, Pickle Powder, Chutney Powder, Rasam Powder, Biryani Masala, Egg Masala, Fish Masala, Chicken Masala, Mutton Masala, Meat Masala, and many more. The products are packed in compact and hygienic packaging, which guarantees their freshness and homely taste.
Each product produced by Kitchen Treasures is based on knowledge accumulated over forty years. It's a legacy that has been recognised by the Spices Board of India and continues each year.
10. MDH Masala

MDH (stands for Mahashian Di Hatti) Masala brand is a product of MDH Pvt Ltd. The company started as a small business in Sialkot in 1919. Eventually, it rose to become one of the best masala companies in India. The company initially started manufacturing a variety of spices by hand, and as the products' popularity grew, it transitioned to using mechanical machinery to efficiently carry out the production of spices.
The company adheres to the finest production standards and carefully selects its raw materials. It obtains raw ingredients directly from the distribution centres for produce to maintain uniform flavour, quality, and purity in its wide range of spice products.
MDH Masala is the hallmark of exquisite dishes and excellent taste all over India. Its spices have grown to be defined by flavour and aroma. Today, consumers not only in India but all across the world use spices in their foods from the MDH brand. MDH also has one of the best biryani masalas in India.
11. MTR Masala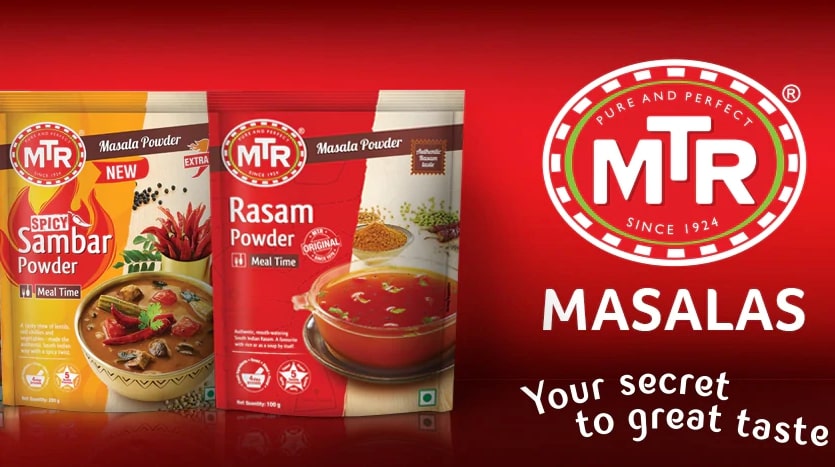 MTR is a popular spice brand in India that has been in the business for many years. The Bengaluru-based company MTR Foods produces not only spices but a range of other products such as masala powders, pickles, breakfast mixes, meal mixes, sweets, snacks, beverages, ready-to-eat meals, etc. It is one of India's oldest operating spice companies that brings quality and authenticity to traditional as well as contemporary cuisine.
While all the items on the MTR menu come with the strong promise of great authentic taste, the products are divided into the categories of Daily Favourites and Tasty Delights. The Daily Favourites are the more everyday basic food, while the Tasty Delights are a little more celebratory and comprise dishes that act as mood enhancers around the meal table
MTR Foods has consolidated its market leadership in pan India. The company proudly touts its Indian heritage and commitment to using only the best ingredients. It also has policies relating to health and safety that are highly valued by the company.
12. Mother's Recipe Masala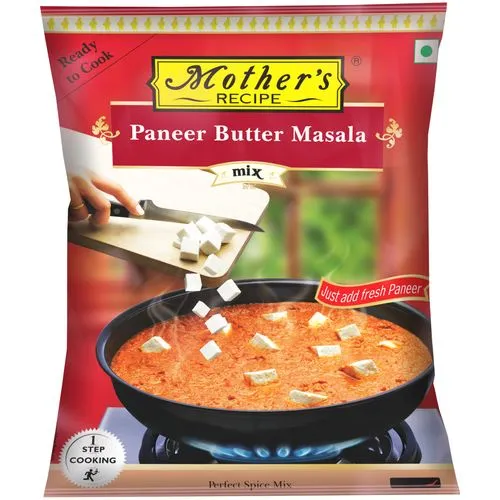 Mother's Recipe is one of India's oldest spice brands. Its manufacturing company is Desai Foods Pvt Ltd. The company also owns consumer brands such as Elmac, Spread On and Dabee. Mother's recipe is one of the biggest brands of quality spices in India having a wide network of distributors across the country.
The Mother's Recipe brand has been the favourite pickle brand in many homes all across India for having unique taste and its availability in a variety of flavours. The Mother's Recipe product range consists of Indian Pickles, Spices, Chutneys, Papadams, Cooking Pastes, Curry Powders, Ready Cook products, Indian Meals, Ready to Eat products (Canned & Retort packing), Chutneys, Canned Vegetables, Mango Pulp, and more.
The company manufacturing facilities have an in-house laboratory equipped with the latest equipment, to ensure that the quality of the products adheres to high standards. Desai Foods also have a 'Gherkin' (a local term for pickled cucumber) as well as pickled vegetables division with a processing facility in Karnataka from where the pickle is exported to over 12 countries around the world.
13. Organic Tattva Masala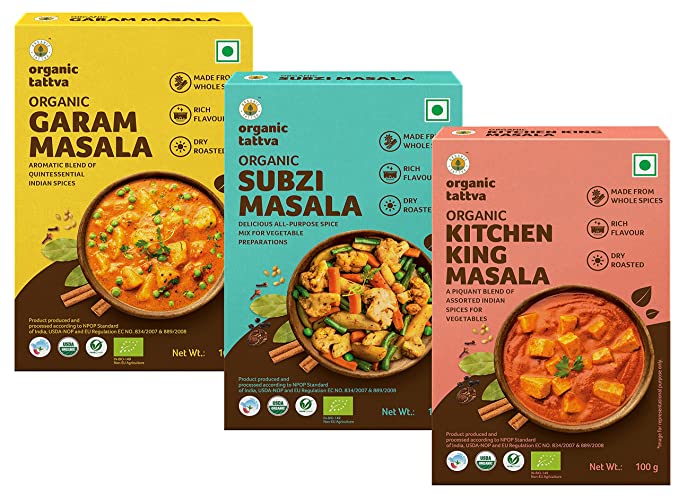 India's Mehrotra Impex (India), the parent organisation of Organic Tattva, has been producing and exporting handicrafts, furniture, and other consumer products since 1969. The company also entered the organic food industry and quickly became one of the best-selling masala brands in the country.
Organic Tattva is a leading brand of organic food in India. It ventured into the Organic Foods business and established its own domestic brand, Organic Tattva. The brand makes everyday grocery items for Indian household and are one of the leaders in the organic food industry. It is solely dedicated to providing the highest quality products, right from farms to factories and all the way to homes.
The manufacturing company, Mehrotra Impex (India) has come a long way since its inception in delivering international quality products to markets across Europe, Africa, Asia and The Americas. The company also believes in making consumers aware of the benefits of organic food by giving them healthy choices of eating.
14. Priya Masala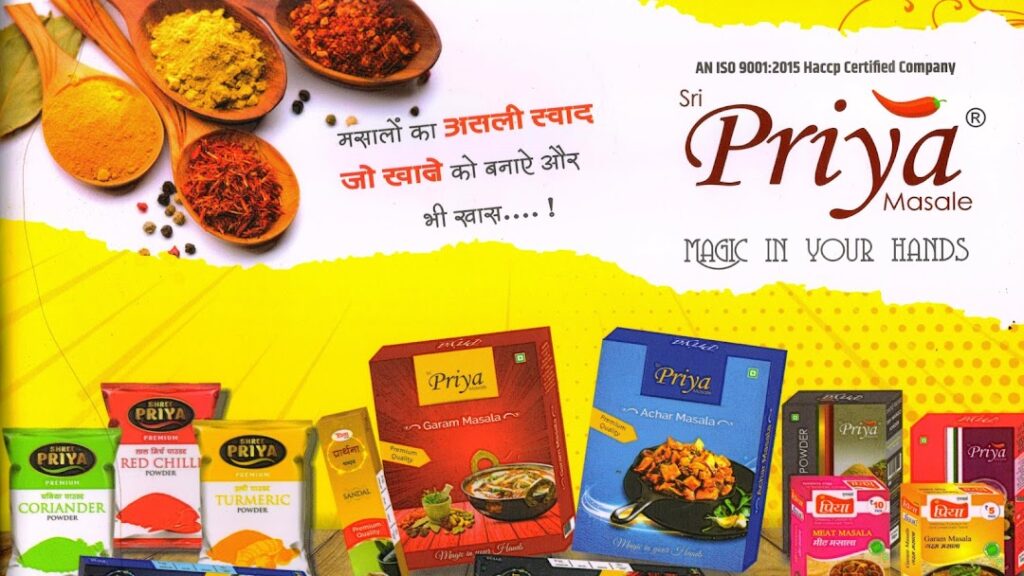 Priya Masalas is one of the best-selling spice brands manufactured and marketed in India by Priya Foods company. Its spices and various food products have their roots in traditions that are primarily followed in Southern India. It follows a tradition of wholesome food prepared with the minimally processed ingredients possible.
The company has a diverse range of products. It offers a wide range of Pickles, Spice Powders, Culinary Pastes, Masalas, Masala Pastes, Instant Mixes, Ready to Eat Foods, Ready Cook Foods, Roti Pachadi, and more.
The company business has been carrying on and bringing traditional flavours to the kitchen. The company's cutting-edge manufacturing facility has ISO, HACCP, and HALAL certifications. Additionally, the USFDA has successfully audited the company's manufacturing, too.
15. Pushp Brand Spices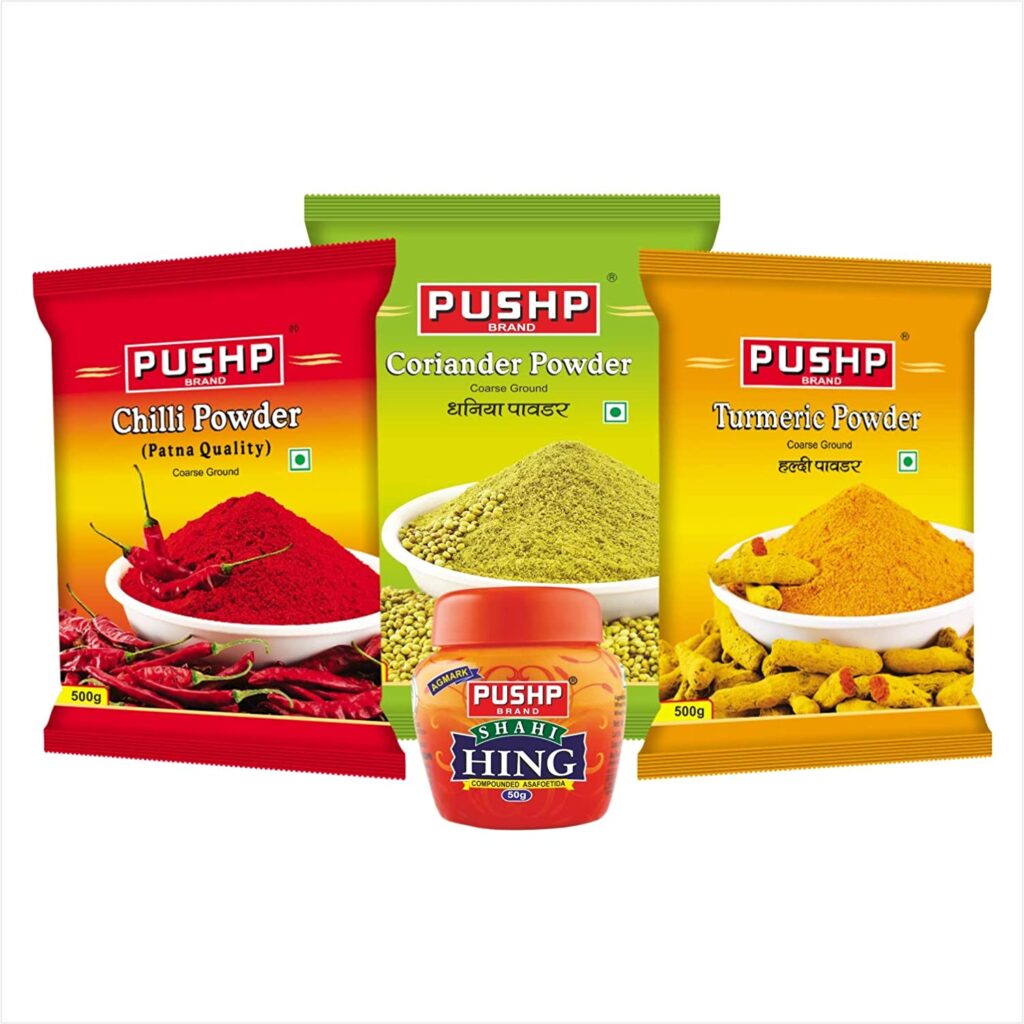 Another masala company name that has come to be associated with the promise of delicate taste and flavourful spices is Pushp Masala. The company has expanded and solidified its position as one of the best masala companies in India. It also owns another spice product brand 'Munimji'.
Pushp brand of spices is synonymous with flavour and quality and offers a mix of traditional Indian flavours with benefits to health. Pushp's masala products are available without the presence of artificial colours and preservatives.
The company takes special care in selecting raw ingredients for all of its products. The products are free from preservatives and synthetic colours. Also, the storage and selection techniques for the raw materials are in accordance with the latest technologies and machinery. The company's production facilities are huge and its production facilities are extensive.
16. Rajesh Spices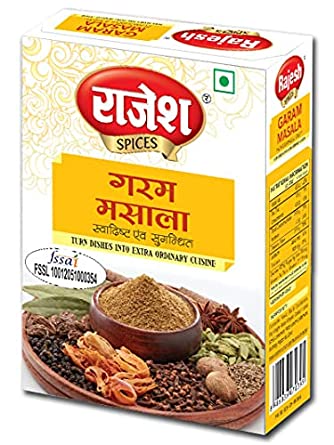 Rajesh Masala is a prominent masala manufacturing company in India that provides top-notch spices and masalas for various dishes. This spice brand is a popular household name in the state of Uttar Pradesh because of its flavours.
Rajesh Masala company is the manufactures and supplier of a wide range of Indian mixed spices. The spice brand has become a symbolic name in the region and a leading manufacturer of different kinds of spices in India, like 'Paneer Masala', 'Garam Masala' and 'Sabji Masala', 'Meat Masala', to name a few.
The company places a high value on the usage of premium ingredients and client confidence. It uses advanced automatic technology and a hygienic work environment, which help the company produce fresh spices packages for its customers. The company also regularly polls the market and examines the results in order to better understand consumer preferences and demands.
17. Ramdev Masala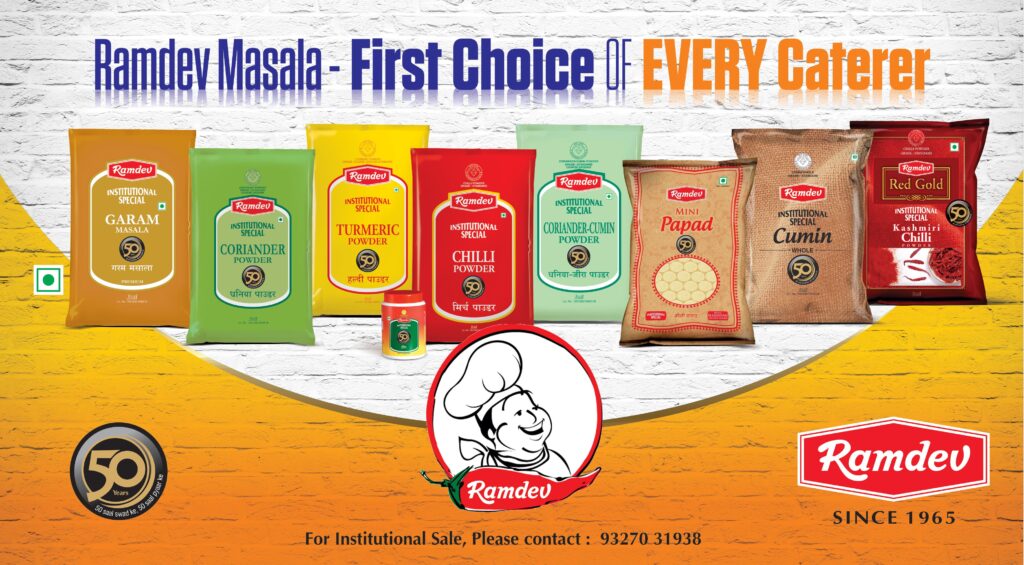 Ramdev Masala is a popular spice brand of Ramdev Foods, a manufacturer, processor, and exporter of a variety of Indian Spices. The business was initially founded in Ahmedabad in 1965 under the name Ramdev. In 1989, consumer packets of masala in handy pouches were introduced in response to rising demand from consumers.
The brand Ramdev has been a pioneer in many food product offerings ranging from basic masala to instant mixes. The brand has diversified its portfolio in many food products, particularly in the segment of snack foods like wafers, namkeens, and fryums in a range of flavours.
The foods that are developed by Ramdev Foods company are very popular in India. It aims to spice up people's lives by offering high-quality masalas in handy pouches and at reasonable prices. The business strives to provide its customers with only high-quality items and has ISO certification and an FSSAI licence.
18. Suhana Masala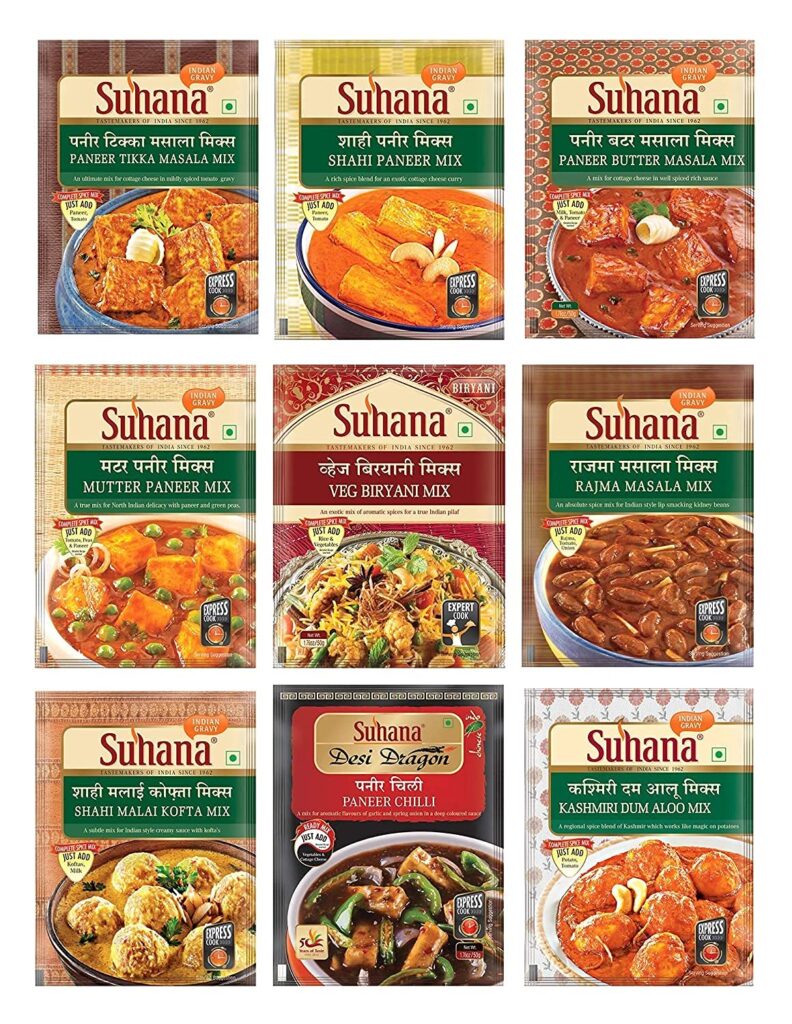 Suhana Masala is among the popular spices brands in India. It is a pioneer in bringing exotic blends of spices and masalas to the global market. The company has a refined history and aspires to delight its clients not just in India but also internationally.
Suhana's founders launched the production of a small line of homemade spices that were made from fresh raw materials from the market and the customers just loved the recipes and the quality of the masalas. Later, the product range was expanded considerably, including extending the line to pickles, ready-to-eat foods, papads etc.
Today, Suhana has 5 state-of-the-art manufacturing facilities set up across India. All of its manufacturing facilities adhere to Good Manufacturing Practice (GMP) standards and are HACCP/ISO Compliant.
19. Tata Sampann Masala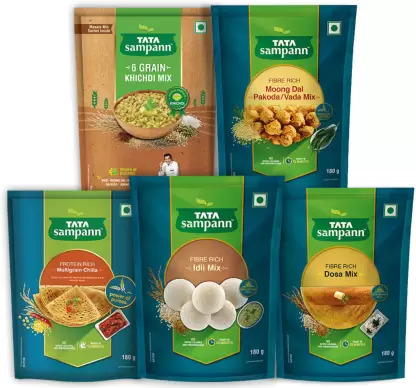 Tata Sampann is a popular masala brand from the house of Tata, one of India's well-known conglomerates. Its spices brand adheres to the age-old traditional knowledge and practice of Indian cuisine, but in a contemporary manner in lieu of people's taste. The company puts great effort in order to encourage healthy cuisine that is prepared using wholesome foods and spices etc. and is, therefore, beneficial for living a balanced life.
Folks in India are very much familiar with the masala brand Tata Sampann, which has now become a staple food item in many homes throughout the country. Through daily innovation and expansion, the company strives to improve the lives of people by providing the best spices used in cooking delicious meals, even snacks.
Tata Sampann, when producing masalas, aims to use the most authentic and top-notch quality ingredients including natural oils and processes them in a way that preserves the flavour and aroma of the spices. The company's approach towards manufacturing and processing masalas and fulfilling customer needs is another great feature.
20. ZOFF Spices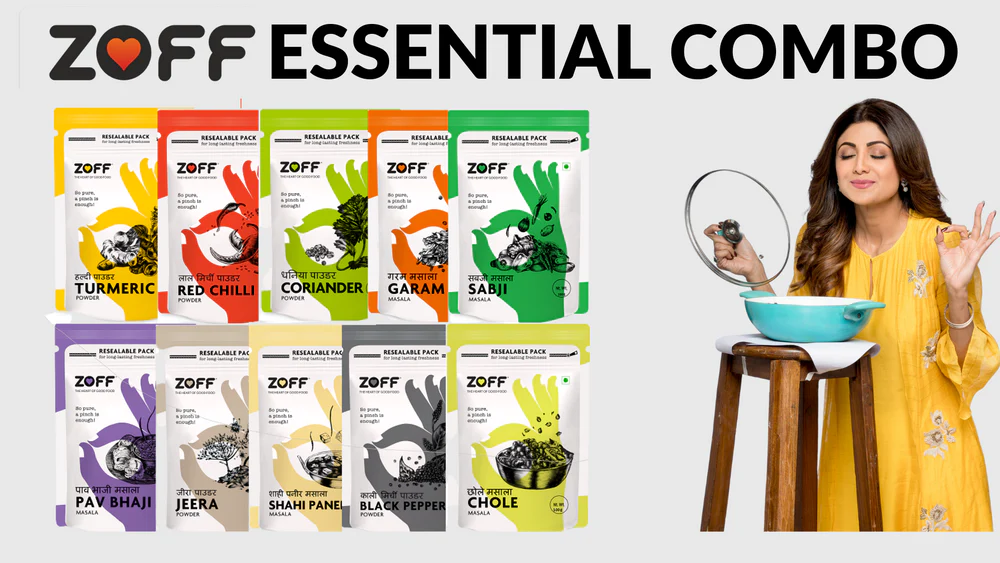 Another famous spice brand in India that makes genuine masalas is ZOFF Spices. ZOFF here stands for Zone of Fresh Foods. The company boasts the finest assortment of carefully crafted organic and authentic spices. It also claims its range of spices does not contain artificial flavours or colours, or harmful preservatives.
The spice products manufactured by ZOFF come in ziplock packing so these can be kept fresh for longer. The company also ensures that the masalas are packaged and supplied in the best way possible. ZOFF is the first masala brand in India to use air-classifying mills to preserve the complete flavour and aroma of the spices.
The company's main goal is to make organic spices without the use of artificial substances. The brand also uses top-tier German and Japanese technologies to ensure high-quality products. ZOFF's true goal is to provide customers with pure, natural and fresh spices comparable to those prepared at home.
Wrapping Up
Masalas (spices) are essential kitchen items in India and are used extensively in all kinds of dishes, snacks and hot or cold beverages. So, if you haven't tried some of these Indian spices in your favourite recipes, these popular masala brands will definitely spice up your appetite!