Top 20
Retrofitted Emission Control Device Manufacturing Companies In India (RECD for DG Set)
For those that are looking to buy emission control device for DG Set from one of India's top Retrofitted Emission Control Manufacturing Companies, we have curated a list of the best companies here.
In a country like ours, where power outages are quite normal, a diesel generator is widely used for backup power. To reduce harmful emissions and pollutants, an upgraded retrofitted emission control device is installed in the generator. The concept of installing a retrofit device provides an additional advantage in reducing emissions of HydroCarbon (HC) and Carbon Monoxide from diesel generators (CO). One of the commonly used retrofitted technologies is to place the equipment in the exhaust system of the diesel engine. Diesel generators produce higher levels of pollution than other forms of energy. This increase in density reaches a maximum level of 300 micrograms per cubic metre.
According to the CPCB standards, the retrofitted emission control device for the dg kit should have an efficiency of reducing the particulate matter (PM) by 70%. If there is no efficient emission control system, DG devices are also the main cause of harmful gas emissions such as PM, CO, CH4, and NOx. In India, there are various best-retrofitted emission control manufacturing companies that supply and manufacture this device in order to reduce emissions from diesel generators for public health and environmental safety.
List of Best Retrofitted Emission Control Manufacturing Companies of India
The following is a list of India-based companies that manufacture and also distribute Retrofitted Emission Control Devices (RECD for DG Set) all over the country.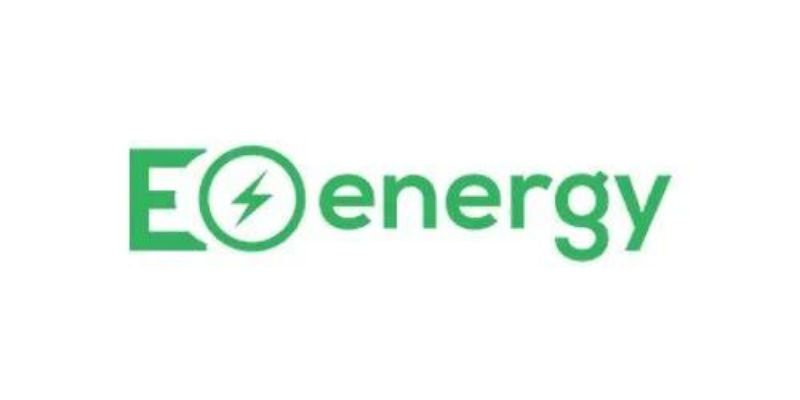 EO Energy was founded in the year of 2019, and its head office is located in Noida, Uttar Pradesh. They have other branches also in Jaipur and Dehradun respectively. They are one of the trusted and leading manufacturers of Retrofitted Emission Control Devices/Systems and Dual-Fuel Solutions (For DG/Generator sets) in India. The technology that they use allows them to capture more than 90% of particulate matter emission from the exhaust gases of diesel generators without having any negative impact on the diesel engine.
After the implementation of RECD and Dual Fuel System, DG Set will not only comply with the stack emission parameters as per CPCB-IV but also enable the 'Zero-Emission' objective to be 2050-ready as per Hon'ble NGT. , MoEF&CC, CPCB, and CAQM.
EO Energy Pvt. Ltd. manufactures and offers a wide range of products with high-quality materials which include RECD, Dual Fuel Kits, Generators, Portable Genset, Air Compress and etc.

Pinglaksh Corporation is an industrial solutions company based in Neemrana, Alwar, Rajasthan. The company is committed to providing a range of products and services to meet the needs of various industries. With an innovative approach and continuous efforts, Pinglaksh Corporation aims to deliver comprehensive engineering solutions They offer a range of products and services, including the manufacture of Retrofitted Emission Control Devices (RECD).
Pinglaksh Corp's RECDs are specifically designed to reduce harmful emissions from a wide range of industrial sources, including power plants, manufacturing facilities, and transportation vehicles. These devices are meticulously engineered to ensure optimum performance, increased efficiency, and compliance with stringent emission regulations. By retrofitting existing equipment with their RECDs, Pinglaksh Corp offers a cost-effective and sustainable solution for businesses seeking to reduce their carbon footprint.

Dekonix India is a renowned company operating in India that specializes in providing 100% genuine retrofit emission control devices(RECD) approved by the Central Pollution Control Board (CPCB) and the National Green Tribunal (NGT). With a strong reputation in the market, Dekonix India has positioned itself as a reliable and trusted firm in the emission control industry. The company's head office is located in Greater Kailash, New Delhi.
With a dedicated team of highly qualified and skilled engineers, their mission is to create an environment that is not just clean, but the absolute best place for human beings. They have successfully created a retrofit emission control device for diesel generators that has the ability to capture approximately 90% of particulate matter emissions from the exhaust of diesel generators.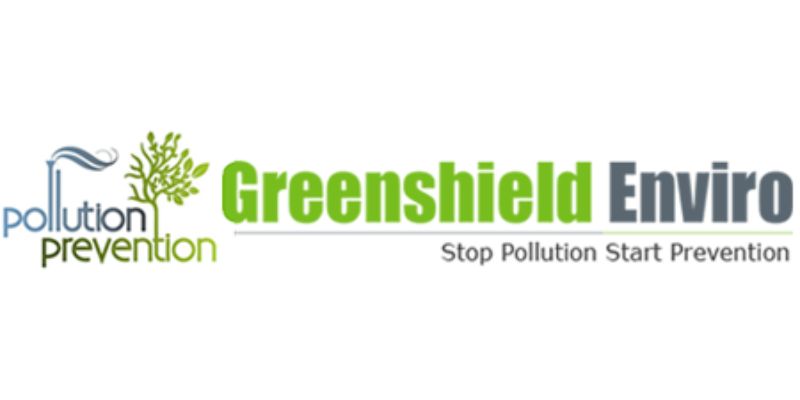 GreenShield Enviro, the company was established in the year 2011 and its headquarter is located in Pitampura, Delhi. They are the top producer, trader, and service provider of water treatment plant construction services, organic compost machines, and machines for composting food waste. The company manufactures Retrofit, a device used to control emissions from diesel engines and Diesel Generator Emission Particulate Purification Device also known as Retrofit Emission Control Device (RECD). The annual turnover of GreenShield Enviro is approx. Rs, 1-2 Cr.
For the last 16 years, GreenShield Enviro has been working to prevent air, water, and noise pollution, as well as the conservation of natural resources. The other products that the company offers are Organic Waste Converter, Effluent Treatment Plants (ETP), Sewage Treatment Plants (STP), Air Purifiers, etc.
5. Chakr Innovation Private Limited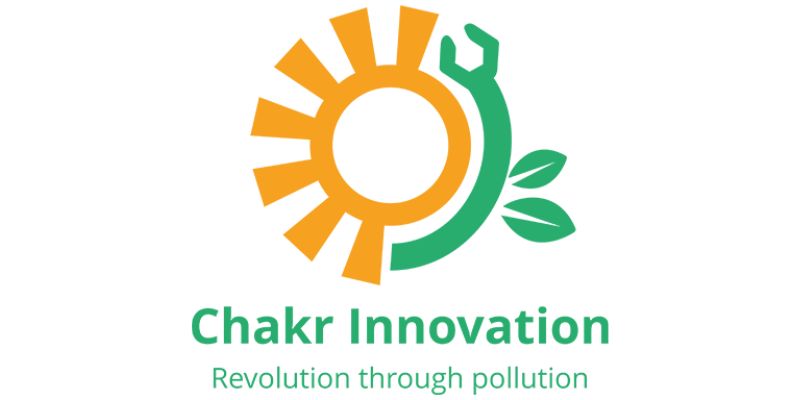 Chakr Innovation Private Limited, the company was founded in the year of 2016 and its headquarters of the company is located in Gurugram, Haryana. They are the manufacturer and wholesaler of 750KVA, 1000KVA, and 125KVA Retrofit Emission Control Devices. The company's annual turnover is approx. Rs. 10-25 Crore. Chakr Innovation Pvt. Ltd. team are graduates from IIT Delhi, who develop the world's first technology to capture Particulate Matter Emissions in Stationary Diesel Generators.
The International Centre for Automotive Technology (ICAT), one of India's five national labs certified by the Central Pollution Control Board (CPCB) and the Ministry of Environment, Forest, and Climate Change, has thoroughly tested the technology that the company uses. More than 200 such devices have been successfully operating over the past 3.5 years. Chakr Innovation is also working with leading companies such as HPCL, India Oil Corporation, Mahindra World City, Tata Group, ICICI Bank, and Titan.
Chakr Innovation are very committed to satisfying the customer's requirements and providing defect-free components to their valued customers. They are also ready to satisfy the service, quality, and delivery according to customer's requirements and needs.
6. Cummins India Limited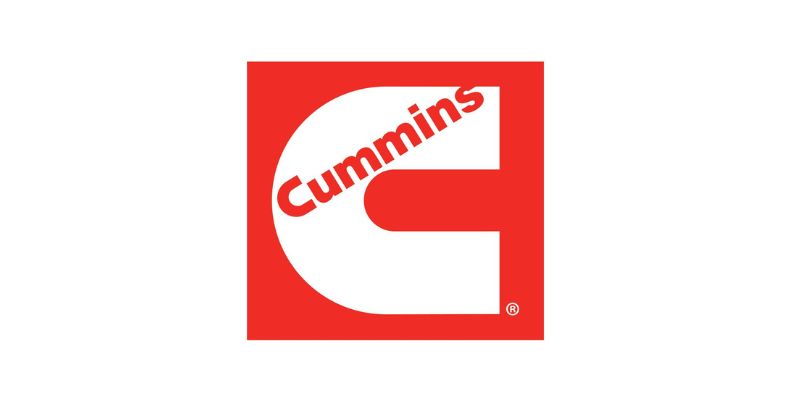 Cummins India Limited, the company was formed in 1962 in India. The headquarter of the company is in Pune, India. They are the country's leading company that designs, manufactures, and natural gas engines. They have launched an innovative solution for air purification that is Retrofit Emission Control Device(RECD) in cooperation with Pi Green Innovation Pvt. Ltd. for Cummins Genset Users. They have a wide network of 18 dealerships with 480+ service points which provide products and services across the country.
Cummins India, technologies and innovative initiatives provide users across the country with innovative solutions and reliable services at the highest possible price. The company is a group of seven legal entities in 200 locations all over the country with a combined turnover of 17,000 crores in 2021 and a staff of more than 10,000 people.
7. Lanvsgreek India Private Limited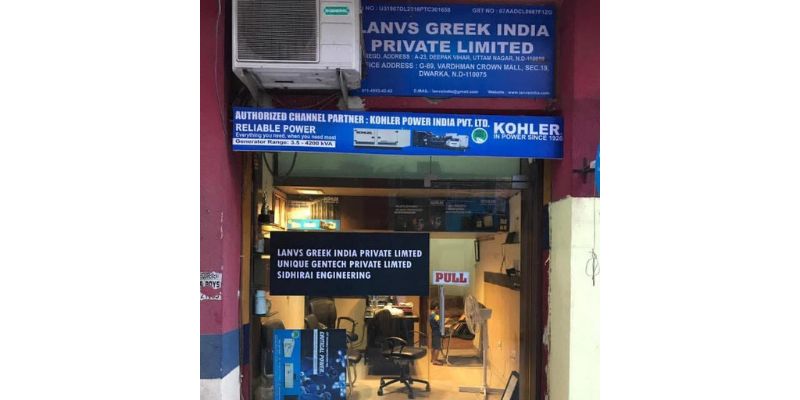 Lanvsgreek India Private Limited was established in the year 2016 and its headquarter is in New Delhi. They offer (RECD) Retrofit device for all DG Sets 100KVA to 3000KVA. The company is a distributor/channel partner- Diesel Generator Set, Power Tools, etc. Their annual turnover is approx. Rs. 2-5 crore.
Lanvs Greek India Pvt. Ltd. always strives to provide you with the highest quality products at the best prices. They are also a supplier for your GEN-SET needs ranging from light to heavy gen-set. They use high-quality raw materials while manufacturing the products to ensure higher durability and reliability.
8.  Pee Kay Silent Generators Pvt. Ltd.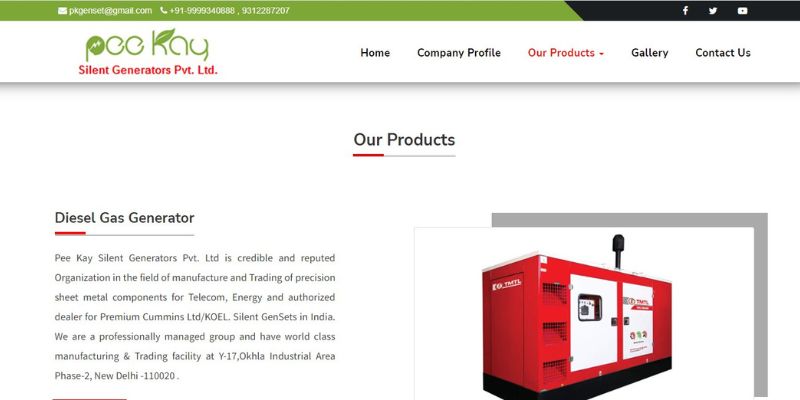 Pee Kay Silent Generators Pvt. Ltd. is New Delhi-based organization that was established in the year 1991. The products are manufactured by Pee Kay Silent Generators Pvt. Ltd. and PECMA Air Systems Pvt. Ltd., both channel partners and product marketing firms.
They are the major supplier and installer of the "Retrofit Emission Control System" to control hazardous gaseous pollutants from dg sets fuel gas exhaust from DG set. The delivery time of the products is 6-8 weeks and the production capacity is 4-5 at a given time. Following the guidelines issued by
NGT
CPCB and
EPCA (Environment Pollution & Control).
The company is also authorized channel pathers for Cummins/ Perkins/ Greaves/ Baudouin/ Volvo/ TATA to make Diesel Generators from 7.5KVA to 3000KVA, Gas Gensets by Ashok Leyland PNG-Gas Generators / Scania Gas / Weichai Gas, They also provide Diesel Generator Sets On-hire/Rental. They also offer facilities like AMCs and acoustic treatment for D.G/ Equipment/ Machine rooms to meet local regulations and laws. They provide single-window solutions for all-in-one Solar PV.
 9. M/S Romania Water Project Enterprises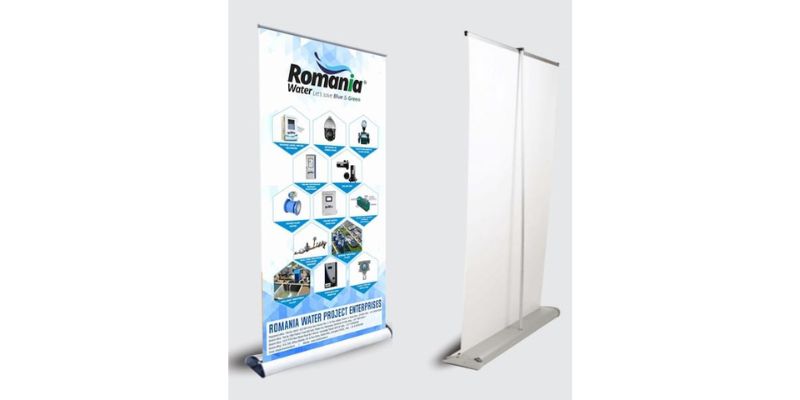 M/S Romania Water Project Enterprises was founded in the year of 2021 in Gautam Budh Nagar, Uttar Pradesh. They are manufacturers and traders of retrofit emission control systems such as Dg equipment, liquid flow meters, and solid flow meters. The annual turnover is approx Rs. 50 Lac – 1 Cr.
The company offers products that include Water Softener, Air Quality Monitor, Flow Meters, Gas Analyzer, Bag Filter Type Dust Collector, PTZ Dome Camera, Diesel-to-CNG Conversion Kits, Retrofit Pollution Control Devices, Retrofit Emission Control Systems, Air Pollution, Monitoring Systems and many more. Under the guidance of qualified staff, the products offered are carefully created using high-quality certified components and advanced technologies.
10.Novorbis Itus Private Limited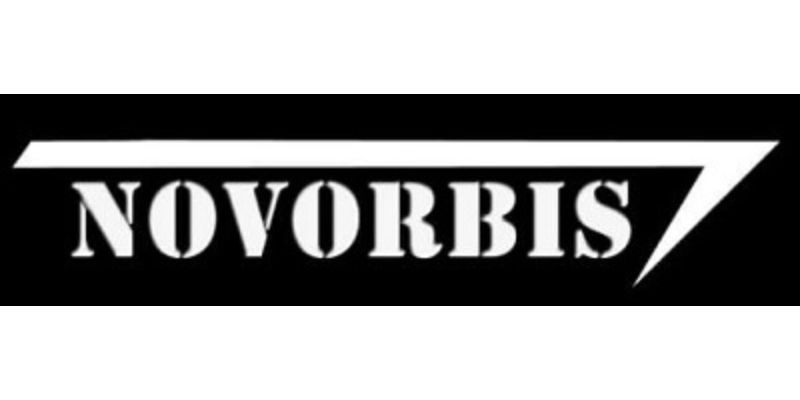 Novorbis Itus Private Limited, the firm was founded in the year of 2019 in Madhya Pradesh, India. The company is a leading manufacturer and supplier of electric filters, air pollution control equipment, and air purifiers. They also manufacture retrofit emission control devices to reduce the level of particulate matter in diesel generator exhaust by up to 75%. They have also won an award in the field of Air-purification.
They have carefully studied some of the most visible sources of pollution and developed one of the best EPSD technologies for air purification. EPSD stands for Electro-Photonic Stimulus Detoxification, which simply uses electricity and photonic energy to trap solid particles and purify harmful gaseous pollutants.
11. Deewan Enterprises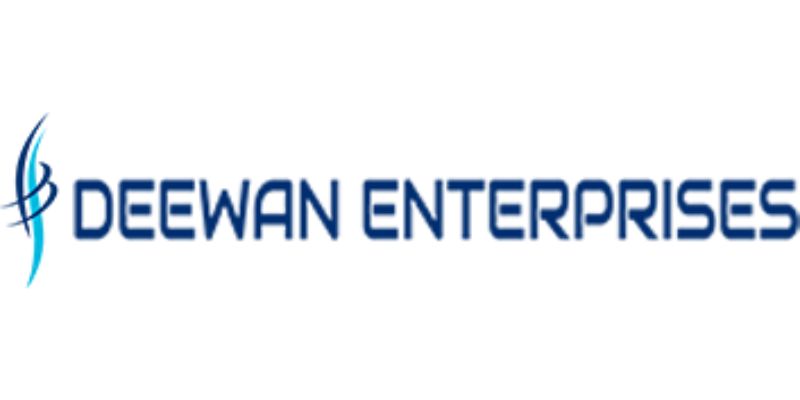 Deewan Enterprises, the company was started in the year of 2019 and is situated in Rohtak, Haryana. They are engaged in the wholesale of a wide range of batch controllers, flowmeters, online monitoring systems, and digital PH indicators. The company manufacture Retrofitted Emission Control Device For Dg and the production efficiency is up to 70-80%. They guarantee that their professionals use only high-quality materials along with cutting-edge tools and equipment.
12. Electrotech Overseas Pvt. Ltd.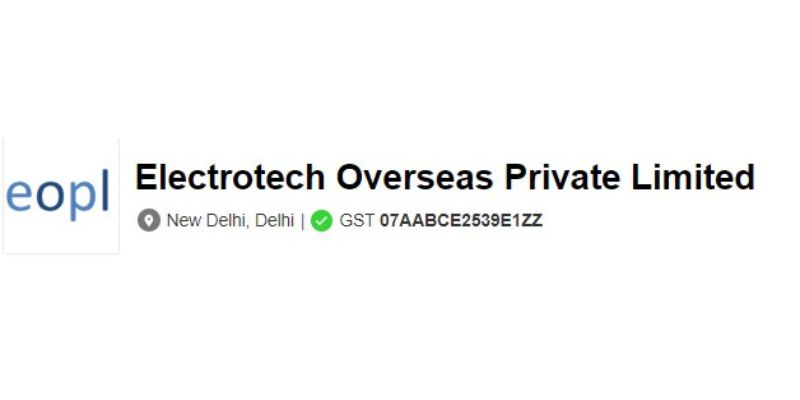 Electrotech Overseas Pvt. Ltd. was established in 2002 and is headquartered in Delhi, India. They are the distributors of 250 to 6000 LIPL Retrofitted Emission Control Devices for Dg. The turnover of EOPL is around Rs. 25-50 Cr.
According to the Hon'ble NGT order, Their DG Retrofit devices are based on "filterless technology", a revolutionary innovation that is recognized as one of the world's best technologies for reducing air pollution. The company is a part of the Ladda Group and pays special attention to infrastructure, lighting, clean air, and comfort products.
13. J.B.D.S. Power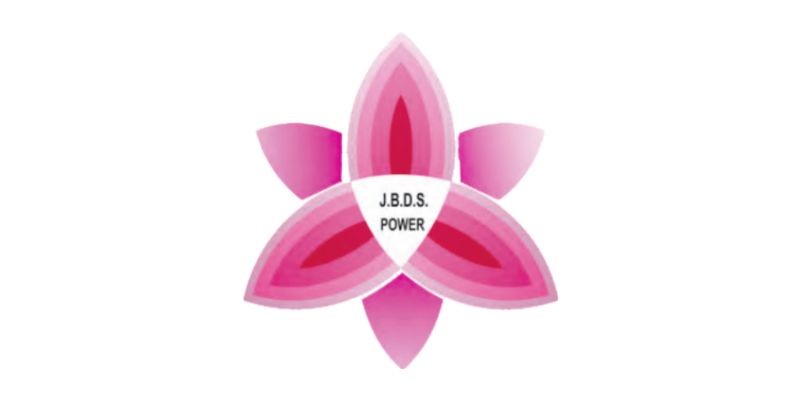 J.B.D.S. Power was established in the year of 2010 and is located in Haryana. The company provides Retrofit Emission Control Device (RECD) For Dg Se and Duel Fuel kits at the best prices. Their products are approved by ICAT and CPCB respectively. The organization provides a wide variety of products at affordable prices to its customers.
The company engages in various types of business including Manufacturing, Importing, Exporting, and Trading. J.B.D.S. Power also offers a quality range of Powder Coating Spray Booths and Manual Gun Equipment, Pulse Oximeter Tohnichi Torque Wrench, Thermometer, and many more. They import their products from Japan, Germany, Korea, Thailand, Italy, Singapore, France, and other countries.
14. Eieindia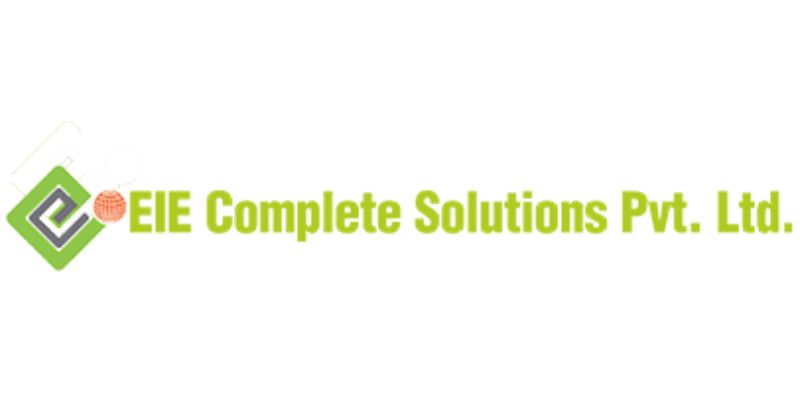 EIE Complete Solutions Co., Ltd.(EIECS) or eieindia is known for creating innovative solutions in the field of energy, environment and sustainable development to accelerate India's transition to a cleaner future. The headquarter of the organization is in Shalimar Bagh, New Delhi. At EIECS, they manufacture the RECD( Retrofitted Emission Control Device)as per the guidelines provided by the CPCB. The products they manufacture are approved and tested by ARAI.
The company produce other products also that includes Water Analyzer, BTU Meter, Conductivity Controller etc.
15.  Aastha Enviro Engineers Private Limited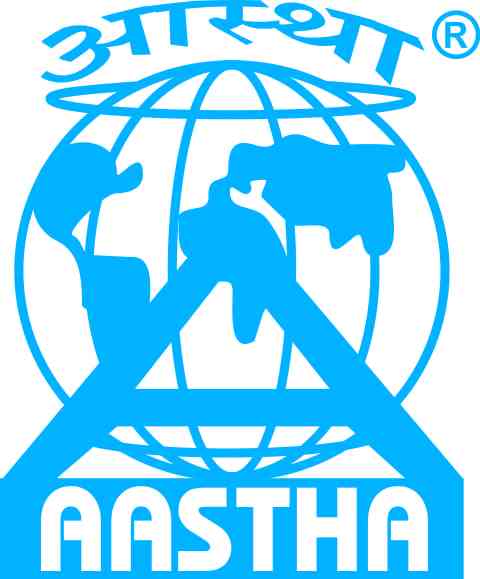 Aastha Enviro Engineers Private Limited was established in 2011 as a proprietorship and started its commercial operation in the same year. The company's factory location is in Faridabad and the main office is in Mayur Vihar, Delhi. Sewage treatment plants, effluent treatment plants, water treatment plants, chemical cleaning, and accessories are the areas of expertise of Aastha Enviro Engineers.
Aastha Enviro is made up of young, dynamic specialists who work on the manufacturing, delivery, installation and commissioning of the following equipment.
HVAC
Air Pollution Control Equipment
FRP Storage Tanks
16. Platino Automotive Pvt. Ltd.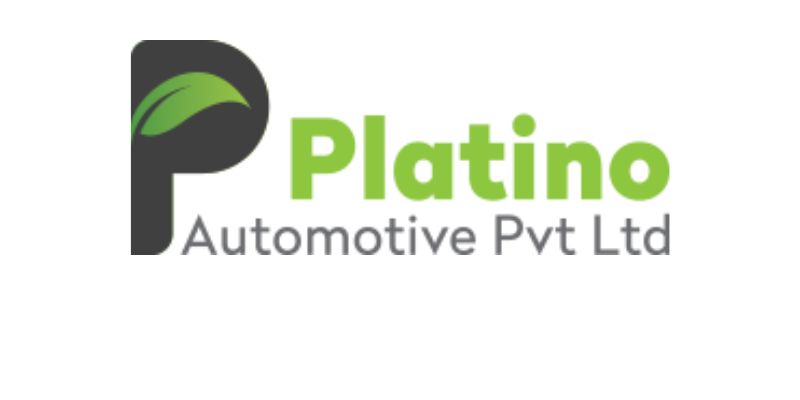 Platino Automotive Pvt. Ltd. is a leading manufacturer of RECD For dg-sets. Their upgraded devices are simple to install and can help in reducing the emission from dg sets by up to 95%. For their customers, their emission control solution assures reliable and effective environmental compliance. Their main office is in Chennai, Tamil Nadu.
Platina has a team of very well-experienced engineers with them and they all have great skills and qualifications. According to Paltino their RECD are very special because of low-pressure drop, low maintenance, custom design, single or multi-module etc.
17. Vasthi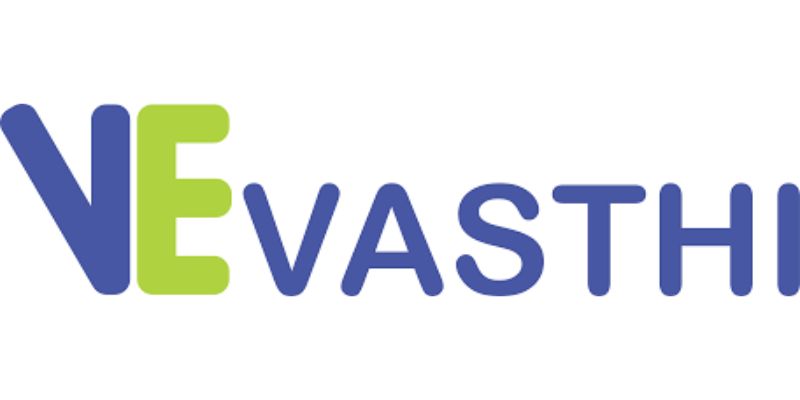 Vasthi Instruments Private Limited is a Hyderabad-based company. It was founded in 2016. Their brand name is "VASTHI" offers a challenging and enjoyable work environment, competitive salary based on performance, and comprehensive remuneration. They are a leading manufacturer of a variety range of gas analyzers, water analyzers, gas analyzers etc. They also produce Retrofit emission control devices for the dg set.
Vasthi has expertise in Industrial safety and quality monitoring systems, Economical and convenient to use, Maintenance and repair of the installation.
18. PI Green Innovations Pvt. Ltd.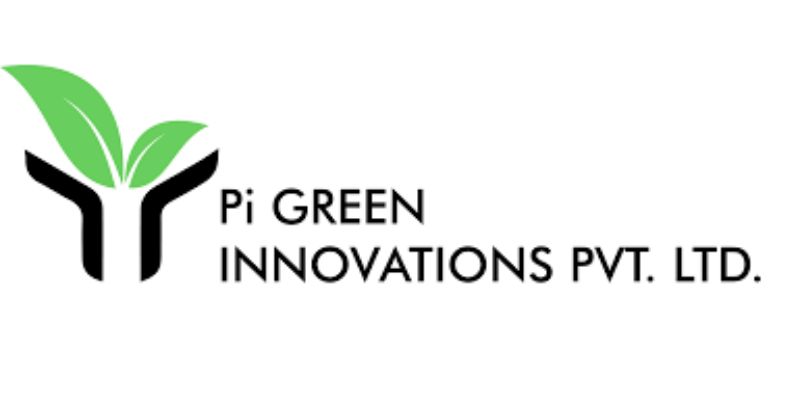 PI Green Innovations Pvt. Ltd. is a technology company that is highly committed to creating sustainable solutions for a greener future. The company's main office is situated in Pune, Maharashtra. They also produce Retrofit for Gensets ranging from 15 kVA to 2000 kVA. Their device is a fully automatic and compact device and captures up to 90% of particulate matter emitted from Genset.
Conclusion
The retrofitting includes the installation of emission control devices to reduce engine exhaust. This technology is very beneficial and effective in reducing emissions and eliminating pollutants by up to 94% in some cases. Equipping DG equipment with retrofitted emission control equipment (RECD) is the direct and most effective way to reduce harmful emissions from exhaust gases.