Top 20
Top 20 Hill Stations Near Dehradun
Hill stations near Dehradun in Uttarakhand State in India are visited by local, national and international tourists every year. Uttarakhand was formed into a separate state off of western Uttar Pradesh in the year 2000. It was then called Uttaranchal and its capital became Dehradun.
Your Holiday Travel to Dehradun, Uttarakhand in India
Dehradun is a wonderful place to visit during the summer and winter holidays. Not only Dehradun but there are also may other breathtakingly beautiful regions in and around Dehradun that makes one feel close to nature and its surroundings – mountains, hills, rivers, forests, wildlife, flora, fauna and adventurous activities.
Situated in the northern region of the Indian sub-continent, Uttarakhand is nestled in the foothills of the Himalayan Shivalik range.
Let's take a look at some of the hill stations near Dehradun that you can visit during your holidays.
20 Popular Hill Stations in Uttarakhand You Should Visit
Below are twenty popular hill stations in and around Dehradun, Uttarakhand that will make your holiday with friends and family a pleasant experience.
1. Almora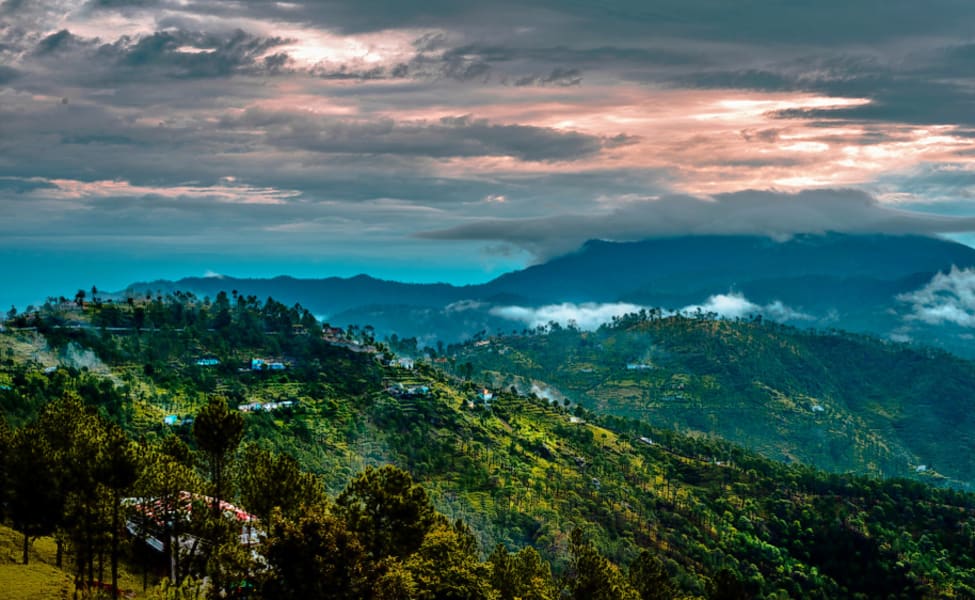 Almora is a picturesque town set against the backdrop of the snowy Himalayas. The horse-shaped city is located at an average altitude of 1,642 m (5,387 ft) and on a 5 km long ridge on the southern edge of the Kumaon Hills. It is known for its rich cultural heritage, unique crafts and delicious cuisine. The city also serves as a starting point for many hikes such as Jageshwar, Pindari, Mornaula, Mukteswar, Binsar and Ranikhet, among others.
The place has many attractions such as Zero Point, Jageshwar, Katarmal Sun Temple, Kasar Devi Temple, Chitai Temple and more. Almora is best visited in the spring and summer season, that is, from March to May. It is also a good time for outdoor activities and adventures such as trekking and hiking.
The winter season i.e. November to February, on the other hand, is freezing and may not be everyone's choice of a tourist destination. Off-beat travellers, however, can make the most of the season.
2. Auli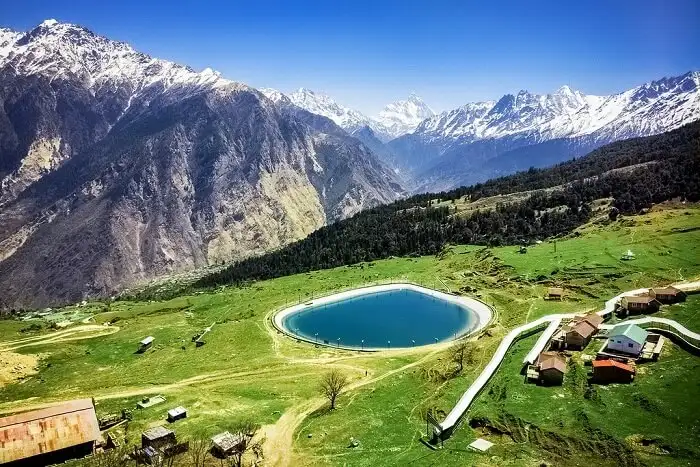 Auli is popularly known as the "Skiing Hill Station" in Uttarakhand. In addition to skiing, you can also do outdoor activities such as camping, trekking and hiking in the Garhwal hills of the Himalayas and enjoy mesmerizing views of snow-capped peaks such as Mount Nanda Devi Kamet, Mana Parvat, Dunagiri, Bethartoli, Nilkanth, Hathi Parbat, Gori Parbat and Nar Parbat. Skiing in Auli starts from the end of November to March. Auli offers some of the best slopes of the Himalayan range for hiking.
The cable car ride in Auli, known locally as a Gondola, is the second highest and the longest cable car ride in Asia after Gulmarg. Covering a total distance of 4 km, the journey starts at Joshimath and ends at Auli, and takes a total time of around 24 minutes. A few nearby places to visit in Auli are Chenab Lake, Joshimath, Trishul Peak, Kwani Bugyal, Gurso Bugyal, Rudraprayag, Nandaprayag, Badrinath, Kedarnath, and more.
The best time to visit Auli hill station in Uttarakhand is during winter.
3. Bhimtal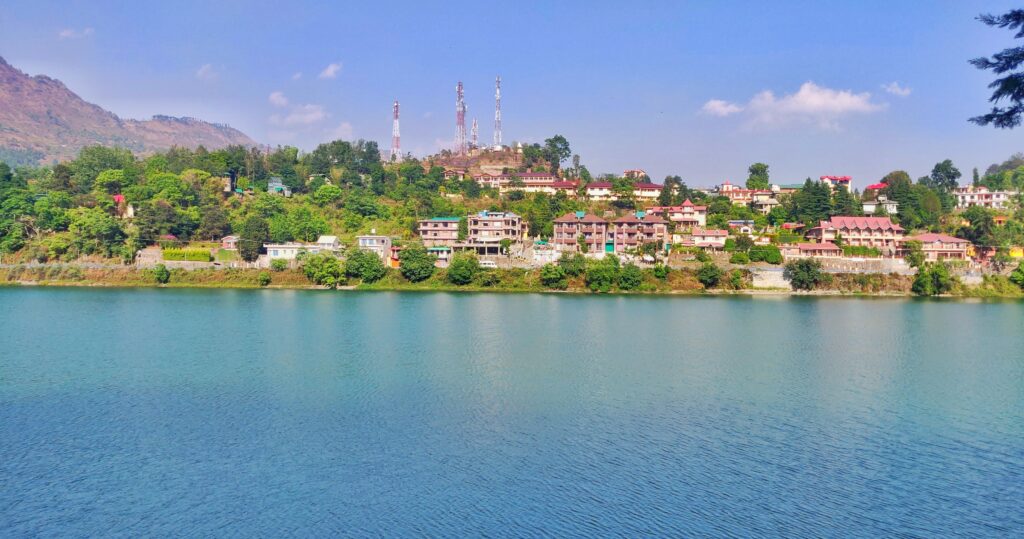 Bhimtal is an ancient city located about 298 km from Dehradun in Uttarakhand. The ancient city of Bhimtal is a serene mountain station near Dehradun. Its charm lies in an unusual, calm atmosphere. The picturesque Bhimtal Lake is a popular attraction for paddle boating, bird watching and nature walks.
Popular attractions here are the Bhimtal Lake, Nal Damyanti, Aquarium Island Cafe, Folk Culture Museum, Victoria Dam, Hanuman Garhi, Karkotaka Temple, Bhimeshwar Temple, Hidimba Parvat, and more.
The best time to visit Bhimtal hill station in Uttarakhand is March to June and September to December. However, avoid travelling to this place during monsoon as heavy rainfalls cause landslides in the region.
4. Binsar

Binsar is a mountain station in Uttarakhand, located in a lush green forest, covered with oak, pine and deodar trees. Binza offers a large number of tourist attractions, including green grasslands, temples and the popular Binza Wildlife Sanctuary. Other attractions here include Zero Point, Kasar Devi Temple, Bineshwar Temple and many more.
The Zero Point located inside the premises of Binsar Wildlife sanctuary provides a panoramic view of the Himalayan range, which includes Nanda Devi, Kedarnath, Shivling, and Trishul. It requires a short trek of 2 km to reach Zero Point. Watching sunrise and sunset are must-experience activities.
Binsar is visited by tourists throughout the year.
5. Chakrata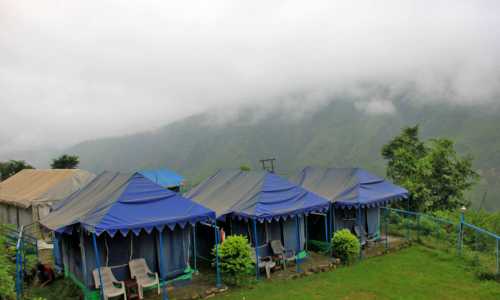 Chakrata is one of the veritable treasures of Uttarakhand. The mountain station is about 88 kilometers away from Dehradun and about 7,000 meters above sea level. It is located above the Yamuna Valley. It is a major destination for skiing, mountaineering and hiking.
Chakrata offers unobstructed views of the Yamuna Valley below. There are several quaint tree-lined paths that visitors can explore. For those looking for a snowy adventure, Kharamba Peak, which is about 10,000 meters above sea level, is one of the highest peaks in the region. Visitors can also ski on the north slope of Chakrata. It is also a great place for nature lovers, wildlife photographers and ornithologists, because its forests are home to a variety of animals and wild animals.
The best time to visit Chakrata is from April to June and from September to November. During the rainy season, the route often becomes slippery and prone to landslides. In winter, the temperature can be as low as minus 5 degrees Celsius.
6. Chamoli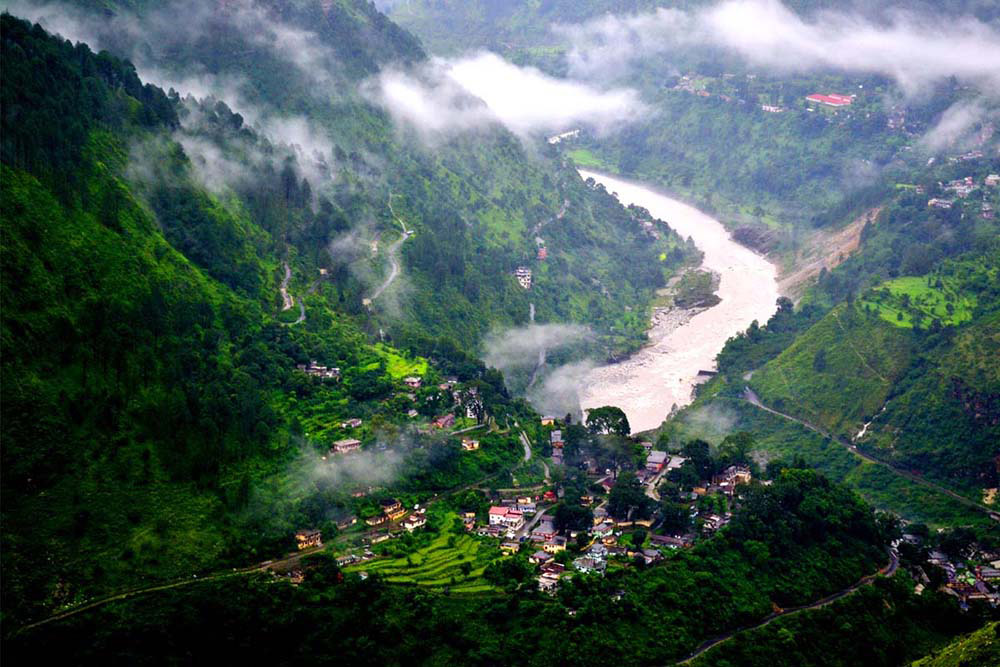 Chamoli in Uttarakhand is a blessed place where the beauty of nature combined with its fascinating culture adds to its serenity. The locals here live amidst the breathtakingly tall mountains, dense valleys and sacred ancient temples. Chamoli is often referred to as the "Abode of Gods" as it has a strong bond with spirituality.
Chamoli's natural trails make it a perfect destination for adventure enthusiasts. Also, the neighbouring village Mana offers a similar atmosphere, promising nature, shrines and some amazing trek trails. A few attractions in Chamoli include the Valley of Flowers, Vasundhara Waterfalls, Gopeshwar, Gopinath Temple, Auli, and more.
Chamoli is well connected by road to various cities, which makes it easy to get here. The nearest airport is Jolly Grant Airport in Dehradun. The nearest railway station is in Haridwar. Local transport here are buses and auto rickshaws. The best time to visit Chamoli in Uttarakhand is from November to March and from July to August.
7. Dhanaulti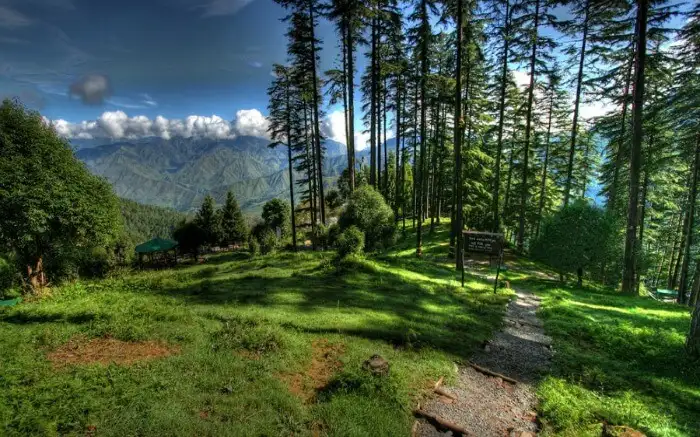 The beautiful Dhanaulti Mountain Station, located on the Mussoorie-Chamba road, is about 32 km from Mussoorie and 305 km from Dehradun. Since Dhanaulti is a small town, direct communication with it is not available, but nearby cities such as Mussoorie, Dehradun, Tehri and Rishikesh connect Dhanaulti with other major cities.
Dhanaulti also serves as a starting point for many hikes to the snow-capped peaks of the Tehri Garhwal area. Of which the closest is Thangdhar trek, which is also known for its camping and other adventure activities. Thangdhar is an outstanding camping site located at an altitude of 2530 m, about 14 km from Dhanaulti. The camp also organizes excursions to local attractions.
The best time to visit Dhanaulti is in winter when the mountain town is completely covered with a thick snow cover, which provides a variety of opportunities for various adventure activities and camping. Those who are not a big fan of winter can visit it to enjoy a comfortable summer season.
8. Dharchula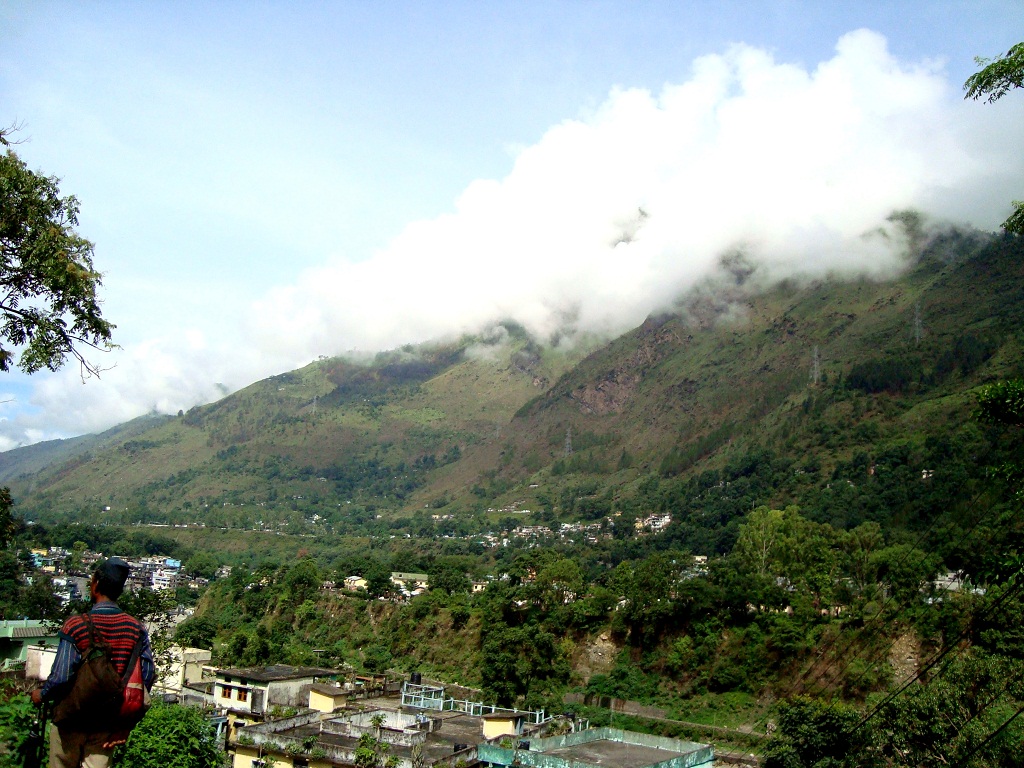 Dharchula is a remote hill town offering plenty of scenic beauty. The town is situated on the banks of the Kali river on the Indo-Nepal border. Bounded by the Kumaon region's mountains and high peaks and glaciers of the Panchchuli range on the west, this hill station near Dehradun lies on the way to a very famous and holy pilgrimage of India, namely Kailash Mansarovar. A few attractions in Dharchula are Jauljibi, Kali river, Chirkila Dam, Askot Musk Deer Sanctuary, Om Parvat and Narayan Ashram.
Darchula is easily accessible by road through other cities of Uttarakhand such as Almora, Tanakpur, Champawat, etc. The best way to get to Dharchula is to hire a taxi from Pantnagar Airport. It serves as the nearest airbase and is well connected to Indira Gandhi International Airport in New Delhi.
The best time to visit Dharchula in Uttarakhand is between May to June and September to December.
9. Har Ki Dun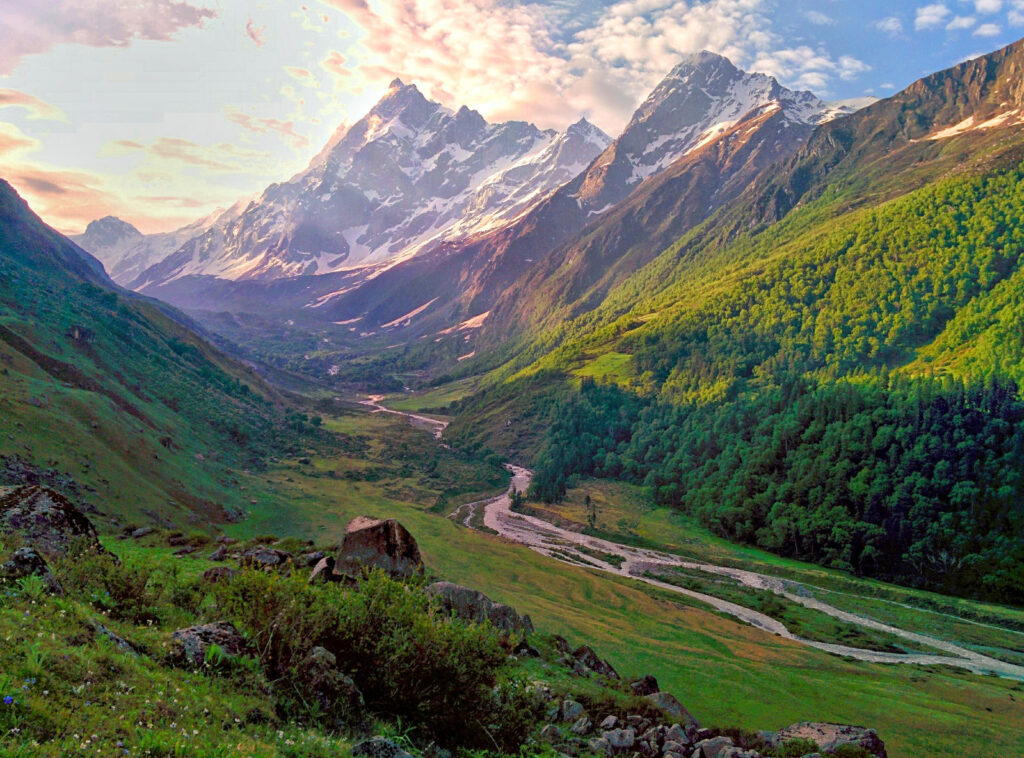 Har Ki Dun is a beautiful valley with unspoilt panoramic beauty, surrounded by dense pine forests and sparkling mountain peaks. This mountain station near Dehradun is one of the most remote areas of Uttarakhand, offering many hiking excursions. This place is best known for its hiking, and therefore most visitors like to camp here. From October to March, it is covered with a thick layer of snow. On the last trail of the hike leading to the Jaundhar Glacier, traces of snow are also visible.
The hiking route will take you to some of the most undeveloped areas of the Garhwal Himalayan region, where the simple and rustic lifestyle of the mountain residents is still unaffected by time. The beautifully carved houses encountered along the way enhance the charm of this hiking trip. Har Ki Dun hiking is seasonal and is organized from March to June and September to November.
The best time to visit Har Ki Dun in Uttarakhand is from March to June and September to November. There are no treks during the monsoon.
10. Harsil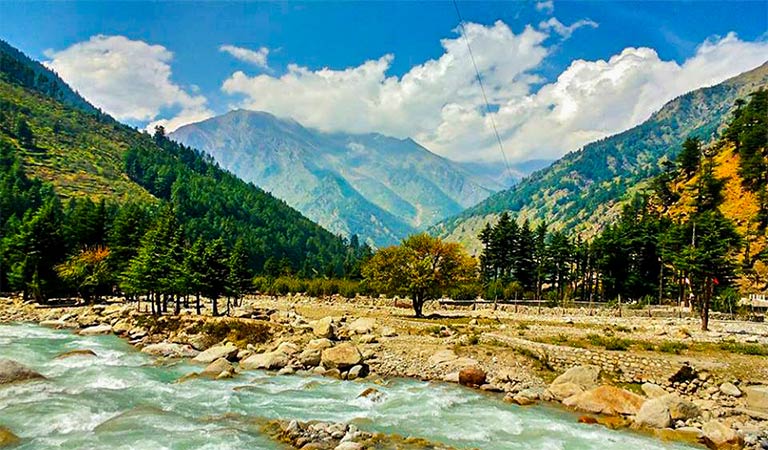 Harsil is a beautiful valley, village, hill station and cantonment area sitting at a height of 2,620 meters (7,860 ft) in the Uttarkashi district of the Indian state of Uttarakhand. It lies along the banks of the Bhagirathi river and on the way to the Hindu pilgrimage, Gangotri Dham. The place has its own charm which attracts many visitors every year. It is a sublime valley of dreams for travellers. It also offers many opportunities for thrill-seekers, such as rock climbing, trekking and hiking.
Harsil is a place known for its picturesque scenery and the tranquillity that nature offers. Falling en route Gangotri from Uttarkashi, Harsil is covered in dense Oak and Deodar forests, apple orchards, the shimmering and gurgling streams, and the chirping of the birds. A few popular attractions here include Dharal, Mukhwas Village, Kedar Tal, Dodital Lake, Dayara Bugyal and Gangotri Glacier.
The best time to visit Harsil is from April to June and September to October. In winter, it receives heavy snowfall.
11. Kanatal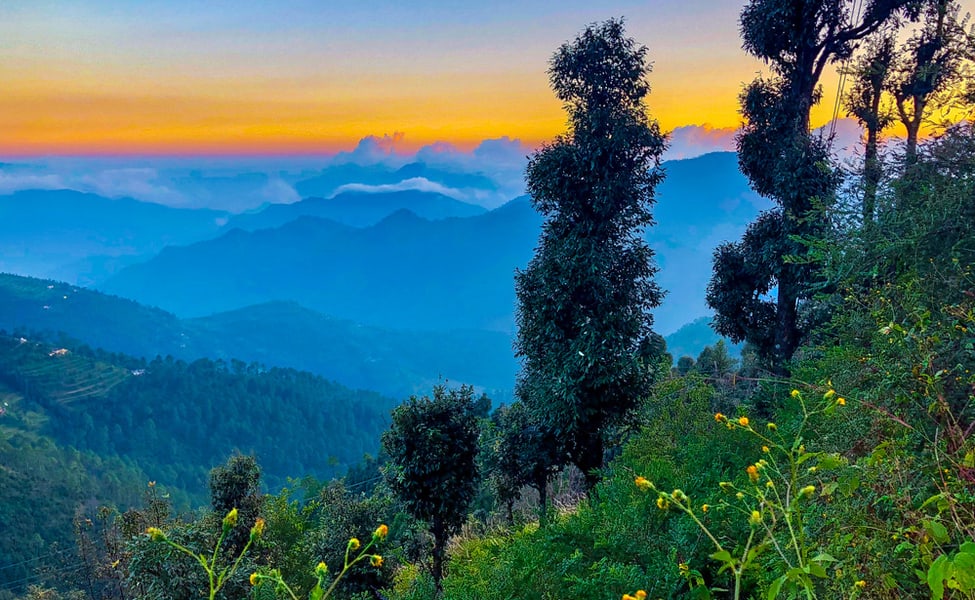 Kanatal is one of the lesser-known hill stations near Dehradun. It is said that Kanatal is named after a lake that once existed here. The place exhibits a charm in the form of majestic hills, orchards and lush green forests. Kanatal is a remote village where apart from trekking and hiking, you can avail a taxi to tour around the village. A few attractions in Kanatal, Uttarakhand are New Tehri, Dhanaulti, Mussoorie, Chamba, Surkanda Devi Temple, Kodai Jungle, and many more.
Kanatal has a rocky mountainous terrain, which is ideal for extreme sports such as rock climbing and rope descent. Valley Crossing is another interesting activity to do in Kanatal. The activity requires the person to be tied to a rope and cross an 80 ft deep valley by pulling the other end of the rope. It is performed under the strict supervision of a professional guide. The city attracts a huge number of adventurers who come here and engage in these activities.
The weather is pleasant throughout the year, and thus, you can plan a trip any time keeping in mind the rain factor during monsoon.
12. Kausani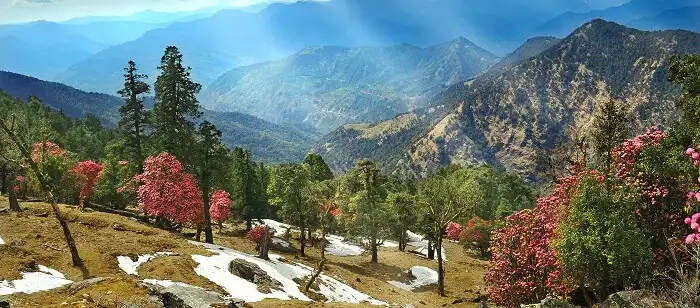 Kausani (formerly known as Valna) is one of the most fascinating hill stations in Uttarakhand. Here you will find lush green valleys, green pine forests, winding streams, as well as tranquillity and majestic Himalayan peaks. The peaks of Trisul, Nanda Devi and Panchuli rise above the panoramic snow-covered view of the Himalayas in Kaushani.
Located about 318 km from Dehradun, Kausani is known for its popular attractions such as Rudradhari Waterfalls and Caves, Baijnath Temple, Gwaldam, Kausani Tea Plantation, Pinnath Hike and more. Some common tourist routes from Kausani are the Adi Kailash hike, the Kausani Base Hike and the Bageshwar-Sunderdhunda hike. The mountain station is ideal for newlyweds, nature lovers and travellers.
The best time to visit Kausani in Uttarakhand is between April to June and between September to December.
13. Khirsu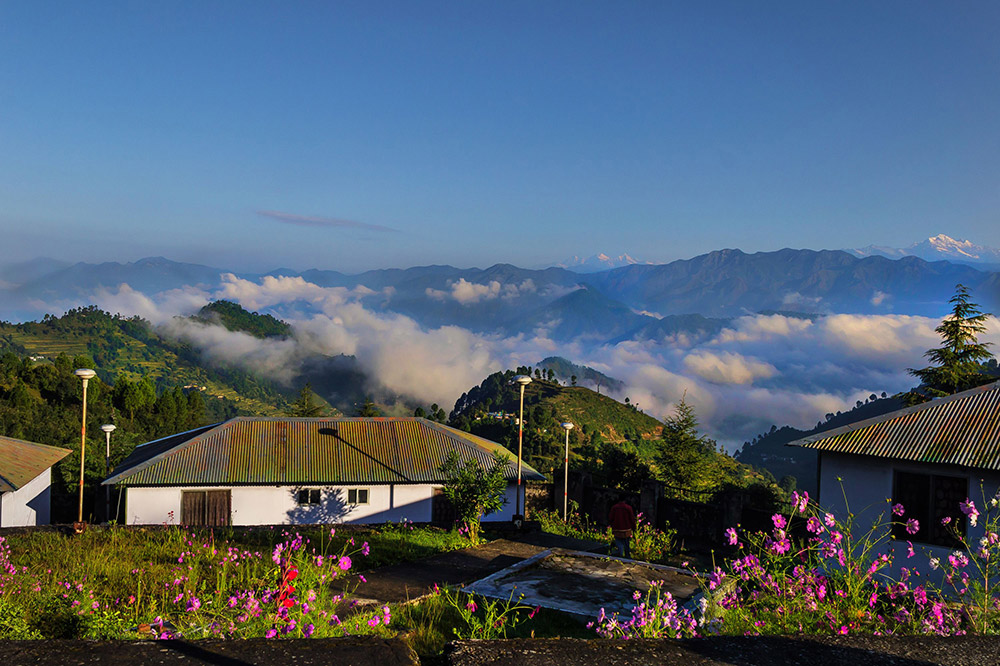 Khirsu is an offbeat and tranquil hill station in Uttarakhand situated in the Pauri Garhwal district. It offers gorgeous views of snow-capped Himalayan peaks and is surrounded by dense forests and orchards. The hamlet is also home to ancient temples. From here, one can look upon a panorama of peaks like the Panchachuli, Nanda Devi, Nanda Kot, and Trishul, respectively.
Located at an altitude of 1700 m, Hirsu is dotted with dense pine and Deodar forests, which are excellent places for nature walks, hiking. The village is surrounded by lush apple orchards and all kinds of wildflowers. The village is also an agricultural center, and there are picturesque terraced farms around it.
Khirsu is pleasant year-round, and in winter, it is enveloped in snow.
14. Landour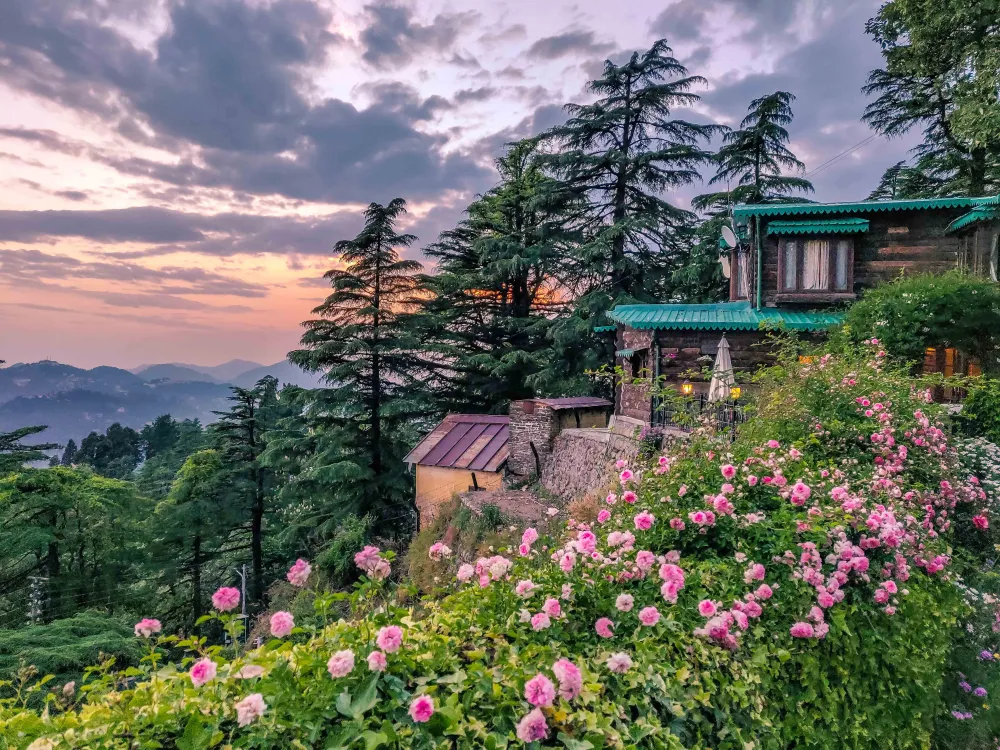 Landour is a small town located 6 km (3.7 mi) from Mussoorie and at an altitude of 984 feet (299.92 meters) above sea level. The city was a convalescence point for the military, and therefore most of Landur is a cantonment site. One of the attractions of Landur, the Rokeby Estate, was built in 1840 and later renovated in 2010. The best attraction of Rokeby is the outdoor Jacuzzi, which is ideal for relaxing while admiring the sunset.
Landour is considered part of Mussoorie and is considered the 'tiara' of the Queen of the hills. But despite the fact that Landour is located so close to the bustling city of Mussoorie, it surprisingly remains unusual, peaceful, unexplored and untouched.
15. Lansdowne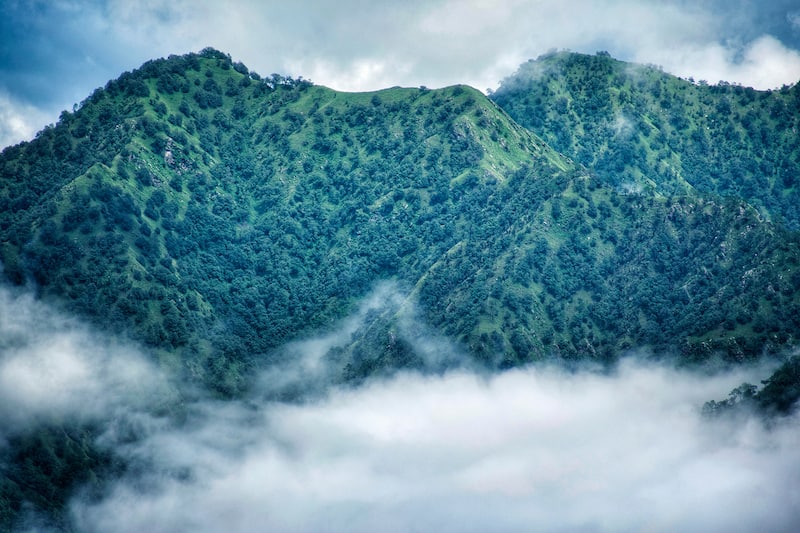 Lansdowne is a hill town perched amidst the Garhwal Hills of Uttarakhand. It is laden with oak and pine forests. The place is more commonly known for being home to the Garhwal Rifles regiment of the Indian Army. The town was discovered by the British and got its name from the then Viceroy of India, Lord Lansdowne. A few attractions in Lansdowne town are Bhulla Taal Lake, Darwan Singh Regimental Museum, Tarkeshwar Mahadev Temple, Bhim Pakora, Tip-n-Top (Tiffin Top) hilltop offering a breathtaking panoramic view of the mist-shrouded Shivalik range, and many more.
This hill station situated about 157 km from Dehradun is neither commercialised nor heavily urbanised, thus, making it the perfect getaway for anyone looking to take a break and enjoying peace and solitude. It is a haven for bird watchers, casual hikers and weekenders as well.
Lansdowne has moderate climate conditions, and thus, can be visited throughout the year.
16. Mukteshwar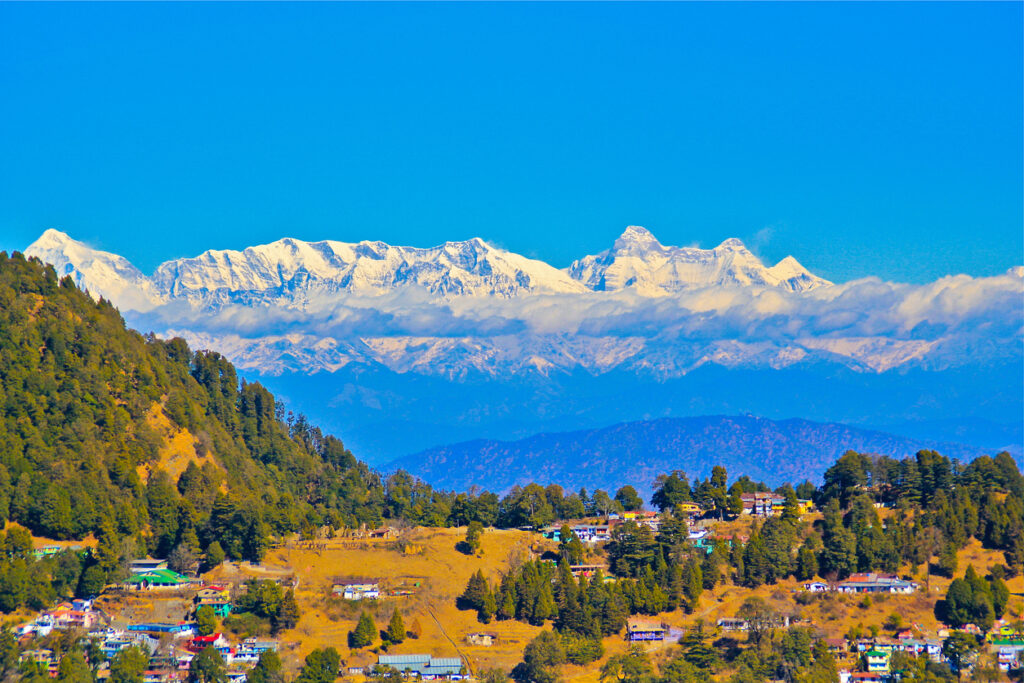 Mukteswar is a pleasant destination located at an altitude of 2285 m above sea level in the Nainital district of Uttarakhand. Mukteshwar got its name from a 350-year-old temple Mukteshwer Dham of the Hindu deity Lord Shiva. The top of the mountain on which Mukteshwar Temple stands offers an astonishing and marvellous view of the imposing Himalayan range.
Mukteshwar hill station is visited for its pilgrimage and adventure activities such as trekking, hiking, camping, rock climbing, rappelling and paragliding. The overhanging cliffs situated near Mukteshwar, known as 'Chauli-ki-Jali' is a popular spots for rock climbing. As for trekking, there are many trekking trails, for instance, the Peora to Mukteshwar trek, Peora to Almora trek and Binsar to Artola trek.
Mukteshwar is a destination that can be visited all year round. The hill station receives its fair share of snowfall beginning from the last week of December to mid-February.
17. Mussoorie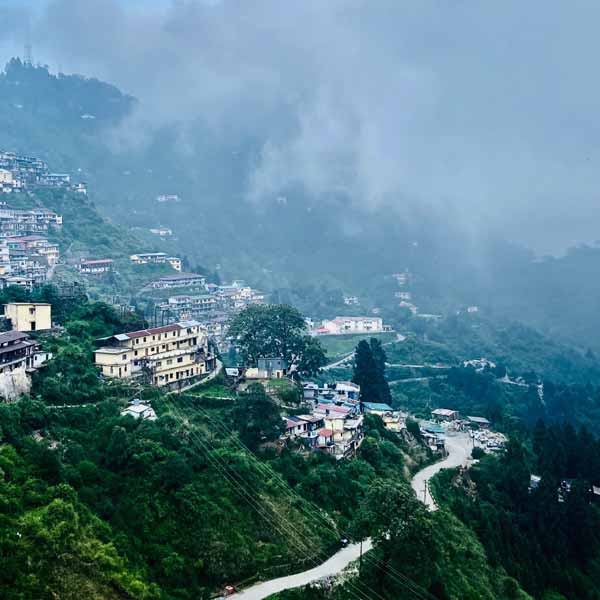 Mussoorie is one of the most popular hill stations in Uttarakhand and in India as a whole. It is a weekend getaway and honeymoon destination for many tourists. The hill station is also a gateway to Gangotri and Yamunotri shrines. The lush green hills and varied flora and fauna make Mussoorie a favourable place for adventure activities. Also, its famous Winterline, a rare natural phenomenon is visible from here during from December to January.
Aside from being popular for its Mall Road and busy streets and markets, Mussoorie attract adventure lovers as well. Once can do activities like trekking, hiking, trout angling (catch and release fish), rock climbing and zip-lining.
The best time to visit Mussoorie is during summer, as it offers respite from the scorching weather conditions. People also visit here during winter to witness the snowfall and the Winterline appearing in the evening sky.
18. Nainital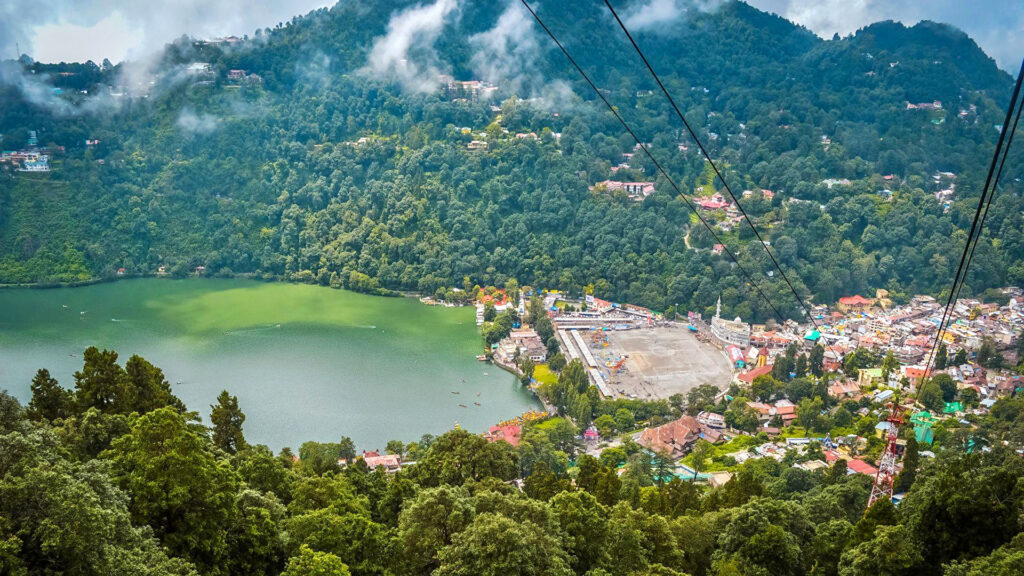 Nainital is a beguiling hill station that sits pleasingly at the lower regions in Kumaon Himalayas. It is situated at an altitude of around 1,938 metres. The focal point of the town's prevalence and magnificence exists in the ravishing Naini Lake, after which the town is named. The hill town is centred around a beautiful mountain lake and surrounded by seven hills and snow-capped peaks. A few places to visit in Nainital are the Raj Bhawan, Naina Devi Temple, The Mall Road, Hanuman Garhi, Khurpa Taal, and many more.
Nainital offers everything that is required for a perfect holiday. The Mall Road is a busy shopping hub and there are cafes and restaurants which serve both local and intercontinental cuisines. There are also forested trails that offer stunning views of the surrounding landscape. You can paddle in the lake or even try riding a horse in the town. Nainital also offers hot-air ballooning and mountaineering activities.
The best time to visit Nainital in Uttarakhand is between March and June. The region receives heavy snowfall in winter and turns into a white wonderland, making it a popular Christmas and New Year destination as well.
19. Ranikhet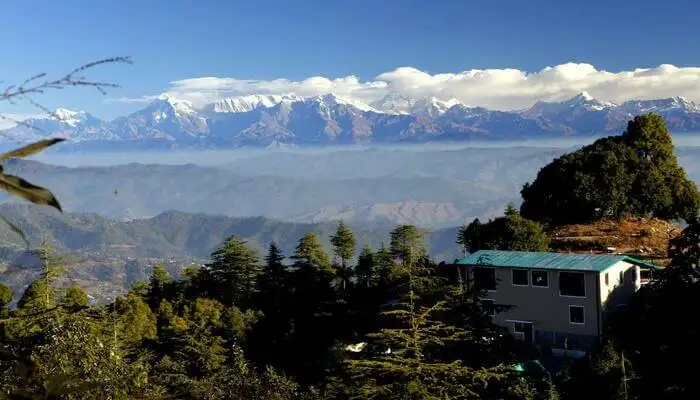 Ranikhet (meaning "Queen's Farm") is a mountain station built by the British around ancient temples, undulating Himalayan hills and forests. This place is home to various types of wildlife, fauna and flora. Ranikhet is popular due to its view of Nanda Devi Peak, trekking routes, mountain climbs, golf courses, orchards and temples.
Some attractions in Ranikhet include Chaubatia Orchards, Bhalu Dam, Majhkhali, Golf Course, Dwarahat and Haidakhan Babaji Temple. Aside from sightseeing, one can do various activities here such as fishing (at Bhalu Dam), golfing, paragliding and trekking. Ranikhet has a lot of trekking spots that one can enjoy. The most popular among them is the trek from Chaubatia Orchards to Holm Farm. Other trails include Chaubatia to Bhalu Dam and a trek from Meghdoot to Jhula Devi Temple.
The months of March to July are usually the best time to visit Ranikhet. Winter here receives snowfall, which also makes it ideal for visiting the hill station.
20. Uttarkashi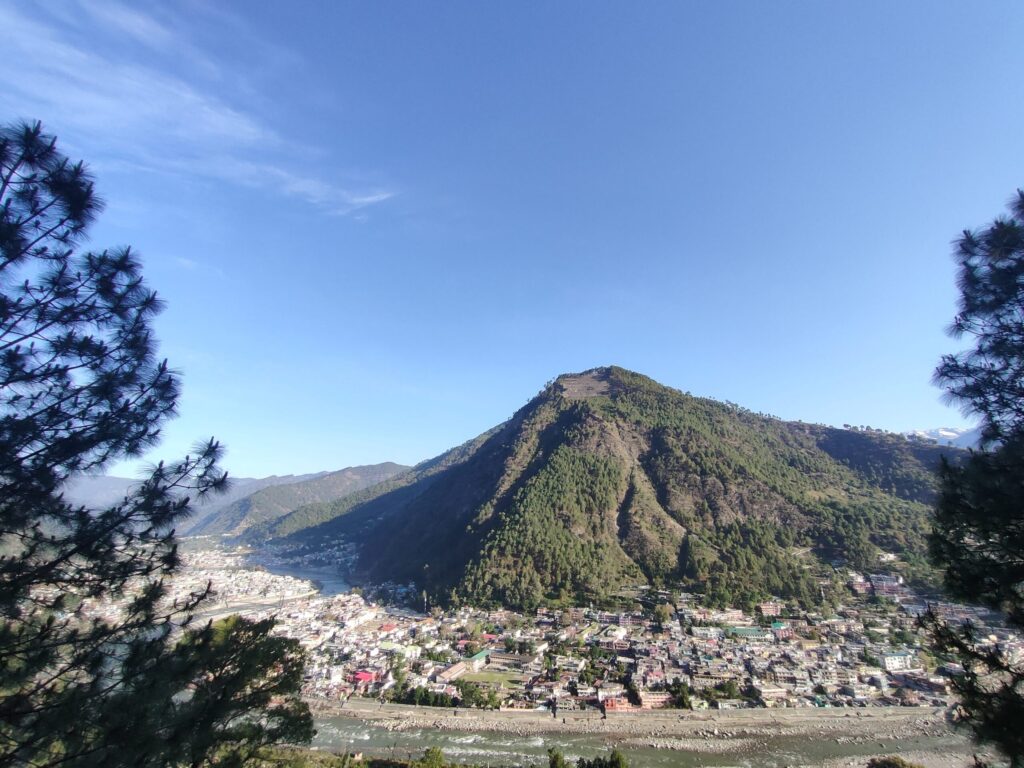 Uttarkashi is a sacred city and a mountain station located on the banks of the Bhagirathi River. This is one of the most popular mountain stations, located 116 km from Mussoorie. Uttarkashi is the place for you if you are looking for spiritual rejuvenation. Located between mountains and known for its stunning beauty, Uttarkashi can best be described as a religious heritage. Trekking is one of the most popular activities here. Other outdoor activities include camping, rope climbing, mountaineering and river rafting.
The hill station is an alluring destination and a nature lover's paradise surrounded by snow-capped mountains, lush valleys, rivers and streams. A few interesting places to visit in Uttarkashi are the Bhagirathi River, Gangotri Valley, Vishwanath Temple, Sivananda Kutir, Maneri Dam, Dodital Lake, Dayara Bugyal, Gaumukh Glacier, Neelakanth Temple and many more.
The best time to visit Uttarkashi is during summer when the temperature is pleasant and the sky is clear. The months of May and June are ideal for trekking and camping, while July and August are good for sight-seeing and relaxing.
Conclusion
The hill stations in Dehradun, Uttarakhand listed above have much more to offer to visitors, adventure lovers and photography enthusiasts. These places are, in fact, a wanderlust for travellers and those who need a break from the bustling city life.