Top 20
15 Best Travel Agencies in India to Make Your Trip Less Stressful
Over the last few decades, India's travel sector has grown in popularity. Given the fact that technology today plays a crucial role in our everyday lives and businesses, the travel industry has moved up from having physical offices to rendering services online. Such travel companies are thus, often referred to as online travel agencies or OTAs.
In short, OTAs make it easier for us to find and book our favorite holiday trips anywhere and anytime by simply visiting their websites and ticking all the relevant options that fit our needs. We already know a few such names, like MakeMyTrip, Yatra, Ixigo, SOTC, etc. Top Indian travel businesses provide additional vacation packages and services to their consumers and used this chance to restructure their target audiences. The best travel companies in India help fulfill all your travel needs – booking flights, trains, taxis, hotels, resorts, or homestays, or availing group packages for family or elders or couples going on a holiday trip.
In this article, we are going to take a look at some of the most popular travel agencies or OTAs in India that provide many needed services and benefits to travelers when booking holiday trips.
Top 15 Travel Companies in India for Booking Domestic & International Holiday Trips in 2022
The following is a list (in alphabetical order) of the top 15 travel companies/agencies (or OTAs) in India that offer either or both domestic as well as international holiday trips and plenty more services to their customers. The travel services these companies offer can easily be purchased online via their websites and/or mobile apps, which are also mentioned in the list.
1. Cleartrip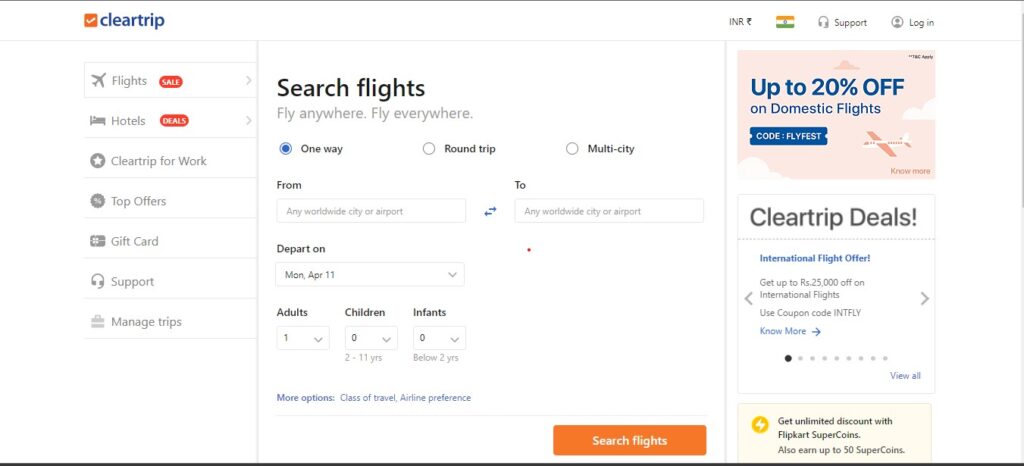 Company Link: https://www.cleartrip.com/flights
Cleartrip is without a doubt one of India's best travel agencies. In 2006, The company was founded by Hrush Bhatt, Stuart Crighton, and Matthew Space. In Bangalore, the company's headquarters is located. The unique selling proposition (USP) of this travel company is to make things simpler for the customers. In 2018, the company earned the Excellence in Travel Blogging Award in the area of Company Operated Blog, demonstrating its superiority in the market.
Cleartrip is the best alternative for travelers searching for an easy way to book tickets while on the go. Their website interface is smooth, without much hassle and their mobile app is also compatible with Android and iOS devices.
2. Club Mahindra Holidays & Resorts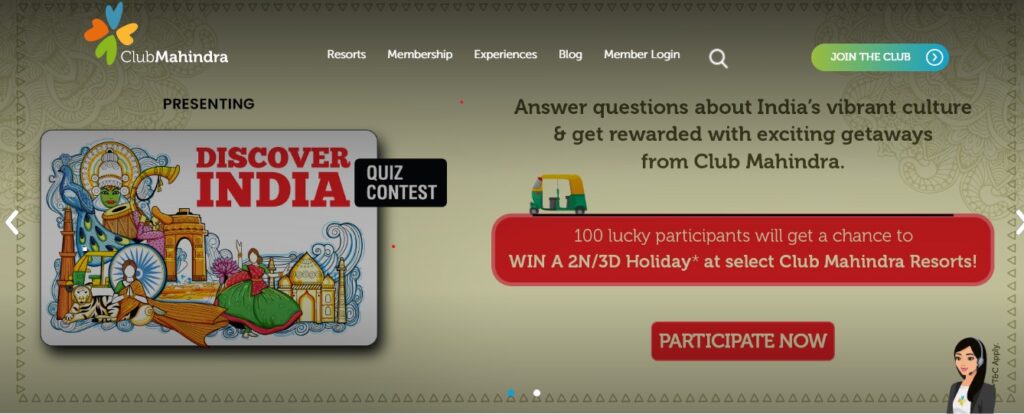 Company Website: https://www.clubmahindra.com/
In the travel industries Club, Mahindra Holidays & Resort is the best latest upcoming travel agency in India. Customers also get access to more than 100-holiday destinations in India as well as abroad which is offered by The Club Mahindra. There is a universe of experiences that opens up where one can relax by the beach in Goa, enjoy a stay in Manali, watch the Northern Lights put up a spectacular show in Finland, or dine in on a tree-house in Munnar.
Club Mahindra Varca, Havelock Island, Club Mahindra Acacia Palms, Symphony Palms, Club Mahindra Gir, and many other new resorts have been developed by the firm. The travel company also offers the flexibility of transportation to their resorts with 360-degree virtual tours of all the resorts directly from your home.
3. Cox & Kings Ltd.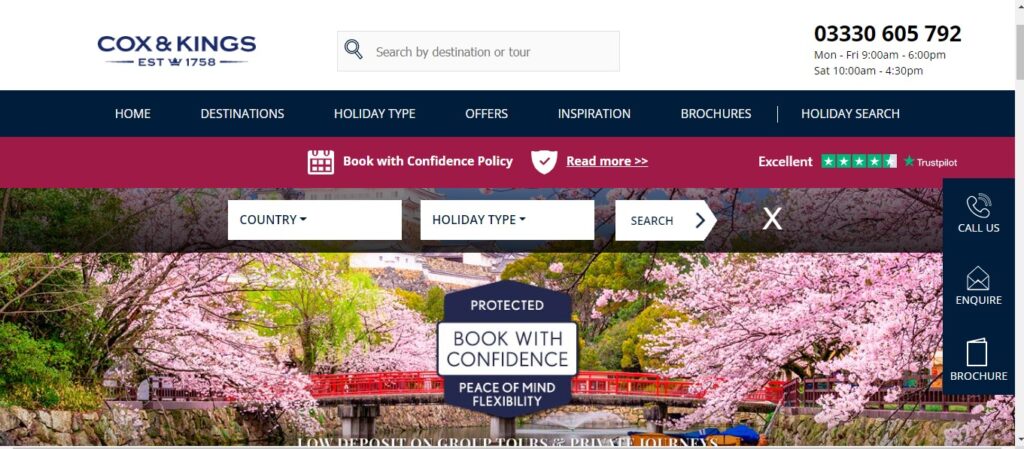 Company Website: https://www.coxandkings.com/
Cox & Kings Ltd is actually one of the oldest travel companies established in India and in the world. The company's founding history dates back to the year 1758 when India was under British rule. Cox & Kings was appointed as general agents to the regiment of Foot Guards in India under the command of Lord Ligonier.
Today, Cox & Kings is a premium brand in all travel-related services like Destination Management, Outbound Tourism, Business Travel, Incentive & Conference Solutions, Domestic Holidays, and Trade Fairs in the Indian subcontinent. Cox & Kings not only provides solutions for personal travels but also works on their customers' professional travel needs, whether it's a quick vacation or an off-site office, it needs to be set up. The headquarters of the company are in Mumbai.
4. EaseMyTrip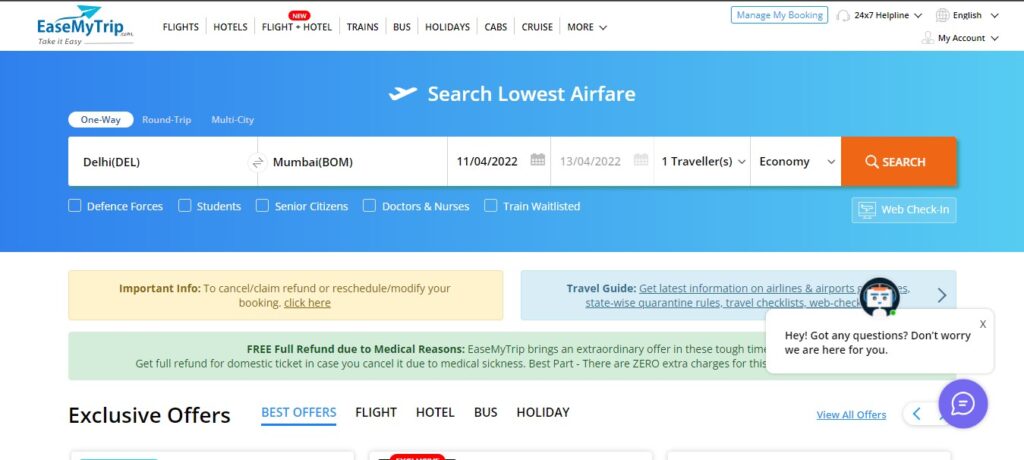 Company Website Link: https://www.easemytrip.com/
EaseMyTrip is one of the popularly listed online travel companies in India that started its business in 2008. The company is founEaseMyTrip, founded in 2008, and Prashant Pitti, Nishant Pitti, and Rikant Pittie are three brothers who established the company. It is one of India's most well-known online travel providers. Customers are drawn to them because of their unique selling point of no convenience costs. The travel agency offers their customers discounts on buses, taxis vacation packages, and flights.
The travel company also avoids any hidden charges which do not result in an increased amount than what their customers have expected and gains more confidence in them. Their website is also user-friendly and provides mobile apps for Android and iOS platform compatibility.
5. Expedia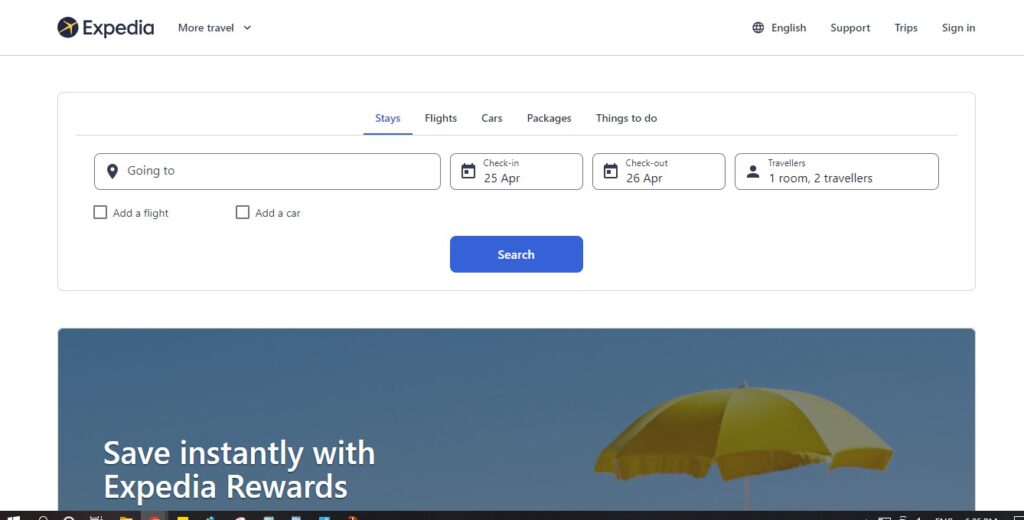 Company Url: https://www.expedia.co.in/
Expedia is a popular US-based travel company and metasearch engine which also has an operating unit in India launched in 1996 and introduced by Rich Barton. By devoting its time to giving the most economical travel deals and packages to its consumers, the travel company has risen to the top of the Indian travel industry. They have a huge collaboration with almost 80,000+ hotels all over the world and have been awarded the 2013 Award for Leading Online Travel Agency Website, which is one of the most prestigious in the industry. It is one of the fastest growing online travel portals in Asia and offers guests a diverse range of travel services, excursions, and hotels to suit any budget and activity type at affordable rates.
This travel agency provides several discounts and options according to your selected budget. Now company increase its options for its customers including everything from hotel rooms to events and travel services.
6. Goibibo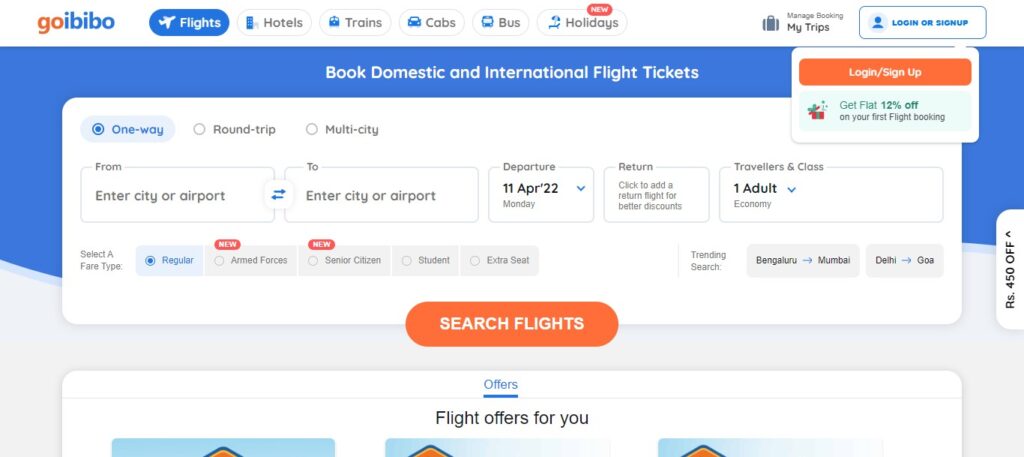 Website Url: https://www.goibibo.com/
Another mention in the list of the best travel companies in India is Goibibo, which was founded in 2007 by Ashish Kashyap. The travel company specializes in rendering online booking of flights, trains, buses, hotels, and cars. They have also won the Award "Best Tech Travel Aggregator Brand" in 2015 by The Economic Times.
Their website and mobile app are very user-friendly and provide a wide range of services for customers to choose from and plan to their liking. The customer booking experience with this travel agency is excellent because they did the fastest payments, quickest search and booking, and customer service dedication for refunds and settlements, according to the company's USP.
ibibo Group is a part of Goibibo that owns the redBus No. 1 online bus ticketing platform.
7. International Travel House (ITH) Limited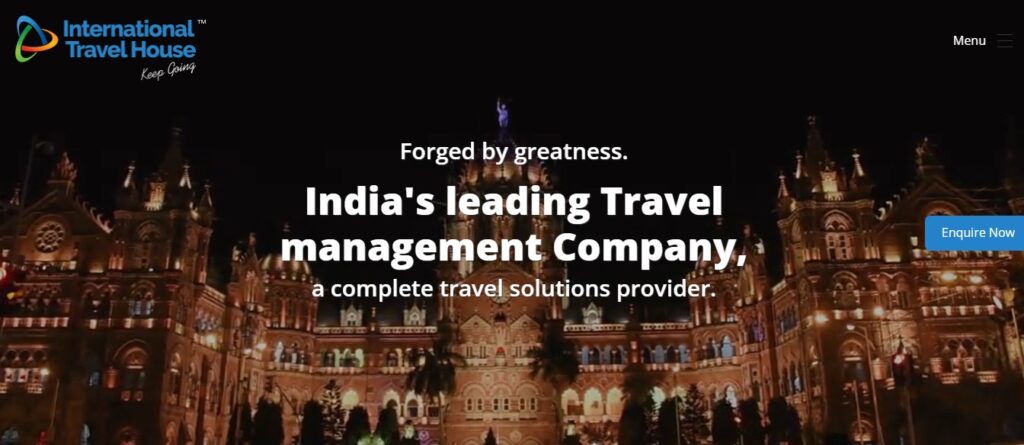 Company Website: https://www.internationaltravelhouse.in/
International Travel House Limited is one of the best travel companies in India it started its services in 1981 becoming India's first publicly listed travel company. The travel company at present is working in 19 Indian cities with 39 offices and over 1,000 employees managing a clientele base of over 4,000 satisfied customers. Be it from Kashmir to Visakhapatnam or Kolkata to Jaipur, with their well-connected network, the travel agency will ensure that you continue your great journey.
What makes ITH Ltd. one of the best travel companies in India is that they offer several lists of specialized services to their customers. A few of these services include The Safe car promise, Safely drivable getaways, magical journeys, Safe homestays, transient accommodation solutions, emergency travel services along with corporate travel advisory services.
With a unique product portfolio, extensive national footprint, strong reputation for service quality and reliability (ISO 9001:2015 certified), and privileged customer portfolio and it has also become one of India's most admired travel companies.
8. ixigo

Company Url: https://www.ixigo.com/
n India, ixigo is one of the best travel companies. The company started its journey in 2007 and now they become a well-known company. Founded by Rajnish Kumar and Aloke Bajpai with its headquarters in Gurugram, ixigo is working great in the travel industry.
The company believes in providing the best customer experience through its services. As a result, the organization is able to bring together technology, creativity, and cost-effectiveness. You will get good offers and discounts on their mobile app as well as on their website. From booking flights, trains, buses, and taxis to hotels and destination packages, ixigo is always ready to satisfy your every travel need.
9. Kesari Tours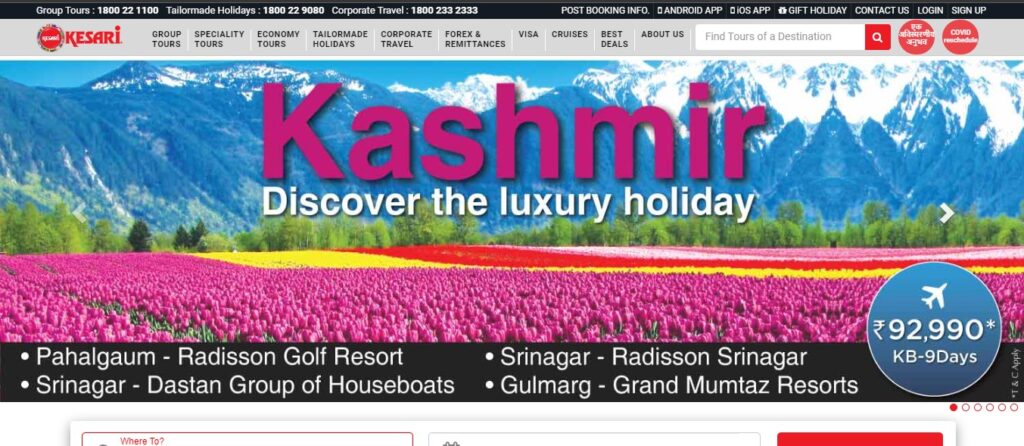 Company Website Url: https://www.kesari.in/
If you are looking for going on a budget-friendly holiday trip with your family and friends, then you can check Kesari Tours travel agency. This travel company offers unbelievable holidays at unmatchable prices that you can't think about it. You can also get the best budget deals as per your needs during the period January to March of the year. Kesari Tours is one of the best budget-friendly travel companies in India because they also offer 'Tirthyatra' packages as well to holy places, like Dwarka, Tirupathi, Somnath, Madurai, and many more places in India. You can also check it out for traveling to other places like Sikkim and many more places.
If you are interested in international group tours, the company has got you covered with its group tour packages to destinations like Africa, Dubai, the Middle East, Europe, Sri Lanka, and more.
10. MakeMyTrip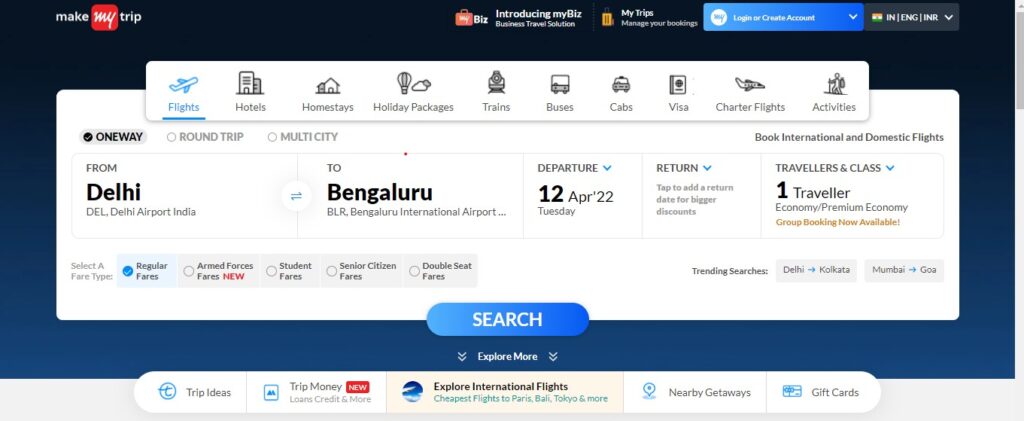 Company's Website: https://www.makemytrip.com/
MakeMyTrip was first launched in the year 2000 by Deep Kalra which later on turned into a series of achievements and changed the face of the travel industry in India. Their success mantra is that they always follow the quote "With great position comes great responsibilities" and it played a huge role in this organization shaping up and achieving what none of the travel companies had done before.
Having linked with Goibibo and Redbus in 2017, the company is one of the most well-known travel companies in India today. The travel company has more than 20 million unique customers so far as they allow their customers to research and plan their own travel experience with different products, services, and offers. The company offers a variety of services, from flight bookings to train bookings, accommodations booking, travel packages, holiday planning, and many more services which not only build trust within the clients but also allow them to have a stress-free holiday experience. MakeMyTrip provided travelers with the convenience of booking travel online with only a few clicks, as more Indians began to transact online with IRCTC and new options arose with the introduction of low-cost carriers.
11. SOTC Travel Limited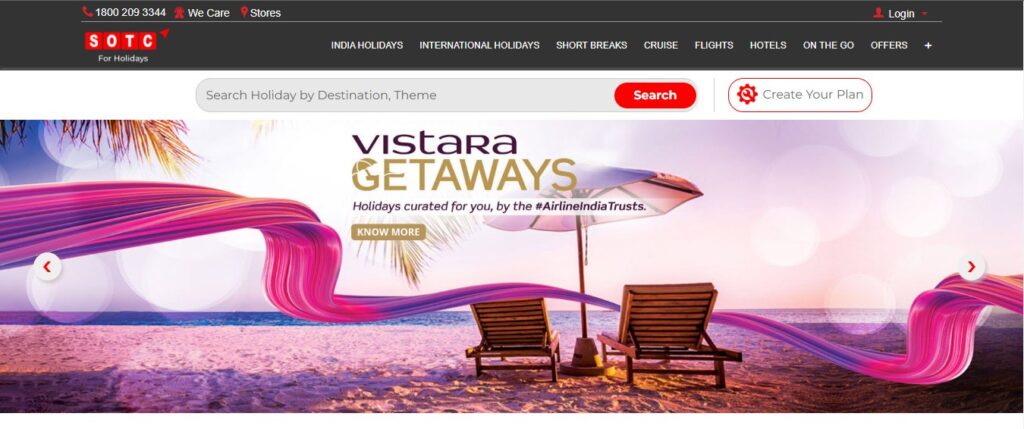 Company Url Link: https://www.sotc.in/
SOTC Travel Limited is a Mumbai-based travel company that was founded way back in the year 1949. The company, previously called SOTC Travel Private Ltd., is a subsidiary of Fairfax Financial Holdings Group and is committed to its client base. SOTC India is a renowned travel and tourism firm that specializes in escorted group tours, incentive travel, business travel, leisure travel, customized holidays, and holidays of India amongst others For more than 70 years, the company has rendered large numbers of travelers from across the globe to various destinations around the world.
The major products for this travel company are leisure travel packages, incentive travel packages, and business travel packages which also helped the company to bag the award for SOTC Travel Honored at the 2019 French Ambassador's Travel Awards. The company has a huge number of clients. Its vast services have taken holidays to an entirely new level with lucrative offers to make holidays a priority for every Indian.
12. Thomas Cook (India) Ltd.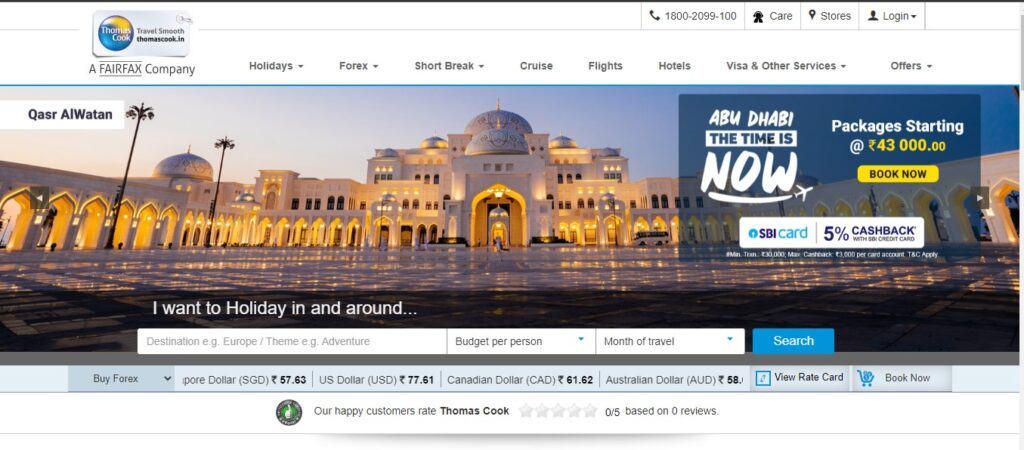 Company Website: https://www.thomascook.in/
Thomas Cook (India) Ltd. is one of the best travel firms in India, providing a one-stop-shop for all of your travel needs On their website, you can search flights for your destination, make hotel room bookings, and even buy or sell Forex (foreign exchange) or send money abroad to friends or your loved ones. The pricing is fantastic, and you will have no complaints about anything.
The travel company is recognized for its international vacation holiday packages for The Maldives, Thailand, Dubai, and other destinations. Also, India vacation packages allow visitors to see the country's many landscapes and cultures.
13. Travelguru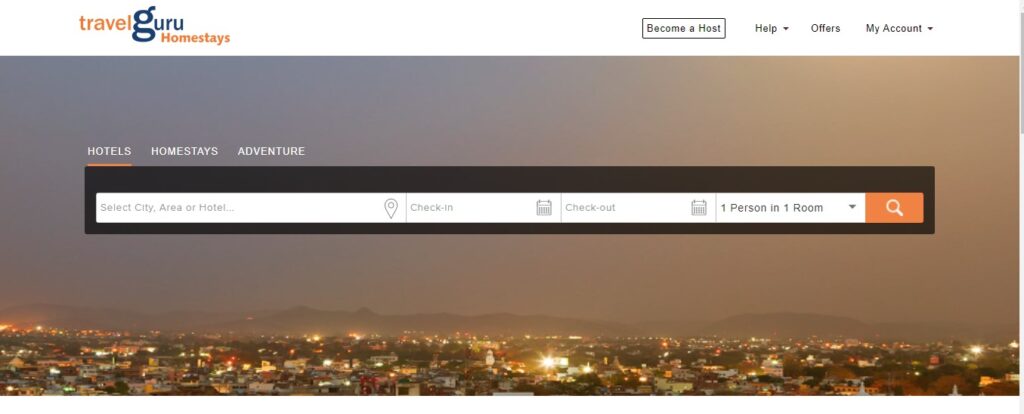 Company Website: https://www.travelguru.com/
Travelguru is another one of the best travel companies in India. It was established in 2005. It is currently led by Mr. Sanjeev Kumar and caters to Indian travelers' needs to the utmost. What makes this travel company one of the greatest in India is that it covers more than 60,000 hotels across 1100+ cities across the country with no hidden charges.
Travelguru is one of India's leading travel websites that offers its customers the best prices on flights, hotels, and holiday packages across India and also around the world. The company makes planning and buying a holiday or a business trip easy and convenient.
Their current offering of products and services includes booking airline tickets, cruises, hotel rooms, and holiday packages for various destinations. The company is also on the verge of expanding its services to offer a wide array of travel-related services, including car rentals to customers.
14. Via.com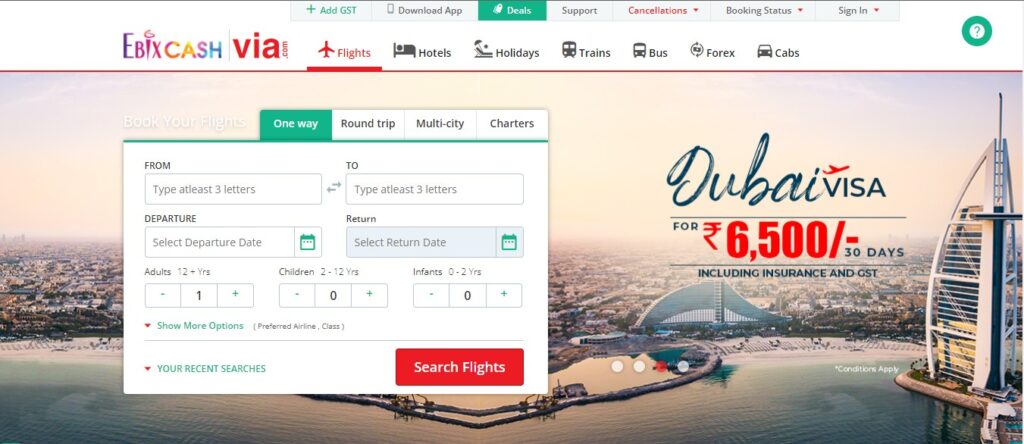 Company Website: https://in.via.com/
Via.com is another popularly known online travel company that was established in 2006 and headquartered in Bangalore. The travel company, which is now acquired by Ebix, networks with more than 100,000 partners across 10,000 towns and cities globally.
The travel company started by offering flight booking services to its customers for domestic travel. The company has expanded its business and today, it caters to booking trains, buses, taxis, hotels, and holiday destination packages to customers. In addition, the company has also partnered with Buy Forex which allows customers to buy/sell Forex via Forex Cards.
15. Yatra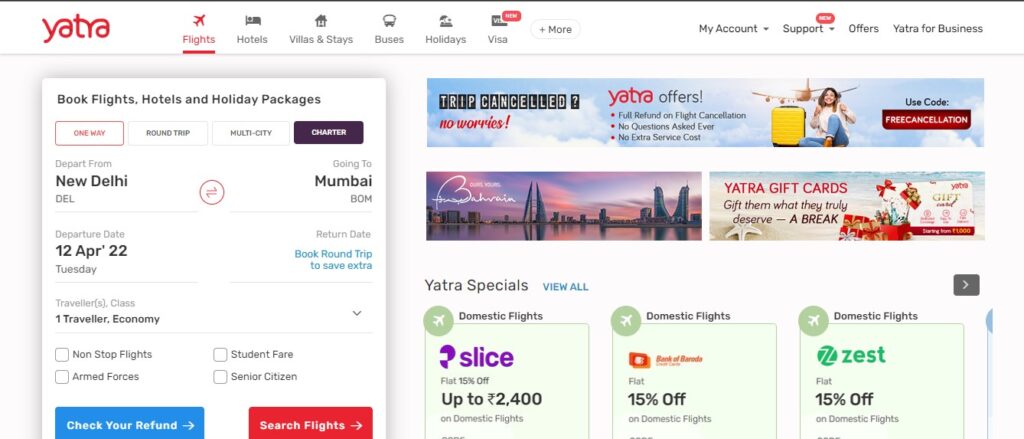 Company Website: https://www.yatra.com/
The next name on the list is Yatra aka Yatra.com. The company was established in 2006 and it is based in Gurugram, Haryana. It provides an online portal to its customers for booking travel destinations with a variety of services to offer, which include airline ticketing, tour packages, and accommodation bookings for corporate clients as well as individuals. The company provides information, pricing, availability, domestic and international hotel bookings, and booking facility for domestic and international air travel, holiday packages, buses, trains, in-city activities, inter-city, and point-to-point cabs, cruises, and homestays.
The company's website is incredibly user-friendly, and they also provide consumers with discounts and coupons to help them save money on their reservations. The USP of Yatra.com is the service "Activities" within the holiday packages. The company provides additional benefits to cover shopping experiences, heritage site-seeing, adventure activities site-seeing, and several other activities.
Wrapping Up
Some travelers might like the user-friendly interface while others might go for the experience, these companies possess but one definitely cannot measure the advantages of one site with another. All the travel companies mentioned above have been leading India's travel industry for a long time now and have proven their worth in the market.