Top 20
20 Best Cake Brands in India Make your Special Days Extra Special
India is home to several bakeries and confectioneries that are well-established cake brands as well as startups making their way to becoming popular in the confectionery industry. Some of these have already been around for more than a century, while others have won many hearts over with their delicious sweet treats in a much shorter period of time.
In today's age, cakes are often used in formal traditions for celebrating occasions, like birthdays, weddings, anniversaries, Christmas, New Year, etc. People flock to confectionery stores to place their orders or simply purchase ones that are already prepared and put up for sale. Their flavors, add-ons, and decorations are also appealing to many. From chocolate to fruit to vanilla cakes, and sweet to puff pastries, these delicacies are simply irresistible, and without a doubt. Similarly, sweet pastries are commonly savored as desserts in homes with delight.
Confections like cakes and sweet pastries are the specialties of bakers' confectionery. Thus, we're going to take a look at some of these iconic bakers that have made a name for themselves and expansion of their business via outlets/franchises throughout India.
Top 20 India-based Bakery & Confectionery Brands in 2022
Bakers' confectionery basically prepares confections, which include sweet pastries and cakes, etc., which are predominant not only in India but all over the world.
Here is a list of India's most popular cake brand companies/outlets/franchises.
1. 7th Heaven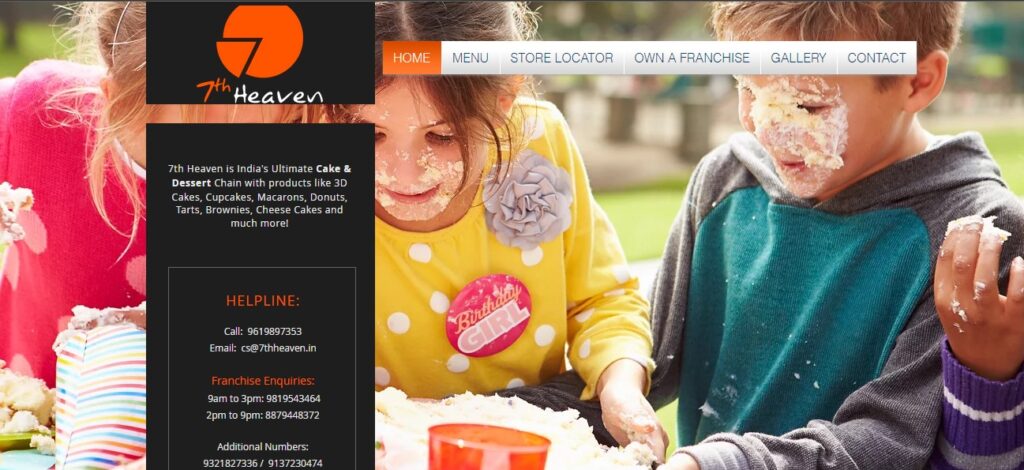 City: Mumbai
7th Heaven, founded in 2014, is a cake franchise with a live kitchen concept. This brand also specifically offers cakes, 3D cakes, cupcakes, doughnuts, and much more things. The 7th Heaven already has more than 200+ outlets in the 75+ cities all over the country. They are very known for their fair prices, same-day delivery of customized cakes, and delicious desserts. Their cafes also have a good variety of unique beverages up for grabs.
7th Heaven comes in three models for franchising – Classic, Plus, Café which range from selling just cakes and desserts to a multitude of baked goods, hot and cold beverages, and popular dishes of various cuisines.
2. Ahdoos Bakery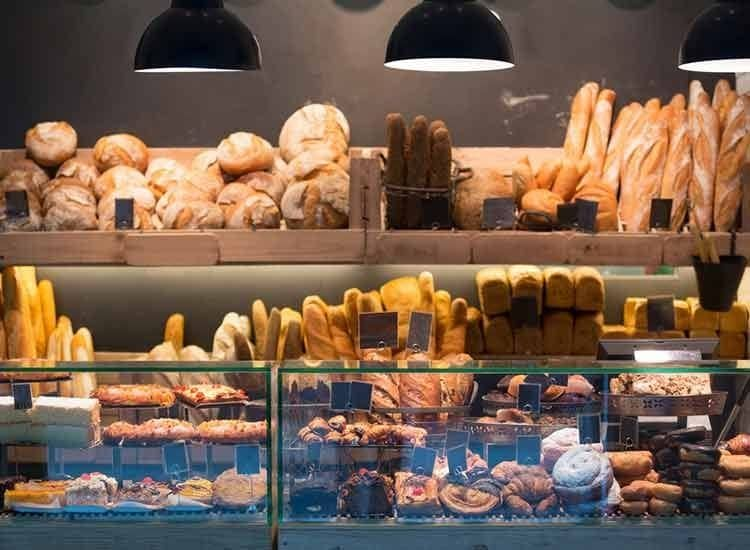 City: Srinagar
Ahdoos Bakery first opened its doors in 1918 as a bakery. Legend has it that the Maharaja of Kashmir, Hari Singh sent one of his subjects Mohammad Sultan to Kolkata to learn how to bake. He then came back and started Ahdoos Bakery. Some of the famous Kashmiri pieces of bread, like 'Baqarkhani' and 'Sheermal' and a wide variety of cakes and puffs, are available at Ahdoos Bakery in Srinagar. They also make many walnut-based treats, like cakes, tarts, and biscuits that are a blessing to human beings.
Ahdoos Bakery provides a vast variety of products required by its customers and works to keep its inventory in a recent and rich state. Grocery shops hold a very important key role in our daily lives. People come to establishments like Ahdoos Bakery to get pastries, flour-based goods: and various desserts, pieces of bread, pies, and crackers.
3. Bakingo
City: Gurugram
Bakingo is a bakery shop located in Gurugram, Haryana, where you can order cakes, cookies, and other bakery items online for all occasions. All the products are popular for their classic style of frosting. The taste of the foods has not changed in ages. All food items have a delicious taste. The most prominent cake is black forest cake as it is gooey, dark, and has lots of cherries.
4. CakeZone

City: Bengaluru
CakeZone is a bakery and also an online cake delivery portal offering a new natural style of cakes using quality ingredients, attention to detail with great care, and offering personalized attention in both their services and online shop catering. In their online shop, customers can choose from a wide range of creative and seasonal cakes to desserts to create memories on occasions and special events.
Their top categories include Premium Mini Cake, Exclusive Indian Fusion Cake, Eggless Cake, Egg Cake, Indian Sweets, Cake Pops, Brownies & Lava Cake, Pastries, Cupcake, Cheese Cake, and Dessert Jars.
5. Defence Bakery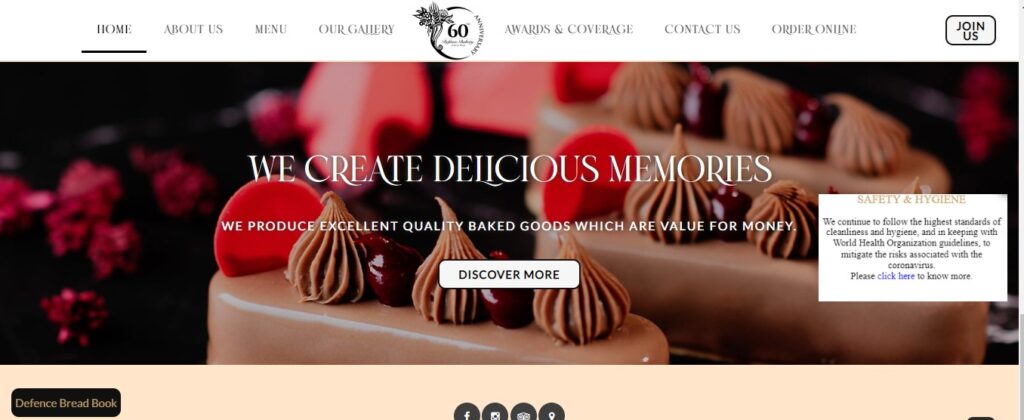 City: New Delhi
Defence Bakery is one of the oldest cake shops in Delhi which was established in the year 1962, and It is located in New Delhi. A few of the reputable treats include cakes, cookies, muffins, desserts, bread, and pizza. They also make eggless and sugarless cakes for the customers.
At present, Defence Bakery sells its products in authorized outlets in South Delhi. These include Defence Colony Market, Panchseel, GK 2 M Block Market as well as in an online shop. With a dedicated and loyal clientele, they are ready to expand in the manufacturing and retail business. They have also started a new project at Alma Bakery and Cafe located in Noida and are driven by a passion for mindful eating and sustainable ideas in the food industry.
6. Ellora's Melting Moments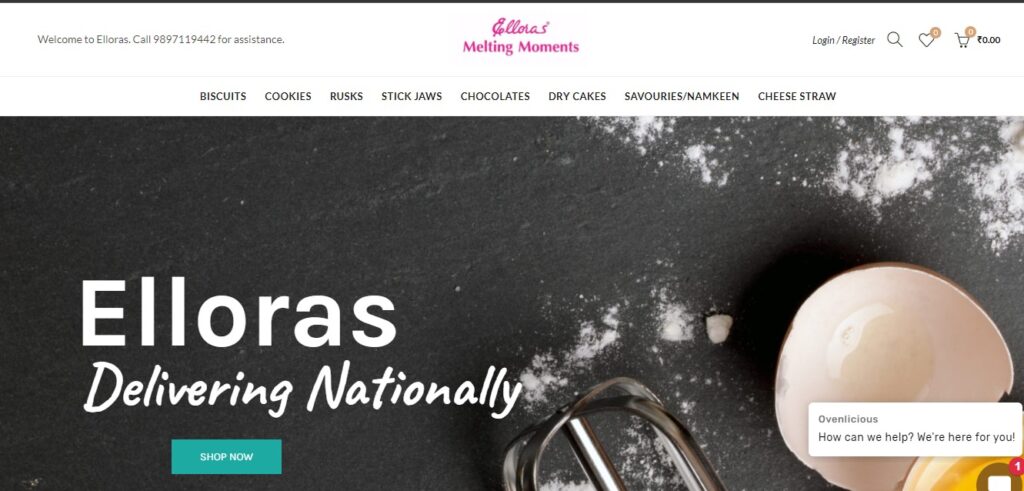 City: Dehradun
Ellora's Melting Moments is one of the best and oldest bakeries running in Dehradun offering a wide range of products including cakes, biscuits, muffins, fast food, and much more. It is possibly the best bakery in Dehradun, Uttarakhand. The cakes offered are really nice. They also offer multiple varieties of biscuits, muffins, etc. All in all, it is a very good place to eat with your friends or buy a variety of snacks for yourself. Very well organized place and a great environment. They also offer a huge variety of pastries and cakes in their stores. Their good quality bakery items are available however, the prices are premium as well. They provide a sitting area where you can eat cakes, pastries, pizzas, etc., and you can get any kind of soft drinks and different variety of juices as well at the same place.
7. Flurys

City: Kolkata
Flurys is a Kolkata-based popular cake brand that was established in 1927 by a Swiss expatriate couple Mr. and Mrs. J. Flurys. Presenting the finest European traditional confections, it soon became a very famous meeting place for all ages of the people. The place is very known for its exotic cakes, creamy pastries, and the best hand-made Swiss chocolate and international delicacies. It introduced the city and its many generations to authentic Swiss and International delicacies. Since 1965, it is owned and managed by the Apeejay Surrendra Group. Flurys has been setting constant great benchmarks in the gourmet Bakery and Confectionery segment in India.
Starting from a single outlet at Kolkata's Park Street, Flurys has entered into a strategic expansion drive, thereby being present in 15 outlets across Kolkata and one each in Delhi, Mumbai, and Hyderabad. In the years to come Flurys plans to be present across all major cities in the country.
8. German Bakery

City: Pune
German Bakery franchise opened its door for service in 1988 in the city of Pune. It has multiples stores in the city and provides delicious food products like Kheema Pao, Omelettes, Frozen Hot Chocolate, Fish n Chips, Cookies, and many more things, etc. to satisfy customers' hunger. The German bakery is one of the oldest and most trustworthy bakeries in town and a must-visit on everyone's list.
9. Glen's Bake House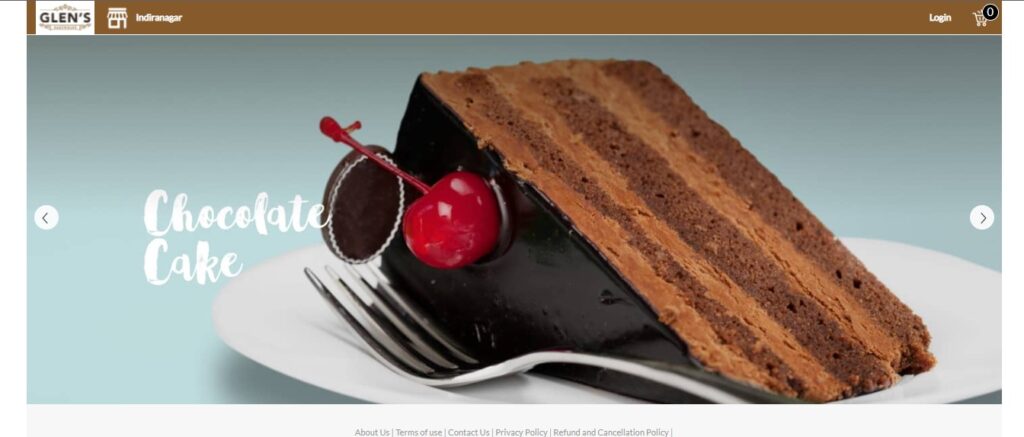 City: Bengaluru
Glen's Bake House is based in Bengaluru. They are a very famous cake shop in South India. They are best known for cheesecakes and more food and snack items. Their other items include cupcakes, choco almond fudge pie, red velvet mini cupcakes, tarts, and many more.
10. Kayani Bakery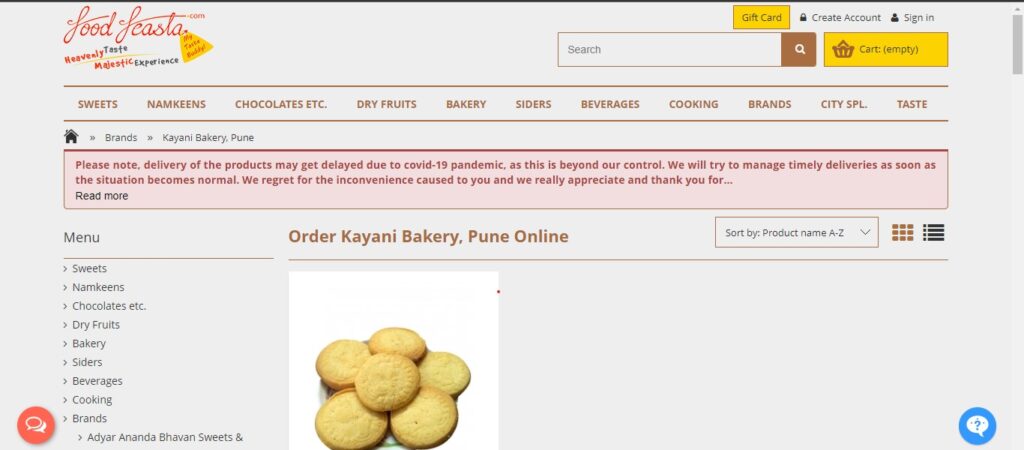 City: Pune
Kayani Bakery was started in 1955 and is a famous bakery that is located in Pune. They have very popular items like Mawa cake and many varieties of salted and sweet biscuits. You must try their cheese papdi and mawa cake as they are very delicious. They have a full list of delicious items, so must try them. They make bread and eggless cakes too for the customers.
There's no seating here. The bakery has been about for decades and they don't have any branches. The biscuits and cakes are so much popular here that it sells like hotcakes. You can try Shrewsbury biscuits too, they are also a pretty good item. The plain sponge oval cake from the iconic Kayani Bakery is the most loved and hot selling product of this bakery. For years this cake has been among the famous treats. You can try this cake and you will fall in love with it.
11. Kookie Jar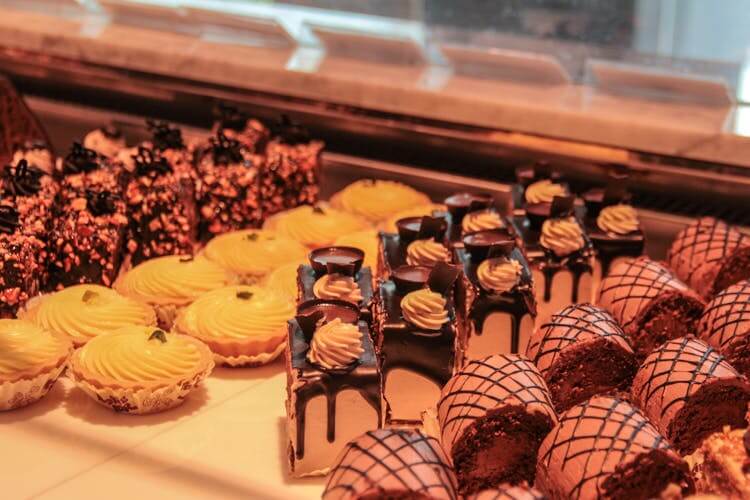 City: Kolkata
Started in the year 1985 by two sisters, Lovey and Puja Kapur, Kookie Jar stood the test of time. It has become one of Kolkata's landmark brands offering unmatched confectionery. It also became a household name, one that delivered great-tasting, high-quality products to customers throughout India and even beyond our shores. Much like any of its delicious creations, Kookie Jar is today, a driving force in the cake, pastry, and bakery industry in India. Their products are not just pioneers in a category, combining value and great taste, the company also prides itself in having the most extensive line of confectionery and is committed to creating even more delicious products – all aimed at the quality-conscious gourmet.
They are also famous for a butter sponge cake that is very soft. You cannot find this kind of softness and taste in any other bakery. It has three branches all over the city.
12. Merwans Cake Stop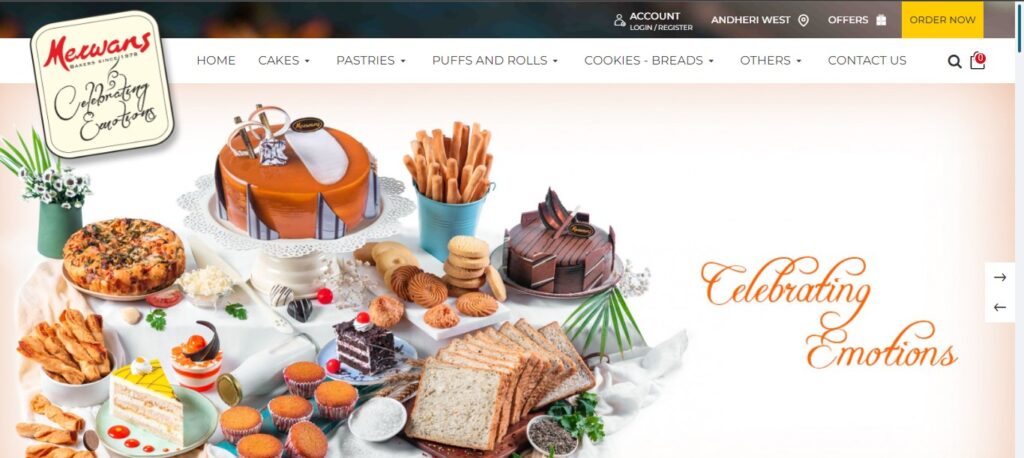 City: Mumbai
Marwan's Cake Stop is one of the 27 popular bakery outlets established by Merwans Confectioners throughout the city of Mumbai. Started by an Iranian family in the year 1972, the 'Merwans' brand name has been delivering smiles to people's faces for many years, through their distinctive and nourishing range of cakes, mawa cakes, pastries, and cookies. The Merwans family holds a very special place in their customers' hearts because of their excellent service. They still hold on to their core values of giving the topmost satisfaction to their customers by delivering top-of-the-line products at affordable prices.
In special moments, people travel from all over the city just to buy their cakes and pastries, surti butter, Khari, and other products, to make their day and/or occasion memorable. The specialty of Merwans Cake Stop includes treats, such as Black Forest, Chocolate To Kill, Layered Indulgence, Luscious Dutch Truffle, Purple Rain, Raspberry Cheese Cake, Rocher Lick, Truffle, Blueberry, Blueberry Cheese Cake, Chocolate Crackle, Dutch Truffle, Baked Yoghurt, Butter Scotch, Caramel Custard, Choco Berry Ganache, Chocolate Mousse, Chocolate Square, and plenty more.
13. Mio Amore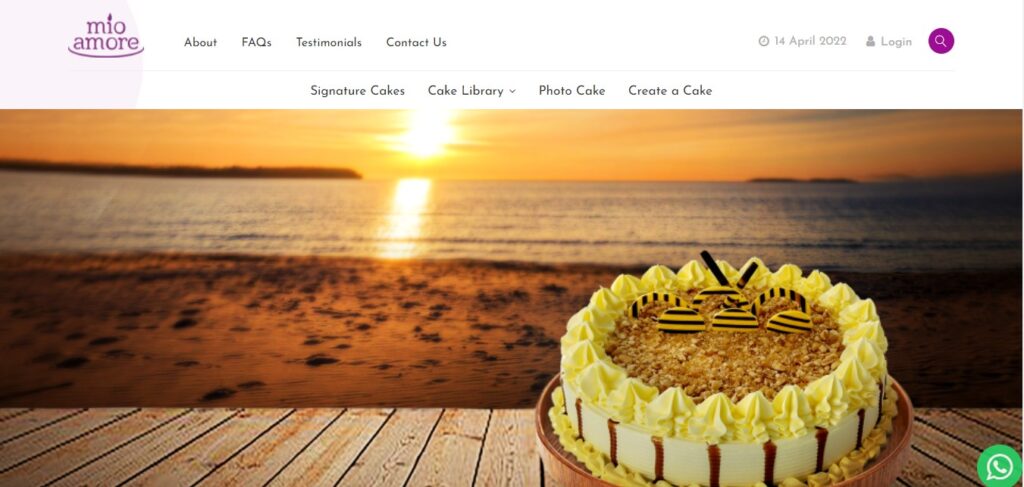 City: Kolkata
Mio Amore was founded in the year 2015 by Arnab Basu after a split with Monginis. They are one of the popular and trusty bakery brands in India. The company has more than 300 Mio Amore stores in West Bengal and in Odisha also.
Mio Amore offers possibly the widest range of Bakery and Confectionery in Eastern India. Their menu mainly includes treats, such as Cakes, Handmade Cookies, Vegetarian and Non-Vegetarian Savouries, Sweets, and Chocolates.
14. Monginis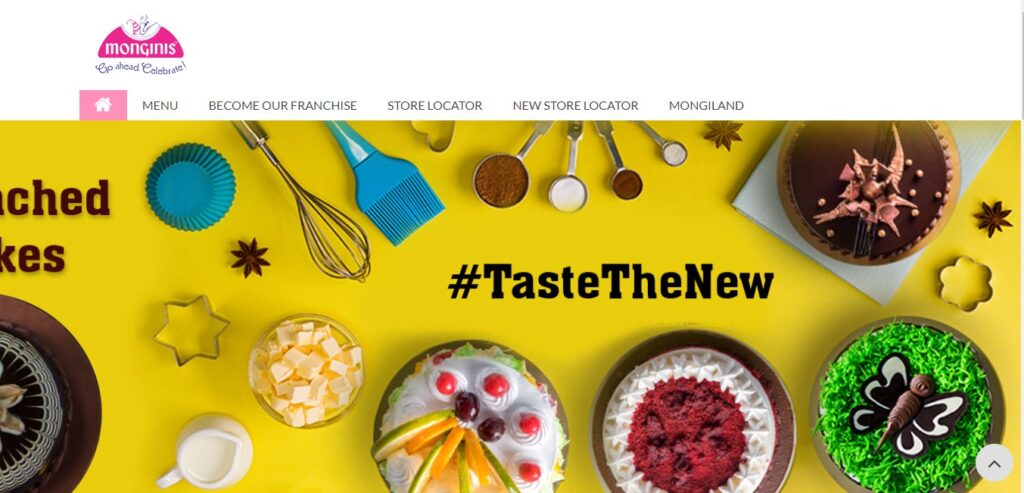 City: Mumbai
Monginis is an Indian multinational pastry and bakery chain based in Mumbai. After the split from Mio Amore, the company was renamed, Monginis. It is considered to be one of the best bakery franchises across India. They started in the year 1956 in the city of Mumbai, Maharashtra. Today, the company has over 900 outlets in India and Egypt.
Monginis Cake Shops are conveniently located in local markets and communities to ensure the easy availability of their cakes, cupcakes, and more. Gateaux, Pastries, cupcakes, Swiss rolls, and savories are all baked and prepared at Monginis.
15. Mr. Brown Bakery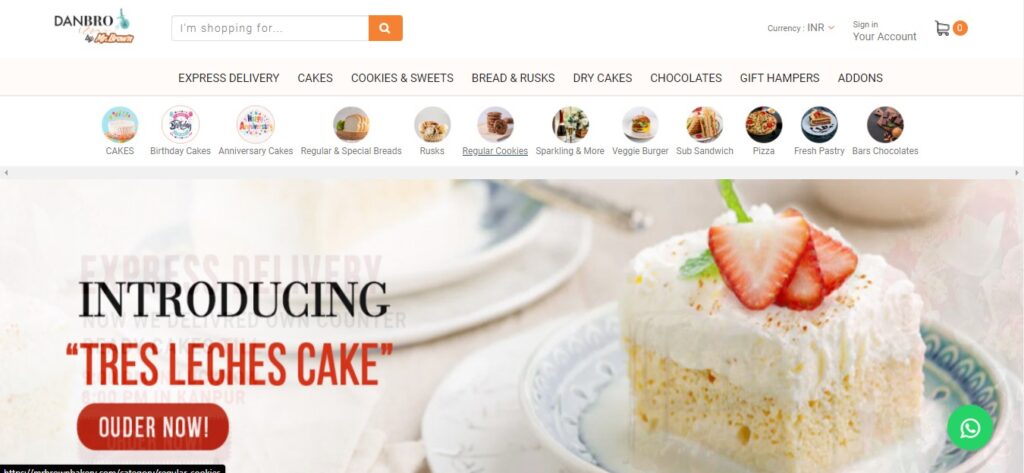 City: Lucknow
Mr. Brown Bakery is one of the gourmet family-owned pastry stores founded in the heart of Lucknow, Uttar Pradesh. It now has a huge presence in top cities in India like Delhi, Lucknow, and Kanpur as well as. The company started it's in journey the year of 2009 and the franchising option was adopted by the company in the year of 2012.
16. Nahoum & Sons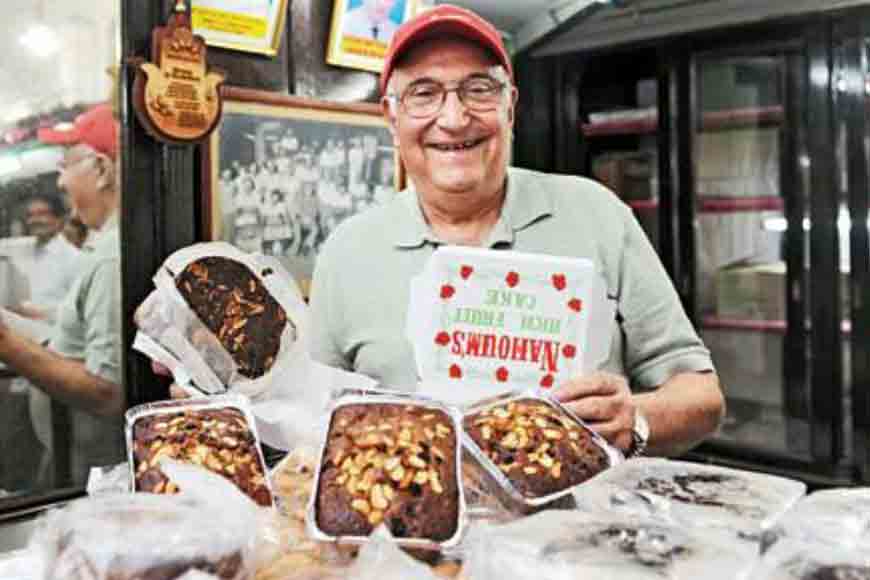 City: Kolkata
Nahoum & Sons is over a century-old bakery located in Kolkata, West Bengal. It is one of the oldest and most popular bakeries in the city. The business was started by Nahoum Israel Mordecai, who used to deliver mostly baked goods and cheese, and in the year 1902, he established a bakery-confectionery store. It is said that Nahoum Israel Mordecai was of Jewish origin who migrated with his family to India from the Middle East. The business is now looked after by generations of his sons.
All the items in the bakery are popular for the classic style of frosting. These items are still the same with the same taste over the years. So, it does not matter which year you are living because all the food items taste the same as before. The specialty of Nahoum & Sons include treats, such as Biscuit, Egg chap, Pantras, Macron cake, Brownie cake, Fragrant marzipan-fudge cake, Plain cake Madeira, Honey Light plum cake, Royal special fruit cake, Plum Pudding cake, Rich plum cake, Black Forest cake, Pizza, Minced pie tart, etc. The bakery is famous for its rum balls and cheese puffs, too.
17. Sugarr & Spice

City: Kolkata
Sugarr & Spice is a Kolkata-based bakery company. They started in the year 1990. The founder of the company is Supriya Roy. The company is currently serving as many as 51 items including cakes, pastries, pizzas, bread, patties, rolls, sandwiches, burgers, hot dogs, croissants, kebabs, and tandoori items, as well as packaged items such as chocolates, cookies, etc. They have over 90 franchises across West Bengal and a few out of the state.
18. Theobroma

City: Mumbai
Theobroma has 15 outlets and is present in Mumbai and recently launched in the national capital region, New Delhi. It has centralized production facilities for each city with a high take-away ratio and low Capex per outlet upping profitability. Since established as a leading food destination in a highly competitive environment, Theobroma has grown from its humble beginnings at the iconic Cusrow Baug at Colaba Causeway to a rapidly growing chain of patisseries. Theobroma offers a wide range of products, both sweet and savory. Their offerings include indulgent brownies, cakes, desserts, artisanal bread, puffs, quiches, wholesome sandwiches, wraps, rolls, beverages, and more.
Their commitment to quality, innovative products, honest prices, and personalized service have ensured a long list of loyal customers. Their stores are located in Bengaluru, Hyderabad, and Pune as well.
19. Wenger's Deli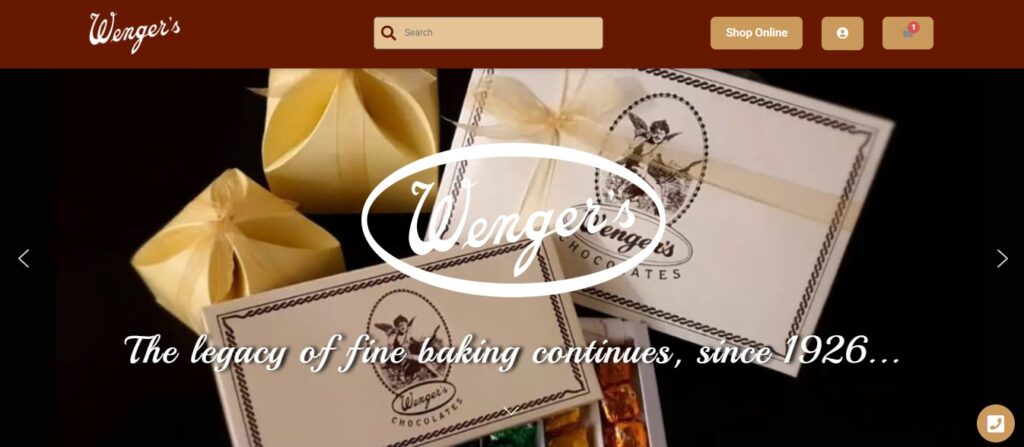 City: New Delhi
Wenger was established in the year 1924 as a catering outfit for the British troops stationed in Delhi. Over the years Wenger's has attained legendary status amongst the food outlets in Delhi with people coming from far and wide to sample the food on offer. It is now the oldest surviving establishment in the city's Connaught Place area. Their new outlet named Wenger's Deli was started in 2011 and has been successful since.
Their specialty in cake and pastry treats include Almond Cake, Black Forest Cake, Butterscotch Cake, Cherry Crumble Cake, Cherry Torte Cake, Chocolate Cake, Chocolate Chip Cake, Chocolate Frankfurter Ring Cake, Chocolate Nut Cake, Chocolate Truffle Cake, Fruit Cake, Pineapple Cake, Apple Strudel, Beehive Bun, Brownie, and many more.
20. WS Bakers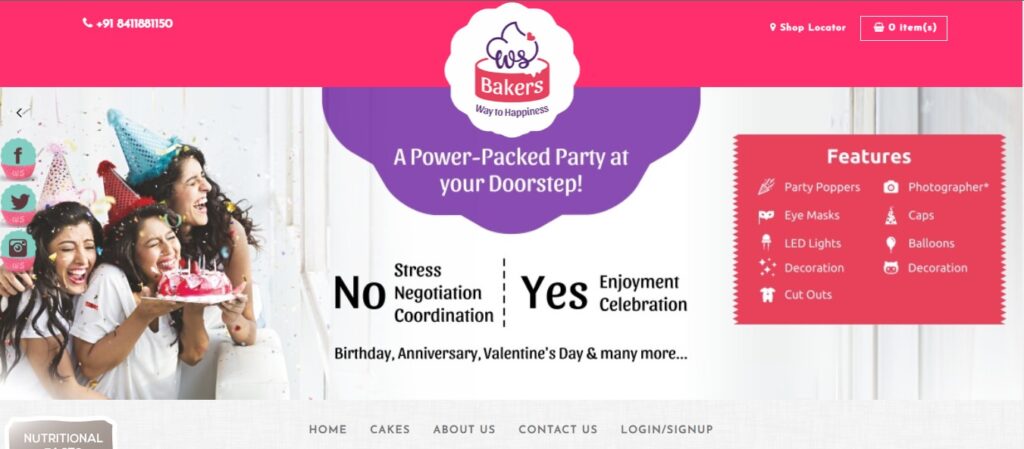 City: Pune
Since 2014 WS Bakers are bringing smiles to people's faces with their great products. They are a famous pastry franchise company based out of Pune. The brand provides bakery items like baked cakes, pastries, and desserts that are available for shopping and delivery throughout the city. And do you know the best part? It is a 100% vegetarian bakery ensuring that everyone can enjoy its yummy treats with pure satisfaction. So the next time you feel to eat an eggless cake do give them a visit. The franchise was first started in Pune and has now expanded to more than 50 stores.
Wrapping Up
These are only a few special mentions of India's popular bakery and confectionery brands that we know. However, there are still more such confectionery brands established as local businesses and may soon plan to expand to other cities in India as well.