Top 20
20 Best WordPress WooCommerce Inventory Management Plugins
When it comes to WooCommerce inventory management, you don't want to leave any stone unturned means you would use all the help you can get. After the current scenario of the world such as the heavy blow of covid, the eCommerce industry has become more complicated and continues to get more. However, there is no need to worry as long as we have lots of the best WooCommerce Inventory Management Plugins available that offer flexibility and efficiency to your eCommerce business store. You need to WordPress WooCommerce inventory online.
With the help of this article, we will guide you about some of the top WooCommerce inventory management plugins that are available on the market. This article is going to help you pick the best for your online trade.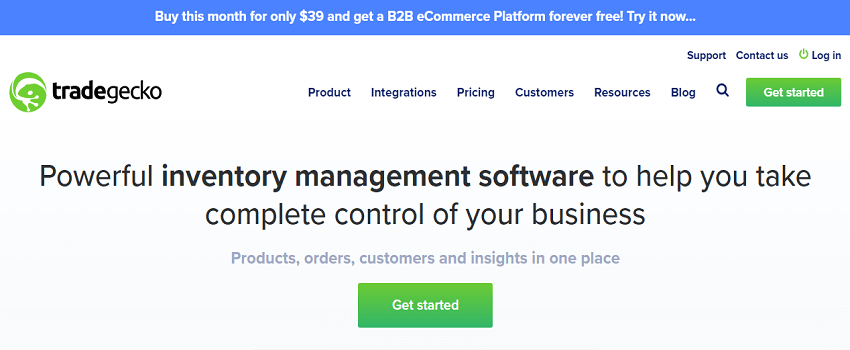 TradeGecko or QuickBooks is one of the best WooCommerce order management plugins and is great for wholesale or multi-purpose businesses to maintain their company hassle-free. It is integrated with WooCommerce and other platforms alike. With the help of this plugin, you can manage your stock easily from one dashboard, such as back-ordered items and SKUs.
The platform is paid But you can use this tool for 14 days for free on a trial basis. After that, You would have to pay from $15 to $200, according to your business size and how many channels of this plugin you use.
As far as its features are concerned, TradeGecko helps you automate your stock adjustments, buy orders for your online orders, and get stock update information.
Features
It enables users to manage inventory in real-time for different channels and locations.
Due to its multiple platform integration users can expand to other markets.
It has automation features for invoicing and shipping processes
Its app also supports iPhone, IPad, and Apple Watch.
It also has a B2B platform for wholesalers.
With the help of this tool, you can keep all the data in one location and manage your business easily.
2. ECWID E-Commerce Shopping Cart
Ecwid is a popular e-commerce plugin for WordPress that offers a robust inventory management plugin. With Ecwid, online store owners can manage their products, stock levels, orders, and shipping all in one place. The plugin also integrates with popular payment gateways, allowing for easy and secure payment processing. In addition, Ecwid offers a range of customization options for your store's look and feel, as well as reporting and analytics tools to help you track your store's performance. Whether you are just starting your online store or looking to scale your business, Ecwid is a solid choice for WordPress-based e-commerce and inventory management.
Features
Good in Product, order & shipping management.
Easily integrates payment processing.
A range of customization options is available.
Powerful reporting & analytics feature.
Best Mobile optimization online store.
Support Multi-language & Multi-currency support.
3. WooPOS
WooPOS is considered one of the best WooCommerce Stock Manager tools to help users handle everything from the dashboard. It is an all-in-one platform plugin that aids you to access all your data anytime with the help of a powerful cloud database feature. It helps you customize your WooCommerce setup so that you can add new functions to your present WooCommerce setup. WooPos comes with many search and filtering options to maintain massive databases. Besides, it allows you to handle employee performance as well as sales trends.
This tool also helps you to generate custom barcode labels to identify products, maintaining the company's daily operations and logistics.
Features
A number of Products and services can be tracked in real-time. It helps you to edit, import, export, and filter your database products across multiple stores.
Through barcode design, it is easy to create customized mailing labels.
It is easy to move your stock between stores and warehouses with the help of stock transfer and set the inventory lookups of your sales channels.
It supports various secure methods of payment.
A 30-day free trial is available for this app. Its plan starts from $99/ month
4. Zoho
Zoho, a cloud-based, is one of the top WooCommerce inventory plugins. It allows you to synchronize all your orders related to WooCommerce. Due to its integration with other plugins, it is easy for any user to sell his online store's products on different platforms.
Features
Easy to install and use.
Automated features to manage orders and items.
Filter for different categories for your product such as price, type, and date of manufacture.
Easy to find any error with the help of an error reporting service.
It helps to manage multiple warehouses from one page.
You can track and identify any item in your inventory with the help of Serial number tracking.
Due to centralized inventory, it is easy to get information about the availability or non-availability of your product across all your channels automatically.
Pricing: A free plan is available for this app and Paid plans to start from approx $15 / month.
5. Katana
Katana is also known as a WooCommerce inventory management Plugin, especially for small and medium-sized business owners. This app assists you by making you aware of what products and where you have in stock in real-time. With the help of this app, you can easily manage your raw materials and product stock related to sales and orders at a given time. By providing you with real-time data on your inventory, it helps you to monitor raw materials to prepare for reorders.
If you want to track your raw material as well as completed one so that you never run out of anything then this app will be a good option for you. This app also provides barcode scanning capabilities, real-time numbers, and four pricing tiers to meet all your business needs. This app also provides barcode scanning capabilities, real-time numbers, and four pricing tiers to meet all your business needs.
It helps you to assign and schedule tasks for employees, and monitor their performance.
Features
Manage your product stock levels, set low stock alerts, and track stock movements.
Katana includes a centralized order management system that allows you to view, process, and track orders in one place.
Easy to manage product variations, such as size or color, and keep track of stock levels for each variation.
Barcode scanning, allows you to quickly and easily manage your inventory.
Provide insights into your store's performance, including information on sales by product, order history, and stock movements.
Pricing
A 14-day free trial is available. Paid Plan of this plugin starts from $99/month.
6. eSwap
eSwap is also a cloud-based enhanced WooCommerce stock manager tool that helps businesses regardless of their shape and size. To gain its help we need to integrate it with WooCommerce and other similar platforms. We can take its help with inventory, order management, and multichannel support. It provides a clean and spontaneous interface that helps to accept orders, make invoices and perform analytics. It accepts payment from any secure payment mode and accepts orders from other sources such as emails and phone calls.
The app works as an archive for your inventory as you can archive any product of your inventory by keeping all kinds of information such as prices, images, date of manufacturing, and expiration.
Features
Maintain shipping, buy orders, and invoices from a single dashboard
Complete reports on every aspect of the company to plan the next strategy.
Automation to streamline services
Provide Business 2 Business options, import, export to CSV
One-screen inventory management enables users to do per-channel filtering, using custom tags and sorting products very easily.
Pricing
There is a 14-day free trial available. Paid plans start from $79 / month.
7. WooCommerce Stock Manager
WooCommerce Stock Manager is one of the most popular WooCommerce Stock manager plugins. You can manage all your products related to your business from one screen. You can manage your stock by setting different parameters for each product like price, weight, stock, etc. you can view your entire product catalog all at once and check the present scenario of the product like 'In stock', 'Out of stock', and 'On backorder' products. Filters are available for your product type, category, and stock status.
The WooCommerce Stock Manager plugin is available in a free Version.
Features
Increase or decrease stock levels at specific dates and times
Schedule stock changes in bulk
Automate the process of setting low stock thresholds and out-of-stock notifications
Keep a log of all stock changes
8. Veeqo WooCommerce Order & Inventory Management
Veeqo is an application for the inventory management of WooCommerce. WooCommerce users can automate their entire back office with the help of this tool. It provides essential features to manage orders and view comprehensive detailed reports. With the help of this tool, you can sync the inventory of all your sales channels in real-time. Detailed reports, and take tight warehouse control – all from a single, easy-to-use platform.
Features
Transfer stock from warehouse to warehouse, checking the exact level of stock in both locations.
You can manage, buy, and track products and sync everything into your accounting software via the automated purchasing management feature of this app.
Pricing
There is a free trial available. Paid plans start from $160 / month.
9. WP Inventory Manager
WP Inventory Manager is known as an open-source plugin, coming with many essential features. This app helps you to manage your stock levels.
Features
Advanced search feature: this app allows you
to form a search filter attributing different categories to your product.
It helps you manage the inventory of different warehouses or other locations from a single location.
It provides the advantage of bulk update of different inventory at once.
Import and Export feature: you can import any inventory in the form of a CSV file, and export your inventory items into a spreadsheet.
Pricing
There is a free trial available on WordPress.org. Paid plans start from $149 / year.
10. Ecomdash
Ecomdash advertises itself as an advanced WooCommerce inventory management plugin software. It provides automation features for your business. With the help of this app, you can automate your stocks and manage them very efficiently and effectively. As it is well aware that the growth of your online business solely depends on inventory management.
With the help of this comprehensive and advanced eCommerce Automation software, you can sell your product seamlessly without worrying to manage spreadsheets to maintain the accounts for your business. Due to this App, You can track records of your product details easily from anywhere and sell your items from different channels. It allows you to diversify your product as per its type and keep the product within the same category product.
It helps you track serializes inventory, and track items with the help of unique mapping ID systems. You can set custom alerts and view the quantities of components and finished products.
Pricing
A free trial is available for 15 days & paid plan starts from $50/month or $576/year.
11. Stitchlabs
Stitchlabs is also an e-commerce inventory management tool for small-sized multi-channel retail businesses that help traders by providing order management solutions. One of the great functions of this app is that it syncs the data, inventory, and order from one sales channel, supplier, and fulfillment location to others. It provides one centralized location for an e-commerce company to monitor its all inventory across the different channels.
You can integrate the product with other eCommerce platforms like Amazon and eBay.
Features
It provides a 24*7 support team that is available to solve your queries.
It has a great inventory system for small-size businesses.
It consistently updates itself for better functionality.
Pricing
It has different paid versions are available. Basic – $799/month, High – $959/month, Premium – Customized.
12. DEAR Inventory
The DEAR app is very helpful for manufacturing companies with its pre-defined manufacturing module when it comes to tracking the finished goods and the list of raw materials. This app is a good option to maintain sales, inventory, and shipping on multi- channels. So we can say it is a robust inventory management product.
There are many ways in which this app can be used for traders like creating a plan and tracking the complete phase of the purchasing process.
Features
You will get unlimited outlets and registers.
User control permissions.
It accepts multiple payment methods.
Pricing
It provides 14 days of a free trial. The paid version is $199/Monthly and $2189/Annually
13. Stock synchronization for WooCommerce
Stock synchronization for WooCommerce is one of the trending inventory plugins. It provides great help when it comes to managing your store's inventory with external inventory files. In this app, the update process of stock quantities from an external file is automatic. At the same time, it allows you to integrate your stock with an external CSV file. It also uses Dropbox and Google drive for backup.
Features
It supports WPML
It helps to maintain your product prices and stock information.
Consistent updates.
Pricing
This plugin costs $15 with 6 months of support from a maximum of 1850. Which can be extended up to 12 months by paying an additional charge of $3.75.
14. WooCommerce Rapid Stock Manager
WooCommerce Rapid Stock Manager, the user can update his inventory and other features fast. Its stock management provides you with a filter option through which you can filter your product by category, type, and stock management. Apart from this, it helps the traders by updating the stock on the online store automatically so customers don't have to face problems while purchasing the product. With the help of this tool, you are able to sync stock with multiple warehouses and also print receipts of transfers.
Features
Available stock report.
ConsistentlyBatch update.
User-friendly interface
Multiple warehouse management at one go
Pricing
Regular Licence of this app – $49.
15. Finale Inventory
Finale Inventory, a cloud-based, is an e-Commerce inventory management tool that links your orders automatically. It also helps you by adjusting your supply properly and providing you with an updated inventory. As it is a cloud-based platform, all your sensitive and important data is safe and secure and that's why it automatically updates and can be accessed from anywhere using any digital platform.
With the help of this tool, you can sync all your sales channels and marketplaces. And it also has a multi-warehouse support function that helps you track your inventory spread across multiple locations. It also has a multi-warehouse support function that allows you to track your inventory spreading across several warehouses. Therefore, due to Finale Inventory, the process of moving stocks between sites has become easy. Because of this plugin, the stock level is always accurate and up to date.
This app uses your sales history to calculate dynamic reorder points in order to retain your customer.
Features
It provides purchasing and replenishment features.
It helps in order management and Multiwarehouse support.
It is a Centralised inventory and Cloud-based architecture.
Pricing
It will cost you $99/per month.
16. Z Inventory Manager
Z Inventory Manager is also a free WooCommerce inventory management plugin. It increases your business efficiency by automating your stock inventory. With the help of this plugin, you are able to manage your sales, orders, and shipments very easily and quickly.
The plugin is also available for their users with a pro version that contains extra features such as copy sales and purchases as well as inventory status and history.
Features
It allows ship and track sales
It helps to monitor inventory
Real-time inventory management features
Pricing
$39 for 12 months of support
$79 for 24 months of support
17. WooCommerce Out of Stock Manager
WooCommerce Out of a stock manager is another best e-Commerce inventory management solution for online traders which is developed by Vanquish.
This plugin allows you to establish essential rules for your products and stock levels. With the help of this plugin, you can set up warning indications if your stock goes below a certain level. You can also assign several recipients for these warning alerts.
Features
It provides email alerts for low stock levels
This plugin is WPML compatible.
It also has a dashboard widget for better management.
Pricing
$16 of 24-Month Support
18. WooCommerce POS Inventory Count
WooCommerce POS is the next WooCommerce inventory management plugin on our list. With the help of this plugin, you can perform a physical inventory count on all your products using a QR code scanner and update the supply level through the inventory scanner.
When it comes to managing stock levels, processing sales, and managing employee records, this plugin helps a lot through its vital features.
Features
It provides a WooCommerce stock manager.
It also provides a WooCommerce front-end manager.
It allows you to maintain purchase orders.
It helps traders to manage coupons and discounts.
19. StorePep Mobile App
StorePeP is a very useful and active tool to monitor and manage your store continually. Apart from that, it assists you to pick the areas of your site that need improvement and resolve the problem instantly. This app also provides you with the necessary information about the product such as its details, updates, descriptions, and price.
With the help of this tool, users are able to get real-time sales reports that provide them with great insight into different aspects of their store. It also helps you filter your sale according to different time periods such as today, yesterday, previous months, etc.
Features
It provides Dashboard reports.
Real-time push notifications
It monitors your WooCommerce store.
Receive live shipping rates from different carriers on your smartphone.
Provide Live tracking notifications to your customers.
You can create 100s of labels in a few clicks.
Pricing
A free 14-day trial period is available.
Starter package (600 orders) – $9/month.
Popular (3000 orders) – $29/month.
Premium (6000 orders) – $49/month.
Enterprise (Unlimited) – $99/month.
20. WooCommerce Multi Locations Inventory Management
WooCommerce Multi Locations Inventory Management plugin makes you able to manage your product supply for your e-Commerce store from various retail locations. This plugin has a feature that can detect the nearest product locations. Some of the features of this plugin make it ideal for warehouse inventory management such as it provides information on product availability and pricing based on the location.
Features
Managing Product supply across different locations, warehouses, or stores. it is a great app.
Customers can select a preferred location on the product page or globally.
It provides the option to add location-wise prices of the products.
You can manage multiple storefronts with the help of this app.
Assign shop managers to locations through this app.
Conclusion
WordPress inventory management plugins are a great solution for store owners who want to streamline their stock management and ensure that their products are always in stock. These plugins integrate with e-commerce platforms like WooCommerce to provide advanced features such as real-time stock updates, order management, shipping automation, and detailed sales reports. in this article, here we explain the best 20 Wp Inventory management plugins. Each tool has been made to meet your store's requirements. They will be a great addition to your eCommerce store.